Wild Turkey Master's Keep Revival​ Bourbon Review [In Depth]
Wild Turkey Master's Keep Revival
Wild Turkey Master's Keep Revival​ Details
From the company website:
Master's Keep Revival is made from a blend of Wild Turkey Kentucky Straight Bourbon aged 12-15 years before finishing in at least 20-year-old Oloroso Sherry casks, hand-selected by Master Distiller Eddie Russell. The result is a one-of-a-kind, 101 proof sipping whiskey with aromas of cherry pie, raisins, citrus, nuts, and a touch of oak. It delivers soft and creamy hints of spice and sweet tropical fruits on the palate and a long and lingering finish of dried apricots, honey, and subtle spice. An homage to a bourbon pioneered by Jimmy Russell, it's a must-own for the serious whiskey collector.
Wild Turkey Master's Keep Revival overview
People seem to go a little gaga and thirst when Wild Turkey 12 Year 101 is discussed. I get it, it's renown for being a great bourbon, and its legend has only grown as "dusties" gain incredible popularity and notoriety for being amazing. The prices have followed.
I mention that first in context because Wild Turkey Master's Keep Revival is sort of the modern Wild Turkey 12 Year 101 proof that happens to also be finished in Oloroso Sherry casks. That is a damn cool combination that has me tingling.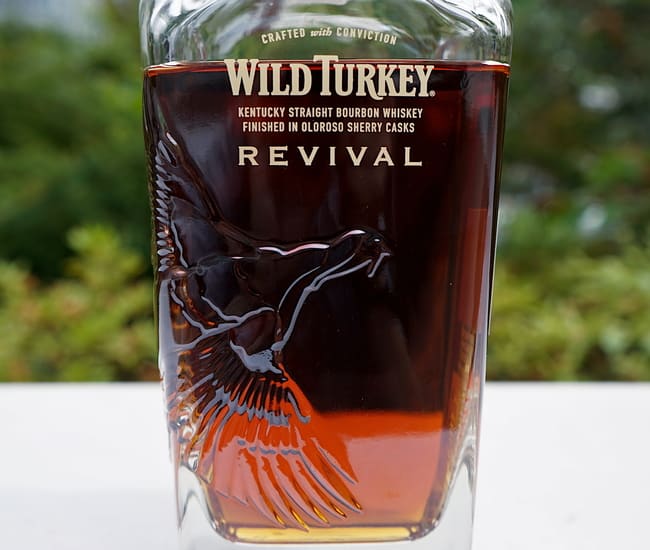 As a refresher, Wild Turkey Master's Keep is the annual limited release from the legendary Kentucky distillery. Revival was the 2018 (and I think the second ever) Master's Keep release that used 12-15 year old barrels finished in casks that previously held 20 year old Oloroso sherry. From what I can tell, it was the second finished Wild Turkey bourbon ever sold, and I've seen it in person too.
Since this is a unique sherry cask-finished bourbon, I have to talk about sherry. I'm a massive fan. You can thank my 3 week trip to Spain and pilgrimage to Jerez De La Frontera, home of sherry wine, for that. I drank a lot of sherry and took a liking to the variety, and the intense sweetness, fruitiness, and viscosity of certain types. That carried over to whiskey too as I became more aware of what I was drinking.
Unfortunately, sherry terribly underappreciated. I know what you're thinking…and ONLY SOME OF IT is super duper sweet, just like only some Scotch is smoky or only some bourbon is nutty. And just like whiskey, sherry is always aged in oak, albeit used oak that lightly infuses oak spices, darkness, and more.

It doesn't age as intensely as bourbon does. Long story short, sherry is aged in a solera system so younger wine is always intermingled with older wine, but you can have age statements depending on how you set up the solera.
There's a ton of variety, ranging from drier white wine-like Fino to the super sweet Pedro Jimenez, and everything in between. Seriously, give it a try, maybe a Gonzalez Byass Fino or Amontillado so it's less sweet.
But in this case, Oloroso Sherry tends to be on the sweeter, and slightly spicy, oaky, ripe fruity, and nutty side. Now that I think about it, it sort of has the qualities of a dusty bourbon, minus it being bourbon.
Twenty year old sherry
is going to be a darker and heavier wine, with lots of dried cherry, prune, and date, dark and dense honey, dried and ripe apricot, dark oak, and cinnamon. This also means that the bourbon should absorb those notes as well.
That was a long introduction, but I think that it's all helpful context for what's to come next. Let's find out if this unorthodox release is a match made in heaven in this Wild Turkey Master's Keep Revival review.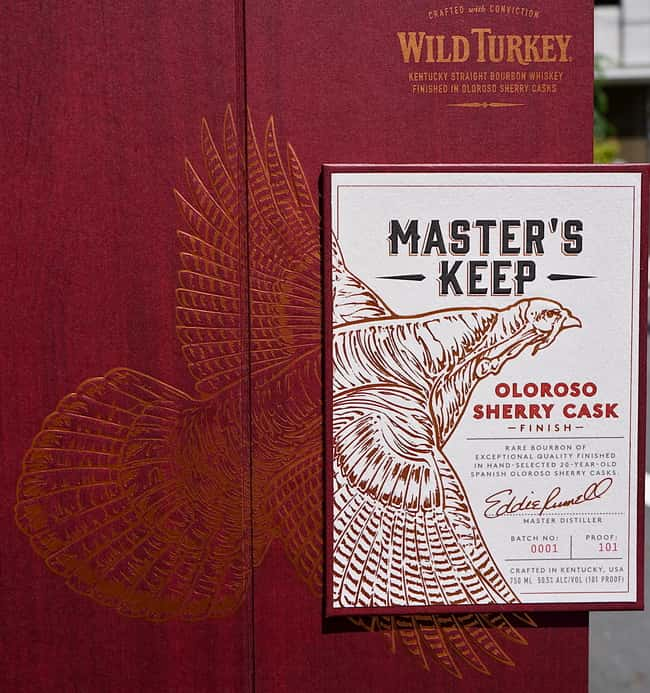 Wild Turkey Master's Keep Revival smell
Wild Turkey Master's Keep Revival first pops with roasty oak mixed with caramel and cherry, vanilla, dried grass and nuts, cinnamon, strawberry cream, tobacco, and red apples. For a sherry finish, it's not as densely prune-y and date-y as I expected.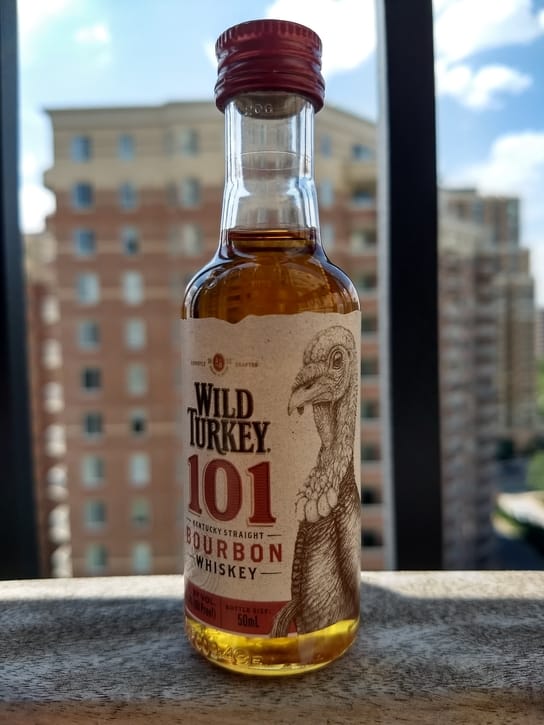 If anything, it's more heavily roasty and spicy, which feels
Rare Breed
-like, but more mature and fruity. Some of the oak, spice, and alcohol heat can leap out and bite a little. Although it's hard to put my nose on it, Revival smells uniquely roasty, spicy, and fruity.
After swirling I smell ripe apricot, dried prune, slightly funky vanilla (from what I can tell all from the sherry), roasted oak, cinnamon, clove, nutmeg, dried grass, and tobacco. I keep searching, but I'm not getting the denser and heavier low-end that I hoped to get from 12+ year old bourbon and a finish in a heavier wine.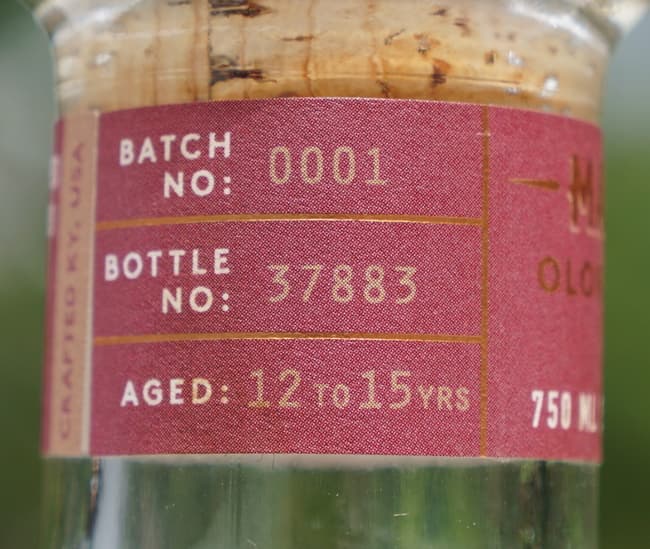 So there's mostly rich fruit at first followed by a huge rush of oak and spice that feels borderline unbalanced. The oak, spice, and something else I can't quite describe bring this roughness that slightly drags down my experience. Overall, it still smells great but isn't quite the complete and complex spirit I hoped it could be.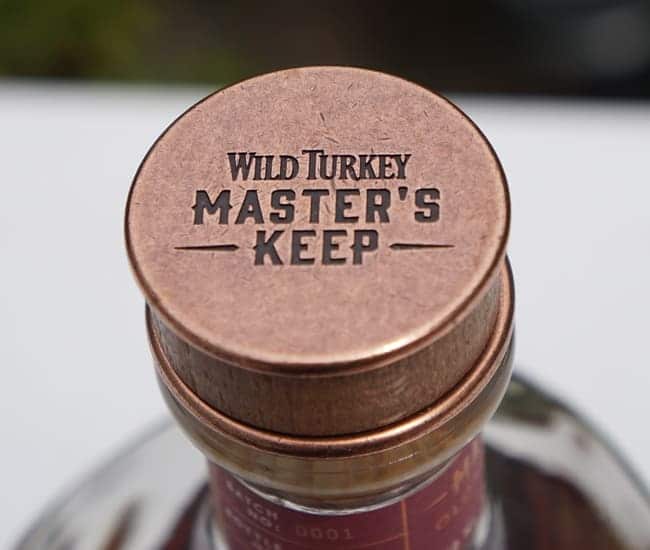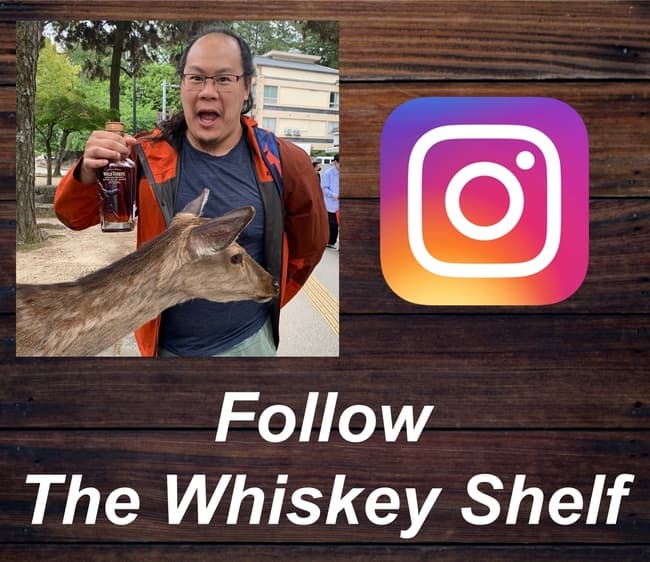 Wild Turkey Master's Keep Revival taste and aftertaste
My first sip has dried prune and date, caramel, vanilla, roasted oak, cinnamon, tobacco, dark chocolate, dried grass, and nuts. It's slightly bitter, and very oaky and spicy, but the oloroso sherry finish thankfully comes through (did I tell you that I adore Oloroso Sherry) with the forward dried prune and date.
These older oloroso sherries can be fairly oaky as well, so I wonder how much of the oak and spice comes from the sherry vs bourbon. Combined though, it's very oaky.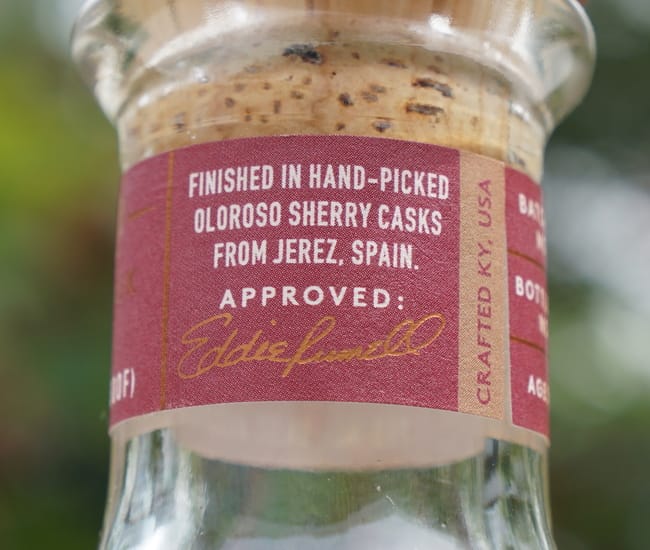 After chewing, Master's Keep Revival gives me prune, date, dried cherry, funky vanilla cream, roasted oak, cinnamon, tobacco, clove, nutmeg, and cocoa powder. It's very laser focused on sherry, oak, and spice, but it's still great. If you're going to be one-dimensional, you better do it well. I'm glad it tastes better than it smells.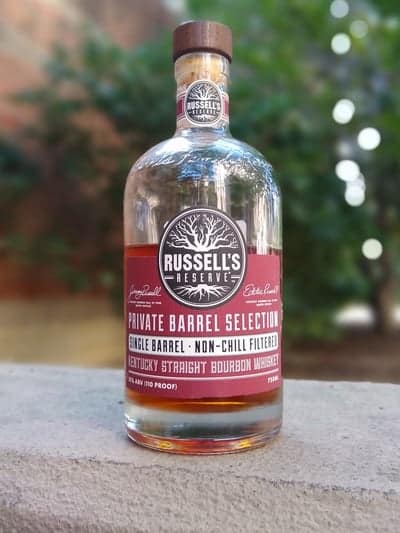 Again, the dark fruit comes first from the sherry (stronger chewing releases more of the ripe fruit and vanilla funk), and then the rush of oak and spice blasts in as if it's going after TV's on Black Friday. Through all of that, I can feel it drying my mouth, so it could be non chill filtered.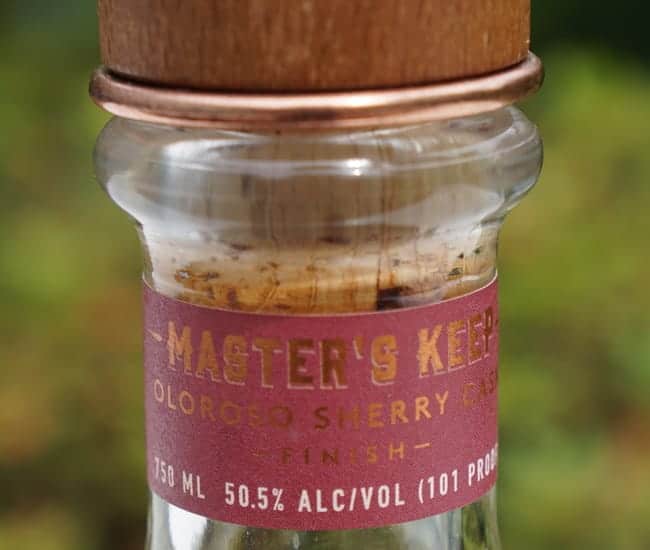 The stronger oak and spice make it feel a little rough around the edges, which I suspect is from the bourbon and not the sherry. To be honest, it lacks refinement, but I have a huge soft spot for sherry-finished bourbon and Master's Keep Revival mostly delivers.
The finish starts off roasty and sweet – roasted oak, tobacco, dried cherry, caramel, vanilla, licorice, dried grass, and cinnamon. There's longer lasting roasted oak, cinnamon, and tobacco. "Chewing" leaves me with roasted oak, cinnamon, tobacco, and dried cherry, which all tie together this oaky and roasty bourbon.
If you're shopping on Amazon, support The Whiskey Shelf by shopping through my affiliate link – Shop Amazon. I may earn a commission from your Amazon purchases.
Wild Turkey Master's Keep Revival Rating

I'm conflicted about Wild Turkey Master's Keep Revival. Wild Turkey 12 Year (amazing in theory) plus sherry finish in old barrels (using a wine that I'm fond of) should be a spectacular pairing with the greatest of all time level potential. If there was a draft, this would have top 5 pick potential, your franchise player.
As unfair as it is to think and say that, Revival still generally provides an awesome, vivid, and interesting experience. I'm always a fan of dried prune, date, and cherry in my bourbon, which it delivers well and better than most bourbons sold today. I also dig the tobacco and cocoa powder that likely come from the sherry and bourbon marriage.
But at the same time, it leaves me wanting more, or at least doesn't reach the same levels as other comparable finished bourbon. The thing I can't shake, and take this with a grain of salt because Master's Keep Revival is still a "Top Shelf" bourbon, is that it's so narrowly focused on sherry, oak, and spice, but not in a very mature, refined, and complete way.
The narrow focus alone isn't actually a problem. It's the overall experience it provides where the scents and flavors start with prune, cherry, and apricot, and then a rush of oak and spice come and throw everything a bit off balance, bringing this roughness.
While the dark fruit is there, it oddly lacks more round and lower-end sweetness and heft to better hold up to the oak. There's a little something missing, but it's enough to me makes a big difference.
That makes me wonder what the base 12-15 year old bourbon was like and whether I would have enjoyed it without the finish. The final product is so oaky and spicy that it seems to need the finish to add sweetness and balance it out. Maybe that was the point, but it doesn't seem like they completely got it under control.
I've been drinking a lot of old bourbon (pre-1996), and it seems that Wild Turkey Master's Keep Revival gets about 70% of the way to drinking like a
"dusty" bourbon
. The dried dark fruit and tobacco feel right (but not quite dense and round enough), but the stronger and slightly rough oak and spice yank me away from that vibe. It's not so relevant for the review, but I felt like sharing that thought anyway.
So for $115, an insanely good price, Master's Keep Revival is a worthwhile exploration into one of Wild Turkey's more unique releases that mostly hits the mark. The novelty also gives it "value", although the drinking experience itself isn't good enough to be worth multiples more than MSRP. But if you happen to find one sitting on a shelf for MSRP, around $140-150, and you know what you're getting, I think it's worth it.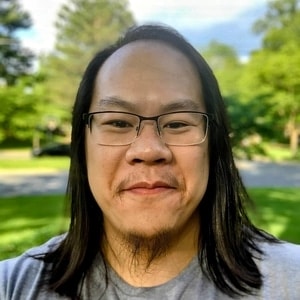 I have far too much fun writing about whiskey and singlehandedly running The Whiskey Shelf to bring you independent, honest, and useful reviews, comparisons, and more. I'm proudly Asian American and can speak Cantonese, Mandarin, and some Japanese.
There are no sponsors, no media companies, and no nonsense. Support The Whiskey Shelf by 
Buying Me A Shot
.