joseph magnus cigar blend batch 13 review
Joseph Magnus Cigar Blend Bourbon Batch 17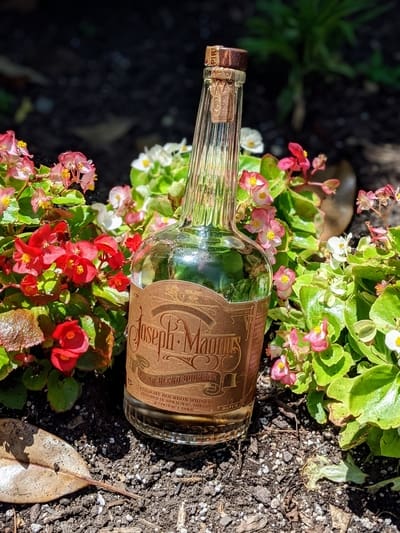 Distillery: Joseph Magnus
Type & Region: Bourbon, USA
Alcohol: 52%
Composition: Not specified, but should be all from MGP
Aged: Unknown
Color: 1.8/2.0 on the color scale (old oak)
Price: $150-200 (MSRP), but good luck with that
From the company website:
"Batch #17 spent its cask-finishing life in a 400 liter freshly dumped Armagnac barrel, much like Batches #16 and #18. However, this batch is quite "perfumy," with a lot of fruit and floral notes. We find a significant amount of top notes which are supported by deeper, darker aromas. Aromas of grilled ripe peach, dried apricot, cherry pie with a buttery crust, lime blossom, and wild prunes are omnipresent on the nose. On the palate, the fruity notes on the nose remain and are enhanced by flavors of old cedar chest, chocolate mousse, and sandalwood incense. A complex and aromatic bourbon whiskey."
joseph magnus cigar blend batch 13 overview
Joseph Magnus and Nancy Fraley are at it again, constantly working on new releases of Joseph Magnus Cigar Blend, the extra-aged and Armagnac-finished bourbons from the DC (when this bottle was released) but now Michigan (as of this review) distillery and blending house. Seemingly every year, or multiple times a year at this point, Joseph Magnus releases multiple blends to offer incredible yet different experiences. At this point, finding one, let alone paying close to MSRP, is proving to be very difficult as people have caught-on and are buying them left and right.
In this review, I'm covering Joseph Magnus Cigar Blend Batch 17, released in late 2019 / early 2020. When this bottle was released, Cigar Blend mania hadn't quite hit its stride yet, but people were starting to take notice. The incredible batch 13, which I reviewed, likely added to that. Find out why people may have started to take notice and if it makes any sense in this Joseph Magnus Cigar Blend Batch 17 bourbon review.
joseph magnus cigar blend batch 13 smell
Joseph Magnus Cigar Blend Batch 17 releases super fragrant old oak (but not that burnt), roasted caramel, dried berries, toasted vanilla, very dry apple, cinnamon, nutmeg, tobacco, freshly ground coffee beans. Sniffing harder teases out the dried berries, dried cherries, licorice, baked apple, and very dry orange peel. This is densely loaded with roasted oak, but at the same time it doesn't come off all that roasty or burnt, so it's like being totally enveloped in moderately toasted oak that's had plenty of time to get out all the harsh and overly burnt bits. As a result, this is an incredibly dark and rich bourbon that I could smell all day, yet it's strangely still a little reserved.
Swirling starts to unlock more of the dense caramel and honeycomb wrapped in tobacco, cherry, baked apple, orange, cherry, crème brulee, fennel, and chocolate, with a stronger dose of cinnamon, clove, and nutmeg. Cigar Blend Batch 13 is a dark and decadent bourbon, but it also doesn't quite strike me as quite as expressive and next-level as batch 13, but oh man it still competes well with the other super duper ultra premium bourbons out there. It's tough to find any other bourbons (besides Cigar Blend of course) that bring this type of fragrance. 
joseph magnus cigar blend batch 13 taste and aftertaste
Joseph Magnus Cigar Blend Batch 17 has toasted caramel, a little vanilla and aged cheese funk, dried berries, apple, orange, roasted oak, cinnamon, and cocoa powder. There's tons of tobacco here, which is a telltale sign for me of a well-aged and crafted bourbon. I'm surprised that the 52% ABV bites more than it probably should. The bite alone is closer to a 58% ABV bourbon.
"Chewing" through it gives me caramel and honey coated in lightly sweet and bitter cocoa powder, toasted vanilla, tobacco, dried berries that also bring a touch of brightness, as well as apple, a spritz of orange, and fennel, followed by a rush of roasted oak, cinnamon, nutmeg, and clove. It takes a few seconds for the wood spices to really kick it. Overall, Joseph Magnus Cigar Blend Batch 17 tastes fantastic and lathers me in an array of flavors as Cigar Blend should, but at the same time I feel like I'm missing this "wow" factor that pushes it to the next even-more exceptional level. It doesn't quite bring as great an experience as Batch 13, and I'll dive into that more after I give my rating.
The aftertaste is quite roasty with coffee beans, cocoa powder, caramel, vanilla, dried berries, licorice, cinnamon, and nutmeg. Over time the roastiness fades and I get more dried apple, cinnamon, and nutmeg. After "chewing", the finish is roasty and sweet with tobacco, oak, coffee beans, caramel, vanilla, dried apple, and a little eucalyptus and mint. As oaky and roasty as it is, it also leaves a nice freshness at the end. 
Place on the Whiskey Shelf

Joseph Magnus Cigar Blend Batch 17 is a great bourbon, following in the footsteps of the exceptional Batch 13. It offers a dark, luxurious, and complex experience that is undoubtedly worthy of being on the "Top Shelf". There are so few well-made Armagnac-finished bourbons out there (dominated by Joseph Magnus and the one release of Bardstown Bourbon Chateau de Laubade Finish Bourbon), which adds to the incredible allure of any Cigar Blend release, making it yet another hit from Joseph Magnus and Nancy Fraley. Did I mention that Armagnac-finishes are the best type of finishes? Unfortunately not everyone can pull of an Armagnac finish though, so it still requires an incredible amount of skill to make it work.
At the same time it, Batch 17 doesn't quite bring a single (or multiple) wow factor(s) that Batch 13 had, preventing it from being "Top Shelf+". It seriously is so close though given how fragrantly and deliciously excellent it is. The main critique (if you can call it at this point) is that it lacks some life and vibrance to be the complete package. It's dark, roasty, and heavy with supporting brighter fruit and floral notes, but slightly overindexes on that darkness and not enough on the fruit or some other hard to explain "X-factor" so it doesn't quite fully captivate me and make it an unforgettable experience. At this level and price of bourbon, it's more minor nitpicks than actual flaws. At the end of the day buy / try it if you can. 
There's a lot of great content to come, so consider supporting The Whiskey Shelf on Patreon. Support here.
Comments are closed.