haystack needle port finish review
Redwood Empire Haystack Needle 12 Year Port Finished Bourbon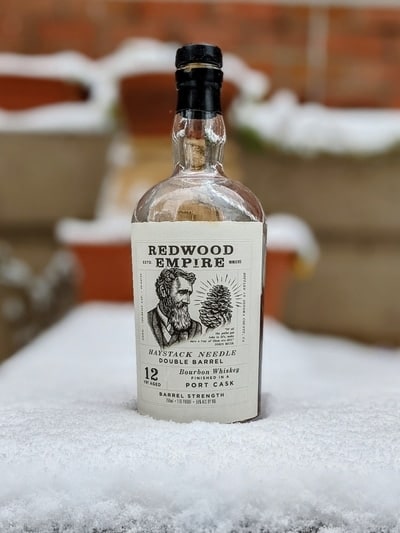 Distillery: Redwood Empire (sourced from MGP)
Type & Region: Bourbon, USA
Alcohol: 55%
Composition: Probably 75% corn, 21% rye, 4% barley
Aged: 12 years + unknown length port finish
Color: 1.4/2.0 on the color scale (tawny)
Price: $110-120
From the Redwood Empire website:
Absolutely nothing. Come on Redwood Empire, you can try a little harder.
haystack needle port finish overview
Redwood Empire Haystack Needle Port Finish Bourbon is a 12 year old MGP bourbon finished in port barrels. I've heard / read rumors that the finish was about 3 months, but I can't confirm the accuracy. Regardless of those details, I'm always excited about 12 year old finished MGP, as Bardstown Bourbon Company Chateau de Laubade, a 12 year old MGP bourbon finished in Armagnac casks is one of my all-time favorites, and Belle Meade Single Cask Cognac Finish is great as well. My point is that the combination of 12 year MGP bourbon and finish tend to be a match made in heaven. 
It's strange that Redwood Empire has said so little about their Haystack Needle line of finished bourbons, composed of port, cabernet sauvignon, and chardonnay finished bourbons. At least they put in the effort to finish these whiskeys, so let's find out if the fruits of their labor were worth it in this Redwood Empire Haystack Needle Port Finish bourbon review.
haystack needle port finish smell
Haystack Needle 12 Year Port Finish is very dark, fruity, and rich, smelling like a fortified wine-finished MGP bourbon. I smell dark honey and caramel, dark cherry, dates, dark chocolate, gently roasted oak, cinnamon, and dried citrus peel. Even in the first few minutes, the roasted oak and smoke expand a little bit across the scents, even bringing a light nuttiness with it as well. The nose is already great and I'm hooked.
Swirling brings out more oak with hints of peanut shells and burnt oak followed by dark caramel and honey, cherry, dried berries, candied ginger, burnt vanilla, cocoa powder, roasted coffee beans, and dried tobacco with a little licorice and hints of nutty and cheesy funk from the wine finish. The oak influence very much comes from this well-aged 12 year old bourbon. The base bourbon itself is very complex and mature, offering dense and rich sugars, fruits, and spice, as well as not much heat, further supplemented by the port finish. Haystack Needle Port Finish smells like one of the better finished bourbons I've had. It doesn't have quite as much boldness impact as Laubade Finish or Cigar blend, but it's still fantastic.
haystack needle port finish taste & aftertaste
Oh boy, Haystack Needle Port finish offers a wonderful blend of caramel, cherry, prune, date, roasted oak, coffee grounds, cinnamon, cocoa powder, vanilla, and some licorice, with not much heat. The 12 year old bourbon has a pretty dense oakiness, but pairs well with the sweeter and denser port finish.
"Chewing" gives me a lot of delicious and rich dark caramel, dried berry, and cherry sweetness followed by dried citrus peel, roasted vanilla, charred oak, cinnamon, nutmeg, cocoa powder, candied ginger, and tobacco. Even at 110 proof it's pretty easy to drink and I want to keep sipping it. All the dark fruit, roasted sugars, and oak mesh together into this outstanding bourbon that's a must-have for any finished bourbon lover – I'm hooked. I heard that these were finished for about 3 months, which seems short, but on flavor alone it seems like plenty of time given how rich, mature, and complex the underlying 12 year MGP bourbon already is. I would like to have a little more port finish, but that's just me. And while this doesn't quite hit the same high as Joseph Magnus Cigar Blend, it isn't so far off it either, and that's a big compliment.
The finish eases into oaky sweetness that's part roasted oak, tannins, dried berries, caramel, vanilla, and cinnamon that over time turns into lightly tannic dried apricot. I bet this would pair well with a cigar. "Chewing" leaves a little more tingly alcohol and oak tannins with caramel, dried candied berries, cherry, licorice, cinnamon, roasted oak, and coffee beans, with oak tannins and tobacco coming to the forefront after a minute or so. The finish is exceptional and lasts and lasts.
Place on the Whiskey Shelf

Redwood Empire Haystack Needle Port Finish is excellent and checks-off pretty much every box for what I want in a finished bourbon. While every type of finish brings something different, it's clear to me that the base 12 year old MGP bourbon is great and the rumored ~3 month finish adds enough to enhance the base bourbon. I'm captivated by the back and forth between the bourbon-influenced sugars, roasted oak, cinnamon, roasted coffee, and tobacco / the port-finished dark berries, cherry, and candied ginger / and the caramel, honey, and vanilla that come from both. It has all the richness, depth, and complexity that I crave – amazing.
While it's not quite Bardstown Bourbon Company Chateau de Laubade or Joseph Magnus Cigar Blend-level (beating a dead horse I know), Haystack Needle Port Finish is still close enough to be in the conversation for top-quality finished bourbons. In terms of its few shortcomings, this Port Finish lacks that next layer of depth and complexity that launches it into the "Top Shelf+" category. I can best describe it as a missing explosive pop of one or some traits that makes me say "wow". Haystack Needle Port Finish remains dark at all times, but does it exceptionally well hence the current rating. I'm always on the look for the next great finished bourbon, and this is it. If you like finished bourbon, stop sleeping on Redwood Empire Haystack Needle bourbon and buy yourself a bottle. 
Comments are closed.