Gonzalez Byass Apostoles 30 Year Sherry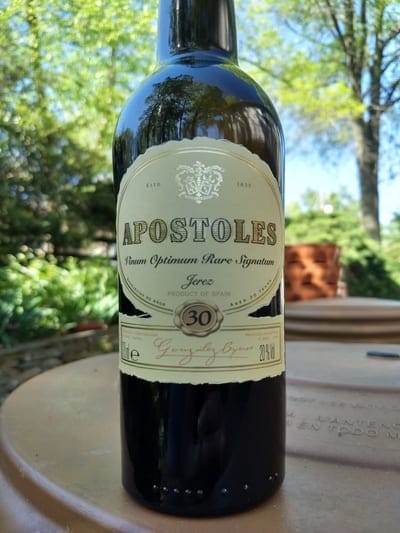 Maker: Gonzalez Byass
Type & Region: Jerez De La Frontera, Spain
Alcohol: 20%
Composition: 87% Palomino grapes, 13% Pedro Ximenez grapes 
Aged: 30 years
Color: 1.7/2.0 on the color scale (burnt amber)
Price: $30-50 (375mL)
From the bottle website:
"Dark amber in hue, with a sublime bouquet marrying the delights of its two grape varieties – nutty dryness from the Palomino and sun-roasted sweetness from the Pedro Jimenez. A truly spectacular intensity conferred by 30 years of maturing in oak. Try it with pates, charcuterie, and goat's cheese."
Why would a whiskey blog review sherry? Since you asked, there has been growing interest in sherry aged and finished whiskeys, so knowing how sherry smells and tastes can help you better understand how it influences whiskey. Scotch producers such as Macallan have been aging their whiskeys in sherry barrels for decades, but American distillers are only now catching up. Whiskeys such as Jim Beam's Legent and Angel's Envy Port Barrel Finish are just some popular examples that are finished in sherry barrels.   
For this "review", I'm drinking Gonzalez Byass' Apostoles, a 30-year-old sherry blended from the very sweet Pedro Ximenez (PX) and the more moderate Palo Cortado sherries. I bought this at the Duty Free in Madrid after first having tried it during the Gonzalez Byass bodega tour in Jerez De La Frontera, located in southwest Spain. Since few distilleries will ever get these super old sherry barrels, most will acquire or create "seasoned" barrels by aging young sherry for a few months so the wood can absorb some of it. Enough education for now, so let's dive into this Gonzalez Byass Apostoles Sherry review and learn more about whiskey in the process.
Holy moly Apostoles is incredibly dark and dense, loaded with grapes, raisins, dates, cherries, pomegranate, and very thick honey and caramel. Enveloped in the sweetness is a slightly almond nuttiness, but not in the grassy peanut shell "Beam funk" kind of way. It definitely has the same slightly tangy raisin funk, as well as hints of candied ginger, orange peel, chocolate, and cinnamon. It's incredibly syrupy and jammy in the best way possible. As crazy as this sounds, I also get hints of something funky and savory like fresh beef tartar. With all of that complexity and age, I can't smell the 20% alcohol at all. 
Swirling does little to the nose, but now I can pick out a little bit more wood. The combination of dense sweetness and hints of accompanying woodiness and savoriness is also like a decadent plum sauce. Even though it's 30 years old, don't expect a lot of wood influence. The barrels are so old that the wood is "exhausted", so the wine and wood don't interact too much. As a result, the main interaction comes from air and wine over many decades. No matter, Apostoles smells utterly incredible. 
Apostoles Taste & Aftertaste
The nose didn't lie, Gonzalez Byass Apostoles is still powerful and rich. There are dense and sweet raisins, dates, plums, and honey followed by almonds and walnuts with a dash of cinnamon. Dried and spiced oranges and cherries covered in ground ginger come next as my palate adjusts to the viscous sweetness. Thirty years of aging creates such a decadent and luxurious sherry. Within all of that is a slightly savory Iberico ham flavor (I'm still not kidding). It's that aged meat and cheese funk that only comes with lengthy time, and there's absolutely no burn or alcohol to be found. 
With "chewing", I can pull out more of the sweet notes. It's an awesome blend of grapes, dates, raisins, plums, cherries, dried apricots, honey, and brown sugar. The sweetness bathes the subtle walnut flavor, creating spiced walnuts covered in cinnamon and sugar. A tiny bit of cocoa and nutmeg also provide an extra twist. Yes, the Iberico ham taste is still there. Apostoles is so deep, complex, and interesting, yet too easy to drink.
The aftertaste is sweet and dense with grapes, dates, and honey. The fruit tanginess especially lingers on my tongue because it's so sticky. With "chewing", Apostoles leaves syrupy sweetness, a little citrus tang, mango, and crushed almonds. As old as it is, there's very little oak bitterness to the finish. It doesn't get much better than this.
Place on the Whiskey Shelf

Gonzalez Byass Apostoles is one of the best drinks that I've ever had. It's so incredibly dark, rich, savory, complex, and interesting that I just want to savor the whole bottle. It's utter perfection, but it doesn't come cheap since it's effectively an $80+ bottle of wine. If you're willing to pay the price, I highly recommend that you buy it if you get the chance.
Now back to the original point of this review / article: how sherry aging or finishing affects whiskey. Throughout this review / analysis, I frequently mention dark fruits such as raisins, dates, and plums, as well as honey, walnuts, almonds, spiced ginger, and a savory and cheesy / meaty funk, so you should expect to sense some of these notes, albeit less sweet and with significantly more alcohol. Sherry aged whiskeys tend to exhibit stronger sherry influence while finished whiskeys tend to exhibit less because they weren't aged as long in those types of barrels, although there always are exceptions. Regardless, the sherry notes tend to be fairly intense and forward, so you usually should be able to quickly identify them. Long story short, sherry aged and finished whiskeys tend to have a lot of dark fruit and sugar traits.