There's been a lot of great bourbon in 2021
Well we made it to the end of 2021. It's been yet another challenging year, but so many good things have happened as well. At least for me, I got the chance to finally go to Japan, not just for a short vacation but for a full year of exploration and growth. It's a once in a lifetime opportunity. And of course, I drank a bunch of bourbon too.
While "best of" lists are very popular this time of year, I'm going to take my own approach and talk about noteworthy and memorable (in a positive way) bourbons that I had in 2021. As always, I'm only going to include bourbons that I reviewed.
So given the scope of what I reviewed this year, here are my noteworthy bourbons for 2021, spanning from affordable to premium.
Bourbon Of The Year 1a
Wild Turkey Rare Breed Non Chill Filtered
Apart from the fact that it's export only (which is unfortunate), Wild Turkey released one of the most compelling bourbons in 2021. And instead of being greedy, Wild Turkey took the high road and priced it about the same as normal Rare Breed ($40-55). On Facebook, I've even seen some people find it for as low as $36, which would make it the single best bourbon under $40.
What you get here is a rich, developed, and complex bourbon with caramel, maple syrup, dried berries, roasted oak, caraway seed, dark chocolate, and more that oozes expensive. I'm usually hard to impress, but I'm really impressed with Wild Turkey Rare Breed Non Chill Filtered.
Well done Jimmy and Eddie Russell, and the whole team at Wild Turkey. Just…you know…bring it to the US for everyone else.
Bourbon Of The Year 1b
Redemption 10 Year Barrel Proof Bourbon
Ten year old cask strength MGP bourbon is such a rarity these days that I'm always amazed how Redemption 10 Year Bourbon continues to fly under the radar, especially when Smoke Wagon is so outrageously popular. Honestly if I was smart, I would just keep my mouth shut and hoard all of it for myself.
This bourbon is packed to the brim with rich and refined caramel, vanilla, oak, and spice while leaving ample room for apple, licorice, chocolate, and tobacco to shine as well. I know this sounds like pretty much every bourbon, but the experience in real life is so captivating. This short description just can't do justice to how developed, rich, and luscious everything is.
I bought a second bottle, and that alone should tell you how amazing I think this is. I should probably buy a third.
Bourbon Of The Year 1c
Bardstown Bourbon Company Discovery #4
At this point, Bardstown Bourbon Company has made a name for themselves as great blenders, but they really outdid themselves with Discovery 4. The composition itself is interesting, a blend of 10-15 year old Kentucky bourbons (92% is 13-15 years old), and it's evident in the glass how mature and developed it is.
It's densely sweet with caramel, vanilla, and various sweetened dried fruits up front (think the dried fruit in trail mix). Then the surge (but in a good way) of oak, oak spices, and chocolate kicks in to tie everything together. There's so much depth across the board that you have to take your time to savor it.
It's a masterfully blended bourbon, and one that was so good that I bought another one.
Bizarre (but I still liked it)
New Riff Winter Whiskey
I applaud New Riff for experimenting with mashbills. Their Winter Whiskey paid homage to the team's beer-making past by completely replacing wheat and/or rye and only using oats and multiple types of barley as the secondary grains.
The resulting bourbon was one of the earthiest and most medicinal bourbon's I've ever had, chock full of dry herbs and roots as if I were back in China in a dried ingredients shop. As wacky as it was (absolutely wild), underneath was a very sweet and rich bourbon loaded with caramel, maple syrup, chocolate, roasted coffee, and more.
While I definitely couldn't drink it that often, it was still a very interesting experiment that was mostly successful, but wow it really took me on an insane ride.
It's still on the shelf so buy it
Knob Creek 12 Year Bourbon
This received a lot of acclaim in 2020, but I only got to it in 2021 and now understand the praise. Although I'm a little late, the good news is that Knob Creek 12 Year is still being produced and sold, not really marked up, and absolutely worth a spot on your shelf if you can afford it. 
This is grown-up Jim Beam, showing off it's well-developed caramel, vanilla, fragrant oak, chocolate, tobacco, and fruit. I got just a little of the Jim Beam nutty funk. It's so different from Knob Creek Single Barrel 9 Year and Booker's, making it a tasty change of pace from what Jim Beam / Knob Creek usually offers.
It's not cheap by any means, but if you're going to splurge, this is a great one to buy and you might actually be able to find it. Seriously…buy it, pour a glass, let it sit for 20 minutes, and enjoy!
Finished Bourbon
Redwood Empire Haystack Needle 12 Year Port Finish
Because Belle Meade, Joseph Magnus, and Bardstown Bourbon Company get nearly all the attention for finished MGP bourbon, Redwood Empire's 12 Year Old Port Finished bourbon may have been 2021 and 2020s most underappreciated release.
Even with just a 3 month long finish, the sweet and fruity port beautifully melded with the 12 year old MGP bourbon, creating a luxurious and memorable experience full of dark sugar, dark fruit, roasted oak, oak spices, chocolate, and more. Did I mention that this is a 12 year old MGP bourbon…because that's some rare bourbon these days.
The 12 year Port Finish (and Cabernet Sauvignon and Chardonnay finished versions) may have only been released for one year, but I wouldn't be surprised if you can still find these on the shelves because the Redwood Empire name and high price tag likely didn't make these fly off the shelves. I stocked up on this one too.
Craftsmanship
Woodinville Single Barrel Cask Strength
Five year old cask strength bourbon shouldn't be this good, but Woodinville has worked wonders to create a densely sweet and earthy bourbon with a delicate fruity side. It's also very oily, far more so than Wild Turkey Rare Breed Non Chill Filtered, and nearly on par with Blanton's Straight From The Barrel.
While every barrel is going to be different, one fantastic experience (that I helped pick) makes me feel optimistic for what's to come, because they've already started to surpass the likes of Old Forester. They are one to watch in 2022, and I can't wait to get another pick. Hopefully I get the opportunity to pick another one too, maybe even a finished one.
Biggest Sleeper
Jim Beam Single Barrel Bourbon 108 Proof
Don't worry, I didn't forget about affordable and accessible bourbon. The newish Jim Beam Single Barrel Bourbon 108 Proof is a true sleeper that should not be ignored. It changes up the normal Jim Beam formula, clearing away most of the grassy nuttiness, and replacing it with more herbal and fruity scents and flavors. The oak and spice are still there, but toned down compared to Knob Creek.
The 108 proof also gives it some extra body and richness, and combined with the overall balance and sub $35 price makes it a compelling option. I even think that it's a solid Blanton's substitute.
Bye 2021
George T Stagg (2015)
George T Stagg may have been cancelled for 2021 (sad I know), but I got to review the utterly insane and maniacal George T Stagg release from 2015. It's absolutely bonkers in how overwhelmingly dense, rich, and intense it is. Hopefully they don't cancel it next year too.
Old Is New Again
Blanton's Red 1993
Rediscovering old bourbon has been such an exciting and enlightening experience. While not all bourbon from way back is necessarily better, drinking old Blanton's Red has really shown me how much better Blanton's was decades ago…and it's not even close.
Sure barrel selection is a factor as to why they are drastically different, but the old stuff is so vastly more fruity, viscous, expressive, and complex that there have to be other wholesale changes in the process that led to those differences. It's hard to go back to the current stuff.
If you're shopping on Amazon for Black Friday, Cyber Monday, the holidays, or any other occasion, support The Whiskey Shelf by shopping through my affiliate link – Shop Amazon. I may earn a commission from your Amazon purchases.
2021 was another great year for bourbon, and I hope that distilleries and bottlers big and small will continue to make great bourbon and push the boundaries of what's possible. And while I'm still in Japan, I'm going to continue to explore the whiskey scene here, buy and try the oldies, and build on my whiskey knowledge. I hope you'll come with me on this journey, because more cool stuff is coming.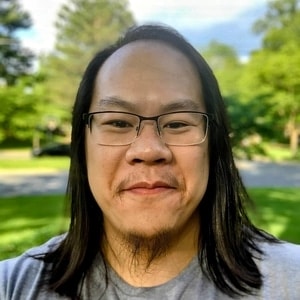 I have far too much fun writing about whiskey and singlehandedly running The Whiskey Shelf to bring you independent, honest, and useful reviews, comparisons, and more. I'm proudly Asian American and can speak Cantonese, Mandarin, and some Japanese.
There are no sponsors, no media companies, and no nonsense. Support The Whiskey Shelf by Buying Me A Shot.