Ezra Brooks 12 Year Bourbon Review
Ezra Brooks 12 Year Details
Distillery: Ezra Brooks (sourced from Heaven Hill)
Type & Region: Bourbon, USA
Alcohol: 49.5%
Composition: 78% corn, 10% rye, 12% barley
Aged: 12 years
Color: 1.4/2.0 on the color scale (tawny)
Price: Bought it for $50, now discontinued
From the hanging tab:
"Safely stored away in a special location, a precious few barrels of rare, old sipping whiskey are given the twelve-year occasion of letting their contents slowly, deliberately mature. The results from these heavily charred white oak barrels is nothing short of impressive. The whiskey, with its own special taste, is then reverently bottled and labeled by hand and bestowed the ultimate finish befitting its storied history – a wax-sealed cork. Reserved exclusively for those who appreciate the finer things, Ezra B. is more than just a whiskey – It's an extraordinary experience in itself."
ezra brooks 12 year overview
In a stroke of luck, I stumbled onto another olderish Heaven Hill-distilled bourbon: Ezra Brooks 12 Year Single Barrel bourbon, barrel 271 bottled in January 2007. I actually only realize this as I write this review…this is pre-fire Heaven Hill isn't it? 2007 minus 12 years equals 1995, before the 1996 fire. Well that's a fun surprise.
That truly didn't cross my mind when I bought it, just that it was $50 for a discontinued bourbon that I knew used to also be sold in the US, although I had never bought one before. It was a unique opportunity to try something I'd never find in the US. I think it was a ~$30 bottle when it was still available.
Ezra Brooks, owned by Luxco (and now MGP), should be familiar to many since they're a huge brand name that spans Ezra Brooks (bourbon and rye), Old Ezra, Daviess County, Rebel (formerly Rebel Yell), David Nicholson, and more. But many of you may not be as familiar with these blue-labeled Ezra Brooks, and for good reason.
I think these single barrels were discontinued around 2014, in what I suspect was Heaven Hill cutting off older stock to save it for themselves and/or Ezra Brook's conserving their existing stock for the future. I suspect the same thing happened to whoever used to make
Virgin 7 Year Bourbon
(now non-age-stated) as well.
So yes, Ezra Brooks 12 Year (and the 15 year version before it) overlapped with Heaven Hill's own Henry McKenna 10 Year Single Barrel for many years.
Let's find out if this sort of old-school find captures that pre-fire Heaven Hill magic in this Ezra Brooks 12 Year Single Barrel Bourbon review.
ezra brooks 12 year yellow label smell
Ah, Ezra Brooks 12 Year is expressive on the first sniff – dark caramel, roasted and charred oak, dry cherry and apple, vanilla, licorice, cinnamon, clove, dark chocolate, tobacco, and a hint of dry apricot. I'll mention this a few more times, but there's a lot of fragrant oak here. It's not overdone in any way, just so fragrant like it's been in
Widow Jane 13 Year
and
Remus Volstead 14 Year
.
In some ways, this smells a lot like Lux Row 12 Year Double Barrel (Luxco owns Lux Row and Ezra Brooks) and a less like Elijah Craig Barrel Proof. This is because Ezra Brooks 12 Year has this very refined, mature, and fragrant oakiness, that's often more muddled and "blob-ish" in Elijah Craig Barrel Proof.
Even at what I might consider a lower ABV (it actually isn't, I'm being a bit of a proof whore here), there's still really nice density, darkness, heft to everything, and with the added benefit of not much heat.
Swirling muddies the scents a bit, but it does re-open after a few minutes. Now I get more fragrant and slightly grassy oak, caramel, vanilla, cherry, apple, orange, apricot, cocoa powder, cinnamon, clove, and fennel. Ezra Brooks 12 Year overall has a really fantastic range of scents with extra oakiness and roastiness similar to Lux Row 12 Year, that have more body than the ABV would suggest.
It's a very well-matured and selected barrel on scent alone.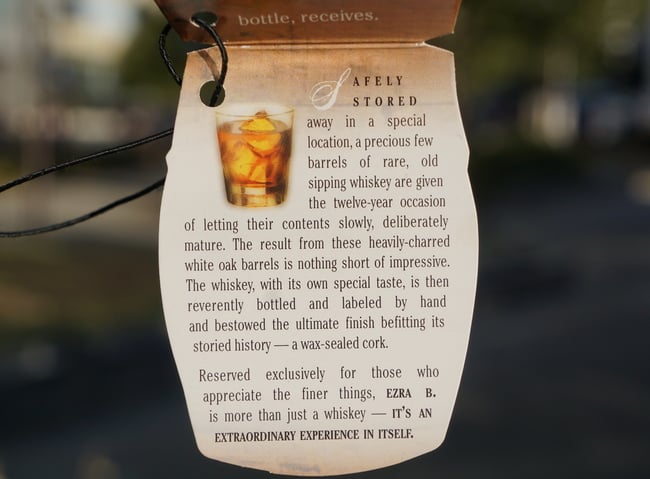 ezra brooks 12 year taste and aftertaste
The first sip is very much inline with the scents with dense caramel, vanilla, cherry, apple, charred oak, dark chocolate, cinnamon, clove, and licorice. It ebbs and flows between sweet, fruity, oaky / roasty, and herbal all in a few seconds, making it a rich, complex, and varied bourbon.
For Heaven Hill-distilled bourbon, it's not really nutty. As the age might suggest though, it has a refined and defined oaky backbone behind everything that mingles with all the other flavors, giving it more in common with Lux Row 12 Year.
"Chewing" gives me chocolately caramel, roasted oak, slightly funky and toasted vanilla (aged funk probably), creme brulee, cinnamon, clove, dried cherry / apple / apricot, fennel, tobacco, and just a hint of nuttiness. Now I'm starting to get some of that fruity and vanilla-y "dusty" funk I find in older bourbon and wine / brandy finished bourbons.
The most interesting thing might be that, "chewing" even more vigorously unleashes extra mature, roasty, and refined oak to the front, joining with the caramel, fruit, spice, and herbal flavors, yet never overpowers or gets in the way. It becomes even more rich and oaky in the best way. And yes, I did test out different levels of "chewing" strength.
The finish starts off more roasted oak-forward followed by caramel, licorice, cinnamon, cherry, and pineapple. The slightly bitter oak tannins linger with this gentle and bright tropical sweetness, and the herbal and tropical sweetness just lingers on and on. After a few minutes, some of that nuttiness starts to appear as everything else fades away, wrapping up a great finish.
"Chewing" makes the aftertaste more roasty, and I can feel all those oaky tannins build with each sip. After that comes caramel, dry cherry, cinnamon, clove, mint, and licorice. I don't know if Ezra Brooks 12 Year was chill filtered (probably was), but the oakiness really latches-on and doesn't let go.
Ezra Brooks 12 Year Rating

I really lucked out with this older Ezra Brooks 12 Year Single Barrel for $50, because it's excellent and a shining example of what Heaven Hill bourbon can be. Buying older whiskey, and single barrel whiskey nonetheless, is always a gamble because you never know what you're going to get. Inevitability, some single barrels are just going to suck (e.g., the
awful Henry McKenna 10 Year I reviewed
).
Let's just say that after I opened the bottle and strained out the cork (that's why you see a wine cork in the main photo), two friends and I ended up drinking about 2/3 of this bottle in one sitting. Everyone loved it. Sitting down, taking my time, and focusing on the review reveals why we all couldn't help but have more.
Even though it has the amount of dense, roasty, and mature oak as you might expect from a 12 year old bourbon, there's still a great range of dark sweetness, fruit, spice, and chocolate to provide a well-rounded, complex, and interesting experience. Some 12+ year old bourbon is just overly oaked and dry (
Hunt and Gather 15 Year
sourced from Jim Beam), but this is just an amazing example of making it all mesh together.
It's not a scent and flavor explosion like
Elijah Craig 12 Year Barrel Proof
or even
Lux Row 12 Year
, but instead brings a slightly more gentle yet still very mature, nuanced, and complex experience that's difficult to find in bourbon under $50 these days. Don't get me wrong, there's a lot of high-quality options, but this is something different and better.
Although this is purely from memory, the one
12 year old Elijah Craig Single Barrel pick
I had (from 2020), although very good, doesn't come close to this excellent Ezra Brooks 12 Year. There's single barrel variation for sure, but this pre-fire bourbon is richer all around.
Ezra Brooks has a much stronger oak presence (pleasantly so) that really asserts itself as an older bourbon, and also more fruit and overall sweetness, viscosity, and depth. That said, I would love to pick or find an Elijah Craig Single Barrel that's more fragrant-oak forward like this Ezra Brooks.
Ezra Brooks 12 Year Single Barrel is an outstanding bourbon, and I wish that more like this was available today at similar prices.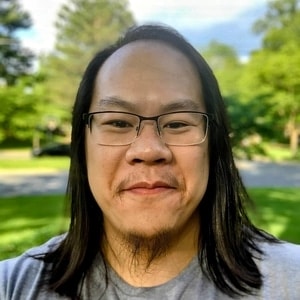 I have far too much fun writing about whiskey and singlehandedly running The Whiskey Shelf to bring you independent, honest, and useful reviews, comparisons, and more. I'm proudly Asian American and can speak Cantonese, Mandarin, and some Japanese.
There are no sponsors, no media companies, and no nonsense. Support The Whiskey Shelf by 
Buying Me A Shot
.
Comments are closed.