Virgin Bourbon 7 Year Review
Virgin Bourbon 7 Year Review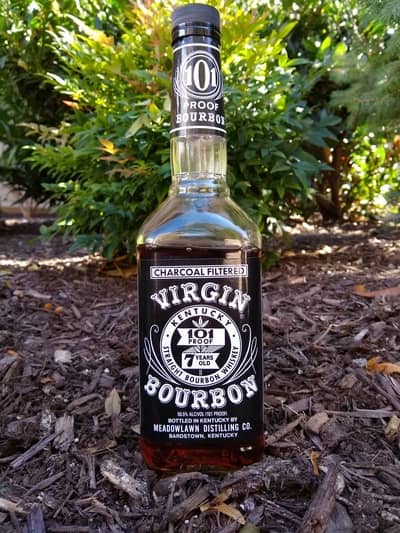 From the Virgin Bourbon bottle:
"Virgin Bourbon: An old-fashioned sour mash bourbon distilled in teh foothills of Kentucky. Charcoal filtered to give every drop that Old Mellow flavor."
Virgin Bourbon 7 Year overview
You probably haven't heard of Virgin bourbon before. I hadn't heard of it until I stumbled on it at my ABC store and saw that it was a 7-year-old and 101 proof bourbon, for $15 nonetheless. Given how things are with bourbon (i.e., it keeps getting younger and more expensive), that seems like an absurd steal. But why had I never heard of Virgin bourbon or Meadowlawn distilling before? Well, it's in part because it's only distributed in the South, and even though it says that it's "bottled in Kentucky by Meadowlawn Distilling Co", Virgin 7 Year is sourced from Heaven Hill, of Evan Williams and Elijah Craig fame.
irgin 7 Year bourbon lost its 7 year age statement, likely because of Heaven Hill introducing the 7 Year Bottled in Bond. Heaven Hill must be using some of that older stock for the bottled in bond, and they also may not want to keep supplying a competitor with enough 7+ year old whiskey that would directly compete with them at a third of the price. Does Heaven Hill have anything to worry about over this "unknown" bourbon? Let's find out in this Virgin Bourbon 7 Year review.
Heaven Hill made and sourced Lineup of Reviews (yes Virgin is sourced from Heaven Hill)
Virgin Bourbon 7 Year smell
Virgin bourbon rocks a rich nose full of dark and dense honey, brown sugar, maple syrup, vanilla extract, buttercream, cherry, and baked apples. It carries the usual Heaven Hill grassy nuttiness, leaving no doubt that it's sourced from Heaven Hill. As I keep smelling, I find a pretty thick spread of cinnamon and clove, as well as a thinner layer of freshly crushed corn kernels. The heat is very calm, but I did let it sit for 20 minutes before taking the first sniff.
Swirling Virgin 7 Year coaxes out the bright alcohol, eucalyptus, and anise, with the alcohol getting a little rowdy at times. The nose is still very sweet with brown sugar and vanilla, preserved orange rind, baked apples, and pine, but now there's a little more mint and anise herbalness. It also has a slightly creamy and buttery scent to it, and the nuttiness seems to have toned-down quite a bit, giving way to everything else. The oak provides a thin wrapper around everything, contributing to the darkness.
Overall, Virgin bourbon is very sweet, full of dark sugars and vanilla, yet the darkness seems to be driven by the burnt sugars and less so by the oak. It's an intense and fun bourbon that smells much more expensive than it is.
Virgin Bourbon 7 Year taste & aftertaste
Virgin 7 Year bourbon punches with honey, brown sugar, and a little dried orange rind and anise followed by a lot of dark chocolate, cinnamon, and oak. This is a rich and full bourbon that doesn't play coy, and it's really in the flavors where the oak begins to flex its muscles. "Chewing" releases more caramelized brown sugar with oak and a potent cinnamon and clove spice kick, followed by delicious, but not quite as strong, vanilla and citrus. Past the sweetness and spiciness is some nut bread, cocoa powder, anise, and mint. Virgin Bourbon 7 Year is very sweet and spicy with quite the kick, but not quite Stagg Jr level. 
The finish is oaky and spicy with honey, cinnamon, and vanilla that fades into orange creamsicle. With "chewing", the finish is more oaky with caramel, vanilla, and orange. After the alcohol fades, it becomes more anise, honey, orange, and vanilla with a gentle lingering oak and cocoa bitterness. Virgin 7 Year Bourbon is a quintessential bourbon with a ton of flavor but some roughness around the edges that ultimately drinks like a much more expensive bourbon. It's most likely the best bourbon I've ever had under $20.
Place on the Whiskey Shelf

Whoa, Virgin 7 Year Bourbon is a surprise treat and a delicious bourbon for $15. I blindly bought it because of the awesome specs and price, and ended up getting a bourbon that holds up well against many $30-40 bourbons and outperforms Wild Turkey 101, although I can't speak to Old Ezra 7 101, which I regrettably passed-on for $22 when I had the chance. It's potentially the best bourbon for under $20, challenging the mighty Evan Williams Bottled in Bond for "budget" supremacy (ironic that they're both made by Heaven Hill). It's so rich with brown, sugar, caramel, and spice, as well as generous doses of alcohol that don't necessarily make this an easy drinker, but I'm hooked. Did I mention that it's $15?
I'm so sad that the age statement was removed, because Virgin Bourbon 7 Year is so delicious and wallet-friendly. This is the daily drinker you should always have, assuming you like the Heaven Hill bourbon profile. Buy it if you can still find it.