remus volstead 14 year review
Remus Volstead 14 Year Bottled in Bond Bourbon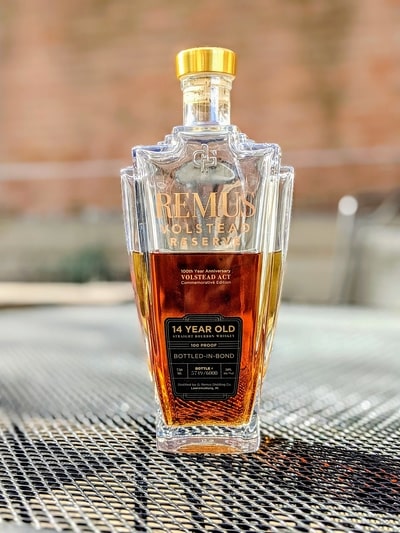 From the Company website:
"To commemorate the 100th anniversary of the Volstead Act – we are proud to introduce Remus Volstead Reserve. This ultra-premium bourbon is a one-time release that has been aged for 14 years, in honor of the 14 years of Prohibition. Bottled-in-bond and 100 proof, this limited 2005-aged reserve bourbon has rich aromas of dried candied fruit and caramelized pecans to balance the robust flavors of rich oak and barrel char that intensify the tasting experience."
remus volstead 14 year overview
Remus Volstead 14 Year Bottled in Bond, part of their line of Remus-branded bourbons including George Remus and Remus Repeal, was a 2019 one-time release of 6,000 bottles to commemorate the end of prohibition. While the timing of the release is interesting, MGP directly selling their own 14 year old bourbon is even more so because it was likely their oldest direct release to date. In the past, most 12+ year old MGP Indiana bourbon has come from other companies who bought it from MGP then sell it under their own brands (e.g., Widow Jane, Belle Meade, Boone County to name a few). 
I'm glad MGP is starting to lean into their own brands because MGP bourbon and rye are some of my favorites. With something like Remus Volstead being a limited release and meant to commemorate a major event in whiskey history, MGP should have the pick of their best barrels, so I'm curious how they chose to create this blend. Let's find out how good of a job they did in this Remus Volstead 14 Year Bottled in Bond review.
remus volstead 14 year smell
The immediate blast of fragrant and piney honey is a unique surprise, followed by caramel nougat, roasted vanilla buttercream and cream tart, dried citrus peel, maraschino cherry, freshly cut apples, ground coffee beans, dried berries, cocoa powder, charred oak, tobacco, cinnamon, nutmeg, and a little earthy and herbal licorice and thyme. There's a chocolate orange ball vibe with berry drizzle. Remus Volstead 14 Year is incredibly refined, rich, and expressive with a great mix of fragrant oakiness and sweetness that makes it clear it's old, although I wouldn't quite say that it's as deep or bold as I expected. As is though, this provides a mature and intriguing experience that isn't brash or overwhelming.
Swirling emphasizes that fragrant smoky and piney oak, an improved version of Woodford Very Fine Rare bourbon, then toasted caramel, charred vanilla, dried citrus peel, dried cherry, heavily baked apple with cinnamon, dried berries, candied ginger, even more charred oak, tobacco, and lighter earthy notes, rosemary you'd have in a roast, and light honeysuckle floralness. Remus Volstead is oaky, but in a welcoming hug type of way. Overall, it has such mature, refined, and developed scents that continue to open up and get richer over time so I could smell it for hours. I just can't help but wish this was a little richer and varied. It's not light, but a 14 year old 100 proof bourbon from one of the US' largest whiskey distilleries could do so much more with this.
remus volstead 14 year taste & aftertaste
The flavors are full of creamy and luxurious caramel, dark chocolate, dried cherry and blueberry, baked apple, oak, tobacco, cinnamon, clove, and nutmeg with less licorice and anise. The age clearly comes through, but there's enough fruit and sugar to balance all that oak and not much heat to get in the way. This is what I wanted from Woodford Reserve Very Fine Rare Bourbon. "Chewing" brings a burst of caramel nougat, honey, vanilla cream, dark chocolate, dried citrus and apple, dark dried berries, roasted oak, coconut meat, tobacco, cinnamon, nutmeg, roasted coffee grounds, and lighter candied fruits. The flavors are mature and easier to drink given the gentle heat, but still interesting as everything is wrapped in a nice layer of delicious oak and tobacco that only comes from older bourbon. You can't rush that part.
Roasted oak, caramel, dried berry, licorice, and cinnamon ease into the finish with a little bit of earthy leafy greens and mint. Even with the initial small sip, Remus Volstead leaves a long-lasting gentle oak and tobacco. "Chewing" leaves a balanced blend of oak tannins, honey, dried fruit coated in white sugar, tobacco, cinnamon, and dark chocolate. Oak tannins build with each sip but never become overpowering, continuing to leave a great aftertaste even minutes later.
Remus Volstead 14 Year Bottled in Bond is fantastically flavorful and well balanced, but honestly, it's not as viscous or rich as it probably should be. It's great but doesn't reach its fullest potential.
Place on the Whiskey Shelf

Remus Volstead 14 Year Bourbon is an excellent bourbon with precisely balanced and luxurious old oak, tobacco, spice, roasted sugar, vanilla, fruit, and light earthy notes. There are some "Top Shelf+" moments because of it, especially from the impactful and rich yet gentle oak, but nothing stands out quite enough to take it to that next level. I can't help but wonder if MGP played it too safe by over-indexing on the oaky traits and not enough on the fruitiness and overall richness that ends up limiting its ceiling. I say this because older MGP bourbon can also be fruity, oaky, and absolutely mind-blowing: Widow Jane 12 Year Single Barrel Bourbon Total Wine Select, even at 49.5% ABV, is my benchmark for exceptional MGP bourbon. Remus Volstead 14 Year, even with an extra 1 proof and 2 years of age, is less dynamic and interesting than that.
At the end of the day, Remus Volstead 14 Year Bottled in Bond is excellent, but not quite the home-run that I hoped to receive. If you have a bottle or are trying to get one, I'm confident that you'll savor every bit of it because it's still a great example of older MGP bourbon. I know my tone is strange given the rating, which I give without price, name, or limited release in mind. But when I add back the context of what this is – a limited release 14 year old MGP bourbon from MGP themselves, I expect a lot more than this. If you can't get this, Lux Row 12 Year Double Barrel Bourbon is similar in quality, if not a bit better, and available in Kentucky as it's still being released.
There's a lot of great content to come, so consider supporting The Whiskey Shelf on Patreon. Support here.