2010 Wild Turkey 8 Year Bourbon​ Review [In Depth]
2010 Wild Turkey 8 Year Bourbon
Wild Turkey 8 Year 2010 Details
Distillery: Wild Turkey
Type & Region: Bourbon, Kentucky
Alcohol: 50.5%
Composition: 75% corn, 13% rye, 12% barley
Aged: 8 years
Color: 1.4/2.0 on the color scale (tawny)
Price: I paid about $30
From the back of the bottle:
Distilled according to old Kentucky traditions, stored in charred oak barrels and matured into a whole-bodied, smooth and mellow whiskey.
2010 Wild Turkey 8 Year Bourbon​ overview
Wild Turkey 8 Year 101 Bourbon has been a Japan-exclusive for decades. And with bourbon's seemingly waning popularity over the years in Japan, that means that there's the occasional "dusty" bourbon find, especially further away from big cities where there are fewer people looking for it.
In winter 2022, I walked into a store, outside Tokyo, and BAM there this older Wild Turkey 8 Year bourbon was for 3300 yen (give or take $30 depending on the exchange rate), slightly faded labels and everything. So to further my bourbon knowledge, I had to get it to find out what it was like.
I'm not entirely sure what year it was bottled. The laser code is pretty hard to read, but the label style ended around 2012. So for an arbitrary guess, I'm saying that it's from 2010. I'm probably wrong, but I don't think it's so important when I know the general range. I'm not mistaking this for one from the 90's.
I'll learn more from drinking it, so let's explore some more in this Wild Turkey 8 Year 2010ish review.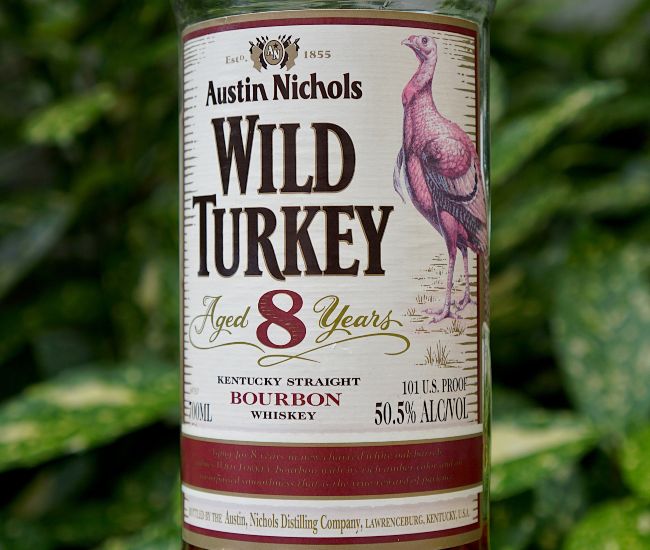 2010 Wild Turkey 8 Year Bourbon​ smell
2010 Wild Turkey 8 Year rushes out with an initial wave of roasted caramel, roasted oak, vanilla, tobacco, dried cherry and apple, cinnamon, clove, coffee grounds, cocoa powder, and orange peel with a little alcohol bite.
No kidding, it's very dark, roasty, and rich, smelling way older than 8 years old. That's certainly a great first introduction, although a bit shocking too with how crazy oaky it is.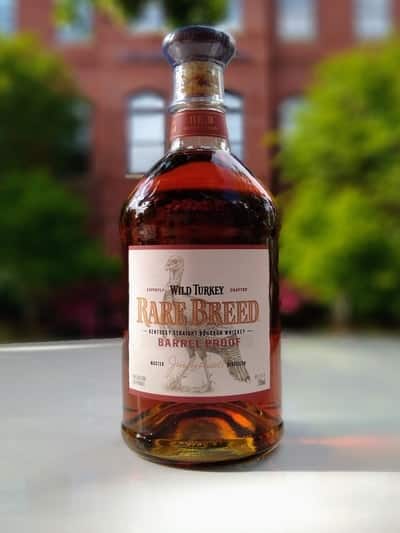 After that there's roasted caramel, charred oak, vanilla, coffee grounds, cinnamon, clove, dried cherry and apricot, licorice, smoke, and caramel nougat.
Wild Turkey 8 Year 2010 is predominately roasty, oaky, and spicy. For the most part it feels developed, refined, and occasionally nuanced, but not all the time. Don't get me wrong, I like it a lot because of it's dense sugars, and overall richness and heft, but it can be a tad unbalanced, although not overoaked and unpleasant. This is what I thought 2010 Wild Turkey 12 Year was going to be like, but was sadly letdown.
2010 Wild Turkey 8 Year Bourbon​ taste and aftertaste
Bam, the roastiness rushes out of the gate and into my mouth. I get rich roasted caramel and vanilla, orange peel and dried cherry, a lot of roasted oak, coffee grounds, cinnamon, clove, and licorice.
The first sip packs richness, oak, and spice, and I wasn't fully prepared even after smelling it. While the roastiness and oakiness doesn't quite take over everything, it's definitely intense. Regardless, I'm enjoying it a lot already. It feels like unabashed and "wild" bourbon, although not quite unbalanced or overpowering.
Not much changes after "chewing". I get punchy caramel, roasted oak, vanilla, dried cherry and apple, cinnamon, clove, coffee grounds, dutch cocoa powder (lightly bitter), a little dry grass and nuttiness, and a little bit of Nutella (made from Hazelnuts).
The finish leads with roasted oak, caramel, licorice, cinnamon, cherry, coffee grounds, and clove. It leaves a very nice lingering oakiness, roastiness, and spice. After "chewing" it's again roasty, oaky, and spicy – roasted caramel, oak, cinnamon, coffee grounds, nutmeg, and dry grass.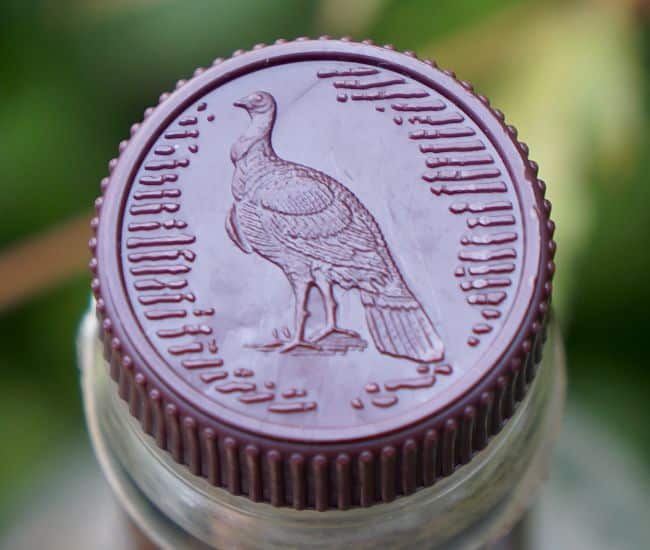 If you're shopping on Amazon, support The Whiskey Shelf by shopping through my affiliate link – Shop Amazon. I may earn a commission from your Amazon purchases.
2010 Wild Turkey 8 Year Bourbon​ Rating

Wild Turkey 8 Year from 2010 caught me a bit off guard with how oaky, roasty, and spicy it is because there aren't that many bourbons out there today like it. But at the end of it all, I really enjoy it after getting settled-in and acclimated to it.
This probably could have devolved into disaster if not for the appropriate blending, because the kind of unbalanced oakiness and spiciness could have taken over and dragged down the entire experience. Thankfully, the richer caramel and vanilla, as well as some background fruitiness, help to mostly balance it out so that I still feel compelled to give this a "Top Shelf" rating due to the viscosity and heft, and less so the nuance.
But don't get me wrong, the oak still has some nuance to it, bringing tobacco, cocoa powder, and nutella that make the oak not so much one-dimensional and just…very woody in multiple ways. If you've had
Wild Turkey Revival
, the sherry-finished limited release, then you may be familiar with that more intense oak and spice. It's not so nuanced, but nuanced enough.
We also have to keep in mind that I got this for 3300 yen (about $30ish) retail at a liquor store. This store had a bottle just sitting there for who knows how many years, but likely at least 10. I still can't believe that something like this was $30ish (possibly less) years back.
The quality of bourbon that existed even in the mid 2000s, and even moreso in the early 90's, blows my mind. And after this review, the value is absolutely there for these slightly older 8 year releases, assuming that you don't overpay.
This brings me to a quick tangent,
Wild Turkey 8 Year from 1995
. The 1995 version, at least from memory, also feels like a totally different bird. It's less oak and spice heavy, and drastically more sweet and fruit-forward with heavy caramel and prune. The oak and spice have less bite, and more of a background black hole-like darkness that feels more refined. It's always tough for me to explain, but check out that review for more details.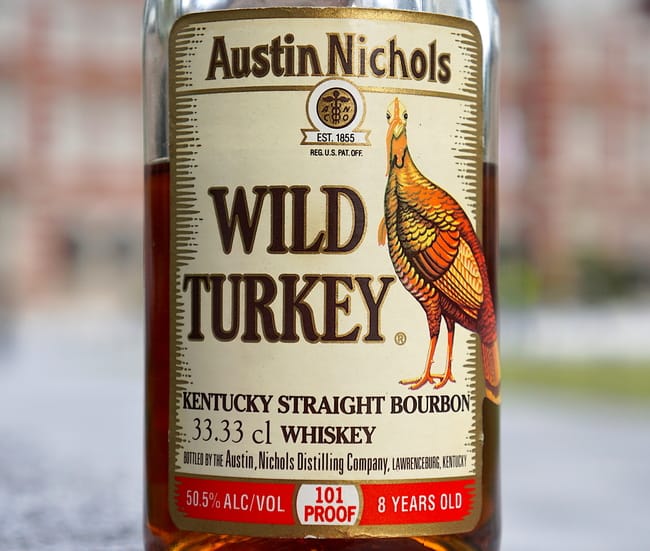 Don't get me wrong, today's Wild Turkey 8 Year is still very good and affordable (when you're in Japan), but this 2010ish release has some extra something something. Actually, it has more dense and mature caramel and vanilla to balance the oak, which makes it even more compelling. Bourbons 2-3x more expensive often can't keep up.
And with hindsight now, I find it interesting that this 8 Year feels similar to
Wild Turkey 17 Year Bottled in Bond
in how oaky and spicy it is with the background dried fruit. The light astringency is there in the scents as well, but not the flavors. I'd guess that this and the 17 year were barreled a few years apart (around 1999-2003), but this younger version comes out on top.
The difference, and it's a big one, is how much better balanced the caramel, oak, and fruit are. The 17 Year hammers away very hard with dry oak and spice (and then beats you while you're down), but the 8 Year better combines it all together into a better-balanced-ish experience that's still very oak and spice forward.
I have no idea how much you should pay for one, but I'll throw out no more than $80-100. These days, you'll pay far more for much less.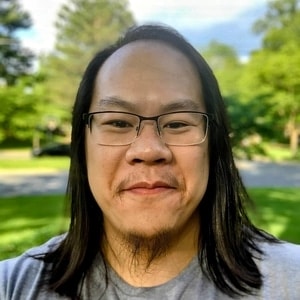 I have far too much fun writing about whiskey and singlehandedly running The Whiskey Shelf to bring you independent, honest, and useful reviews, comparisons, and more. I'm proudly Asian American and can speak Cantonese, Mandarin, and some Japanese.
There are no sponsors, no media companies, and no nonsense. Support The Whiskey Shelf by 
Buying Me A Shot
.