Wild Turkey 12 Year Bourbon (2010) Review [In Depth]
Wild Turkey 12 Year Bourbon (2010)
Wild Turkey 12 Year 101 Bourbon Details
From the back label:
"It was first savored as a specially selected barrel-aged bourbon by a group of hunters seeking the remarkable wild turkey bird, a native of North America. Today it is distilled according to old-time Kentucky traditions, and matured in new charred white oak barrels until it becomes the legendary, smooth bourbon whiskey we know as Wild Turkey."
wild turkey 12 year 101 bourbon overview
I finally got my hands on a bottle and have been eager to do this Wild Turkey 12 Year 101 Bourbon review. Thanks to the laser code (starts with L10), I know that this particular one was bottled in 2010, part of the second to last label version before it was discontinued.
For added background on label variants, you may have heard terms such as cheesy gold foil, split label, and faux-split label, all of which describe the various label designs over the years. Wild Turkey was really all over the place with their packaging, but it also has made it easier for people to identify the time period of when a bottle was made.
All that said, Wild Turkey 12 Year unfortunately met its untimely end around 2012 in Japan, and a few years earlier in the US. And while I expect that there are virtually no bottles sitting on shelves in the US (outside of secondary purchases then put on shelves), Japan still seems to have a few left here and there. But like all vintage and dusty things, the supply is slowly dwindling.
I walked into a store and it was just sitting there on the top shelf waiting for me. It's hard to say why it was there, but I wasn't going to complain since it's been on my wish-list. I highly doubt that it sat there for 10-11 years since it was released, mainly because the store is in a pretty busy part of Tokyo. It's possible that it was acquired in another way.
wild turkey 12 year 101 bourbon smell
First up, Wild Turkey 12 Year has slightly floral caramel, orange, vanilla, cherry, cocoa powder, roasted oak with a slight sourness, cinnamon, clove, licorice, and the faintest hint of tobacco. For 12 years old, the oakiness doesn't really leap out of the glass and overpower. It squarely blends in with everything else.
So far, Wild Turkey 12 Year touches on most of the usual bourbon notes and balances them well, although nothing really seems unique or interesting. It's not particularly sweet, fruity, oaky, or spicy (cinnamon, clove, and nutmeg, not chili pepper).
Swirling emits a bit more floral-forward caramel, dry apple & orange, cherry & cranberry, chocolate, vanilla frosting, roasted oak, cinnamon, clove, licorice, and a slight grassiness and nuttiness. Especially now, there's an astringency that comes off like slightly burnt popcorn, and it slowly creeps in to detract from the overall scents.
For whatever reason, the scents don't have much roundness, heft, or impact. It's very puzzling because while it smells alright, nothing comes close to standing-out. It doesn't even come close to Wild Turkey Rare Breed Non Chill Filtered or Russell's Reserve Single Barrel Bourbon.
wild turkey 12 year 101 bourbon taste and aftertaste
Wild Turkey 12 Year starts off with caramel, vanilla, chocolate, dry cherry, dry apple and orange, dry oak, cinnamon, clove, fennel, coffee grounds. Oh no, that weird and slightly sour burnt astringency is here too. It's not harsh, but rather unexpected and out of place.
While the dry oak is lighter in the scents, it comes out more in the flavors. It's still more caramel, vanilla, and chocolate forward overall, but has a more brooding oakiness, dryness, and spice.
After "chewing" I taste caramel, vanilla, that slightly sour astringency, chocolate, butterscotch, dried apple, cherry, and orange, dry and roasted oak, cinnamon, clove, licorice, dry grass, and coffee grounds. 
The slight astringency again is unfortunately noticeable throughout the flavors. While it's not overpowering, there's still enough of it that it meaningfully detracts from my enjoyment.
The aftertaste starts off with caramel, vanilla, apple, orange, roasted oak, cinnamon, and clove. It leans more oaky and becomes even more so as the coffee grounds take the lead. Unfortunately, the dry and slightly sour astringency also follows.
"Chewing" unfortunately boosts the slightly astringent oak followed by caramel, vanilla, dry apple and cherry, cinnamon, clove, licorice, coffee grounds, and dry nuttiness.
It's so strange that 2010 Wild Turkey 12 Year 101 also doesn't have much roundness, richness, or depth. It has all these traits that could be amazing, but just leaves them at surface level. Wild Turkey 12 Year doesn't taste bad, but it doesn't taste great either.
If you're shopping on Amazon, support The Whiskey Shelf by shopping through my affiliate link – Shop Amazon. I may earn a commission from your Amazon purchases.
Wild Turkey 12 Year Bourbon Rating

2010 Wild Turkey 12 Year 101 Bourbon is alright, but nothing excellent or special…or at least this 2010 bottling isn't. Let me be clear that I'm only talking about this version because there are earlier variants that are supposedly superb. I personally can't attest to it, but that's at least what I hear.
Unfortunately, I can't say for sure if this bottle went bad in some way and other bottles from the same label type are actually better. That hurts me to write that because I'd been really looking forward to finding and savoring one of these. I found it, but I'm not savoring it so much.
Wild Turkey 12 Year Bourbon has all the underpinnings of a great Wild Turkey bourbon – the usual caramel, vanilla, dried fruit, and herbalness with a roasty, oaky, spicy, and tobacco-y backbone. The problem, and it's kind of a big one, is that nothing comes off that developed or rich. I think "flat" is the best descriptor.
There's also this overarching sourness and astringency (possibly from the oak) that comes off as burnt popcorn. It's especially unpleasant in the flavors, and that matters the most to me. I don't know if it was there to begin with in 2010 or it surfaced over the years, but it's unfortunately there now. It's probably more noticeable too because there isn't enough sweetness, fruit, or really anything else to offset it.
This disappointing experience brings up another topic – the crapshoot of buying older whiskey, although this isn't all that old in comparison to other bourbons I've reviewed. A lot can happen / not happen to a whiskey between when it was released / put on the shelf, and when it's purchased. I don't know what happened, but I unfortunately got a dud.
I guess I was due given how lucky I've been with old Old Forester and Blanton's, but it's still a bummer to experience.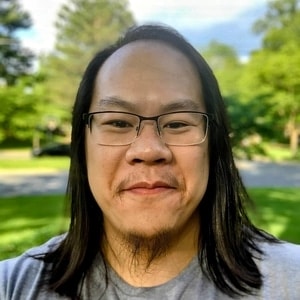 I have far too much fun writing about whiskey and singlehandedly running The Whiskey Shelf to bring you independent, honest, and useful reviews, comparisons, and more. I'm proudly Asian American and can speak Cantonese, Mandarin, and some Japanese.

There are no sponsors, no media companies, and no nonsense. Support The Whiskey Shelf by Buying Me A Shot.