One Eight Single Barrel Cask Strength Wheat Whiskey​Review [In Depth]
One Eight Single Barrel Cask Strength Wheat Whiskey
One Eight Single Barrel Cask Strength Wheat Whiskey​Details
Distillery: One Eight Distilling
Type & Region: Wheat Whiskey, USA
Alcohol: 68.8%
Composition:82% red winter wheat, 18% Appalachian wheat malt
Aged: 6 years
Color: 1.7/2.0 on the color scale (burnt amber)
Price: $80
From the back of the bottle:
The nose of this whiskey is full of your favorite pastry shop scents, including dulce de leche and buttery biscuit dough. A first sip will reveal sweeter notes of rock candy and spicy hot tamales before dark fruit=filled baked goods, such as cherry pie and blueberry scones, emerge. The bakery bouquet continues into the long finish serving up mixed berry struedel served with vailla crust.
One Eight Single Barrel Cask Strength Wheat Whiskey​overview
I've been following One Eight Distilling, based in DC, for years and I'm a big fan of their work. Over the years, I've reviewed a number of their whiskeys, so I might be in the top 3 in terms of quantity. As I've followed them over the years, I've started to realize that they were sort of the Bardstown Bourbon Company before Bardstown Bourbon started.
For years, and to this day, One Eight has sourced whiskey from all over, under their Untitled brand, and gone off the rails with finishes, usually in delicious ways. They've done everything from the more traditional sherry and cognac, to the more out there Calvados, coffee beans, and more. There's a bunch of releases and even I've barely scratched the surface of the Untitled line.
This time, I'm stoked to review their beast of a wheat whiskey, their first ever 6 Year Old Cask Strength Single Barrel Wheat Whiskey, coming in at a hearty 68.8% ABV. I also confirmed with Alex Laufer, the owner, that this was aged in the standard 53 gallon barrel. The crazy dark color and ABV is the byproduct of the barrel and time, nothing to do with non-standard barrel size.
This beast is made completely from wheat, 82% red winter wheat (I think the same stuff that goes into
Maker's Mark
and most wheated bourbons) and 18% Appalachian wheat malt (the unique part). If those stats have your attention, unfortunately, you're already too late to obtain this. This was released September 2022 with a very limited 122 bottle release. I think I ordered this within a few hours of One Eight putting it online for sale (and pickup at the distillery). Somehow, I got bottle #2. Damn…who has #1?
I want to explicitly call out that the age statement is nowhere to be found on the front label. If you're scratching your head and wondering where the heck it is, it's because One Eight chose to hide it on the back label. WHY!? It's strange to hide that fact, because it's a meaningful point for buyers. There's no shame in a 6 year age statement, especially for anyone buying this bottle, who's most likely already a fan like me. Flaunt it.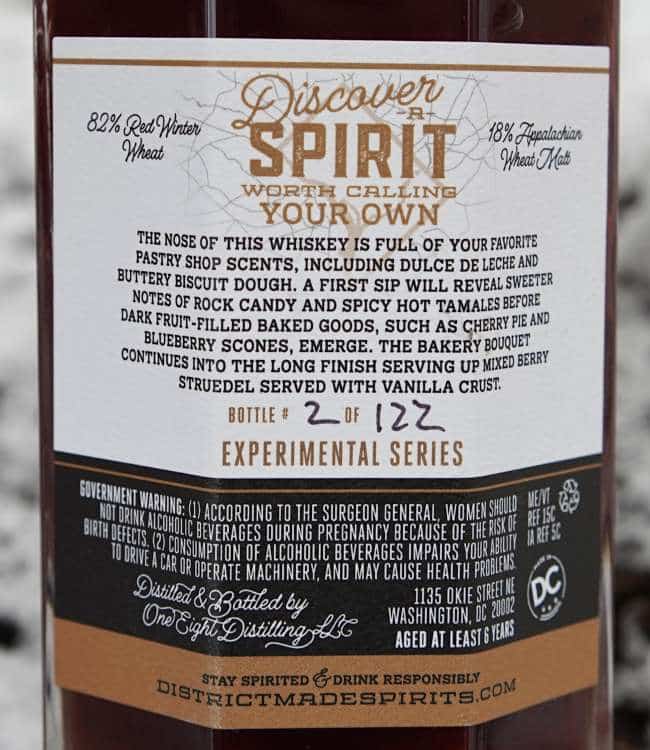 Before I get started on the actual review, I recognize that this review will mostly be overlooked because it's a one-off release from a small DC-based distillery. I'm doing this because I'm curious what this whiskey is like, regardless of whether anyone else cares. I appreciate the distillery and want to learn more about wheat whiskey, so I'm going for it. Come with me as I figure out what the heck is happening in this One Eight District Made Cask Strength Single Barrel Wheat Whiskey.
One Eight Single Barrel Cask Strength Wheat Whiskey​smell
Oh yeah One Eight Cask Strength Wheat Whiskey smells amazing with dark caramel, toasted bread, cherry, vanilla, roasted oak, croissant, cinnamon, a lot of ginger, dried orange peel, cardamom, and slightly burnt freshly baked bread. It is bold, dense, rich, and spicy with lots of baked good-vibes like roasted cardamom scone with candied ginger bits.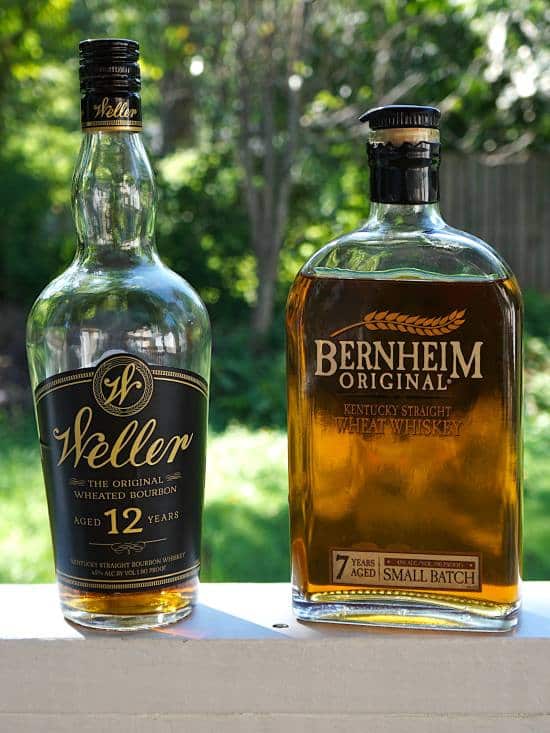 As wheated bourbons and wheat whiskeys can be, I also smell the wheaty gumminess, which you may be familiar with if you've had anything from Maker's Mark. To that point, now that I've had more than 1 wheat whiskey (the first being
Heaven Hill's Bernheim
and the second being
Bluebird 5 Year Barrel Strength
), I've become more accustomed to this unique set of scents that come with all that extra bread…I mean wheat.
Swirling and a lot of rest bring so many spicy scents out of the glass. First there's caramel with a lot of ginger, chili peppers, cinnamon, and clove mixed in there, then roasted oak, dried cherry and red apple, orange peel, lightly burnt bread, cardamom, and slightly doughy and gummy wheatiness / breadiness (sort of like the scent when you're kneading dough). A heavily spiced ginger muffin comes to mind.
As high as the ABV is, it never batters my nose with the hidden fury that's probably hiding beneath. It's hard to know what to expect from a behemoth of a 6 year old Wheat Whiskey, but One Eight District Made Cask Strength Single Barrel Wheat Whiskey is an intriguing, complex, and confusingly-enamoring whiskey that bounces between the spice, bready thing, sweetness, fruit, and whatever else is in there. It's a lot to process, and nothing can really prepare me for it.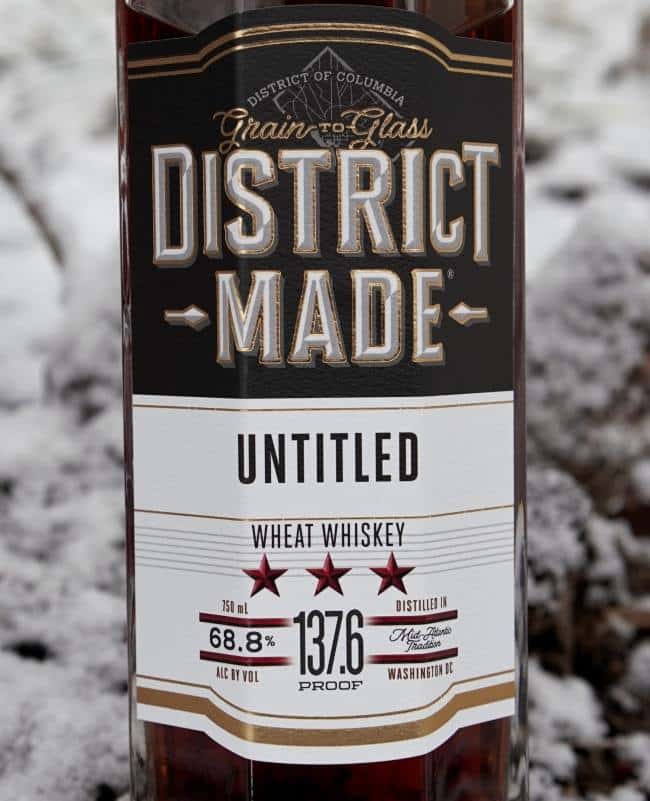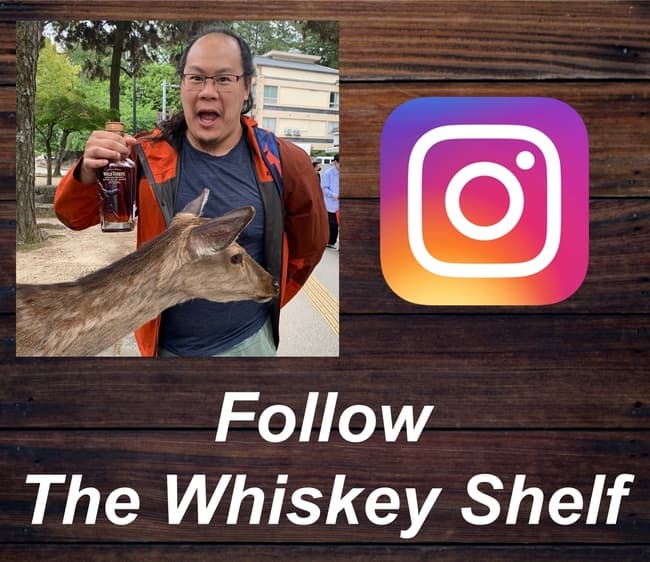 One Eight Single Barrel Cask Strength Wheat Whiskey​ taste and aftertaste
The flavors start off with dense, oily, and sticky caramel, cardamom, roasted oak, this gummy wheatiness (pleasant because it's not dry and grassy), cinnamon, clove, ginger, red apple, cardamom scone, cherry, and freshly baked bread that's slightly doughy and chewy on the inside. I can't shake the thought of a crazy cardamom scone.
One Eight Cask Strength Single Barrel Wheat Whiskey has so much oak spice – cinnamon, clove, cardamom. It's super oily too, and the stickiness kicks in the second it hits my tastebuds. It's literally wheated bourbon on a full regiment of wheaties to take wheat to the max, and it's a lot to process.
The alcohol can be a little quiet in the scents, but oh boy it kicks in full force in the flavors. It's not a raging, rough, and unpleasant heat, but it still asserts itself alongside the dense flavors so I can't let it sit in my mouth for long before it takes over. It's not quite a Mike Tyson punch you in the face type of heat, but it's going to rough up your tastebuds.
After "chewing" I get very spicy sweetness – caramel, ginger, red pepper flakes, cinnamon, clove, vanilla, roasted oak, cardamom, dried apple and orange peel, flaky crust, and gummy wheatiness. It's an oily, sweet, spicy, and flavorful explosion.
With smaller sips, more of the delicate orange and apple fruitiness comes out. If you have one of the other 121 bottles, I recommend small sips because I can't chew through it for more than 3-4 seconds before the alcohol forces me to let it go down the hatch. The alcohol probably does take away some of the nuance that could be there if I watered it down to 60% or something, but I rarely (maybe never) add water to find out what happens for reviews. For better or worse, I drink it as-is.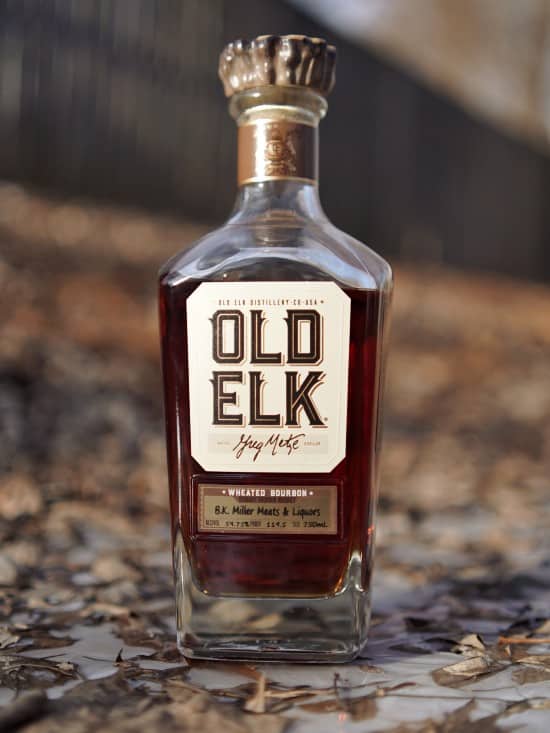 The finish starts with caramel, candied ginger, slightly doughy baked bread, cinnamon, clove, and dried cherry and apple, with really nice lingering candied ginger and cranberry. After "chewing", the oils really come to live with lingering sticky caramel, dried orange and apple peel, ginger, cardamom, and cinnamon. This one is hard to explain – there's a particular toastiness / earthiness that I also get when drinking Tej (Ethiopian Honey Wine). The hop / bark they use, gesho, has this sort of earthy sweetness.
If you ever get to try this, or any other cask strength wheat whiskey for that matter, just know that this is nothing like you've ever had before. It's not like rye'd / wheated / four grain bourbon, rye, single malt, or anything like that. Wheat whiskey, especially from 100% wheat mashbill, is a totally different experience.
This is an insane roller coaster that I want to keep riding.
If you're shopping on Amazon, support The Whiskey Shelf by shopping through my affiliate link – Shop Amazon. I may earn a commission from your Amazon purchases.
One Eight Single Barrel Cask Strength Wheat Whiskey​ Rating

One Eight Cask Strength Single Barrel Wheat Whiskey is a wild ride of dense and distinct scents and flavors. If you've never had wheat whiskey before (if you have it may have been Bernheim), this is going to be weird and intense. Luckily, I've sort of gotten used to non-Heaven Hill wheat whiskey, and I'm starting to appreciate it more for what it is. At the same time, I'll admit that this is still foreign to me so I'm not as comfortable rating it, but I tried anyway.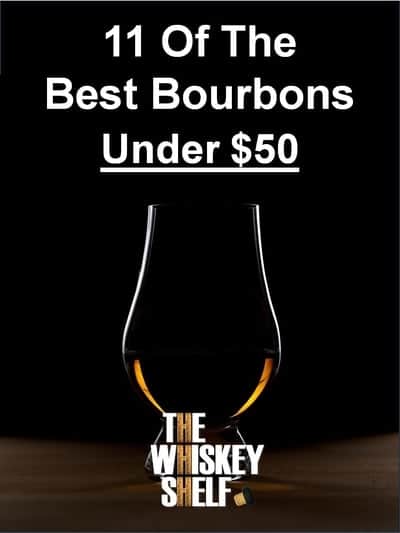 95% or even 100% rye is usually herbal and fruity and/or earth. At times, it can have distinct herbal, tropical fruit, and dill notes. Sometimes, it can be more earthy with pumpernickel, caraway seed, and/or pine. From my limited experience with wheat whiskey so far, it goes in a completely different direction that's strongly spicy with cinnamon, clove, and occasionally chili flakes, and this bready and wheat-y character that can best be described as well…some type of bread or baked good.
This review is not at all helpful for most people because this bottle has been long gone from the distillery's shelves. I doubt you'll ever see anyone try to re-sell it either. The point then is to explore what One Eight is doing and provide an update / assessment of how they're doing. To that point, this wheat whiskey is ahead of schedule and I'm curious to try older versions in the future.
Hopefully I can get a bottle of Bernheim Barrel Proof so I can compare them. Until then, well done One Eight Distilling!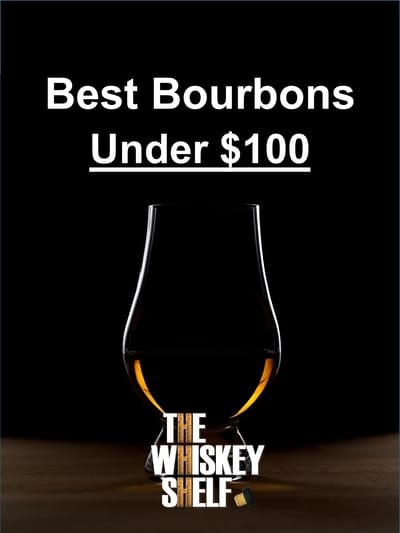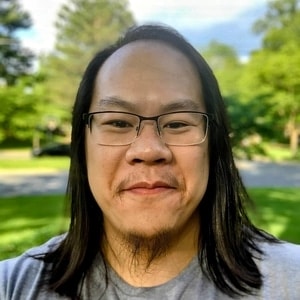 I have far too much fun writing about whiskey and singlehandedly running The Whiskey Shelf to bring you independent, honest, and useful reviews, comparisons, and more. I'm proudly Asian American and can speak Cantonese, Mandarin, and some Japanese.
There are no sponsors, no media companies, and no nonsense. Support The Whiskey Shelf by 
Buying Me A Shot
.