One Eight Distilling District Made Rye review
One Eight Distilling District Made Rye Cask Strength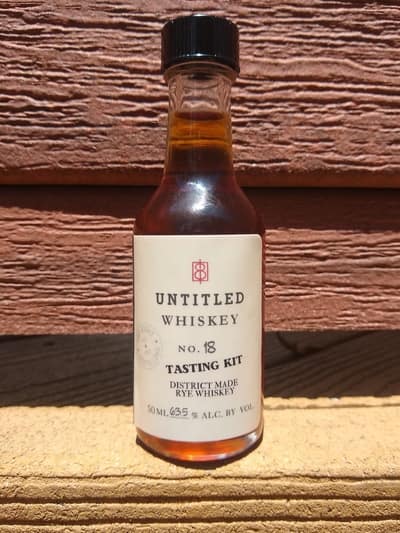 Distillery: One Eight Distilling
Type & Region: Rye whiskey, Washington DC, , USA
Alcohol: 63.5%
Composition: Unknown
Aged: 2 years in virgin American white oak
Color: 1.3/2.0 on the color scale (russet muscat)
Price: N/A – Not actually sold
From the One Eight Website:
"Rye holds a prominent place in the agricultural history of the Mid-Atlantic region and was even a significant crop for George Washington at Mount Vernon. After a long hiatus, we're proud to have released the first rye whiskey distilled and bottled in the District since Prohibition and to bring this signature terroir back to our region. We put our own spin on this classic spirit by using a large portion of malted rye in the mash bill, which helps this whiskey appeal to a wide range of drinkers."
One Eight Distilling District Made Rye overview
This is not a review of One Eight Distilling Untitled Whiskey No. 18, released on June 18, 2020. I say this because when I pre-ordered it, One Eight included a tasting pack with the individual components that went into the blend – cask strength District Rye and a cask strength single barrel of the 14 year old bourbon (I believe from MGP). Before I get too sidetracked on the Untitled Whiskey No. 18 release, I actually want to focus on the cask strength District Made Rye.
It could be argued that one of the more interesting things about this Untitled release is that One Eight included samples of the two components of the blend, both of which have never been released by One Eight. I applaud One Eight for doing this. It's so exciting to be one of the first outside people to be trying the District rye in cask strength form. Their District Made Rye, a 2 year old 47.5% ABV rye, has never been particularly exciting for me, but the prospect of trying the cask strength version is too compelling to pass-up, plus they included it for free in the pre-order so I'm obligated to drink it. I was told that this particular rye comes from a few 25 gallon barrels, so that's interesting to learn. This is a rare opportunity to try the rye in its hopefully full glory, so let's find out what the deal is in this One Eight Distilling District Made Rye Cask Strength review. 
One Eight Distilling District Made Rye smell
The rye character in One Eight Distilling District Made Rye Cask Strength comes through clearly with lush licorice, dill, herbal honey, freshly baked break, a lot of freshly peeled oranges, musty oak, cinnamon, and a little baked apple. This is very citrusy on the nose. I'm talking peeling one of those small easy peeling citrus fruits and immediately burying your face into it – citrusy. The rye is also very forward, as expected. As great as this smells already, District Made Rye still has this very specific note that I find in young whiskeys: slightly burnt baked bread, a lot of freshly crushed black pepper, and damp wood. It isn't a deal breaker for me, more of an observation and a reminder that it's still very young. The 63.5% ABV has some weight behind it, but it's never overbearing, reinforcing it's shocking level of maturity. Even on my initial sniffs, this smells wonderful.
After swirling, I still smell the same lovely blend of rye – licorice, dill, anise, herbal and floral honey, a lot of citrus, and apple, and the same youthful whiskey notes – malted grain, freshly crushed black pepper, and lightly toasted yet wet oak. As rye-forward as the District Made Rye Whiskey is, there's still a ton of ripe blood orange on the nose that is so interesting. This time around, I also start smelling a more of District Rye's earthy qualities – freshly cut pine wood, eucalyptus, mint, and freshly ground black pepper. Yeah, this smells great. Color me impressed.
One Eight Distilling District Made Rye taste & aftertaste
One Eight Distilling District Made Rye Cask Strength is very herbal and citrus-forward with honey, orange, licorice, and anise followed by roasted oak, cinnamon, and vanilla. The flavors all rush to the front and bring a few nice layers with it, so it's not light or reserved. I'm digging it. There's a little bit of heat, but then again, it's still a potent 63.5% ABV, but still leaves plenty of room for the fruitiness to lead.
With "chewing", I still taste that peppery and herbal sweetness of honey, blood orange and grapefruit, licorice, dill, vanilla, peppery oak, and cinnamon. Even at 2 years old, it's already very herbal and vegetal, yet in a way that's still very pleasant for a rye lover like myself, and it still packs a lot of fresh citrus. Past all of that, I taste caraway seed and black pepper on pumpernickel bread, again courtesy of the rye. The black pepper and toned-down tannic notes give away that this is young, but I'm still blown away by how flavorful this 2 year old rye is. 
The finish is very much the same: citrus, floral, and herbal honey with a little oak tannin and remaining alcohol. After "chewing", the finish has more caraway seed and pumpernickel bread with honey, citrus, and licorice drizzle. As everything fades, honey and citrus take the lead again, like the linger flavor after eating a small spoonful of good honey. Even after 5 minutes, it still tastes like I'd just eating a ripe blood orange or something. What the heck did One Eight do to make this? This can't be natural.
Place on the Whiskey Shelf

Wow, I completely underestimated One Eight's District Rye, or at least the cask strength version of it. While I'm still not compelled by the 47.5% ABV offering, the 2 year old cask strength District Rye is a youthful rye bomb that bring its own unique and delicious twist to craft rye. As young as it is, the scents and flavors are shockingly well developed and already hint at layers of growing depth, although there still are some more-than-subtle signs of its incredible youth, but that's ok. The licorice, anise, dill, and caraway seed are front and center, courtesy of the rye, but the vibrant and vocal blood orange notes in both the nose and palate take this to another level that usually only exists for older rye whiskeys. Actually, even 6-10 year old MGP ryes don't have this much citrus, usually more guava and lychee. This is a keeper.
One Eight Distilling, why have you not released a cask strength version of this yet!? It would be a crime not to show off this rye whiskey because it is absolutely worth sharing. This has to be one of the better rye whiskeys I've drank recently, far better than Rittenhouse Rye Bottled in Bond and the 2017 release of Rendezvous Rye that's 100% sourced from MGP and Barton. Even better, since it's homemade, we can expect a growing supply that will continue to improve with age and won't arbitrarily shut off because it becomes too expensive (i.e., Smooth Ambler with MGP). I can't even begin to imagine how mind-blowing a 4 or 5 year old cask strength version will be, but please sign me up for that release. Oh, and please release a 2-3 year old version soon too, thanks.