The Yamazaki Single Malt Whisky Review [In Depth]
Yamazaki Single Malt Whisky
Yamazaki Single Malt Whisky Details
From the company website:
"Spiritual and deep, made at Yamazaki Distillery, the soulplace of Japanese whisky, its signature multi-layered taste is highly praised by whisky connoisseurs all over the world. Today, Suntory Single Malt Whisky Yamazaki Whisky is not only the No.1 single malt whisky in Japan, but is enjoyed in more than 35 countries."
Yamazaki Single Malt Whisky overview
If you've heard about Japanese whisky, then you're probably heard of The Yamazaki – probably the single most popular brand of Japanese whisky today. It's probably a huge reason why Japanese whiskey overall is so popular across the world. Well that and Bill Murray doing ads for Hibiki 17 Year in Lost in Translation (the movie).
Yamazaki is best known for their blend of sherry, bourbon, and mizunara (a type of oak from Japan) cask-aged single malt whiskys. The percentage of each depends on the age and price of the bottle.
And with that sky-high popularity, and nowhere near enough aged-barrels to meet demand, most of the age-stated releases have been heavily allocated (and marked up) or discontinued. Let's just say that everything except the 12 year commands 4-6 figures USD and is unattainable except for the most wealthy, and those lucky enough to find the 18 year at MSRP.
That's where this obtainable non age stated Yamazaki Single Malt Whisky comes in – for better or worse to allow Suntory to sell something until their stocks age and catch up. It's very much the same thing that's happening in the bourbon world, but to an even more extreme degree.
Before I forget, here's how to pronounce Yamazaki: Yah-mah-zah-kee. The "ah" sounds is the same as when the dentist says, "open up and say aaaaaaah".
So with The Yamazaki Single Malt Whisky, this is what you get:
Japanese Whiskey – distilled in Japan, only uses water extracted in Japan, aged in Japan (there are more rules, but this covers most of it)
Single Malt – 100% malted barley whisky from one distillery
No age-statement – Required to be at least 3 years old
There is one interesting nuance with this non age stated whisky. In the US it's called Yamazaki Distiller's Reserve Single Malt Whisky, but in Japan it's just called The Yamazaki Single Malt Whisky. I bought this 200mL bottle in Japan, which is why it doesn't say Distiller's Reserve on the label. I don't know why Suntory chose this naming convention, but it doesn't matter for our purposes as long as the whiskey is the same.
As I did a little bit of reading to put together this introduction, I noticed that the US Suntory website doesn't mention this whiskey on its website (but the global website does). The US website focuses on the 12 year, 18 year, 25 year, and 55 year.
Actually, let me correct myself, there's one image…just one…of this bottle, but Suntory otherwise doesn't recognize it. That's certainly a glowing endorsement to pretend that it doesn't exist, but it could actually mean that it's not meant to be sold in the US. I can't say for sure.
Yamazaki Single Malt Whisky smell
Up first, Yamazaki Single Malt Whisky offers up sweet dates / prunes / cherries (from the sherry component of the blend) and honey, followed by biscuit, cinnamon, orange, vanilla, green grape, starfruit, and roasted oak.
The sherry component leads the way, while it was very subtle in
Miyagikyo NAS
. The bourbon-aged component, meaning the tropical and bright green grape, orange, and starfruit, back up the sherry and add more layers. As a whole, the fruitiness is almost Starburst / fruit cup-like in how vibrant it is.
I'm a big fan of sherry and sherry-matured whisky, so this is already clicks with me. While sherry is often dark and heavy, it still combines well with the bourbon-aged part to form a dark and bright, vibrant, and fragrant single malt whisky. I can't help but be surprised at the bite though, which is uncharacteristic for 43%.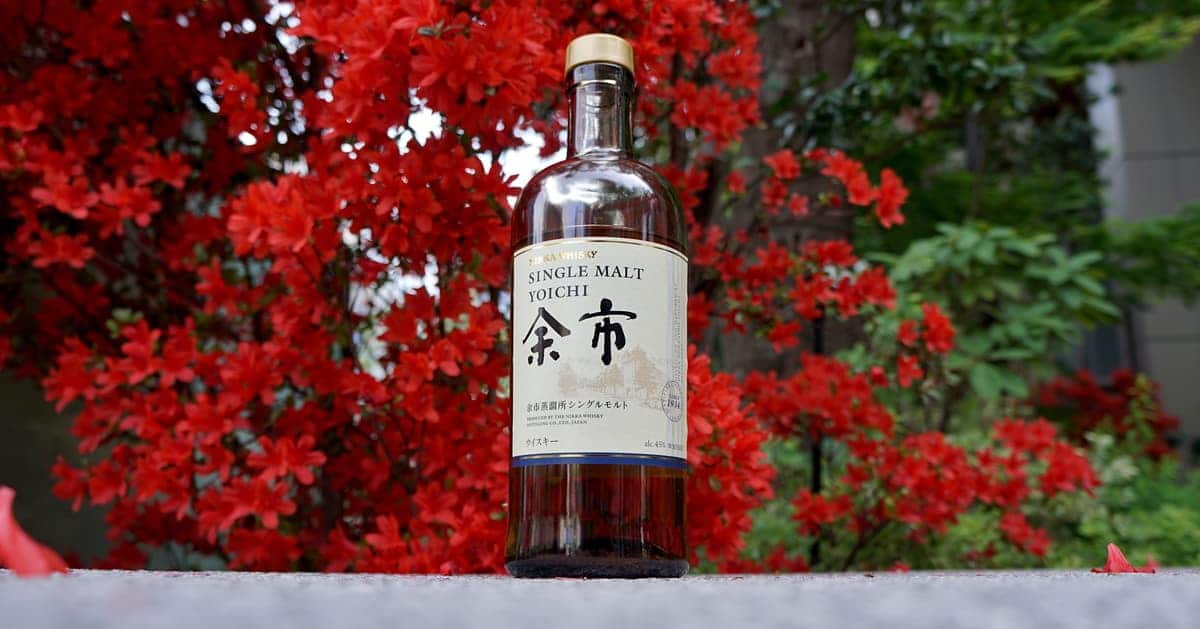 The Yamazaki Single Malt smells similar after swirling. It's dark fruit-forward, primarily with cherry and date, followed by honey, orange, starfruit, cinnamon, vanilla, roasted grains, roasted oak. The roastiness hangs out in the background, gently infusing some additional darkness into the vibrant fruity top-end and slightly darker low-end fruitiness. The bite has subsided for the most part as well.
So all things considered, The Yamazaki Single Malt smells great and outperforms the far-too-low ABV. At the same time, the lower ABV and blending prevent it from having the fully-rounded scents that I'd want to get from an excellent single malt. All the pieces are there, and now they just need to be deeper, bolder, and viscous to get to the next level.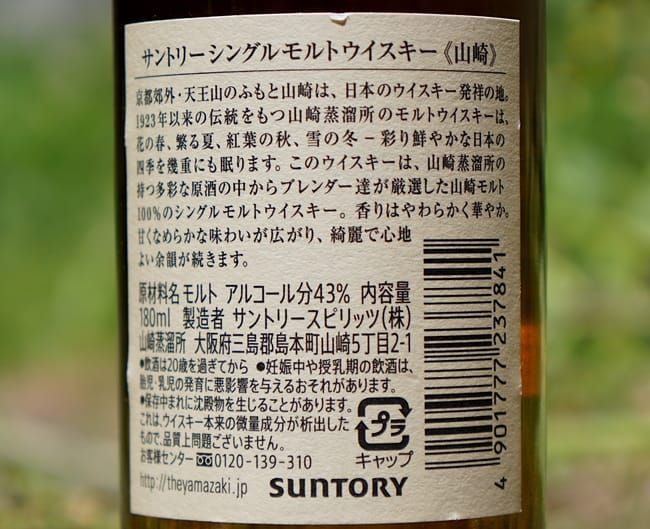 Yamazaki Single Malt Whisky taste and aftertaste
My first sip has creamy honey, dried prune, vanilla, malted grains, cinnamon, a little chocolate, roasted grains, orange, starfruit, and green grape. There's decent viscosity here, but that's often the case with single malts because they usually are distilled using pot stills.
Unlike the scents, the bourbon-aged component (citrus) is more even with the sherry (dark berries, prunes), which makes this a nicely fruity-tasting single malt with a roasty and spicy background.
"Chewing" seems to shift the balance a bit by opening-up more of the roastiness and chocolate into the fruity mix. I taste honey wrapped in lightly roasted oak and dark cocoa powder, cherry, orange, some slightly funky vanilla (probably from the sherry), green grape, cinnamon, roasted oak, and starfruit. The slightly above average viscosity, courtesy of the pot stills, is always a bonus.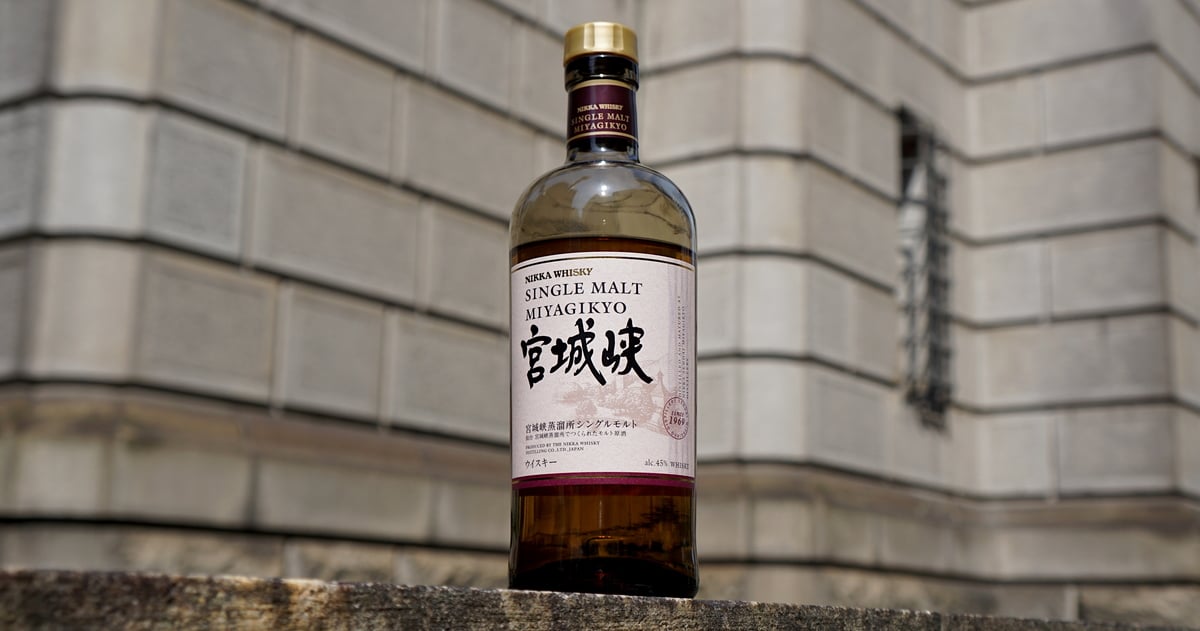 Honey, prune, roasted grains, orange, grape skins, and roasted oak bring me into the finish. It's a bit more roasty and tannic than in the scents and flavors, but it's nowhere near overdone.
After "chewing" there's oaky and roasty honey, starfruit, cherry, cinnamon, and hints of coffee grounds. "Chewing" coaxes out more of that oakiness and roastiness, changing the experience.
The Yamazaki is a roasty, sweet, and fruity single malt whisky that already has a lot to offer, age-stated or not. But like I mentioned already (and will a few more times), all the pieces are there but it needs more depth and roundness to be truly great. For the $80+ price it's asking, it probably should do more of it already.
If you're shopping on Amazon, support The Whiskey Shelf by shopping through my affiliate link – Shop Amazon. I may earn a commission from your Amazon purchases.
Yamazaki Single Malt Whisky Rating

The Yamazaki Single Malt Whisky smells and tastes like a well-crafted and blended whisky. Out of everything, I enjoy the back and forth between the darker fruit from the sherry and the brighter / vibrant fruit from the bourbon.
As a result, I personally prefer this over
Miyagikyo
, but mainly because the sherry is stronger.
Speaking of mizunara cask, I still can't get a grip on what it brings. Trying something that's only aged in mizunara casks would be great, but oh boy those are super rare and expensive.
If you've read some of my other Japanese whisky reviews, then this is going to sound familiar. The Yamazaki Single Malt is very good, but it lacks the depth and heft of a "Top Shelf" whisky. The dark fruit is nice, but lacks density. I like the brighter fruit, but it doesn't have enough pop and roundness. I like the oak, but it feels shallow. I really don't like hammering that fact over and over, but that's what I keep experiencing.
The combination of ABV and age (or lack thereof) definitely shows. I especially despise the 43% ABV, especially when Suntory has the guts to charge $80+.
If you want something more, Yamazaki 12 Year and
18 Year
are supposed to be there to provide an even better experience, although good luck getting those. Yamazaki 12 Year is limited and pricey, although obtainable-ish, and the 18 year is just…insane to put it kindly. I've mentioned this about
Nikka Miyagikyo
and
Yoichi
already – Suntory (and Nikka) is far behind Scotch producers, and it's unfortunate to be in that position.
And determining if something is "worth it" is so difficult. I personally don't find Yamazaki Distiller's Reserve to be compelling enough at the $80+ price it seems to have in the US and Japan.
If you want a sherry-forward whisky / whiskey for around the same price, I recommend 
Nikka From The Barrel 
(not Japanese whisky anymore because there's Scotch in it), Aberlour A'Bunadh (cask strength single malt Scotch), or 
Redbreast 12 Year Cask Strength
 (cask strength Irish Whiskey) to name a few.
There are a lot of great options out there. If you do choose to buy one for yourself at a price that you think is acceptable, then I believe that you'll be pleased with the experience. Just don't expect to be wowed.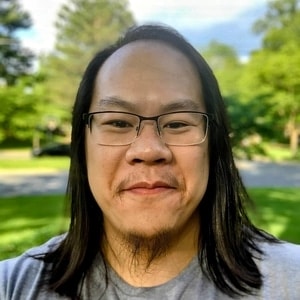 I have far too much fun writing about whiskey and singlehandedly running The Whiskey Shelf to bring you independent, honest, and useful reviews, comparisons, and more. I'm proudly Asian American and can speak Cantonese, Mandarin, and some Japanese.
There are no sponsors, no media companies, and no nonsense. Support The Whiskey Shelf by 
Buying Me A Shot
.