four roses private select obsv 9 year review
Potomac Wine and Spirits

Four Roses Private Select OBSV 9 Year 6 Month Bourbon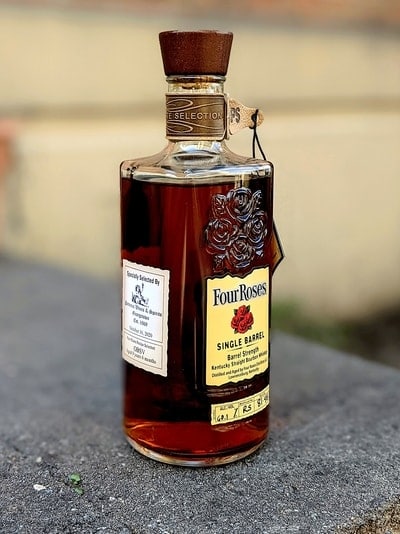 From the Four Roses website:
There's absolutely nothing about the private select program.
four roses private select obsv 9 year overview
Four Roses Private Selects already have a lot of possible combinations between mashbills and yeasts, but individual barrel selection takes it to another level. This time around, I have a Potomac Wine and Spirits Private Select OESV 9 year 6 month old bourbon that was picked October 16, 2020 from warehouse RS and barrel 81-4E. Four Roses defines OBSV as delicate fruity (pear, apricot), spicy, and creamy. I want to try as many of the recipes as I can (I've covered OESK and OESF so far), so time to find out more about this Potomac Wine and Spirits OBSV Private Select.
four roses private select obsv 9 year smell
This Four Roses OBSV has nicely dark and dense honey (but not quite roasted caramel), licorice, caraway seed, thyme, toasted marshmallow, oak, cinnamon, a light spritz of freshly squeezed orange, guava, maraschino cherry, and very faint tobacco. There's a lot of this freshly baked rye bread coated in caraway seed, likely from the 35% rye, as well as a light alcohol sting. This OBSV Private Select smells really good – a fairly balanced blend of sweet sugars, herbal and earthy rye, fruit, and oak.
After swirling, this Potomac Wine and Spirits OBSV initially has more of this brighter Gushers candy fruity sweetness that over times turns into darker honey, baked apples with cinnamon, rosemary, dried cherry, earthy oak, pineapple, hints of tobacco. It just smells like an excellent bourbon bouquet without too much heat. 
four roses private select obsv 9 year taste & aftertaste
Potomac Wine and Spirits Four Roses OBSV has more caramel with roasted vanilla, rosemary, dried apple, licorice, roasted oak, and cinnamon. It has a decent punch, but nothing shocking, and so far tastes very good even though it has a fairly narrow, but rich, flavorful, and interesting, set of flavors. After "chewing" I get caramel, roasted vanilla, earthy caraway seed, licorice, baked apple coated in cinnamon, pineapple, oak, and clove, with the occasional moment of vanilla cake. I like the back and forth between the dense sweetness, fruitiness, and earthiness / herbalness that makes this another winning flavorful and unique Four Roses bourbon. There's plenty here for a "Top Shelf" flavors.
The sweetness fades a little into the finish, letting the earthy rosemary and thyme come out more, followed by oak with a little caramel and apple. The finish is very long even after the first sip and continues to interestingly go back and forth between sweetness and earthiness. After "chewing" the heat surges a little, then eases into caramel, rosemary, roasted oak tannins, orange peel, and apple – all long-lasting and pleasant.
Place on the Whiskey Shelf

This is another great Four Roses pick by Potomac Wine and Spirits and I haven't had a bad one from them yet. This Four Roses OBSV Private Select is best described as a balanced but slightly more fruity and earthy-forward bourbon, very much a high-rye bourbon but more herbal and less intensely earthy than something like New Riff Single Barrel Bourbon. Based on Four Roses' OESV description and my own personal observations, I wouldn't say that it's creamy and I wouldn't be surprised if I'm interpreting what Four Roses says is pear as pineapple. The spice is definitely there though with extra servings of cinnamon and caraway seed.
As delicious as this particular barrel is, and there's a lot to like, it doesn't quite have at least one standout or "wow" trait, which holds it back from being even better. That's mostly splitting hairs for an already fantastic bourbon, and I continue to look forward to future Four Roses Private Selects. At the end of the day, you can't pick an outrageously great barrel (e.g., Potomac's 12 year OESF) if it's not offered to you to even try.
There's a lot of great content to come, so consider supporting The Whiskey Shelf on Patreon. Support here.