Bourbon Hill 15 Year Review
Bourbon Hill 15 Year Details
Distillery: Heaven Hill (probably)
Type & Region: Bourbon, USA
Alcohol: 50.5%
Composition: Likely 78% corn, 10% rye, 12% barley
Aged: 15 years
Color: 1.4/2.0 on the color scale (tawny)
Price: Paid $200
bourbon hill 15 year overview
Like I've mentioned in other reviews, Japan received a lot of various Heaven Hill bourbon over the years, sourced and unsourced. To the best of my knowledge, Bourbon Hill 15 Year is another one of those mysterious Heaven Hill-sourced releases that didn't necessarily get much attention.
Even without internet searching, there are some factors that suggest it's Heaven Hill bourbon. The most obvious one is the distinct Evan Williams bottle. The label also mentions Bardstown, Kentucky and charcoal filtered, which both point to Heaven Hill.
Heaven Hill is one of the few Kentucky distilleries that historically has mentioned charcoal filtering on some of their products. Finally, using "Hill" may or may not be an intentional hint at its origins. "Heaven Hill" and "Bourbon Hill"…see the resemblance?
Internet searches (mainly from Whisky Auctioneer) indicate that Bourbon Hill 15 Year was released around 2005 for only the Japan market, likely a one-time release. If that is true (I have no reason to think that they lied), that means that the bourbon in the bottle was distilled in or before 1990, making this pre-fire Heaven Hill. Well that's certainly a fun discovery.
But no, I didn't find this just sitting on a store shelf, waiting to be found for 15+ years. I found this at a resell shop, so someone decided that they no longer wanted it, and I happened to stumble onto the mysterious bottle for $200.
All things considered, this is a pretty interesting bottle of 15 year old Heaven Hill bourbon, which you're hard to pressed to find these days outside of some super-limited (and expensive) releases. Dropping $200 on an unknown bourbon is still a big gamble, so let's find out if I got lucky in this Bourbon Hill 15 Year review.
bourbon hill 15 year smell
Bourbon Hill 15 Year starts off with dark and nutty caramel, toffee, vanilla, and cherry with a noticeable dry and oaky backbone followed by some dried apple and grassy nuttiness. Even with that oaky and dry backbone, it comes off oddly surface-level so it doesn't actually smell all that dark, mature, or heavy.
Unfortunately, it also has the slightly sour and burnt popcorn oakiness I also found in Wild Turkey 12 Year (2010) that I don't love. Thankfully it has a little extra sweetness and fruitness to offset some of it.
Swirling kicks up the slightly sour oak, followed by toasted caramel, vanilla, dry grassy nuttiness, dry cherry and apple, clove, nutmeg, something slightly floral, coconut meat, and dark chocolate. The coconut and chocolate hint at the 15 years of oak aging, but the oaky spices are surprisingly not that intense or rich.
It's weird because like Wild Turkey 12 Year from 2010, this doesn't have much low end depth or roundness. It has some of the oaky traits of a 15 year old bourbon but not nearly enough of everything else or even one exceptional trait to elevate to the next level. The Ezra Brooks 12 Year from 2007 (released 2 years after Bourbon Hill) smells far more mature, refined, and developed.
There's some good scents, but nothing quite great, special, or noteworthy. That sour oak thing doesn't help either.
bourbon hill 15 year taste and aftertaste
My first sip has toasted caramel, vanilla, butterscotch, cherry, dried apple, orange, slightly sour roasted oak , cinnamon, clove, licorice, and a hint of dry nuttiness. As expected, there's some of that sour and slightly burnt popcorn…and I really wish it wasn't there because I don't like it.
So far, Bourbon Hill 15 Year is decently balanced and the oak isn't too intense, but it doesn't strike me as particularly deep, rich, complex, or unique. It has it's positive moments, but they're few and far between. The slightly sour oak also turns me off.
"Chewing" through Bourbon Hill 15 Year gives me slightly sour caramel and oak, vanilla, cherry, baked apple, cinnamon, roasted oak, cinnamon, chocolate, dry grass, orange, licorice, coconut meat. It definitely tastes a little bit better with chewing, but still is nothing particularly rich, mature, or deep about it.
The finish leads with caramel, orange, cherry, licorice, and roasted oak. Although it's not that oaky, I still get that lingering oaky sourness. It so slowly transitions into orange, dark chocolate, and herbal grass.
If you're shopping on Amazon, support The Whiskey Shelf by shopping through my affiliate link – Shop Amazon. I may earn a commission from your Amazon purchases.
Bourbon Hill 15 Year Rating

I won't beat around the bush, Bourbon Hill 15 Year Bourbon is good but not remotely spectacular. It may be 15 year old pre-fire Heaven Hill, but it strangely lacks low end sweetness, fruitiness, and richness, really limiting its upside.
It's just not a well-rounded or developed bourbon. I prefer the more fruity and viscous BJ Evans 10 Year, and the dark, oaky, and refined Ezra Brooks 12 Year.
I guess this lesson should be obvious, but it's still worth mentioning – not every barrel of pre-fire Heaven Hill was amazing (again assuming it's Heaven Hill). It's possible that Bourbon Hill was blended using barrels Heaven Hill was trying to offload because they weren't quite good enough and/or off-profile.
The bourbon also could have changed (for the worse) over 15 years. I really can't say. I just know that the drinking experience wasn't up to par as-is.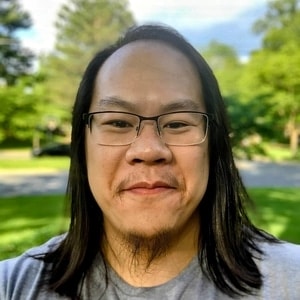 I have far too much fun writing about whiskey and singlehandedly running The Whiskey Shelf to bring you independent, honest, and useful reviews, comparisons, and more. I'm proudly Asian American and can speak Cantonese, Mandarin, and some Japanese.
There are no sponsors, no media companies, and no nonsense. Support The Whiskey Shelf by 
Buying Me A Shot
.
Comments are closed.