Four Roses Yellow Label Comparison
Four Roses Yellow Label New vs Old [Comparison]
I wonder if Four Roses Yellow Label has changed over time
Bourbon, and whiskey in general, have changed so much over the years. It's more popular than ever, and new brands, distilleries, and collaborations are being created to capitalize on the opportunity to satiate that incredible thirst (don't forget to drink water too).
In Four Roses' case, they released Small Batch Select in 2019, the first new permanent product in many years.
Even with all that change, some things continue to stay the same. One example is Four Roses Yellow Label, which has been sold for decades. This time, I'm lucky enough to have both an older and current version to compare to understand how the bourbon itself may have changed over the years. I did the same thing with
Blanton's as well (1993 vs 2018)
and got some interesting results.
So for this Four Roses Yellow Label comparison, I have a bottle from likely the early 2000's (Kirin is on the label and they bought Four Roses in 2002), and a sample of today's version.
They're both made by Four Roses (duh) and 80 proof, although the older label is loudly Heinz mustard yellow while the current one is more like Dijon mustard. Oh, the master distiller is different too.
Let's find out just how much this bourbon may have changed over the years in this Four Roses Yellow Label new vs old comparison.
The table below outlines the two bourbons.
As an FYI, I bought and use these Glencairn glasses for my reviews and comparisons (because they're the best): 
Glencairn Crystal Whiskey Glass, Set of 6, Clear, 6 Pack.
Full transparency, this is an affiliate link, so I may earn a commission if you buy this or something else from Amazon.
If you're shopping on Amazon, support The Whiskey Shelf by shopping through my affiliate link – Shop Amazon. I may earn a commission from your Amazon purchases.
And the winner is...Old Four Roses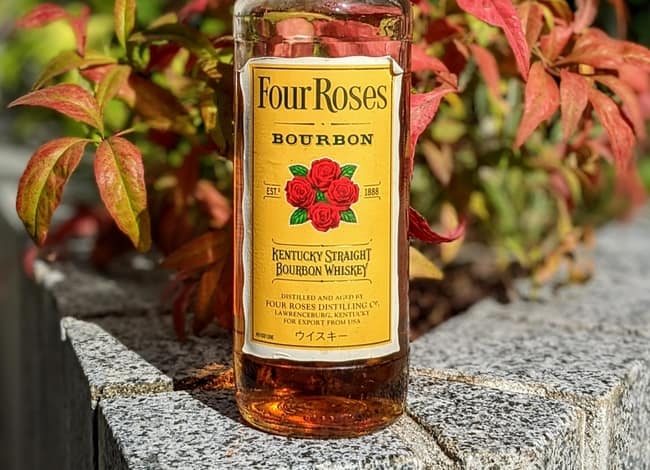 The
current release of Four Roses Yellow Label
is an herbal and earthy-forward high-rye bourbon that predominately leads with honey, licorice, caraway seed, pineapple, and roasted grains. It's not that fragrant, not that rich, and not that interesting; but at the same time at no point do I think "oh this is bad".
Its slightly more grainy nature also reminds me that the bourbon in it isn't quite as mature as I'd like, regardless of its 5 year age (listed on the website). Age itself isn't everything (e.g., New Riff and Woodinville make awesome 4-5 year old bourbon), but various factors have led the current Yellow Label to smell and taste more grainy, and less rich and developed.
The 2000's Yellow Label is darker and thicker with dark honey, dried apricot and berries, funky vanilla, strawberry, vanilla, oak, as well as the licorice, thyme, and caraway seed that usually come from the rye. The current release completely lacks dark fruit and berries, but there is that overlapping herbalness and earthiness.
I admit though, one major challenge with this Four Roses Yellow Label new vs old comparison (really any old vs new) is separating out what is different due to process changes (e.g., distillation process, material inputs, barrel aging, barrel selection, etc) over time, versus changes in the bottle over 20+ years.
Unfortunately, I can't control for or separate out that major unknown variable (until I can use a time machine), so I have to compare what I have in whatever state its in, oxidized or not.
So I'm going to go out on a limb and say that Four Roses Yellow Label of old is better than what's sold today. That outcome doesn't really changing anything about the current release, a solid but unspectacular budget option, but nonetheless is an interesting exploration into bourbon's not so distant past.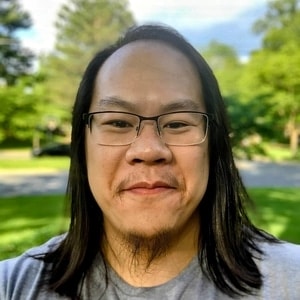 I have far too much fun writing about whiskey and singlehandedly running The Whiskey Shelf to bring you independent, honest, and useful reviews, comparisons, and more. I'm proudly Asian American and can speak Cantonese, Mandarin, and some Japanese.

There are no sponsors, no media companies, and no nonsense. Support The Whiskey Shelf by Buying Me A Shot.

Maker's Mark Cask Strength Comparison