Blanton's 1991 vs 1993 Comparison​
Blanton's 1991 vs 1993 Comparison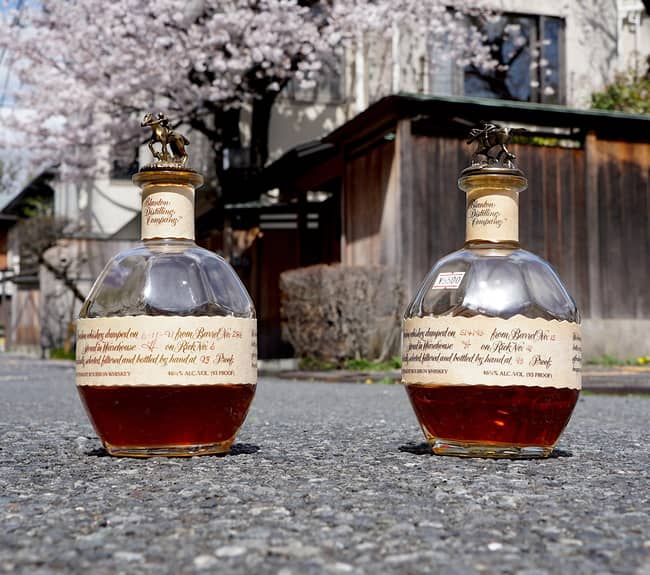 This is an old school Blanton's Off...a Blant-off!
It's an understatement to say that I've been outrageously spoiled in Japan when it comes to bourbon. Among other things, I've found quite a few bottles of Blanton's from the late 80s and early 90's, and it's even more fun to open and drink them.
Now that I've reviewed
Blanton's from 1991
(dumped 6/11/91) and
1993
(5/4/93), I figured it was time to compare them…you know…for science and to start getting my bearings on how variable old Blanton's drinks. And while it may not be all that useful for nearly everyone, I'm definitely interested to find out for myself. Hopefully you'll find it interesting at least.
Here are a few fun facts before we get started. One, both of these were distilled before the distillery was called Buffalo Trace and owned by Sazerac. Two, it's possible that Elmer T Lee (yes that Elmer T Lee) was involved in picking these barrels. Three, these horse toppers don't come with letters. Letters didn't come until the late 90's.
As an FYI, I bought and use these Glencairn glasses for my reviews and comparisons (because they're the best): 
Glencairn Crystal Whiskey Glass, Set of 6, Clear, 6 Pack.
Full transparency, this is an affiliate link, so I may earn a commission if you buy this or something else from Amazon.
If you're shopping on Amazon, support The Whiskey Shelf by shopping through my affiliate link – Shop Amazon. I may earn a commission from your Amazon purchases.
My first thought is – wow what did I just experience? Even though they're single barrel bourbons, so variation is expected, I'm incredibly shocked to discover how different the 1991 and 1993 bottles are, although they're still both delightful to drink and overlap in many ways.
When I initially reviewed Blanton's 1991, I thought that my "Top Shelf+" rating might have been off because I assumed it would be similar to the "Top Shelf" Blanton's 1993. Turns out that the 1991 is actually far better, and the "Top Shelf+" is well deserved.
The primary difference is in how noticeably more fruity the 1991 bottling is – smack you in the face obvious. From the first smell to the last sip, 1991 Blanton's is hugely expressive, vibrant, and rich in how fruity it is, jam packed with dried cherry, apricot, strawberry, and orange. It comes wave after wave, and oh mama it's incredible.
Combined with the oaky tannins, it's as if it had been finished in a red wine cask (I'm not well versed in how different red wine varietals are) for 6-12 months. There's even this added cinnamon red hot spicy kick that caught me off guard.
1993 Blanton's is very fruity, but it's pales in comparison. Many of the same fruity notes are there, but it's as if someone turned down the fruity volume to a more normal level. It's pops less as well. It's almost a little disappointing as my senses become accustomed to the superb 1991 version, and smelling and drinking the 1993 makes me wonder where all the expressive fruitiness and richness went.
Regardless, both have some unmistakable overlap. There's "dusty" old oak, dry licorice, tobacco, rose, and earthy dryness that float around in the midground and background, although it's a tad more noticeable in the 1993 bottle because it's less fruity.
One of the
modern Blanton's Reds
I reviewed has some of those more earthy and dry qualities, but with nowhere near the same amount of fruit and depth. The more fruit-forward
Blanton's Red HBA Pick
has sort of similar fruit notes, but is drastically less dense and developed. It's the "light" version, but still not anywhere close in quality.
Comparing two old bourbons introduces a new factor: time. Unlike comparing two bourbons bottled in the past few years, storing conditions and oxidation are important factors that have influenced these decades old bourbons.
But while I know that something has happened, I can't tell you how they've been affected and which one has been affected more. So, I can't say which one would have been better in its "new" state in the early 90's, I can only compare them as they are now.
Given how great both of these bourbons are, I'm not going to make some sweeping statement that the 1991 "vintage" is better than the 1993 "vintage", because I think it's highly likely that there are other 1993 barrels that are even better.
I mean…both of these bourbons were distilled and put into oak barrels in a very different era when distilleries could truly take their time to let whiskey age and weren't pressed to sell as much bourbon as fast as possible. They could pick it and bottle it when it was ready, and no sooner than that.
But, this comparison does further reinforce to me that today's Blanton's don't even come remotely close in quality. The Grand Canyon-wide difference has to come from something more than just "barrel variation". At this point, I have enough experience with today's and "dusty" releases to say that.
Now there potentially could be one or more exceptions where modern day Blanton's is comparable to the old ones, but I personally can't verify it. Someone who actually opened and drank up one of those La Maison Du Whisky picks, Poland Limited Editions, or other super duper ultra limited Blanton's release will have to chime in on how those are.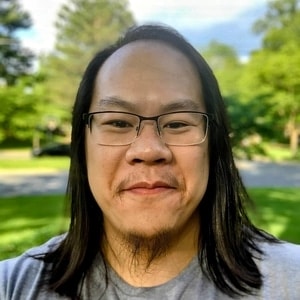 I have far too much fun writing about whiskey and singlehandedly running The Whiskey Shelf to bring you independent, honest, and useful reviews, comparisons, and more. I'm proudly Asian American and can speak Cantonese, Mandarin, and some Japanese.
There are no sponsors, no media companies, and no nonsense. Support The Whiskey Shelf by 
Buying Me A Shot
.
Maker's Mark Cask Strength Comparison