Blanton's 1989 Review [In Depth]
Distillery: George T Stagg
Type & Region: Bourbon, Kentucky, USA
Alcohol: 46.5%
Composition: Mashbill #2 (probably, or whatever the heck they were doing in the 80's)
Aged: No idea
Color: 1.4/2.0 on the color scale (Tawny)
Price: I paid $45, which is absurd
Alrighty, I finally have the chance to review a bottle of Blanton's from the 1980's, 1989 to be exact. I've done
1991
, 1992 (not posted yet), and
1993
, although I haven't been quite extremely lucky enough to find one from 1990 to make it a complete 5 year vertical. Oh well, I'm already extremely fortunate to review one, let alone four. It's been an awesome experience and one I probably won't get again for a long time since I no longer live in Japan. That thought makes me sad.
Blanton's was first released in 1984, so this 1989 barrel (dumped 10/9/1989, barrel 522, rick 11) gets me even closer to the original releases. It's always fun to drink something that's a pivotal part of bourbon's history, especially for a bourbon as popular and polarizing as Blanton's. But to be clear,
these oldies are nothing like the ones you can buy today
(or at least stare at and laugh at the crazy markup). Speaking of markups, I paid a stupid amount: $45. Yeah, I can't believe it either.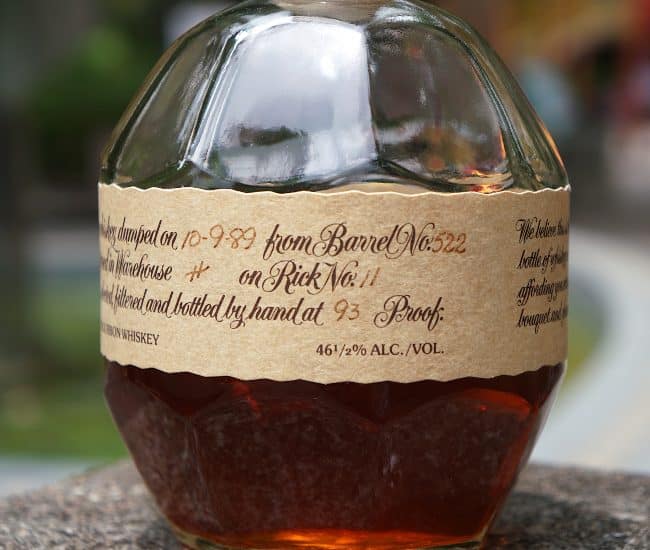 While I'm confident that I got an amazing deal, I've never been 100% sure whether these Blanton's dusties from 1992 and onward were the extra-aged Takara or "standard" version. In this case, I do know for sure that this 1989 bottle is the "standard" one because Blanton's Red was first released in late 1991/ early 1992. Still, this old bottle comes from the era when the distillery was called George T Stagg distillery and not Buffalo Trace.
As much old Blanton's as I've had, I still never know what to expect. There's been a noticeable amount of variation between bottles I've reviewed, some of which comes from the single barrel and some from how it was stored over the years.
The storage component over 30+ years is a real wildcard for any dusty bourbon. I haven't had a bad bottle of old Blanton's yet, but have been burned by other dusties like Bourbon Hilll 15 Year and Wild Turkey 12, which were not cheap to obtain. Nonetheless, it's worth the gamble.
Let's find out what this even older old-timer has in this Blanton's 1989 review.
Whoa, I can immediately tell that this 1989 Blanton's is different than the other old Blanton's I've reviewed. It has dark and dense honey (the same), dried apricot and cherry (the same, but less dense), AND a stronger tropical pineapple (the thing that sticks out) start off the scents, followed by dried licorice, clove, old oak, rose, cotton candy, dried ginseng, and a little tobacco.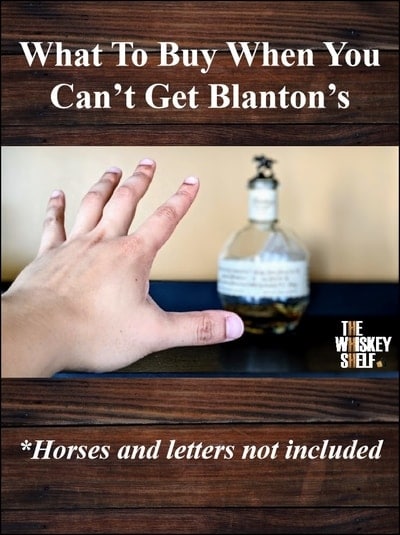 It smells like the old Blanton's I've come to expect, but with more pronounced pineapple juice and pineapple cream. And out of all the one's I've had, this smells the most like Michter's 10 Year Rye, which is a rye and not bourbon. The similar-ish licorice and pineapple-forward scents plus rose give me tat vibe. Michter's 10 Year rye is an incredible rye whiskey (and "Top Shelf+"), so it's a big compliment.
At the same time, this 1989 Blanton's at least isn't quite as densely fruity as the 1991, 1992, or 1993, but is very fragrant in a different way.
After swirling and rest, dense honey, apricot, cherry, pineapple, and custard (so not quite straight vanilla / vanilla extract) come first, followed by heavy old oak, licorice, cinnamon, clove, tobacco, and dried ginger. The pineapple-forward fruitiness remains unchanged.
As fruity as it is, also has a hovering oldness, dryness, and ginger-ness (I made up that word) that adds an interesting contrast that reinforces that something about it is old.
Swirling also happens to amp up the scents so they are little more bold and expressive, but with minimal gain in heat. The scents continue to be more balanced between everything instead of more densely apricot /cherry / date-forward as with the other ones I've reviewed.
Blanton's 1989 is undoubtedly a rich and fragrant bourbon, but I don't think it has quite the same depth and roundness as the best old Blanton's I've had (
1991 – link to review too
), which set a very high (unreasonably so) bar.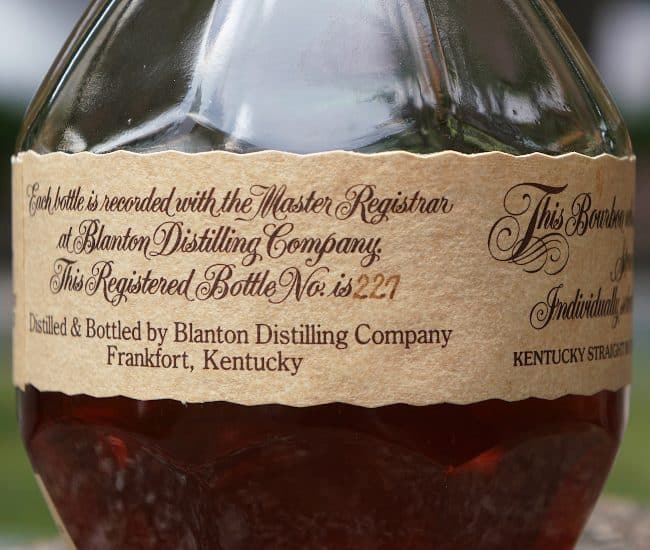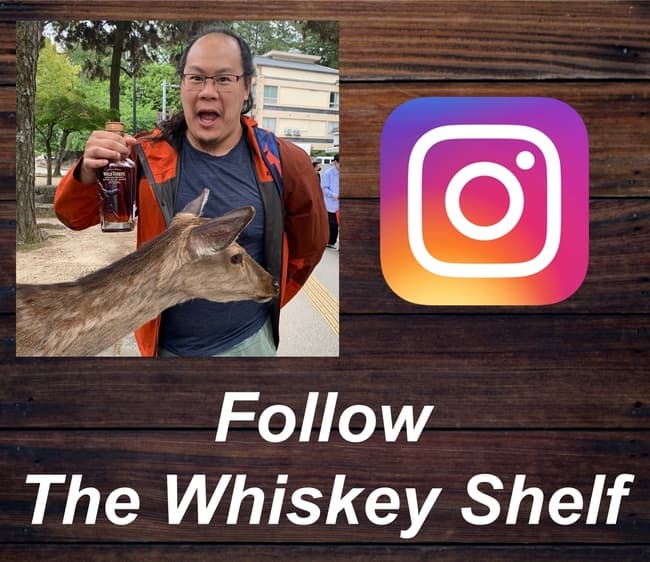 Blanton's 1989 taste and aftertaste
Up first comes dense honey, dried cherry and apricot, dry oak, licorice, pineapple, vanilla, cinnamon, clove, and even more of this distinct dryness that's not overdone. Unlike other old Blanton's that often are more apricot and cherry-forward, this 1989 barrel is a more even (but still dense) mix of the sugar, dry fruit, oak / dryness, and spice. There's a hint of bite, it is still bourbon afterall, but it's not a big deal.
The body and roundness are still there so everything has some depth to it. So even at 46.5%, you're not going to hear me complaining about thin and surface-level flavors. Oh, and there's no earthy graininess either.
With "chewing", I taste herbal honey, candied pineapple, dried apricot, licorice , dried cherry, old and dry oak, and cinnamon. More pineapple and licorice come out, so it's clearly the #1 fruity / tropical / herbal fruity trait. It's all rich and balanced, but at the same time I admit nothing really sticks out as truly amazing.
Honey, dried cherry and apricot, vanilla frosting, old / dry / and earthy oak, clove, and cinnamon linger into the aftertaste, a continuation of the sweet, fruity, and dry flavors. After a minute, it leaves this slightly minty freshness, sweetness, and oakiness. It seems a little contradictory, but it's intriguing.
"Chewing" shifts the balance towards more earthiness, with honey, dried licorice, candied pineapple, old oak, dried ginger, and cinnamon. Even so, it's still a sweet, fruity, earthy, and dry finish.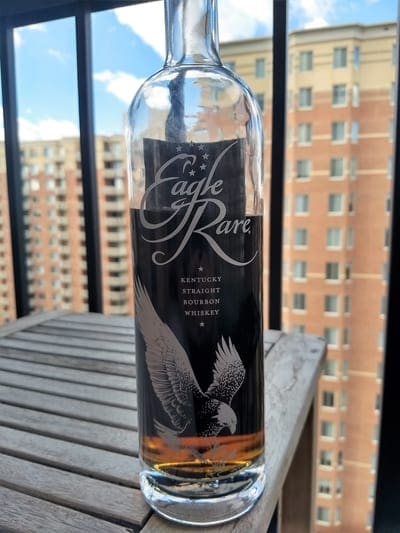 Like with other old Blanton's, and other "dusty" bourbons in general, this 1989 barrel has an overarching dark, eathy, and slight dryness that I can't quite adequately describe. I think it's the old oak asserting its presence but still kindly letting the honey and fruity run the show without trying to bury me in burnt oak char. It's all very interesting, unique, and so damn tasty.
If you're shopping on Amazon, support The Whiskey Shelf by shopping through my affiliate link – Shop Amazon. I may earn a commission from your Amazon purchases.

Old Blanton's hits the mark again with dense and rich honey, dried fruit, old / dry / earthy oak, spice, and more. Because of single barrel variation, it brings its own distinct and unique tropical pineapple and licorice-forward personality, while others have been more apricot, cherry, and date-forward.
But of the 3 others that I've reviewed (very lucky I know), I admit that this 1989 barrel doesn't quite hit the same highs as the others, which had more rich and fruity body and depth. That doesn't take away from the fact that it's an amazing bourbon that still vastly outperforms Blanton's of today, but deep down I feel just a little disappointed that one of the oldest Blanton's I'll likely ever try wasn't the best one. It's just foolish hope and unreasonable expectations anyway, because I'm still the winner.
I rated
Blanton's Straight From The Barrel
the same ("Top Shelf" and my own hidden numerical score), but it brings an entirely different experience that's more like hammering away at me with earthy sweetness. This 1989 Blanton's is a more fruity, gentle, refined, and mature experience that I prefer, but doesn't lack richness like nearly all bourbons of today around the same ABV, which generally feel thin.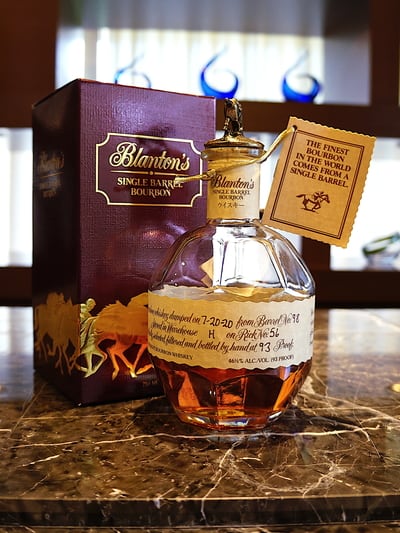 There's an interesting insight in that last sentence: I prefer the lower ABV experience. I often write about how I prefer higher ABV bourbons, coming off as a "proof-snob", because they have more richness and character. In my opinion, modern bourbons often needs the higher ABV because all that water dilutes-away so much character.
Bourbons from before…say 2001…at the same ABV come off as more complex, rich, mature, and less affected by the added water. That's not remotely a scientific / fact-based statement, just one based on my experiences.
An experience like this one reminds me yet again that barrel variation is real, and it can be a major factor in how much you and I enjoy a whiskey. I already found
noticeable differences between 1991 and 1993 barrels
, and I wouldn't be surprised if this one was distinct from those two. It's also possible that how the bottle was stored and cared / not cared for over 30+ years affects the scents and flavors too.
And based on my sample of 4 old Blanton's vs 6 or so modern ones, there's still a huge gap in personality and quality. The modern bottles just can't compete.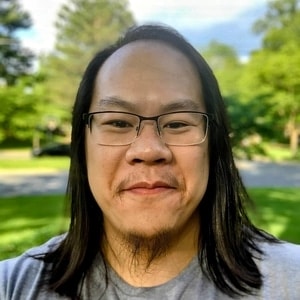 I have far too much fun writing about whiskey and singlehandedly running The Whiskey Shelf to bring you independent, honest, and useful reviews, comparisons, and more. I'm proudly Asian American and can speak Cantonese, Mandarin, and some Japanese.
There are no sponsors, no media companies, and no nonsense. Support The Whiskey Shelf by 
Buying Me A Shot
.