Old Blanton's Is Better: A Comparison
New vs Old: 2018 Blanton's Red vs 1993 Blanton's Red
Huge thanks to John W. for supporting The Whiskey Shelf
Bourbon has dramatically change over the years
While in Japan, I've been very lucky to be able to find and drink bourbon from the 80s and 90s for the first time in my life. And in doing that, I've realized that vintage bourbon is so different from what's sold today.
Because of bourbon's soaring popularity (especially for bourbon such as Blanton's), distilleries have been scrambling to meet current demand and work to make more whiskey for the future, with the hope that this boom is here to stay. And in that rush to keep whiskey on the shelves, distilleries have also had to use more younger whiskey in blends and single barrels (e.g. 47% abv Elijah Craig Batch used to be 12 years old).
While it's great to have whiskey on the shelves to buy, what are we sacrificing quality-wise of the whiskey in the bottle? Turns out I can tell you a little more about that.
Now that I've reviewed Blanton's Red from 1993 and 2018 (dumped 25 years apart!), I have the unique opportunity to compare them to get a sense of how different bourbon was a generation ago. It was a time when bourbon wasn't that popular and distilleries were sitting on a lot of older bourbon that wasn't selling all that fast.
I want to mention that the 2018 Blanton's Red HBA Pick I'm using is perfect for this comparison. Unlike the more earthy and dry non-pick, the HBA pick is more fruit-forward, similar to the very fruity 1993 Red. This comparison would be less telling if the huge difference in overall profile (earthy vs sweet) also got in the way of differences due to dump year.
Let's find out if they make bourbon like they used to in this Blanton's 1993 vs 2018 comparison.

The below table outlines key facts and figures for what I am comparing.
As an FYI, I bought and use these Glencairn glasses for my reviews and comparisons (because they're the best): Glencairn Crystal Whiskey Glass, Set of 6, Clear, 6 Pack. Full transparency, this is an affiliate link, so I may earn a commission if you buy this or something else from Amazon.

If you're shopping on Amazon, support The Whiskey Shelf by shopping through my affiliate link – Shop Amazon. I may earn a commission from your Amazon purchases.
And the winner is...1993 Blanton's Red
First off, I immediately saw the difference in color. The 1993 Blanton's Red (on the right) has this reddish hue that adds a noticeable darkness and vibrancy. While color is far from the be-all-end-all to determine how good a bourbon is, it certainly suggests that it was aged differently. Okay, moving on.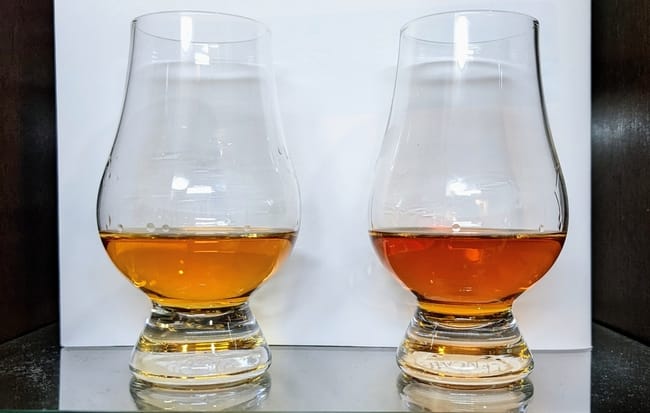 Wow, I knew that 1993 and 2018 Blanton's Reds would be different, but comparing them is an eye-opening experience that highlights how much bourbon has changed over the decades. 1993 Blanton's Red is the superior bourbon with so much more rich, dense, and expressive red grape, cherry, and vanilla.
There's already some variation between modern barrels (I know because I compared two different Blanton's Reds), but the 1993 is an astronomical improvement, not just a slight change in profile. It's so much more complex and nuanced that I wouldn't be surprised if it were 10+ years old.
The thing is, the 2018 HBA pick is still very good…by today's standards. It's just thin and underdeveloped in comparison. Everything about it is comparatively closed off and toned-down at the exact same 46.5% abv. 
After drinking the 1993 version, the 2018 starts to have this slight grainy flavor because my senses have adjusted to and crave the much richer 1993 release.
I know there are rumors (maybe confirmed?) that Buffalo Trace first ages mashbill #2 barrels not in warehouse H then moves them to warehouse H for the last few years so they can still call it Blanton's. This shortcut helps them make more Blanton's, even though Warehouse H hasn't likely changed in size, because more barrels can be aged there over time.
The 1993 release was probably full-aged in warehouse H and it's clear that they were patient and picked it when it was ready, not because they needed to meet a quota. Rushing and shortcuts, albeit probably necessary, unfortunately affect the quality of the bottled product, and I can taste the difference. The ones made today are not really worth chasing.
This brings up the point of this comparison: distilleries don't make bourbon like they used to, and who knows if they'll ever come close to that again. Bourbon being popular is great for sure, but it comes at a price (prices are rising too).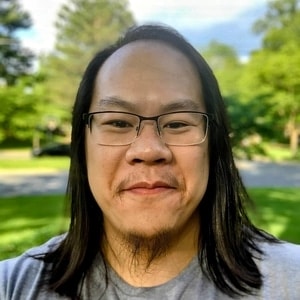 I have far too much fun writing about whiskey and singlehandedly running The Whiskey Shelf to bring you independent, honest, and useful reviews, comparisons, and more. I'm proudly Asian American and can speak Cantonese, Mandarin, and some Japanese.

There are no sponsors, no media companies, and no nonsense. Support The Whiskey Shelf by Buying Me A Shot.

Maker's Mark Cask Strength Comparison