Benchmark Bourbon Review [In Depth]
Benchmark Old No 8 Bourbon
Benchmark Old No 8 Bourbon Details
Distillery: Buffalo Trace
Type & Region: Bourbon, Kentucky, USA
Alcohol: 40%
Composition: Buffalo Trace Mash #1, speculated to be ~10-12% rye
Aged: At least 3 years old
Color: 1.0/2.0 on the color scale (copper)
Price: $10-15 for 750mL
From the company website:
"In 1773, three McAfee Brothers named James, George and Robert left Virginia westward to explore the uncharted territory that would later become known as Kentucky. Traveling by canoe at first, the McAfee Company eventually followed a native trail overland that led to the great buffalo crossing, where the brothers surveyed the land now home to the world's most award-winning distillery – Buffalo Trace Distillery. The surveyor marks left behind are known as benchmarks and this bourbon whiskey honors the pioneering spirits of these early American explorers."
benchmark bourbon overview
Benchmark Old No 8 Bourbon is Buffalo Trace's cheapest mashbill #1 bourbon, the same mashbill used for many of the its very popular bourbons such as
Buffalo Trace,
Eagle Rare
,
EH Taylor Small Batch
, and more. While it's the cheapest one, it's also the youngest and lowest ABV version.
While I write that it uses the same mashbill as those bourbons, it's likely that Buffalo Trace uses barrels from specific rickhouse locations for Benchmark Bourbon and not their other mashbill #1 bourbons. And if you didn't know by now,
barrel selection has a huge impact
on how the final bourbon smells and tastes (and Wild Turkey showed us why).
Funny enough, Buffalo Trace put an age statement on the label ("aged at least 36 months"), but I guess that's because they have to in order to call it straight bourbon. Long story short, straight bourbon has to be at least 2 years old, and the age has to be disclosed on the label if it's less than 4 years old, which Benchmark Old No 8 is in this case.
So in this Benchmark Bourbon review, let's find out if "budget" Buffalo Trace / Eagle Rare is compelling enough to try for yourself, add to your collection, or completely avoid.
At first sniff, Benchmark Bourbon doesn't have much to offer. There's some light honey, grain, vanilla, fennel, slightly dark apple juice, a drop of orange juice, and some dry and roasted oak. Similar to young craft bourbon, there's a noticeable youthful graininess and pepperiness because the bourbon hasn't had enough time to develop more sweetness.
So far, it's generally thin and meh, but also not awful or unpleasant. It just smells very young, but at least there's no harsh alcohol.
Swirling brings some slightly floral honey and vanilla, pear, a drop of cherry, and herbal fennel up front. Then I start to get more of that earthy and dry grain, caraway seed, oak, and dry cracker that screams young and under-developed bourbon.
The thing is, Benchmark Bourbon isn't offensive to smell, but there's nothing particularly enjoyable about it either. It's just light and lacks any heft, richness, or depth.
I guess I sort of see how this might become Buffalo Trace bourbon in a few more years because it has some that lightly sweet and fruity herbalness that I associate with Buffalo Trace. That is still years away though.
benchmark bourbon taste and aftertaste
Benchmark Old No 8 Bourbon starts off with light honey, pear, roasted oak, vanilla, roasted and dry grain, cinnamon, and then even more grain and some earthy rosemary. The youthful graininess, dry oak, and light sweetness and fruitiness again remind me that this is young and not developed-enough bourbon.  It's pretty bland, and after a second or so gets a little bitter too.
From my experience, bourbon picks up more oak, pepper, and char at first because of the intense char inside the virgin barrels, and it takes more time for the caramel, fruit, and chocolate to develop to round it all out.
While "chewing" brings out the honey first, it then leads to a lot more dry and earthy grains, then a little vanilla, apple, pear, caraway seed, dry oak, black pepper, and clove. It starts a little sweet and fruity, but then the dry oak, earthy caraway seed, youthful grain, and black pepper take over and make the flavors worse.
It tastes so young and thin, not at all ready to be bottled for sale. Then again, this bourbon probably exists because Buffalo Trace needs to make some money sooner rather than later because Buffalo Trace is 7-8ish years old and Eagle Rare is 10 years old, so it takes a while to age them, sell them, and earn money. 36 months is much faster, and taste-wise it really shows.
The aftertaste kicks off with dry and bitter oak, honey, roasted grains, and herbal fennel. It becomes quite bitter and dry at the end, but not remotely at all like a 10+ year old bourbon does it. It's a little unpleasant.
After "chewing" the finish starts-off fine enough, but it shortly takes a turns for the worse. It starts a little sweet and dry with honey, grain, fennel, and caraway seed, but then the sweetness tapers-off and the dry and bitter oak, black pepper, and earthy caraway seed take over.
I'm usually pretty forgiving here, but this pretty unpleasant and only gets worse with every sip.
If you're shopping on Amazon, support The Whiskey Shelf by shopping through my affiliate link – Shop Amazon. I may earn a commission from your Amazon purchases.
Benchmark Bourbon is cheap but unfortunately not fun to drink. While it has a little sweetness, fruitiness, and herbalness that hint at future potential, that dry and bitter oak, earthy caraway seed, and graininess hold back this experience from being even "Mid Shelf".
Then again, it is young 3 year old Buffalo Trace bourbon that could have possibly become Buffalo Trace, Eagle Rare, Stagg Jr, or some other mashbill #1 bourbon with more time. You get what you pay for.
Call me crazy, but I'd rather drink
Buffalo Trace White Dog Mash #1
because it's actually kind of good. I also really enjoy baijiu (a Chinese clear spirit), so white dog is familiar and pleasant for me.
It's a bit harsh, but I can't think of a compelling reason to drink Benchmark Bourbon…unless your goal is to get drunk as cheaply as possible.
For everyone else looking for an enjoyable experience and/or expand your whiskey knowledge…go elsewhere. Let my experience (albeit intentional because the people need to know) deter you from ever putting this in your mouth.
Spend a little bit more and get Evan Williams Bottled in Bond for around $20. If you want to splurge, buy the 1.75L handle for ~$30 and it'll last a while. Sure it's a little more expensive than Benchmark Old No 8, but you're paying for significantly higher quality.
All that said, it's still interesting to drink the very young bourbon that eventually becomes Buffalo Trace and Eagle Rare.
This somewhat unpleasant experience gives me greater appreciation for all the hard work that oak barrels do day after day to infuse so much character and complexity into the bourbons (and whiskey in general) that we love, enjoy, covet, and sometimes overpay to obtain.
Oak barrels and time are the real MVP.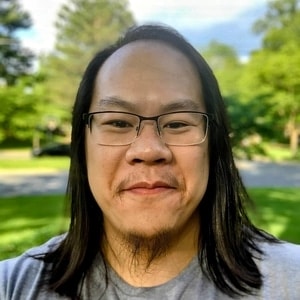 I have far too much fun writing about whiskey and singlehandedly running The Whiskey Shelf to bring you independent, honest, and useful reviews, comparisons, and more. I'm proudly Asian American and can speak Cantonese, Mandarin, and some Japanese.
There are no sponsors, no media companies, and no nonsense. Support The Whiskey Shelf by 
Buying Me A Shot
.
Comments are closed.