Benchmark Bourbon vs Buffalo Trace
Buffalo Trace vs Benchmark Bourbon Comparison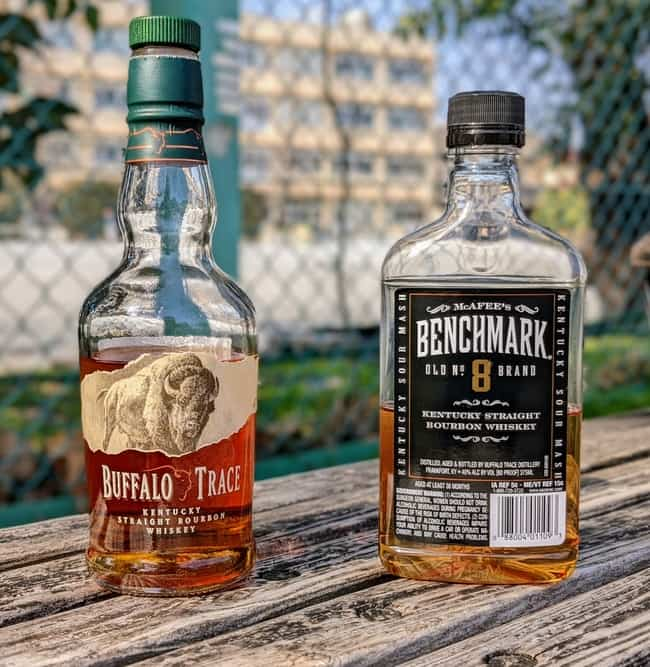 These are the two most affordable mashbill #1 bourbons
At this point, you likely already know about Buffalo Trace mania, extending up and down the product line spanning
Buffalo Trace
,
Eagle Rare
,
Stagg Jr
…and all the way up to the Antique Collection. Put it on the shelf at MSRP or even close to it, and it's gone in 60 seconds.
But within mashbill #1,
Benchmark Bourbon
exists as the single budget friendly, easy to find, and infrequently mentioned bourbon that's spared from all that mania. It's all alone and sad.
Someone told me that they walked into a store and saw a sign promoting that Benchmark Bourbon was the same "juice" as Buffalo Trace. While that's technically true, it is mashbill #1 bourbon, I speculate that the goal was to sell more Benchmark under the guise that it's like Buffalo Trace, which is probably more difficult for the store to get. Since you can't get what you want, try out its cheaper sibling.
As an FYI, I bought and use these Glencairn glasses for my reviews and comparisons (because they're the best): 
Glencairn Crystal Whiskey Glass, Set of 6, Clear, 6 Pack.
Full transparency, this is an affiliate link, so I may earn a commission if you buy this or something else from Amazon.
If you're shopping on Amazon, support The Whiskey Shelf by shopping through my affiliate link – Shop Amazon. I may earn a commission from your Amazon purchases.
Buffalo Trace and Benchmark Bourbon drink like two entirely different bourbons, to the point that Benchmark doesn't even begin to resemble Buffalo Trace.
Even though they use the same mashbill, I personally wouldn't say that Benchmark drinks like "baby" Buffalo Trace, more like "under baked" Buffalo Trace. So if any store owner or liquor store employee claims that they're similar, it might be best to ignore them because they have an agenda to sell you something you don't want.
Big picture – Buffalo Trace smells and tastes more mature, rich, and earthy, while Benchmark is far more funky, flat, grainy, and young in comparison.
Benchmark has so much more funky vanilla, grain mash, earthiness, and bitterness that it's not that fun to drink. The young age really shows, and it's overpowering and unpleasant at times. Because of the youth and barrel selection, there's so much less sugar, fruit, oak, and spice to offset those traits.
Young bourbon isn't inherently bad (look at
New Riff
), I think that Buffalo Trace had to use less good barrels. Then again, that's why it's cheap.
Buffalo Trace really shows off its extra age, with so much more of nearly everything, and less funky vanilla and overdone bitterness. All those unpleasant traits in Benchmark have been aged-out (more fully baked), replaced with more earthy sweetness, oak, spice, and fruit. It's still not a great bourbon (although I still enjoy it), but definitely far exceeds Benchmark.
This is sort of obvious, but I'll mention it anyways – that all ultimately makes sense to me because Buffalo Trace intentionally made them two separate products with different ages (Buffalo Trace is around 7-8 years, Benchmark is 3 years), and prices ($15-25 difference for 750mL). It would actually be odd if they were more similar.
I can taste the extra money that went into Buffalo Trace, but I'm still not particularly inspired to buy it. I'd rather pay a little extra and have Eagle Rare, although there's no guarantee that I can even find it at a good price anymore. It also goes to show that distilleries can create a huge range of whiskeys using just one mashbill (and likely one yeast strain).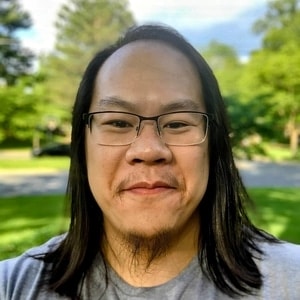 I have far too much fun writing about whiskey and singlehandedly running The Whiskey Shelf to bring you independent, honest, and useful reviews, comparisons, and more. I'm proudly Asian American and can speak Cantonese, Mandarin, and some Japanese.
There are no sponsors, no media companies, and no nonsense. Support The Whiskey Shelf by 
Buying Me A Shot
.
Maker's Mark Cask Strength Comparison
Comments are closed.