Old Taylor vs Benchmark Bourbon
Old Taylor vs Benchmark Bourbon Comparison
Buffalo Trace makes some very affordable bourbon
Buffalo Trace makes a few sub-$20 (even sub-$10 for 750mL) bourbons that don't suffer from "gotta have Buffalo Trace-itis". Two of them are
Old Taylor
and
Benchmark Old No. 8
. Old Taylor is like "baby" EH Taylor , and Benchmark sort of like "baby" Buffalo Trace.
Of course there's still the outstanding question about whether Old Taylor is made from mashbill #1 or the Jim Beam distillate Buffalo Trace acquired in 2009, but it doesn't impact the comparison. I just care about how these bourbons drink.
Now that I've had both of them separately, I'm going to put them side to side to find out if they really are all that different. You didn't ask for it, but I want to find out anyway for my own learning, and you just might get the benefit of more insight into which very affordable Buffalo Trace bourbon is worth considering as an everyday drinker.
As an FYI, I bought and use these Glencairn glasses for my reviews and comparisons (because they're the best): Glencairn Crystal Whiskey Glass, Set of 6, Clear, 6 Pack. Full transparency, this is an affiliate link, so I may earn a commission if you buy this or something else from Amazon.

If you're shopping on Amazon, support The Whiskey Shelf by shopping through my affiliate link – Shop Amazon. I may earn a commission from your Amazon purchases.
Doing this Old Taylor vs Benchmark Bourbon comparison gives me deja vu of doing a barrel pick – one between affordable Buffalo Trace bourbons, although they're not actually single barrels. I mention that because while doing picks, I've often found that barrels, with so much in common, turn out quite different.
In this case, Benchmark Bourbon is a "barrel" that I'd immediately write-off as too underdeveloped, kind of "off", and generally not good. Then I'd move on and never talk about it again.
Benchmark Bourbon
just tastes so young and immature, dominated by funky vanilla, mashed grains, earthiness, and bitter oak. That bitterness, especially on the back end into the finish, is overpowering and unpleasant. It puts me off this bourbon, as much as I want to like it. Sure there's a little honey, fruit, and oak, but there's not nearly enough to overcome everything else. It's cheap and immature, and it smells and tastes like it.
Old Taylor Bourbon
on the other hand, is surprisingly developed and worth picking for that hypothetical barrel pick. And in direct comparison to Benchmark, is a home run for about the same price. Even if it's a little more expensive, Old Taylor Bourbon is absolutely worth getting instead because it is that much better.
Old Taylor Bourbon is so much more mature and developed, with the biggest upgrade coming from more fruit and way less funky vanilla and grain. The added dried cherry, apple, apricot, and pineapple, as well as pared-down bitterness, make a huge difference in drinkability and enjoyment.
It still has some herbal and earthy traits similar to Benchmark, but it's better integrated and balanced amongst everything else. There's none of the overbearing and unpleasant bitterness.
On top of that, it's more viscous and round, which adds to the case that it's the superior budget bourbon. It may be cheap (and allocated in some places), but outperforms the price, making it incredible value for around $20 for 1.75mL.
Like I mentioned in my review, I'm down to drink Old Taylor, but I'll pass on Benchmark.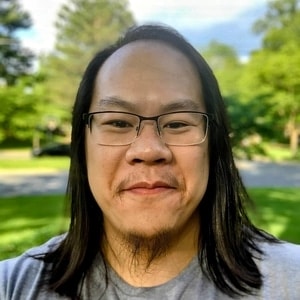 I have far too much fun writing about whiskey and singlehandedly running The Whiskey Shelf to bring you independent, honest, and useful reviews, comparisons, and more. I'm proudly Asian American and can speak Cantonese, Mandarin, and some Japanese.
There are no sponsors, no media companies, and no nonsense. Support The Whiskey Shelf by 
Buying Me A Shot
.
Maker's Mark Cask Strength Comparison
Comments are closed.