Wild Turkey Tradition 101 1994 Review [In Depth]
Wild Turkey Tradition 101 (1994)
Wild Turkey Tradition Details
From the back of the bottle:
"What does 'tradition' really mean? At Wild Turkey, tradition means standing by the methods that have been used through 5 generations. Over a century of bourbon-making goes into the bottle you now hold. Using the finest ingredients from the heartland of America, we distill with a careful hand: our tribute to the history of quality we've proudly inherited. Taste a true 'tradition' of American price and craftsmanship. Wild Turkey Tradition."
Wild Turkey Tradition 101 overview
Unless you've really dug into Wild Turkey's history, you've likely never heard of the non age-stated version of Wild Turkey Tradition 101. I'd never heard of it until I started seeing it now and then in Japan and started to acquaint myself with older Wild Turkey releases so I wouldn't be so uninformed when I saw them in the future.
From what I recall, and I'll refer to
Rare Bird for this one
, Wild Turkey Tradition 101 was a Duty Free / export release that spanned from around 1993 to 1997. My bottle for this review is marked 4/14/1994, so it's in the range, and possibly one of the earlier releases.
But if you're at all familiar with Wild Turkey, then you might notice the unique curvy bottle shape, and one I haven't seen since with any other release. Wild Turkey has occasionally used more distinctive bottles for limited releases, including every Master's Keep, and 17 Year Tradition and 14 Year Tradition, but this non age-stated Tradition is the only Wild Turkey bourbon I've ever seen use such a wavy and curvy bottle.
Unfortunately, the cork is also unique and fatter than most other corks except
Old Grand Dad 114
. Although I was fortunate and the cork somehow didn't break when I opened it, I could tell that it was slowly flaking (like dandruff) into the bourbon, so I had to change it. I ended up using a Blanton's top because it was fatter, which mostly (but not fully) sealed the top.
It still made it precarious to move, but was better than my other options. That's why many of the photos have the Blanton's running horse on top of the turkey: entirely for utility's sake.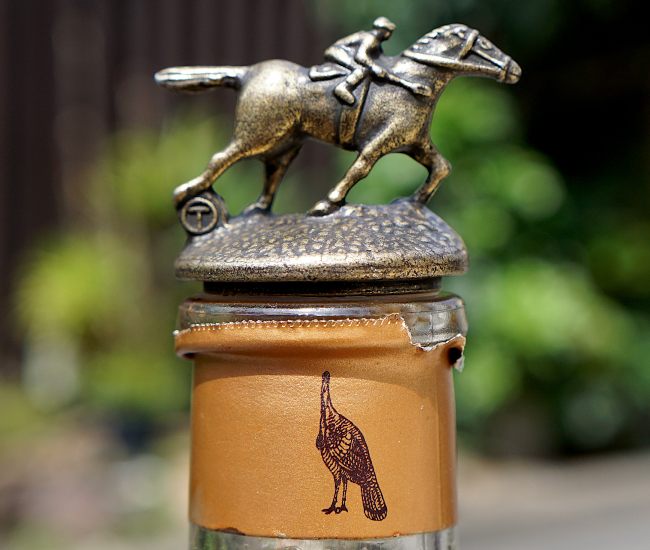 In Japan at least, I've seen these Traditions go for about half the price of the
8 Year
from around the same year, so people overall seem to value them less. 12 year from 1994, well that's even more valued, like 3-4x the price. That difference in value seems to carry over into Tradition rarely being shown-off or mentioned in Wild Turkey enthusiast circles. Then again, that's just what I'm seeing and I could be uninformed.
Maybe there's a good reason for the discrepancy in value and attention, or maybe there isn't, but I'm going to find out for myself in this 1994 Wild Turkey Tradition 101 Bourbon review.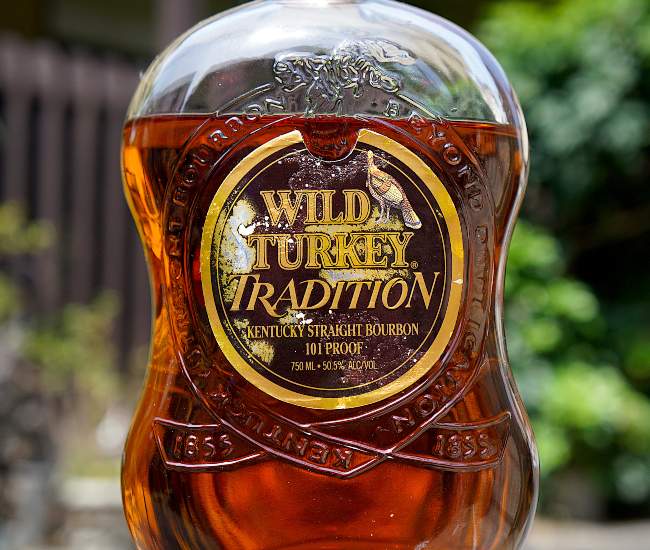 Wild Turkey Tradition 101 smell
My first whiff of Wild Turkey Tradition hits me with dark roasted caramel, vanilla, roasted oak, tobacco, cinnamon, dried cherry and orange peel, dark chocolate, licorice, dried pineapple, and A LOT of heat. Really, it's a rich and densely roasty, oaky, and caramel-y bourbon, but the heat has some hearty kick, which catches me off guard and often gets in the way. Kickin' chicken really applies here.
But as intense as everything is, the oak does bring a lot of mature notes such as dark chocolate and tobacco that are not all that common in today's bourbons. Wild Turkey Tradition smells great, minus the intense heat.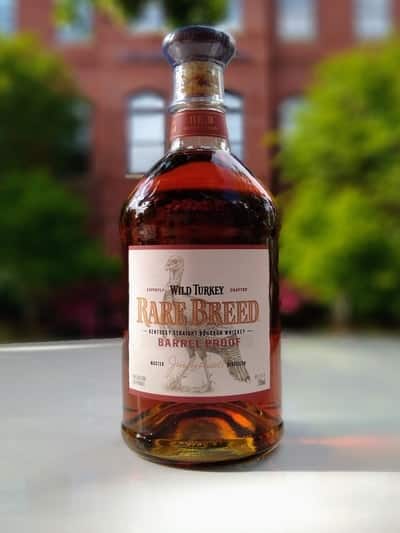 After swirling and a few minutes of rest, I smell dense and roasted caramel and vanilla wrapped in intense heat, followed by roasted oak, cinnamon, dark chocolate, tobacco, dried apricot and cherry, licorice, and more heat. It's a dark, sweet, spicy, and fruity bourbon doused in hot hot heat. And it really does smell great sometimes, as much as I could hope from an older bourbon, but the heat is an issue.
The heat doesn't even have the unpleasant oaky astringency from
Wild Turkey 17 Year Bottled in Bond
, it's just hot, singe your nostrils, burn that constantly jabs my nose and distracts me from the otherwise rich and developed scents. It's weird to experience, especially when it would smell spectacular otherwise.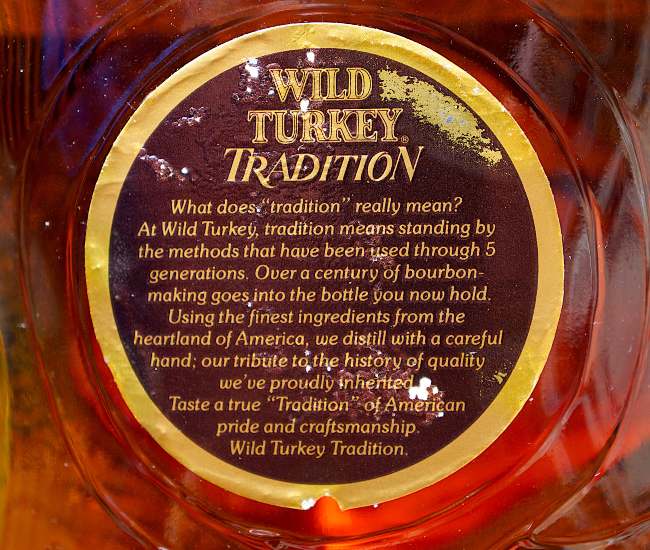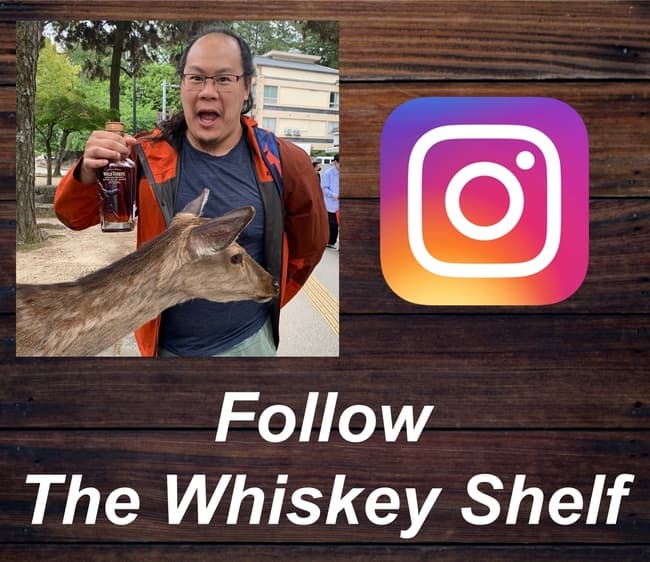 Wild Turkey Tradition 101 taste and aftertaste
The flavors start with caramel, dense vanilla, dried cherry and orange, roasted oak, tobacco, spicy, cinnamon, licorice, earthy rosemary, eucalyptus, and alcohol burn. While it initially is roasted caramel and vanilla forward, a stronger wave of oak and spice come to push everything somewhat out of balance, or at least my preferred balance.
The most surprising thing is how it actually feels spicy, like cinnamon extract or chili pepper. The intense alcohol kicks too, but not quite as strong as in the scents. It's an interesting mix of dense sweetness and roastiness, followed by this earthiness that I've rarely experienced with Wild Turkey before.
It's not quite overly and unpleasantly roasty, oaky, and astringent as I've found in Wild Turkey 17 Year Bottled in Bond, it's just very oaky and spicy, making it somewhat unbalanced. It tastes great though, but maybe a little strange and very challenging. You have to take this one slow.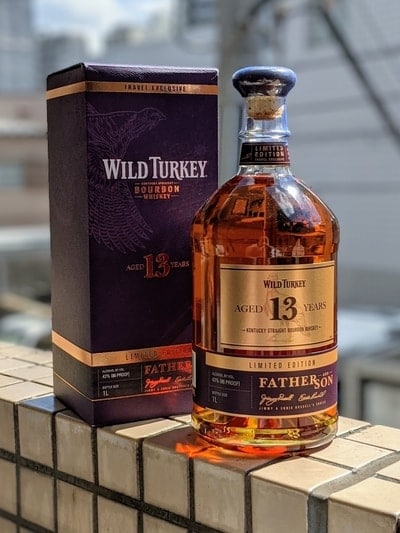 After "chewing" there's rich roasted caramel, vanilla, dried apricot and cherry, roasted oak, cinnamon, licorice, and tobacco. The chili pepper and cinnamon extract spiciness remain. The alcohol bite has come down as well, probably because I've adjusted to it, so it's manageable and far more delicious. Smaller sips also help manage the heat, but it's still intense.
The finish starts roasty and lightly sweet with roasted oak, dark chocolate, tobacco, black pepper, caramel, vanilla, dried cherry. It leaves a roasty and spicy paprika / red pepper spiciness, like I ate some spicy food.
"Chewing" leaves roasted oak, cinnamon, caramel, vanilla, dried cherry, red pepper flakes, and dark chocolate. Actually, dark chocolate with red pepper flakes is a great summary, and that does exist.
Wild Turkey Tradition has those awesome "dusty" qualities of rich dried apricot, cherry, and fruit with dense and dark oak and tobacco. It's not not overly oaky, astringent, or grassy, but instead has a lot of cinnamon extract and some red pepper (that's actually spicy) for kick. It's like some dropped a thai chili in there for a week.
The denser sweetness and fruitiness taste great, but the oak, spice, and heat make it somewhat rough around the edges, which limits its ceiling. Is more…rough and tumble than the beautifully refined and mature
1995 Wild Turkey 8 Year
. Overall Tradition is challengingly delicious, but I was hoping to be blown away more in whatever form it took. Maybe the profile doesn't completely line up with me either.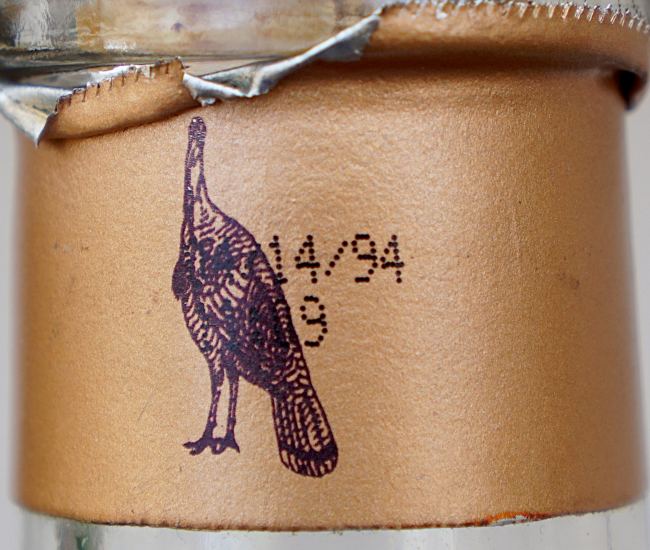 If you're shopping on Amazon, support The Whiskey Shelf by shopping through my affiliate link – Shop Amazon. I may earn a commission from your Amazon purchases.
1994 Wild Turkey Tradition 101 Rating

Wild Turkey Tradition is a bit of a mess and divisive for me, although I clearly like it enough given the rating. There's plenty to savor and enjoy, but there are other things that hinder its ability to reach the same level as the "Top Shelf+" 1995 8 Year, as much as I want it to. It's not even close to Wild Turkey 8 Year from the same period.
Even at "just" 101 proof (50.5%), the scents have a lot of alcohol heat and kick (like 65% strong) that unfortunately take away from my ability to fully enjoy the dense and rich caramel, vanilla, fruit, and oak that's there. It's unfortunate because the scents and flavors have a lot of character to offer…when I can get to them. There are brief moments where I can smell the hefty caramel and fruit, and then the alcohol pushes me out of the experience, like the Kool-Aid man crashing through a wall.
I also have a love/hate relationship with how spicy it tastes. Don't get me wrong, I'm a big fan of spicy food (I'll douse mitmita and awaze on my Ethiopian food), but it feels out of place. It's also possible that I'm so unaccustomed to it that I'm just shocked. Maybe that also means it's not what I prefer, because I have a bit of a track record not loving super spicy and oaky bourbons.
As much as I find Tradition kind of strange and brash, the flavors have many of the excellent "dusty" bourbon characteristics I prefer, such as dense caramel and vanilla, dense dried cherry and apricot, and dark oak that's not overly grassy or burnt. For the most part, the flavors offer a lot of character…if you can handle the intensity. It is more manageable than it is in the scents, so I can better pick them out and appreciate them.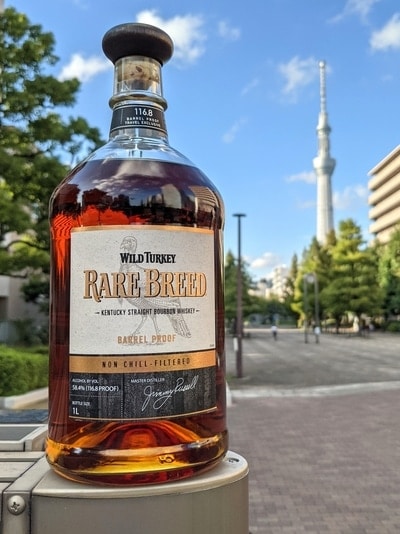 You'd be hard pressed to find notes that well-developed and rich in most bourbons today. I generally weigh my rating towards the flavors, and the flavors redeem it just enough to be "Top Shelf", because it's at the border.
Now that I've reviewed Wild Turkey 8 Year from 1995, it seems like Jimmy Russell was going for a more oaky and spicy bourbon, like the vintage version of what Wild Turkey is today. It's very different from the refined and densely fruity and sherry-y Wild Turkey 8 Year of the same era.
It's weird because I've found other "dusty" bourbons to be very rich and refined, from 43% ABV
Evan Williams 7 Year
to
57% ABV Old Grand Dad 114 Lot 17
. This Wild Turkey Tradition 101 kicks way harder, usually not in a good way, so it doesn't bring the completely memorable experience that makes me want to wholeheartedly recommend it.
I'm sure that there's variation across the years it was released, but I can only base my rating on this one experience. It also makes me wonder what it was like in 1994, because it probably has changed over the years. I just can't say in what way.
Now to the question "is it worth getting a bottle of Wild Turkey Tradition?". At the prices I've been seeing, usually $200-300, I'd say no. Then again, there is a lot of inherent value in bourbon from 1994, especially one from such a famous distillery that does not (and probably cannot) make bourbon like it anymore.
I'm not mad about the $90 I paid, especially because I wanted to try and review it, but I can't quite say that it's a superb bourbon worth buying given the price and lack of availability. But you know what, other bottles of Wild Turkey Tradition may have a better handle on the heat, and/or you'll like it more than I did. This is just one data point into your own buying decision making.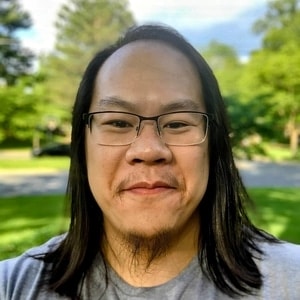 I have far too much fun writing about whiskey and singlehandedly running The Whiskey Shelf to bring you independent, honest, and useful reviews, comparisons, and more. I'm proudly Asian American and can speak Cantonese, Mandarin, and some Japanese.
There are no sponsors, no media companies, and no nonsense. Support The Whiskey Shelf by 
Buying Me A Shot
.