Hardin's Creek Clermont 17 Year Review [In Depth]
Hardin's Creek Clermont 17 Year
Hardin's Creek Clermont Details
From the company website:
Welcome to Clermont, the first of three special releases within our Kentucky series. Born in Clermont and bottled at the grand age of 204 months. This rich amber liquid is notable for its nose of burnt sugar, palate of caramelized oak and lingering warmth to finish. It column't come from anywhere else; the nuanced terroir and microclimates shaped by the ridged and rolling hills. The cool wind against the shelter of the valleys. Pockets of rackhouses, close together, swathed by thick woodland, aglow year-round beneath the strong Kentucky sunlight. The unique contours of Clermont discernible in every pour. Legacy is always in the making.
One liquid, aged 17 years at our three Kentucky campuses to make three different expressions. Taste the effect of different terroirs on a single mashbill.
Hardin's Creek Clermont overview
Jim Beam made a big splash with the first 2 releases from their new Hardin's Creek line of whiskeys. Well…the 15 year old 54% ABV bourbon did, but the 2 year old one for $80 not so much. Regardless, they're back again the "Kentucky Series", which is a 3-part release of 17 year old bourbons to explore the "terroir" of Jim Beam's rickhouses across their 3 campuses.
The first one, released summer 2023, comes from 17 year old barrels selected from the Clermont campus. Frankfort is second and Boston is third (not the city in Massachusetts). I personally don't know much about how the 3 campuses are different, apart from the fact that they're in different locations in Kentucky with different environments. Apparently it makes enough of a difference to do 3 different releases, or that's just the money talking at a cool ~$170 a bottle. Releasing 3 of them is a smart business decision…because I'm going to buy all 3.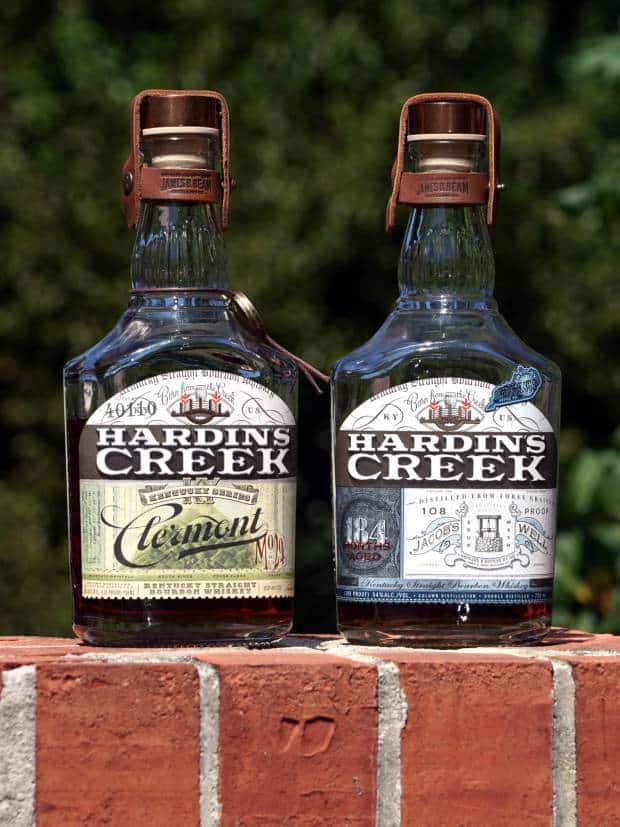 Why each location is different is a little bit vague, but the packaging on the box and bottle provide some general-ish information about the Clermont location.
Description: Moderate rainfall, south winds, dense flora, knobby terrain
Avg. ann. humidity: 69%
Avg. ann. Windspeed: 7 mph
Longitude: 85 / 39' / 13" W
Latitude: 37 / 55' / 44" N
No. of rackhouses: 30
That's all great, but the most interesting part is that this is 17 year old and 55% ABV bourbon. Those stats are serious business, because in 2023 you will rarely ever find a 17 year old bourbon from a well-known Kentucky distillery. The only other ones I can think of are Eagle Rare 17 Year and
Michter's 20 Year (I have reviewed it)
…and those are super duper ultra unicorns.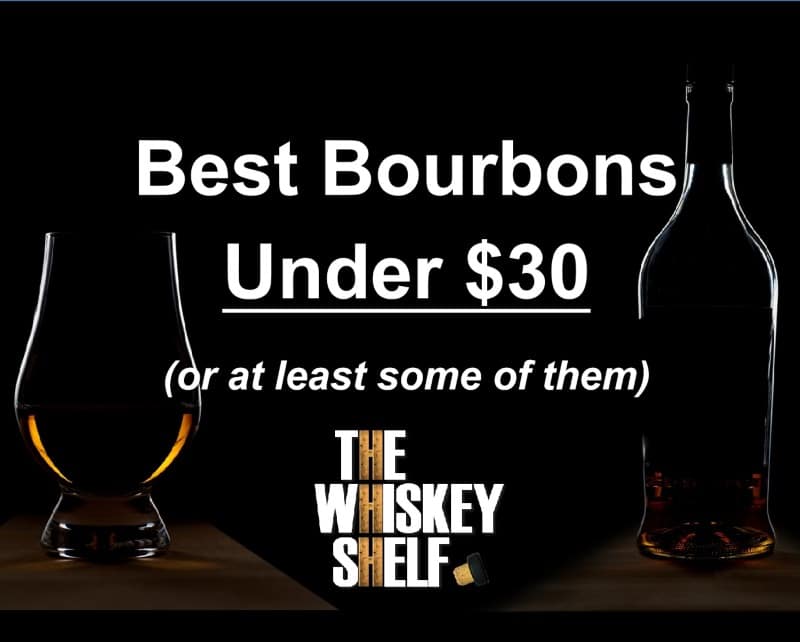 This is rare company, yet somehow Jim Beam decided to do everything possible to hide the 17 year age statement, as poorly indicated by the 204 months on the bottom right of the label. Seriously, why is Jim Beam so weird about labeling? It's like they decided to go retro and put the months aged on the container, as they used to do with various decanters from decades past.
Let's find out what Clermont's air, ground, and everything in between bring to the bourbon in this Hardin's Creek Clermont 17 Year bourbon review.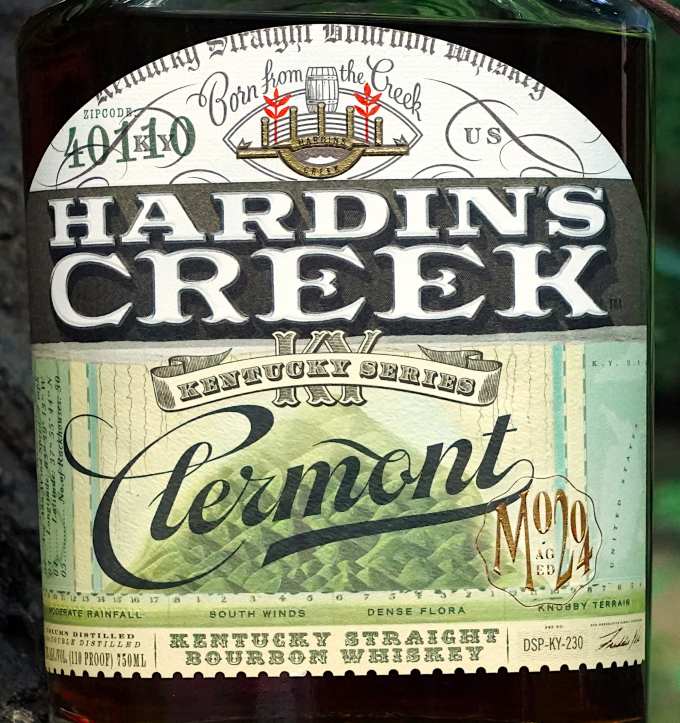 Hardin's Creek Clermont smell
Hardin's Creek Clermont goes heavy on the roasted caramel, toasted maple syrup, and wood up front, followed by roasted vanilla and marshmallow, more roasted oak, baked red apple, dark chocolate, coffee grounds, tons of cinnamon, dried apricot and cherry, candied pineapple, toasted pecans, dates, and fennel. Among other things this is like charred pecan pie.
This is 17 year old bourbon, so yes it is very roasty and oaky, but it also still has moments of brighter red apple and apricot fruitiness, and other background fruitiness so it's not a one-dimensional experience.
After swirling and rest I smell roasted caramel and maple syrup, toasted vanilla, dark chocolate (comes out more), dried cherry and baked red apple, tons of roasted oak and cinnamon, toasted coconut and toasted pecans, candied pineapple, dried apricot, dark berries, and fennel. I don't know what it is, but the swirling plus the lower liquid level seems to open it up a lot. It smooths out some of the roasty oak and intensifies the sweetness. Unlike Wild Turkey 17 Year Bottled in Bond, it's not astringent or harsh. The 55% ABV still has some kick, but it's not bad.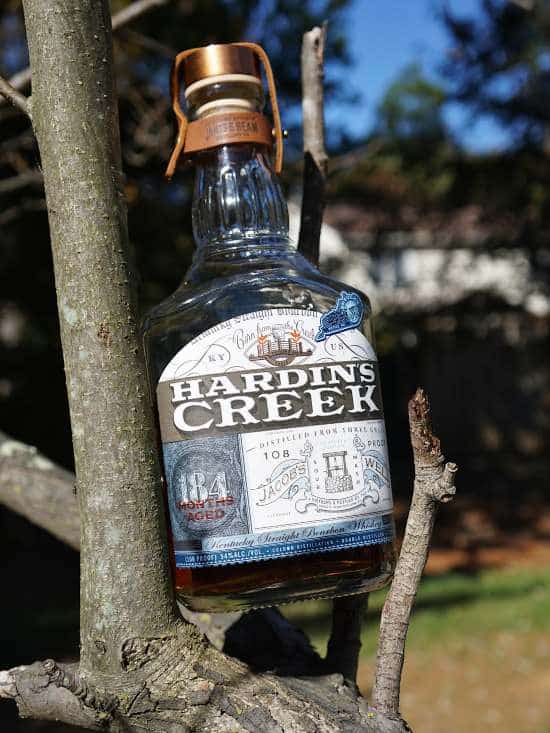 It's still a very oaky and oak-adjacent bourbon for sure, but as dark as it is, some brighter sweetness, fruitiness, and herbalness jump out from time to time. It's rich and layered, and I'm still sold that it's an improvement over
Russell's Reserve 13 Year
.
Hardin's Creek Clermont 17 Year smells great and has fantastic richness and complexity, although it's not necessarily groundbreaking in its oakiness. This doesn't have the smooth and super refined maturity of Michter's 20 Year, which is an impossible and inappropriate comparison, but this is still delightful.
Hardin's Creek Clermont taste and aftertaste
On my first sip I taste roasted caramel, dried red apple, vanilla, roasted oak, cinnamon, baked red apple skin, 85% dark chocolate, dried candied pineapple, pecans, clove, and some lemon zest. Hardin's Creek Clermont is rich and very oaky, but not astringent or overoaked. There's a lot of delicious toasted sweetness and dried fruits, but the oak leads the way with a reasonable about of heat. It's very oaky and I like it a lot.
I have two initial thoughts about this: 1) this is an oak bomb that's not completely dominated by oak, and 2) I wish there was more variety. I get it, it's a 17 year old bourbon and oak up, down, and all around is to be expected, but it also can do a lot more than that.
After vigorous "chewing" I taste roasted caramel, maple syrup, baked and fresh red apple, chocolate, roasted oak, vanilla, toasted coconut, cherry, apricot, orange, cinnamon, candied pineapple, clove, roasted coffee, white chocolate, and candied pecans. A few seconds after "chewing", I get this big caramel, apple, cherry, apricot, and coconut pop that rushes out, and it's awesome.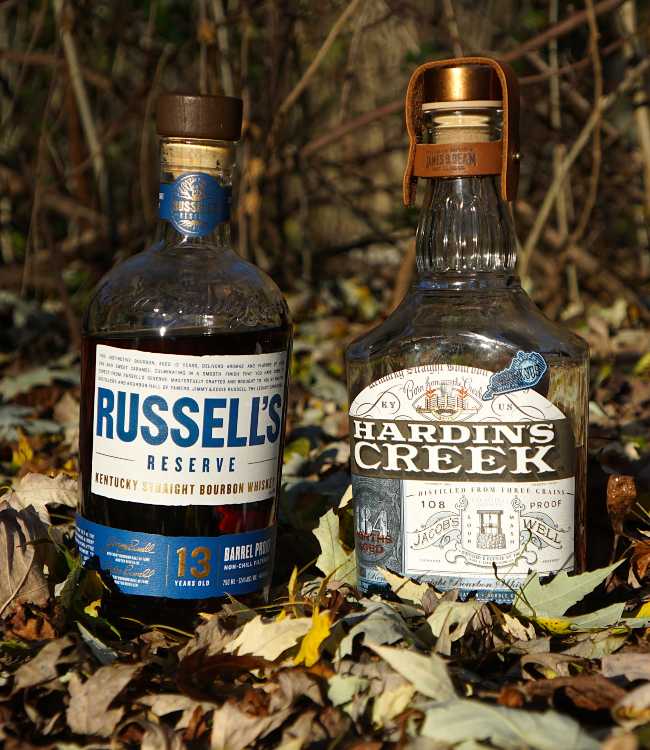 I also notice that Hardin's Creek Clermont doesn't have the tobacco note I associate with some 12+ year old MGP bourbons. I don't know why, but I notice that.
That noticeable pop is incredible and pushes it over the top. It gives Hardin's Creek Clermont that extra zing and vibrance that makes it not just an old and oaky bourbon, but a multi-faceted old bourbon that's viscous and rich. That said, I can also sufficiently "chew" this for 6-7 seconds because the heat is very well controlled.
The finish starts with caramel, roasted oak, vanilla, cinnamon, dry oak tannins, red grape with the skin, and dark chocolate with long-lasting sweet and dry oakiness.
After "chewing" it leaves roasted caramel, maple syrup, baked red apple and peel, roasted oak and moderate bitter and drying tannins, roasted coconut, cinnamon, clove, and coffee. This isn't breaking news, Hardin's Creek Clermont leaves a very oaky and fairly dry finish that doesn't overpower. It might teeter on it at times, but I never quite feel that it's too much. Be aware though, this is not for you if you don't like dry finishes.
This is really incredible bourbon.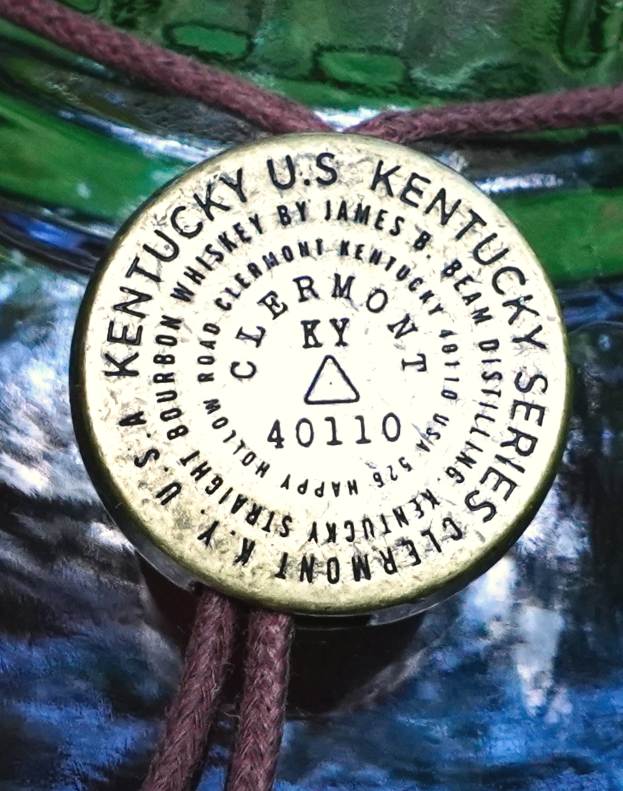 I've unfortunately lost some Glencairn's while in transit, and that made me very sad. So, I wised up and bought this Glencairn Travel Case that comes also comes with 2 glasses so I don't need to worry so much about them breaking. I think it's great, and I think you'll love it too.
Seriously, if you already have glasses, protect them.
Hardin's Creek Clermont Rating

Hardin's Creek Clermont is really something special. It's far from perfect, but oh man taking an hour to review this (yes seriously) was a hell of a ride. Smelling and drinking this has its ups and down (downs are not in a bad way), but it is engrossing and occasionally challenging at the same time. Be warned, this is not "easy" or "casual" to drink. It takes a lot of time to dig into all the layers because the dense oakiness doesn't necessarily let everything out that quickly. The oakiness can also be a lot to process on its own.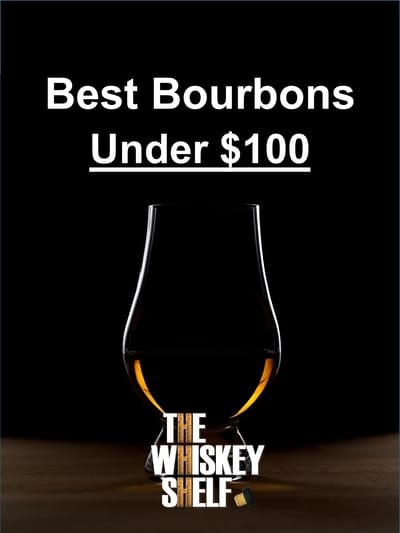 That's because the heavily roasted oak and oak-adjacent stuff like cinnamon, coffee, coconut, and nuttiness are such a major part of the experience. Those things cover everything and I think they can easily overwhelm those who are not so used to it. And even then, it takes a lot of time to smell through and find everything layered in there. It's there, it's just not a quick and easy process.
Honestly, stronger fruitiness would have propelled this even higher. I appreciate that the existing fruitiness holds up to the oak, but more fruitiness would bring improved balance. I don't know if Jim Beam even has 17+ year old barrels that are fruity, but I'm curious if they do. I know it's a tough ask. They could be saving those for the next super ultra limited Booker's Anniversary release or something else far more special than this.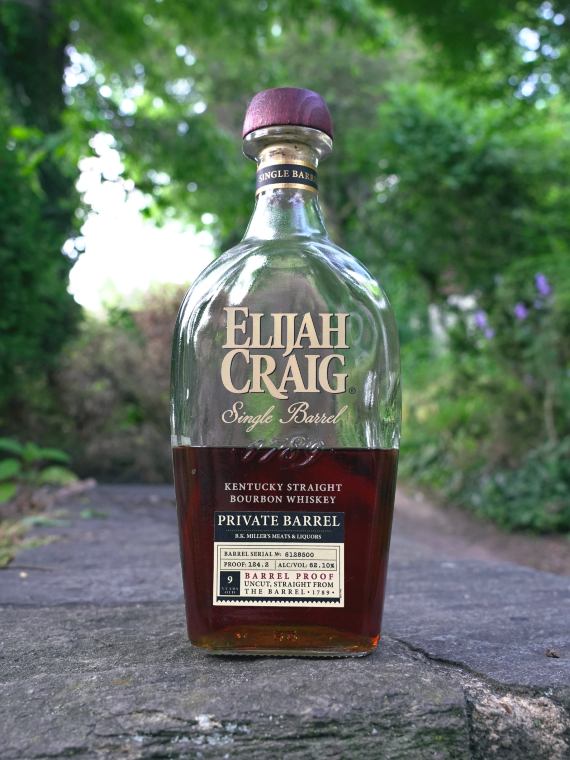 When reviewing these very oaky bourbons, Russell's Reserve 13 Year always comes to mind. I reviewed Russell's Reserve 13 Year LL/KE (from May 2022) a few weeks before this, and I believe Hardin's Creek Clermont tops it. Russell's 13 Year lacks that extra sweet and fruity pop plus overall roundness that pushed Clermont over the top to "Top Shelf+". The oakiness is abundant in both, but Clermont has enough extra personality and complexity to be more than just a well-done oak bomb.
If you don't like oaky bourbons, I highly recommend that you avoid this. It is super oaky, which is not for everyone. It's not quite the level of straight up licking a burnt tree, but I'm not going to say that it isn't so far off. Hopefully you know your preferences enough to know whether this sounds delicious for you.
Other than that, Hardin's Creek Clermont 17 Year Bourbon is a special bottle of bourbon. At least as of this review, the remaining 2 versions (Frankfort and one more) haven't been released yet so I don't know how they differ, but I'm eager to find out for myself.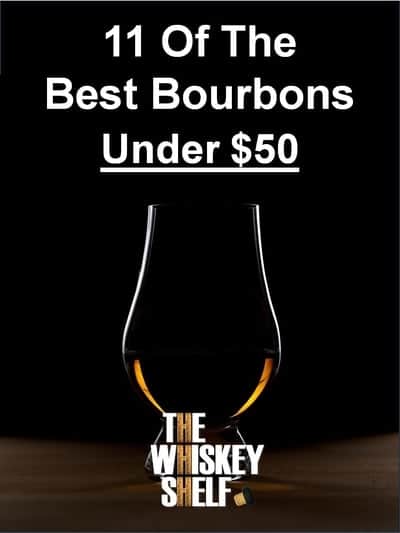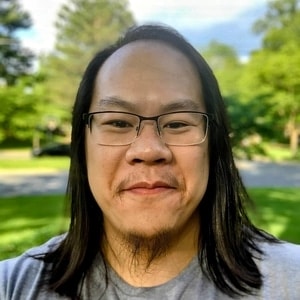 I have far too much fun writing about whiskey and singlehandedly running The Whiskey Shelf to bring you independent, honest, and useful reviews, comparisons, and more. I'm proudly Asian American and can speak Cantonese, Mandarin, and some Japanese.
There are no sponsors, no media companies, and no nonsense. Support The Whiskey Shelf by 
Buying Me A Shot
.