Elmer T Lee vs Rock Hill Farms
Elmer T Lee vs Rock Hill Farms Comparison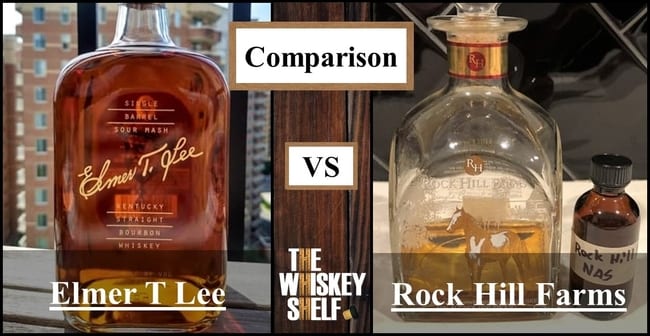 Elmer T Lee and Rock Hill Farms are outrageously popular
When it comes to Buffalo Trace mashbill #2 single barrel bourbon,
Elmer T Lee
and
Rock Hill Farms
reign as two of the most desirable ones made today. And for better or worse, both are shrouded in mystery regarding age and barrel selection.
Blanton's
has the association with warehouse H, the metal-clad rickhouse that allows for greater temperature fluctuations than the traditional wood ones, but Elmer T Lee and Rock Hill Farms don't have any particular defining characteristic. Shoot, Rock Hill Farms isn't even on the Buffalo Trace website, so it's nearly as if Buffalo Trace doesn't recognize its existence.
With so much demand and hype around these two bottles, it's fair to wonder how similar they are given the same mashbill and similar ABV. So with samples of both in hand, I had to compare them to find out if they're all that different. Let's find out in this Elmer T Lee vs Rock Hill Farms Comparison.
As an FYI, I bought and use these Glencairn glasses for my reviews and comparisons (because they're the best): 
Glencairn Crystal Whiskey Glass, Set of 6, Clear, 6 Pack.
Full transparency, this is an affiliate link, so I may earn a commission if you buy this or something else from Amazon.
If you're shopping on Amazon, support The Whiskey Shelf by shopping through my affiliate link – Shop Amazon. I may earn a commission from your Amazon purchases.
I hate to say it, but neither Elmer T Lee nor Rock Hill Farms stand out as the "better" bourbon. I anticipated there being more meaningful differences, but it's honestly difficult for me to definitively tell them apart. In a blind comparison, I'd probably mix them up half of the time. In that way, the more subtle differences feel like comparing a normal eagle rare release to a barrel pick.
I guess it's to be expected, given that they're both mash #2 single barrel bourbons with comparable-ish alcohol levels, sort of how each batch of
Stagg Jr
has slightly different proof (usually varies within 2-4%) but is
generally quite similar in my experience
.
Both bourbons primarily have honey, caramel, orange, cherry, and wood with a nice spice kick, some bitter oakiness and earthiness, and a gentle amount of rye-influenced mint and anise that remind of an Old Fashioned in pure bourbon form.
Even though Rock Hill Farms has a little more alcohol, it doesn't clearly feel like it. Elmer T Lee smells a little bit richer, fruitier, and woodier, while Rock Hill Farms smells a little less sweet and has more lightly roasted sweet corn. Elmer T Lee gets a slight edge on smell alone.
On taste, any nuanced differences from the nose disappear. Rock Hill Farms may be slightly fuller and sweeter, and less oaky, while Elmer T Lee a little fruitier. It's so close that I'm not even entirely sure they're different in any meaningful way.
So I can't pick a winner solely based on the drinking experience. Unlike in my
EH Taylor Comparison
, I can't fall back on picking a winner based on price. Both are exceedingly pricey on the secondary market, so there's no extra value from getting one over the other. So, there's no true winner in this Elmer T Lee vs Rock Hill Farms comparison, it's a tie.
There are two takeaways from this comparison. One – Blanton's Single Barrel might be a real winner because it's the "cheaper" and slightly more available mashbill #2 bourbon, although that's not much of a consolation prize for most.
Second –
John J Bowman Single Barrel
is the true winner of this comparison. It
crushed Elmer T Lee head to head
, so by the transitive property (remember that from math?), if Elmer T Lee and Rock Hill Farms are about the same and John J Bowman is better than Elmer T Lee, then John J Bowman is also better than Rock Hill Farms. This is just a generalization though because these still are all single barrel bourbons with their own variation.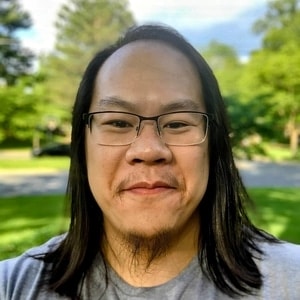 I have far too much fun writing about whiskey and singlehandedly running The Whiskey Shelf to bring you independent, honest, and useful reviews, comparisons, and more. I'm proudly Asian American and can speak Cantonese, Mandarin, and some Japanese.
There are no sponsors, no media companies, and no nonsense. Support The Whiskey Shelf by 
Buying Me A Shot
.
Maker's Mark Cask Strength Comparison