holiday bourbon and whiskey guide over $50
Shopping For Whiskey Is Confusing - This Bourbon and Whiskey Buying Guide Can Help
There's always a reason to gather, celebrate, and give, so what better way to do it than with whiskey (and food of course). After doing reviews for a few years, I figured it was time to put together a holiday bourbon and whiskey gift guide over $50 for the holidays or really any time of the year. It's always a good time to buy and/or give whiskey.
I have to remind everyone – Please drink responsibly and don't drink and drive…because that ruins far too many people's lives.
For better or worse, there are a lot of options out there, and also a lot of unfortunate pitfalls to buy a not so great bottle. This is where I come in to possibly help – to provide a bourbon and whiskey guide with a shorter list of more objective suggestions across various prices for your next party, gathering, celebration, or yourself (because you're worth it too). Because guess what, these companies don't pay me for anything, so I can freely tell you whatever I want. Hopefully you'll find this list useful and it can help make the search just a little bit easier.
For this list, apart from various price ranges (knowing that prices vary), I've also tried focus on
  * Accessibility –  It's not helpful to recommend impossible or extremely difficult to find whiskeys. Still, I can't guarantee you can actually find these whiskeys, especially once you start creeping up into $70+ whiskey
  * Variety – Spread the love to multiple distilleries / companies
  * Quality – For whiskey this expensive, at least Top Shelf
I'm intentionally trying to keep the list somewhat short, so there are other whiskeys that could be included. Some of you reading may disagree with me too, and that's cool with me.
Because there's still a lot of bourbon and whiskey to cover, I've splitting this gift and buying guide into two parts:
Part 1: Holiday Bourbon and Whiskey Guide Under $30 and Under $50
Part 2: Holiday Bourbon and Whiskey Guide Over $50, with a sort of arbitrary cap at around $110 (This article covers this part)
Without further adieu, let's get started with my take on a bourbon and whiskey buying and gift guide over $50.
Bourbon and Whiskey Gift Guide $50-75
Quality really starts to pick up in the $50-75 price range. The problem is that this is where companies sourcing whiskey really start to appear, and not all of it is good.
Stagg Jr (I guess just Stagg now) is so difficult to find, but did you know that 1792 Full Proof Bourbon is it's cousin? While it's not necessarily that similar (I know, I compared them), it brings its own intense and dark caramel, orange, dry roasted oak, cinnamon, clove, grass and more. It's also a lot easier to find, although not necessarily as abundant as Wild Turkey Rare Breed Bourbon.
Because this is a single barrel bourbon, nearly every bottle you find (from different barrels) is going to be different, so it's difficult to generalize how it will be. What I can tell you from personal experience is that this is the more mature and refined version of Wild Turkey Rare Breed Bourbon. It has a similar caramel and vanilla flavor (it's still bourbon), but has more dark fruit and apple, and smooths out some of the slightly rougher oak and oak spice.
At least for now, it's still somewhat easy to find at any store that sells more expensive bourbon, although I wouldn't be all that surprised if that changed soon. As always, this is a single barrel bourbon so your experience will vary from mine.

With both Knob Creek Single Barrel Bourbon and Booker's getting more expensive by the month (Knob Creek Single Barrel around $50 and Booker's around $90-100 at this point), why not split the difference for the bourbon I think that's better than both. You and/or others will enjoy the mature and rich caramel, vanilla, dark oak, chocolate, and tobacco that usually only exists in far more expensive bourbons. This is truly one of the older smelling and tasting bourbons you can find for around $70-75, and overall an excellent bourbon.

Distillery: Heaven Hill
Rating: Top Shelf
Price: $70-80 (really can live in multiple price ranges)
Heaven Hill still kind of dominates this list, but for good reason – because they make damn good whiskey. While prices have creeped up a bit, Elijah Craig Barrel Proof 12 Year continues to be a caramel and vanilla bomb with supporting oak, cinnamon, apple, and tobacco that holds up in just about any situation – drink for yourself, awesome gift, to share with friends, etc. To be honest, this isn't the easiest to find, at this point bordering on allocated. Still, this deserves a place on bourbon and whiskey gift guide under $75.
This is my favorite rye whiskey under ~$75. It's one of the less herbal ryes out there, full of caramel, vanilla, nuts (because it's Heaven Hill), orange, cherry, cinnamon, clove, and oak. It's not nearly so herbal and dill-y like other ryes. It bridges the gap between bourbon and rye, and is very rich and oh so enjoyable. I hear these are becoming a tad more difficult to find these days, but if you're in the market for rye, this is an excellent option.  
If you can find it, Willett 4 Year Rye is also one of the better rye whiskeys you can buy today. Don't let the 4 year age statement fool you, this already is a well-developed and rich rye whiskey full of deep honey, licorice, fennel, lemon, earthy caraway seed, oak, clove, and more. I was really surprised how good it was, and I bet it'll surprise others as well. While it's also not quite abundantly available, it's a great rye whiskey option for yourself or others.
If you're shopping on Amazon for Black Friday, Cyber Monday, the holidays, or any other occasion, support The Whiskey Shelf by shopping through my affiliate link – Shop Amazon. I may earn a commission from your Amazon purchases.
Bourbon and Whiskey Gift Guide

$75-100ish
If you're seriously considering what's on the Bourbon and Whiskey Gift Guide $75-100, you're really looking to splurge. There are some great options, but also some expensive ones that don't justify the price. This list will help you avoid those expensive mistakes.
The number of finished bourbons seems to to increase by the day, but Joseph Magnus Bourbon has been on the market for years and is one of the few finished bourbons with somewhat wide distribution and availability that's also worth buying. You get the rich dark berries, dates, and vanilla funk from the brandy and sherry finishes, as well as the roasted oak and oak spices from both the bourbon and finishes. Finished bourbon is still the new frontier in whiskey, so this is a great splurge option to introduce yourself or someone else to the world of finishes. 
I've written about this a few times, and for good reason: this is one of the best bourbons you can still buy today. It has super rich caramel, vanilla, apple, cherry, roasted oak, cinnamon, chocolate, coffee grounds that will overwhelm, lather, and impress your senses, even as an experienced bourbon drinker. If you want to enjoy or give an absolutely amazing bourbon, this is a great "absolutely nailed it" purchase that's actually worth the price.
There's a lot of expensive rye whiskey out there, and Redemption 10 Year Rye, one of the last 10+ year old age-stated MGP ryes, is one of the best. It's a dark and heavy rye with a lot of the MGP licorice, fennel, and dill as well as tropical pineapple and guava, and earthy rosemary, oak, cinnamon, and overall roastiness from the age. If you or the gift recipient like rye, this is a great option. Do not buy this if you don't know whether the person likes rye, because licorice and fennel aren't for everyone.
Distillery: Nikka (blend of a lot of stuff that they own)
Rating: Top Shelf
Price: $75-90
This is one of the best used-to-be Japanese whiskeys (has scotch in the blend so it's not Japanese Whiskey anymore) you can buy today. It's full of dark fruit from the sherry aged components, malty vanilla like many Scotches, cinnamon and clove oak spices, and a little smoke. It's amazing, yet often overlooked. You should probably avoid this if you 10/10 hate the smell or taste of smoke, because there is a little bit of that here, but for everyone else – get it.

This is one of my favorite Irish Whiskeys and one that is somehow overlooked. The rich dark fruit, caramel, roasted oak, orange, grapefruit, cinnamon bun, and more are so compelling. It really gives more expensive Scotches a run for their money. It's also a little bourbon-y with the caramel, oak, and overall spice levels. In fact, it's also better than most bourbons in the same price range too. 
This is also great for anyone who likes unpeated Scotch, and very likely American whiskey drinkers too.
This Holiday Bourbon and Whiskey Guide Is Just The Start...Happy Shopping!
I hope you that this holiday bourbon and whiskey guide over $50 (but really for any time) is useful for you in some way. I intentionally didn't list every single possible option because that would be overwhelming and less helpful. Use this as one more input into your buying decisions, although you won't go wrong with anything listed above. 
If you're less experienced, you can stick to list more closely. If you're more experienced, then you can use this as a general guide and you can adjust as you want. Happy shopping!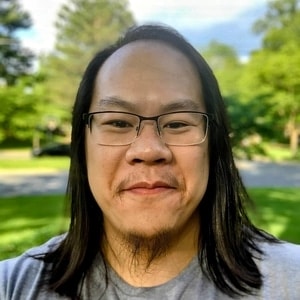 I have far too much fun writing about whiskey and singlehandedly running The Whiskey Shelf to bring you independent, honest, and useful reviews, comparisons, and more. I'm proudly Asian American and can speak Cantonese, Mandarin, and some Japanese.
There are no sponsors, no media companies, and no nonsense. Support The Whiskey Shelf by Buying Me A Shot.