Pikesville Rye Review [In Depth]
Distillery: Heaven Hill
Region: Kentucky, USA
Type: Rye Whiskey
Alcohol: 55%
Composition: 51% rye, 39% corn, 10% barley
Aged: 6 years in virgin American white oak barrels
Price: $45 (750mL)
From the Heaven Hill website:
"Prohibition shuttered most of the once-booming Maryland Rye industry, but Pikesville, produced since the 1890's, re-emerged in 1936 and became the lone brand to keep this style of Rye alive. Having stored away extra-aged barrels, Heaven Hill reclaims the past with Pikesville Straight Rye Whiskey. Pikesville is a high-proof, super-premium straight rye whiskey, drawn from specially selected barrels aged at least 6 years. Rye Whiskey is enjoying a renaissance, led by mixologists and aficionados who enjoy its full flavor, its mixability and its long and storied history."
Pikesville Straight Rye, a Heaven Hill rye whiskey, is modeled off a Baltimore, Maryland brand that it purchased I think in the mid 2010's. Pikesville rye is 6 years old, 2 years older than its cousin:
Rittenhouse rye
, and costs an extra $20-30. And in the Kentucky style, it's made from 51% rye, the bare minimum amount a rye whiskey can have.
Before prohibition, Maryland, as well as Pennsylvania, was a hub for rye whiskey production. I've even seen photos of Maryland-made Wild Turkey Rye from decades ago. That must be some amazing stuff. Maryland has been somewhat quiet since, but the more recent rise of distilleries in the area such as
Sagamore Spirit,
Epoch, and 
Old Line
are changing that for the better.
One interesting fact about Pikesville Rye is that it's the most expensive rye whiskey that Heaven Hill sells regularly. There's been one-time Parker's Heritage releases, but in general Heaven Hill actually doesn't do a ton outside of Rittenhouse and Pikesville. Regardless of what else Heaven Hill does, lets find out if this Kentucky rye should be added to your bar in this Pikesville Rye Review.
For a lack of a better word, this smells awesome. It's incredibly floral and grassy, with moderate alcohol and a dense underlying caramel base. It's like smelling a flower that's only a little sweet so you mostly smell its leafy and earthy parts. There's also the smell of freshly cut grass. It can all be best described as an earthy and floral-forward rye whiskey that still has plenty of sweetness to keep it balanced.
Subsequent smells reveal a mix of caramel nougat and brown sugar, as well as the very clear scent of roasted peanuts right after you crack open the shell and smell the nuts and dust from the shell floating in the air. This is still a Heaven Hill-made whiseky, so that nuttiness is expected, although it's nowhere near as intense as it is in some
Henry McKenna 10 Year bourbons
. As the glass slowly empties, honey finally emerges, no longer hidden by the alcohol.
Strangely, Pikesville Rye doesn't have as much rye spice as I would expect from 51% rye (usually licorice, anise, pepper, and mint), but once the glass is empty and I let it sit, I start to finally get the slightest minty and peppery smell of rye bread. Still, this is an incredibly rich and fragrant-smelling whiskey.
pikesville rye Taste & Aftertaste
Just like the smell, Pikesville Rye's taste is intense, yet pleasant. The intensity isn't from the alcohol, but the rich flavors full of nuts and brown sugar, making me think of peanut butter. It's not overly sweet, but actually savory and a little earthy.
As I keep drinking, I taste more peanuts, and just a touch of chocolate and mint. There's also a strong grassy, leafy, nutty, and malty taste, like when eating pumpernickel bread and you bite into one of the grains and the husk is still there. It's a mix of very dark sweetness, nuttiness, and earthiness that's quite un-rye-like, or at least what I generally expect to get from rye.
Underneath all of that, there's something reminiscent of vanilla, like frosting or bubble gum. Throughout, there's only moderate alcohol burn. I don't want to use the term "smooth", but it's more mellow than expected. Personality-wise, this is nothing like the more tropical higher-rye MGP-made ryes such as 
Sagamore Spirit Rye
 and 
Redemption 10 Year Rye
.
Pikesville Rye is a deliciously dark, rich, and captivating rye whiskey. I enjoyed the bountiful sweet, savory, and floral scents and flavors, and it all comes together to remind me of eating chocolate nougat, or a Reese's cup because of the peanut butter, caramel, and chocolate flavors. In terms of rye whiskey out there today like
Sazerac Rye
, Sagamore Spirit Rye, or even
Michter's 10 Year Rye
, it's very different.
This is a strong rye whiskey with a lot of punch, but also a softer side underneath that's worth exploring. If you like rye whiskey, this is definitely worth getting for your own shelf. Not to spoil it too much, but when I
compared Pikesville to Thomas Handy Sazerac
(you know, the one from the Buffalo Trace Antique Collection), it held its own incredibly well as a superbly-made rye whiskey.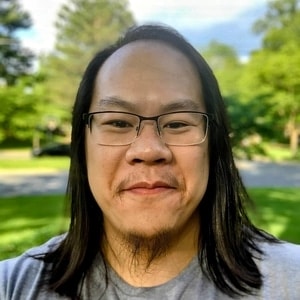 I have far too much fun writing about whiskey and singlehandedly running The Whiskey Shelf to bring you independent, honest, and useful reviews, comparisons, and more. I'm proudly Asian American and can speak Cantonese, Mandarin, and some Japanese.
There are no sponsors, no media companies, and no nonsense. Support The Whiskey Shelf by 
Buying Me A Shot
.