Blanton's Gold vs EH Taylor Single Barrel​ Comparison
Blanton's Gold vs EH Taylor Single Barrel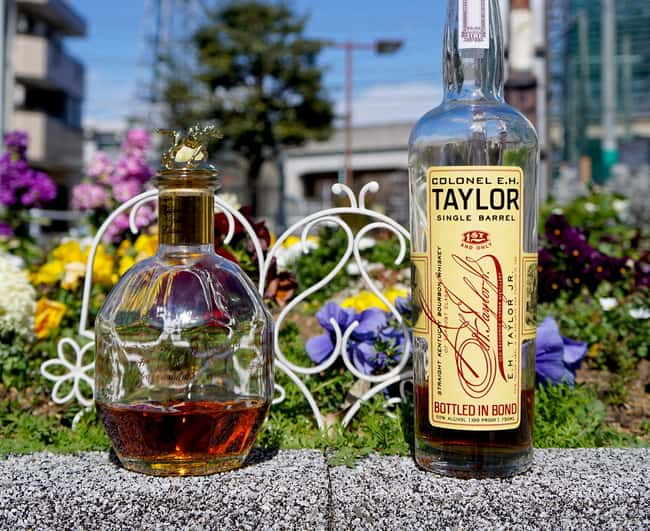 Buffalo Trace single barrel bourbons square-off
Apart from the mashbill (which are supposedly not that different – maybe a 3-5% absolute difference in rye and corn), these two bottles are a great pair to compare because of the similar ABVs and ages. Well, I at least think that the ages are similar. I've heard that EH Taylor Single Barrel is (or at least used to be) around 10 years old, but I can't confirm that.
I've been noticing a consistent thread of earthy and ginger-y sweetness across many Buffalo Trace-made bourbons, and I'm curious to validate that. And as always, I want to drink them together so I can find out just how different they are and which one is "better".
There are a few things to note. First off, this isn't the normal Blanton's Gold, this is the extra-aged Takara Gold (8ish instead of 6ish years old) that's a Japan-only release. You can differentiate it by the blindingly gold box that's a nightmare to photograph. I can't actually substantiate this claim since I haven't done the comparison, but I suspect that regular Gold and Takara Gold are fairly similar.
And of course, both of these are single barrel bourbons, so they inherently will vary and your experience may end up being different than mine. It is what it is when comparing single barrel bourbons.
As an FYI, I bought and use these Glencairn glasses for my reviews and comparisons (because they're the best): 
Glencairn Crystal Whiskey Glass, Set of 6, Clear, 6 Pack.
Full transparency, this is an affiliate link, so I may earn a commission if you buy this or something else from Amazon.
If you're shopping on Amazon, support The Whiskey Shelf by shopping through my affiliate link – Shop Amazon. I may earn a commission from your Amazon purchases.
EH Taylor Single Barrel wins by a sizeable margin. From top to bottom, EH Taylor is the more mature, round, rich, developed, and fruity bourbon that has me asking for more. Now if I could only find more bourbons like this for say, $60-70, which is still MSRP and technically a premium price for most. I guess I'll keep dreaming-on.
As I alluded to already, EH Taylor Single Barrel has more honey and fruit that gives it more all-around viscosity, depth, and life. There's denser apricot, cherry, orange, and pineapple, and all of that has a big impact on my enjoyment of both bourbons. No, Blanton's Gold isn't bad at all, it's just clear to me that this barrel of EH Taylor Single Barrel is better for me.
Blanton's Gold has many of the same sweet, fruity, and oaky traits (albeit toned down), but for whatever reason comes off way more dry, earthy, spicy, ginger-y, and grainy in comparison. It seems to be in the same ballpark as the drier
Old Grand Dad 114
, while EH Taylor feels more fresh and "moist".
The roasted grains are more noticeable with chewing, although far from overpowering. It seems that my taste buds adjust to EH Taylor's greater sweetness and fruitiness, so some of Blanton's Gold's sweetness gets lost and I get more graininess instead after having EH Taylor. As a result, Blanton's Gold tastes like the younger bourbon, although who's to say that it actually is in terms of years aged in oak.
Since I'm comparing two different mashbills from the same distillery, I also get the chance to determine if there are any inherent differences in the mashbills. Answer – I can't really say that Blanton's Gold is more rye-y than EH Taylor because they present rye differently.
EH Taylor has more of the sweet and tropical rye characteristics such as pineapple and licorice, while Blanton's Gold has more dry and earthy caraway seed, ginger, and pumpernickel. Those differences could come primarily from age, barrel selection, and/ or mashbill.
Here's possibly one takeaway – mashbill #1 vs #2 doesn't matter all that much. It's an entirely different thing if we're talking mashbill #1 vs wheated mash, where it's rye vs wheat and not a smaller 3-5% change in rye and corn content.
Ultimately, your experience may vary because of the single barrel nature of both bourbons, but EH Taylor wins this time.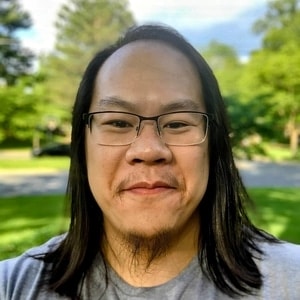 I have far too much fun writing about whiskey and singlehandedly running The Whiskey Shelf to bring you independent, honest, and useful reviews, comparisons, and more. I'm proudly Asian American and can speak Cantonese, Mandarin, and some Japanese.
There are no sponsors, no media companies, and no nonsense. Support The Whiskey Shelf by 
Buying Me A Shot
.
Maker's Mark Cask Strength Comparison