Woodinville Moscatel Finish Bourbon Review [In Depth]
Woodinville Moscatel Finish Bourbon
Woodinville Moscatel Finish Bourbon Details
From the company:
Our Flagship 5 year straight bourbon "finished" in 10-year-old Moscatel de Setúbal pipes. This "finishing" process adds notes of dried apricot and orange peel, with a honey and toffee sweetness.
Woodinville Moscatel Finish Bourbon overview
Woodinville's doing great work out in Woodinville, Washington, which is not too far from Seattle. I've already reviewed their standard (if you can call it that) straight bourbon as well as a single barrel I helped pick. Next up, we have Woodinville Moscatel Finish Bourbon. I really like Woodinville bourbon and I'm a HUGE FAN of finished bourbon (or for those who want to be super technical – bourbon finished in a cask / casks).
As you might expect from the name, they take their
already good (and rye-forward) Woodinville Bourbon
, finish it in Moscatel barrels, and then go easier on the water to get it to 100 proof instead of 90. Woodinville was kind enough to send me the distillery-only Harvest release from 2021
(thank you!)
, but in September 2022 started to release it more widely. They probably sent this to me in preparation of that release, but man I'm often slow to get these reviews out, so no I didn't release this review in September (sorry).
You might be wondering, "Alex, what the heck is moscatel?". I'm not that familiar with it (in part because I've never drank it), but I do know that it's a type of dessert wine that I rarely see used to finish whiskey. In my own personal experience, I've only seen and reviewed
Sagamore Spirit Moscatel Finish
, which I enjoyed.
To borrow from
Portugal Vineyards
, this type of fortified wine (meaning with added wine brandy to increase the ABV) has typical muscat grape notes of lychee, candied orange, lemon, and raisin. We might expect more emphasis on these notes in Woodinville Moscatel Finish.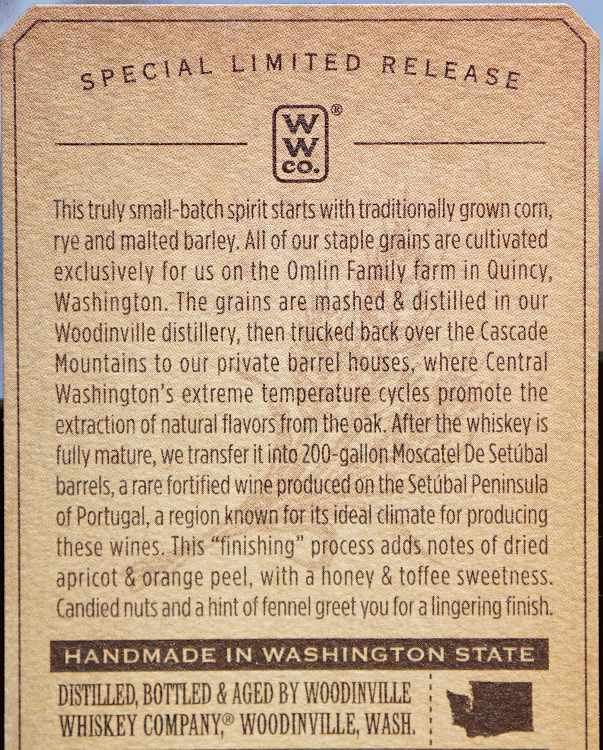 I've never had moscatel, but I have drank a lot of sherry over the years, and I'm a big fan of it. These wines generally (with the exception of Fino, Manzanilla, and amontillado to some degree) have concentrated grape, date, and raisin traits. Whiskey picks up those notes when finished in those barrels, adding more to the whiskey. My point is that this bourbon should pick up some extra sweet grape, and possibly some oak, because those wines are aged in oak as well.
Unless you get a free bottle like I did, this is now going to set you back around $100. That's a pretty penny (actually 10,000 pennies) so find out what this uniquely-finished bourbon has and if you might want to consider buying it in this Woodinville Moscatel Finish Bourbon review.
Thank you to Woodinville for providing this bottle at no cost. All opinions are still my own. If I give it a positive rating, that's great. If I don't, that's truly how I feel.
Woodinville Moscatel Finish Bourbon smell
Woodinville Moscatel Finish starts off very interesting and unique. It has a mix of candied ginger, brown sugar, candied orange peel, pumpernickel from the high rye (also in the base Woodinville bourbon), dried green grapes, cardamom, dense licorice, dried cranberry, roasted oak, cinnamon, clove, eucalyptus, and mint.
At times, I get something akin to gingerbread or cardamom scone (a friend made these one time), both of which I consider to be Fall-type scents. It's a pretty long list of traits because there's a coat of this densely fruity and sweet wine finish on top of the rye-forward and earthy bourbon. There's a lot going on to smell and process.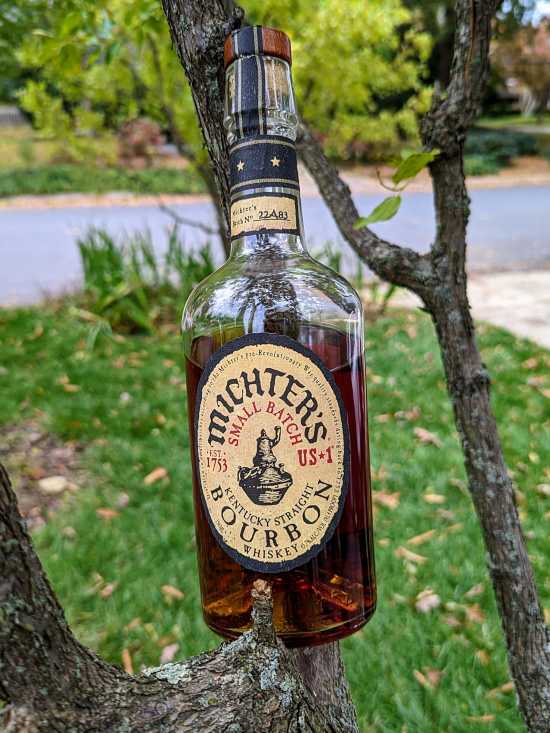 After swirling and 7-8 minutes of rest, I get a big burst of earthy and fruity honey, candied orange and ginger, lemon, cardamom, dark licorice, caraway seed, pumpernickel, roasted oak, cinnamon, and clove. A darker maple syrup sweetness starts to set in after a few more minutes with a faint hint of peanut shells. There's black tea and gingerbread vibe that I really like, showcasing the preserved fruitiness, earthiness, and herbalness.
What I might call the "green" aspects of the moscatel finish, especially the dried grapes, orange, and ginger, meld well with the earthy and rye-y aspects of the base bourbon. It amplifies and elevates everything. Upping it to 100 proof also helps bring above average body and richness.
Woodinville Moscatel Finish Bourbon taste and aftertaste
On my first sip, I get dark honey, dried green grapes, candied orange peel and ginger, licorice, vanilla, roasted oak, clove, pumpernickel, caraway seed, lemon, and toasted grain. The moscatel comes through with the added dried and bright fruits coating the earthy, oaky, herbal, and spicy Woodinville core, so I don't feel like the finish is dominating it.
After "chewing" there's licorice-y honey, candied orange and ginger, lemon, green grape, vanilla, caraway seed, pumpernickel, roasted oak, clove, pineapple, cranberry, and a little toasted grain. It's like honey licorice syrup on top of your gingerbread, which sounds like my type of food. That sweet earthiness and herbalness that's hard to compare, but I guess it feels more like a finished rye whiskey than bourbon. A little heat and oaky bite, but it's not a big deal
"Chewing" brings out more candied fruitiness, presumably from the finish, that gives the earthy and herbal Woodinville foundation a run for its money. It creates a layered, complex, somewhat viscous, and though-provoking experience that tastes amazing. The finish feels well integrated.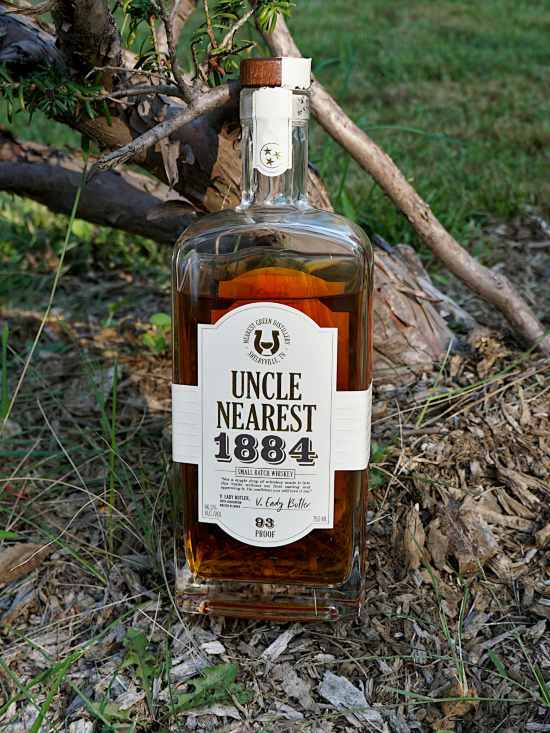 The finish fades into candied orange peel and ginger, honey, roasted oak, cinnamon, clove, licorice, and lemon. While the scents and flavors were more gingerbread-like, this has a Lipton lemon and honey tea thing going on that lingers for minutes on end. Some of the stickiness and oiliness come out more here as well.
"Chewing" leaves honey, candied orange, lemon, caraway seed, ginger, roasted oak tannins, and that sweet pineapple in trail mix. Again there's that sweet and slightly herbal bitter tea that leaves sweet and sticky tannins, as if you finished the last sip of tea in your cup and don't drink water for a few minutes.
This still isn't for everyone, but this does it for me.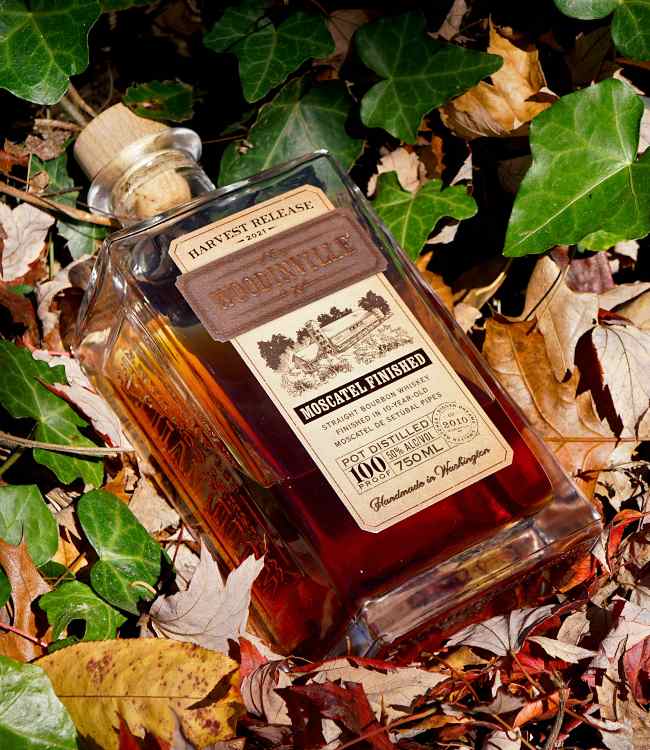 If you're shopping on Amazon, support The Whiskey Shelf by shopping through my affiliate link – Shop Amazon. I may earn a commission from your Amazon purchases.
Woodinville Moscatel Finish Bourbon Rating

I've enjoyed this a few times prior to this review. Sitting down and really paying attention to everything reveals just how fantastic it is. I'm always looking for the next great finished whiskey, and this is clearly a winner and a delightful entrant to the finished bourbon world. As good as it is, it's not for everyone or every budget.
This moscatel finish, which I think brings brighter candied orange, grapes, lemon, and ginger among other things, is a wonderful match for the high-rye Woodinville bourbon that already has abundant caraway seed, pumpernickel, eucalyptus, licorice, mint, and more.
That marriage enhances those rye-forward traits, including the overall richness, expressiveness, vibrance, and depth. It's a great example of the combination being greater than the sum of its parts, combining to create an experience more mature and bold than its 5 years + finishing + 100 proof. Nailed it.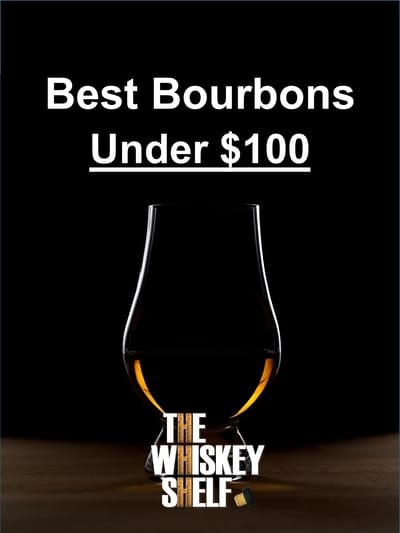 If you're more familiar with port or sherry finishes (sometimes both if you've had
Joseph Magnus
or
Cigar Blend
), this fortified wine finish feels different. There's no prune, date, or red grapes anywhere to be found, although you'll probably find it in Woodinville Port Finish. That's purely an observational statement into how barrel finishes are different, and not a statement about quality.
There are qualifications though. This is not for anyone who has not enjoyed other finished bourbons. But if you do enjoy finished bourbon / rye / whiskey such as
Angel's Envy
,
Joseph Magnus Bourbon
, all the finished Sagamore Spirit ryes, Yellowstone Limited Editions, Starlight Hubers, etc…then I think you'll really dig this too. Otherwise you're wasting your money and you're going to try to blame me for misleading you. You've been warned.
Regarding the question of whether it's worth $100 of your hard earned money (because that's expensive), I'm going to say yes although I admit it's still quite high. Around $80 would have felt more right in my opinion. But if you're like me and looking for a great finished bourbon and/or unique splurge, Woodinville Moscatel Finish Bourbon is a compelling option as long as you can look past its age.
Great job Woodinville, keep it coming! I'm going to savor the rest of the bottle and continue to share it with others to spread the wealth.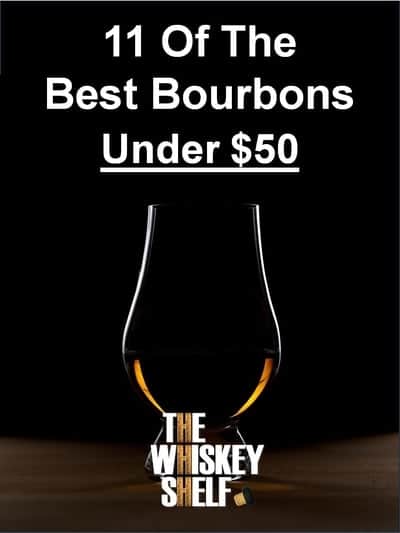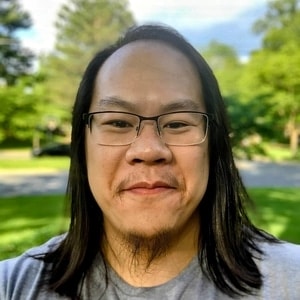 I have far too much fun writing about whiskey and singlehandedly running The Whiskey Shelf to bring you independent, honest, and useful reviews, comparisons, and more. I'm proudly Asian American and can speak Cantonese, Mandarin, and some Japanese.
There are no sponsors, no media companies, and no nonsense. Support The Whiskey Shelf by 
Buying Me A Shot
.