weller antique 107 review
Sagamore Spirit Reserve Moscatel Finish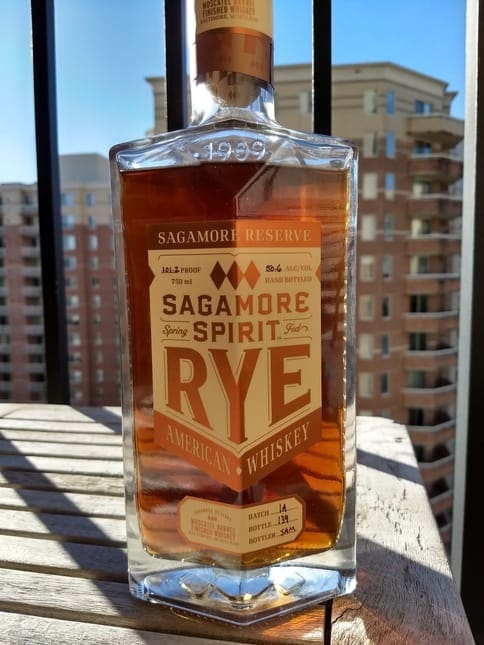 Distillery: Sagamore Spirit
Type & Region: Straight rye whiskey, Maryland, USA
Alcohol: 50.6%
Composition: Blend of MGP's 95% rye and 51% rye mashes
Aged: 4 years in virgin American white oak, finished in moscatel barrels
Color: 1.7/2.0 on the color scale (burnt amber)
Price: $70-80 MSRP (750mL)
From the Sagamore Spirit website:
"Risks worth taking – that's the Sagamore Spirit. We finished our award-winning Straight Rye Whiskey in muscatel wine barrels, creating a bold Moscatel Barrel Finished Whiskey that defies the norm. The taste reveals a surprising blend of fruit and spice, with an extraordinary aroma of gentle sweetness. Our unique spring-fed water is the finale to this whiskey, creating a spirit unrestrained by the rules."
*Shout out to my buddy for giving this to me for my birthday
Sagamore Spirit is a Baltimore, MD-based distillery (like Old Line Spirits) that focuses on straight rye whiskey, meaning that it's been aged for at least 4 years. The distillery, owned by Under Armour founder Kevin Plank, is still in the process of aging its own whiskey so it finishes and bottles whiskey from MGP, who makes great rye whiskey (e.g., Smooth Ambler Old Scout 7 Year Rye), and adds a little bit of Maryland water to proof down the whiskey. 
Sagamore Sprit Reserve Moscatel Finish is a special release of their near cask-strength rye whiskey finished in moscatel barrels for an undisclosed amount of time. Moscatel, made from the muscat grape, is a fortified wine similar to Pedro Jimenez sherry. It's made from white grapes that are first dried in the sun to concentrate the flavors before being turned into wine, fortified, and aged for at least 18 months in wood barrels. Because of the initial drying process to concentrate the sugars, the flavors often are very intense and sweet. This bottle of Sagamore Spirit Moscatel Finish is bottle 139 from batch 1A.
Sagamore Spirit Reserve Moscatel Finish starts calm, but quickly surges with a wave of dense and sweet grapes, berries, and sulfur. It's no surprise that it smells syrupy and sticky, very much like a dessert wine. The sulfur reminds me of eraser dust, which I sometimes get from other whiskeys aged in dense and sweet dessert-type wines like port. Apart from the dense and sweet grapes and berries on the nose, there is a healthy pour of dark honey, wood, and spices including cinnamon and nutmeg, similar to sherry-aged Scotches such as Craigellachie 21 without the cocoa from malted barley. Trader Joe's has a clover honey that has a similarly sweet yet slightly woody and cinnamon-y scent. The rye whiskey base appears here and there with some anise but is quickly pushed aside by the wine. The alcohol holds its ground amongst the sweetness but never takes over. 
Overall, moscatel dominates the nose. It's more of a very alcoholic moscatel wine than a finished rye whiskey.
Sagamore Spirit Moscatel Finish has a dense mouthful of fruity and sweet grapes and berries that immediately jump out, no doubt heavily influenced by the wine. The sweetness is augmented with chai spices including cardamom, ginger, cloves, cinnamon, vanilla, nutmeg, anise, and pepper that add a slight savoriness, a nice melding of rye, wood, and wine traits. There's a little bit of malt and alcohol that is washed away in wave of moscatel, and "chewing" does little to transform the taste. The flavors are all there, all the time no matter what you do. The finish starts sweet with grapes and anise, with long lasting anise and wood dryness. Chewing brings out sweet and savory tropical fruits such as papaya, spices, and that slight sulfury sensation. 
I can't shake the thought this tastes a lot like Craigellachie 21, a sherry-aged Scotch, with similarly sweet and spiced flavors with a hint of wood. The Macallan Classic Cut 2018 is a similarly aged but more delicate whiskey. The point is, if you like sherry-aged Scotch, you will likely enjoy this as well. 
Place on the Whiskey Shelf

 Sagamore Spirit Reserve Moscatel Finish is an enjoyable rich, dense, and delicious whiskey best drank with or as a dessert. It's more like a super high-proof moscatel wine than a rye whiskey. Don't get me wrong, I like what the moscatel finish contributes, but the overall influence is too strong, detracting from the rye component, which is a shame. It's like taking a slice of delicious rye bread and spreading half a jar of jam on top and letting it sit for 20 minutes to let the jam soak into the bread. While it tastes good, it's also unbalanced, and I can see the moscatel-forward characteristics putting-off some drinkers. Buy this if you like sweeter whiskeys, but at ~$70 per bottle, I likely won't get another one.