Old Grand Dad 114 current vs old
Old Grand Dad 114: Current vs Old School Comparison
Old Grand Dad 114 has been sold for decades
Old Grand Dad 114 has been made and sold for decades, and to my knowledge as far back as the early 80s (possibly earlier). While the name and bottle shape have remained mostly consistent, ownership and the bourbon inside the bottle have changed over time.
Jim Beam bought National Distillers, the previous producers (and owners of Old Taylor brand), in 1987 and have held it since. And at some point after that, Jim Beam must have switched the bourbon over to their own distillate. As for when the bourbon changed, I can't say. With a change in distillery, that also means you can expect some major differences in the bourbon.
While it sounds a little biased, I know this from experience. Bourbons such as
Blanton's
, Wild Turkey Rare Breed, and
Four Roses
have changed dramatically over time, even though the distillery stayed the same (barring name changes and distillery ownership).
Changes to the distillation process, yeast, the barrels themselves, aging, barrel selection, and the people running the whole shop affect the end bourbon, not to mention switching distilleries where seemingly everything would change.
These days, the current
Jim Beam-made Old Grand Dad 114
is pretty easy to find in Japan (and a bit hit or miss in the US), while the
National Distiller's version
is long gone, very rare, and highly marked up. I was extremely fortunate to have found an
old Lot 17
for $50, so I had to compare them to find out just how much has changed over the years.
As an FYI, I bought and use these Glencairn glasses for my reviews and comparisons (because they're the best): 
Glencairn Crystal Whiskey Glass, Set of 6, Clear, 6 Pack.
Full transparency, this is an affiliate link, so I may earn a commission if you buy this or something else from Amazon.
If you're shopping on Amazon, support The Whiskey Shelf by shopping through my affiliate link – Shop Amazon. I may earn a commission from your Amazon purchases.
I've done a lot of comparisons, and while I've found many bourbons to be very different, current and old Old Grand Dad 114 have to be two of the most different bourbons I've ever compared, even more so than
current vs old Blanton's.
The difference is even more stark by the fact that I'm comparing two bottles that cover decades of the same brand name and legacy. There's no rebrand here, it's always been Old Grand Dad 114 then and now.
At the end of the day, there is no competition here between the Hall of Fame Lot 17 versus the high school varsity-level Old Grand Dad. Then again, Old Grand Dad 114 Lot 17 is the best bourbon I've ever had, and today's release is solid but something I probably would buy again for myself.
Here's the thing,
today's version of Old Grand Dad 114
is good. To some degree, I get why people say that it's their favorite budget bourbon. There's an earthy and spicy sweetness (ginger and cardamom-forward), with not so overly-aggressive alcohol that makes it relatively easy and enjoyable to drink. But for me, it's a little too unbalanced, underdeveloped, dry, and grainy.
But when Lot 17 comes into the picture, everything changes. Lot 17 has this otherwordly deep and complex fruitiness and oakiness that I don't even find in 20+ year old single malt Scotch. I've never had a bourbon, finished or unfinished, with this level of fruit (huge variety too), oak, tobacco, and earthiness that's so defined, rich, and clear.
The fruitiness, oak, tobacco, and herbalness / earthiness come together so magically, and I've never experienced anything like this before. It's just layers and layers of fruit on top of fruit, on oak and tobacco, rich herbalness, and then more dried fruit. It's absolutely enamoring.
Blanton's from 1993
had some of it, but still suffered from some dullness because of the ABV. There is no such issue with Lot 17.
I'd be remiss to forget to mention the lurking (and real) impact of oxidation, evaporation, and other things over 30 years. For better or worse, I compared these bottle as-is and can only judge them based on how they drink today (super duper different), so I have no idea what Lot 17 was like in the 80's. Let me know if Marty McFly can take me back to the 80's to try Lot 17 when it was freshly put on the store shelf.
The old version of Old Grand Dad 114 is long since gone (and now very expensive to acquire), and it's unfortunate to lose a bourbon of this epic quality. I'm sure Jim Beam is keenly aware of how good the older releases were, but I wonder if they have the ability (or drive) to try to recreate it.
I don't want to rag too much on Jim Beam's version of Old Grand Dad 114, because that's not my intention. My point is – now that I know what it used to be like (plus a few decades of evaporation and sitting in the bottle), I have a hard time going back. They don't make Old Grand Dad like they used to.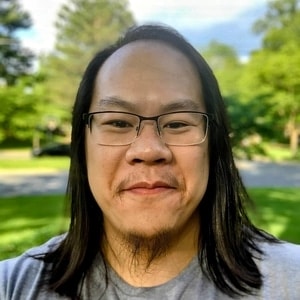 I have far too much fun writing about whiskey and singlehandedly running The Whiskey Shelf to bring you independent, honest, and useful reviews, comparisons, and more. I'm proudly Asian American and can speak Cantonese, Mandarin, and some Japanese.
There are no sponsors, no media companies, and no nonsense. Support The Whiskey Shelf by 
Buying Me A Shot
.
Maker's Mark Cask Strength Comparison