There's been a lot of great whiskey in 2021
Well we made it to the end of 2021. It's been yet another challenging year, but so many good things have happened as well. At least for me, I got the chance to finally go to Japan, not just for a short vacation but for a full year of exploration and growth. It's a once in a lifetime opportunity. And of course, I drank a bunch of whiskey too.
While "best of" lists are very popular this time of year, I'm going to take my own approach and talk about noteworthy and memorable (in a positive way) whiskeys that I had in 2021. As always, I'm only going to include ones that I reviewed.
While I mostly drank bourbon, I still had quite a few memorable non-bourbon whiskeys (e.g., rye, wheat whiskey) worth mentioning. This isn't meant to be a comprehensive list that leads to the "best" of anything, but instead a compilation of what I thought was very good, interesting, and memorable across various prices and levels of accessibility.
So given the scope of what I reviewed this year, here are my noteworthy whiskeys for 2021, spanning from affordable to premium.
Rye Of The Year
Michter's 10 Year Single Barrel Rye
This rye really could have been any number of things: rye of the year, biggest surprise, actually meets the hype, or even biggest bust. I say that because when I bought this barrel bottled in 2020 (so not this year's release), I was unsure what I was going to get. The low ABV was concerning, but in the end, WOW this was an amazing rye. Thankfully I still have half a bottle left to savor.
Regardless of ABV, this Michter's 10 Year Rye is absolutely loaded and layered with rich honey, dark licorice, cherry, dark fruit, pineapple, dry ginseng, rose, and more that explode out of the glass and into my nostrils and mouth. It's absolutely deep, complex, and incredible to experience, I think one of the best ryes out there today. It would be the best rye whiskeys I've ever had, but #1 is taken by another one on this list.
And I know it's very allocated, sought after, and marked-up, but oh boy it might almost be worth it.
Wow...just wow...
Kentucky Owl Rye Batch 1
This is the best rye I've ever had, but it's not rye of the year because this batch is long gone, never to be found again. Batch 1 was a one-time release in 2017 that I happened to find and review in 2021, making it even more difficult to find than Michter's 10 Year Rye. It is the most memorable rye whiskey I had this year, and maybe for years to come.
It's hard to adequately describe how deep and luxurious this is. The honey, dried citrus, licorice, fennel, candied fruit, ginseng, rose, old wood, and more are so refined and expressive that the first smell and taste sealed the deal. The dry citrus, sweetness, old oak, and smoke even veer into old Armagnac and peated scotch territory at times, making it one of a kind. It's even richer and more complex than Michter's 10 Year Rye.
If I was going to make a rye whiskey, I would aspire to make this. That's the highest compliment I can give.
Craftsmanship
Willett Family Estate 4 Year Rye
You might be confused as to why I'm calling Willett a craft distillery, but there's a reason. While the Willett name in some form is fairly old and well known from decades past and sourced releases, this current iteration of Willett hasn't been making whiskey for that long.
Their main and accessible-ish release is their Family Estate 4 Year Rye, and whoa it's excellent. It may be young based on the label, but somehow Willett crafted a densely dark, herbal, fruity, black tea, and lemon-y rye that drinks far more mature than it should and without any youthful graininess. This is what I thought Rare Breed Rye was going to be, but it's not
Biggest Pleasant Surprise & Craftsmanship
Flying Ace White Dog
If you haven't heard of Flying Ace, it's because they opened-up shop in April/May 2021 as a brewery, distillery, and restaurant in northern Virginia. Given how young they are, they only distribute in Virginia, and their whiskey offerings are currently limited to their homemade new make and two sourced blended bourbons (MGP).
Funny enough when I sampled the new make and both bourbons, I actually enjoyed the new make the most. It's not because the bourbons are bad, but because I couldn't help but appreciate the new make's unique freshness, vibrance, and drinkability. I'm also a sucker for new make.
This new make is truly one of a kind because the 75% corn / 20% wheat / 5% barley mash bill uses bloody butcher corn, (a red heirloom corn hence the name) that's grown, harvested, and milled on site. Apparently the yield is far lower than the usual corn used for whiskey, so it's a bit of a pain to grow and harvest. But that level of care and detail really shows in the tasty new make.
As polarizing as New Make is, Flying Ace's White Dog was surprisingly refreshing, viscous, and not at all harsh. The corn-forward sweetness smelled and tasted especially fresh and rich. The sweet minerality was also a nice touch, and there was no weird funk or other off traits. So all in all, a very promising start that I'll be watching closely.
Biggest Sleeper
Bernheim Wheat Whiskey
This affordable Heaven Hill wheat whiskey has been around for years, but I only got to it in 2021. Turns out I was missing out on a dark, mature, and rich wheat whiskey that drinks older than it's 7 year age statement. I call it wheated bourbon on steroids…or at least it's been eating it's Wheaties for breakfast.
While it has the usual caramel and vanilla, it has even more amped up cinnamon, clove, coconut, and cocoa powder that outperforms Weller Special Reserve and Maker's Mark.
Wheated Bourbon may be very popular, but Bernheim Wheat Whiskey (not wheated bourbon) is a terribly overlooked and underappreciated whiskey that provides a unique and flavorful pour that should be tried. For the price, it's also an easy no-brainer to buy.
If you're shopping on Amazon for Black Friday, Cyber Monday, the holidays, or any other occasion, support The Whiskey Shelf by shopping through my affiliate link – Shop Amazon. I may earn a commission from your Amazon purchases.
So there you have it, some of my most memorable non-bourbon whiskeys this year. This is quite an eclectic range of whiskeys, but it again reminds me how fortunate I am to be able to try and review so much whiskey. I'll be extremely lucky if I can write a list half as good as this one for 2022.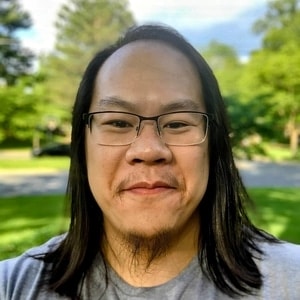 I have far too much fun writing about whiskey and singlehandedly running The Whiskey Shelf to bring you independent, honest, and useful reviews, comparisons, and more. I'm proudly Asian American and can speak Cantonese, Mandarin, and some Japanese.
There are no sponsors, no media companies, and no nonsense. Support The Whiskey Shelf by Buying Me A Shot.