Nikka Tsuru Whisky Review [In Depth]
Nikka Tsuru Japanese Whisky
Nikka Tsuru Whisky Details
Distillery: Nikka
Type & Region: Whisky, Japan
Alcohol: 43%
Composition: Not stated
Aged: Not stated
Color: 1.1/2.0 on the color scale (burnished)
Price: 13,200 yen ($110-120 depending on exchange rate)
nikka tsuru whiskey overview
Nikka Tsuru, not to be mistaken for Nikka Takestsuru, is quite the mysterious whisky (I'm not 100% sure it's Japanese whisky). I'd never heard of it until a friend pulled out a bottle and told me to open it up and try, and then take it home to photograph and review (thank you).
Internet research doesn't lead to many useful results, but it seems like this is the non age stated version of the award-winning 17 year, if you believe the awards hype (I don't). I was curious if this was a distillery-only release, and my friend had the foresight to take some photos while at Miyagikyo, including one that says that Nikka Tsuru is a distillery-exclusive.
Now it's time for your occasional Japanese lesson, because it's important context. The founder's last name is 竹鶴 (Take-tsuru), which literally means bamboo crane. So, the "Tsuru" name of this bottle means crane, and you'll see that motif on the bottle top, and subtly in the background of the front label. In the photo I've included, it's going to be very very subtle (sorry, image compression).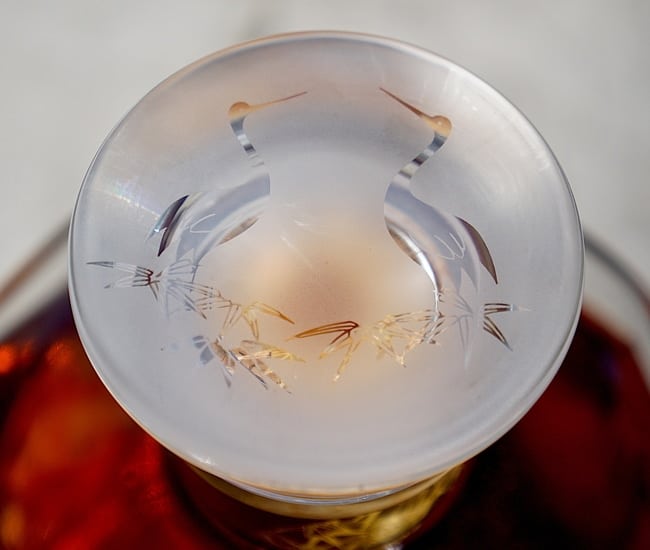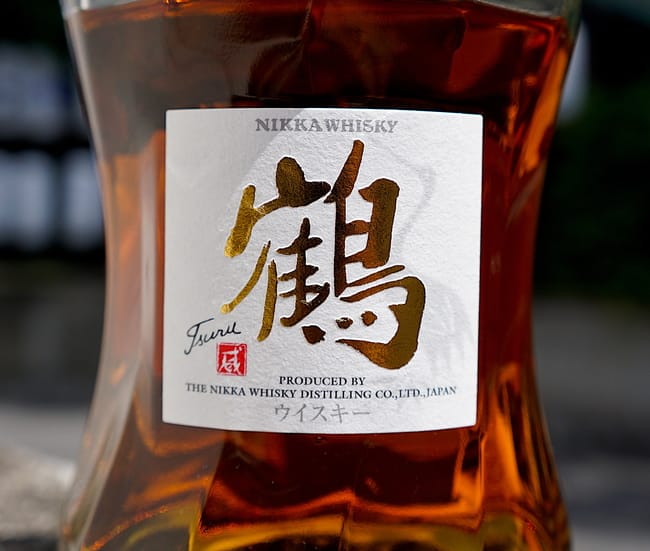 Just like Taketsuru Pure Malt, this is likely meant to celebrate Nikka's founder, and mimic something he would have blended using a different approach than for
Taketsuru Pure Malt
, which is only made from malt from Miyagikyo and Yoichi. The English-translated version of the back label provides more helpful details, but also leads to more mysteries.
From the back label (translated via Google Translate)
"The sweet and rich aroma of barrel aging and the fruity aroma are in harmony. With a mellow taste, the smooth sweet richness and bitter taste spread throughout the mouth. A sweet and gorgeous scent, bittersweetness, and a faint lingering finish of peat last for a long time.
Raw material: Malt, grain"
nikka tsuru whiskey smell
Dried prune and apricot, cinnamon, vanilla, lightly earthy roasted oak, cocoa powder, and this slightly underlying funk and ripeness welcome my first sniff. The darker dried fruit base makes me think of sherry cask, and I'm 99% certain it is…unless it's port.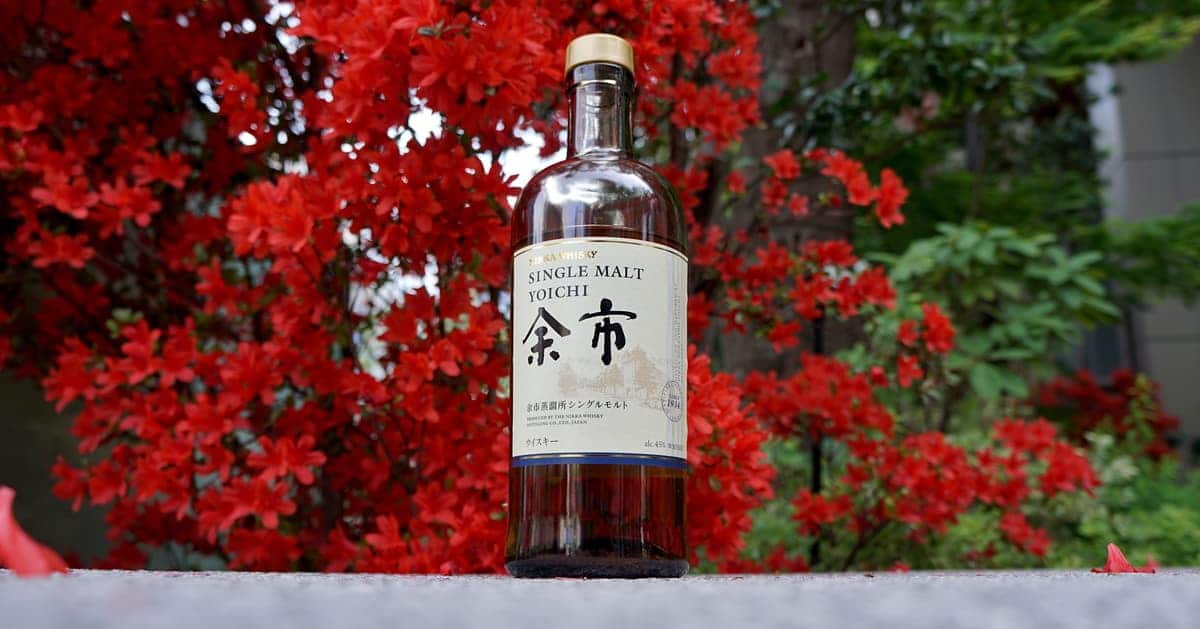 This is going to sound odd, but Nikka Tsuru reminds me of "dusty" bourbon from the 80's and early 90's. It's actually uncanny how the dried cherry, apricot, and vanilla make it smell like
old Blanton's
. But, and this is a huge BUT, there's a slight harshness, that I don't like, that's not in old bourbons. Of course this isn't old bourbon, but my mind goes in that direction as I smell because I mostly drink bourbon.
Back on topic though. I like what I smell, but Tsuru doesn't have the lower end roundness, depth, and heft of a more mature malt whisky, especially a sherry matured one. It's surface level with no lower-end foundation, and that feels strange.
Swirling makes Tsuru a little harsh and less complex, so I'd avoid doing it if possible. With more rest I get dried cherry and apricot, date, vanilla, roasted oak, cinnamon, dried pineapple, and grapefruit.
I like the sherry notes and they come-off as somewhat developed, but the lack of lower-end plus the slightly extra heat gives away that it's fairly young. I have no idea exactly how old it is, but my best guess is 4-5ish years of sherry maturation. And I have no idea what comes from what part of the blend. My best guess is sherry comes from Miyagikyo, and that's all I can reasonably guess.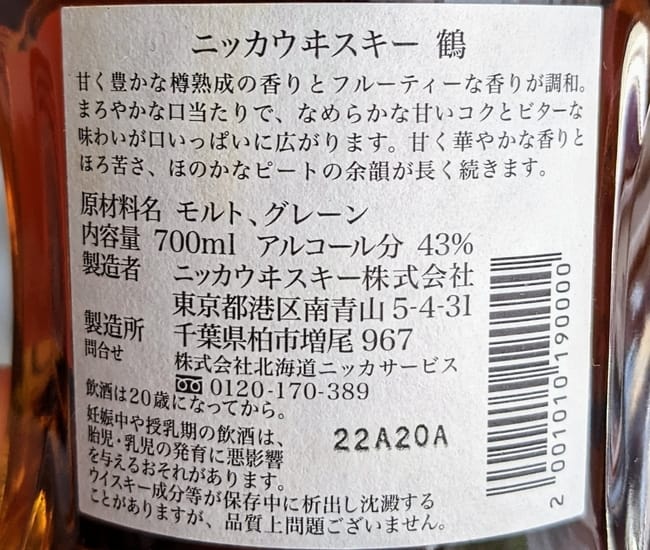 nikka tsuru whiskey taste and aftertaste
Up first comes dried cherry, prune, date, dried apricot, cinnamon, roasted oak, vanilla, toasted grains, cocoa powder, and some of that slightly funky ripe fruit. Yup, Nikka Tsuru is definitely a predominately sherry-aged whiskey, and I'm always a fan of that.
A little bit of lower-end richness starts to appear, but it still feels lacking especially when there's so much dried fruit at the surface level, which again indicates to me that it's young. But so far, Tsuru has about average viscosity, so nothing noteworthy in a good or bad way. The ABV feels about right, which is a relief.
After chewing I taste dried cherry, prune, grapefruit peel, roasted oak, cinnamon, ripe apricot, toasted grains, and papaya. There's more flavor than 43% would suggest, maybe closer to 48%, so it's not thin. In hindsight, I wonder if the extra roastiness comes from the peat, because I don't get any other smokiness.
That point may seem a little contradictory to my earlier statement about it lacking lower-end roundness, but Tsuru has some richness at the surface level with all the dried fruit, but doesn't completely round it out with more low-end. Hopefully that makes some sense.
To state the obvious point, this is a sherry-forward whiskey, but it's also surprisingly roasty (peat?). I love sherry matured whiskey, so this definitely tastes good. Nonetheless, I also recognize that it doesn't have the viscosity and roundness that sherry often brings, and also has a little harshness / bite that doesn't help. But overall, I like it more than I don't.
Dried cherry, prune, date, roasted oak, coffee grounds, vanilla, and cherry skins linger first in the aftertaste. With "chewing", it leaves me dried cherry, prune, and apricot, roasted oak, cinnamon, coffee grounds, and papaya that lasts for over a minute and leaves a memorable ending.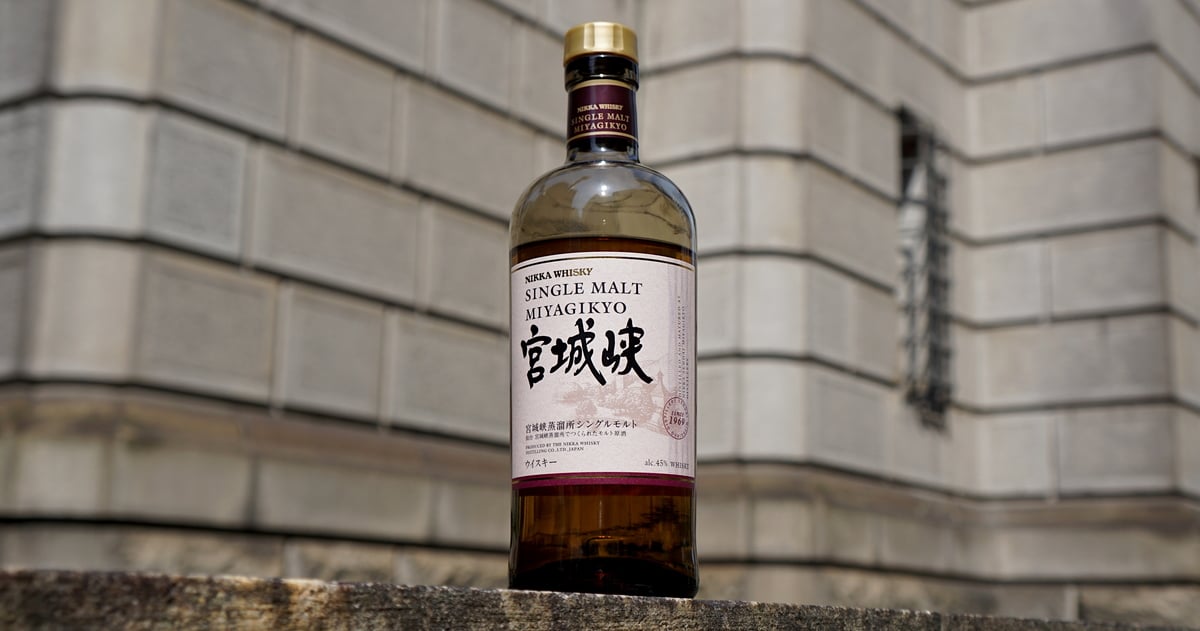 If you're shopping on Amazon, support The Whiskey Shelf by shopping through my affiliate link – Shop Amazon. I may earn a commission from your Amazon purchases.

I didn't know much going into this Nikka Tsuru review, but I've learned a lot doing it. Based on how it drinks, Nikka Tsuru clearly is primarily made from sherry-matured something, which I guess predominately comes from Miyagikyo.
I've had malt from both of Nikka's malt distilleries,
Miyagikyo
and
Yoichi
, and found Miyagikyo to have some sherry in the blend, while Yoichi had none. Yoichi is also usually peated, but it's weird that I didn't get any peat or smoke. The extra roastiness might have come from Yoichi, as well as the grain whisky. Nikka must have dug deep to pull out sherry cask-matured barrels for this distillery-only release, because they probably don't have much of it.
I can understand why the 17 year was so sought after, although this is the first I'm hearing of it. The non age stated version has all the trappings of an amazing whiskey: somewhat rich and varied fruit, and an interesting roasty foundation.
The 17 Year likely expands on the fruitiness, deepening the roundness and heft, and rounding-off some of the rough edges. 17 year old sherry-matured whiskey sounds amazing, like
Yamazaki 18 Year
(incredible but stupidly expensive). Unfortunately, the youth shows in the version I have here, but I see where it's going.
A sherry-forward whisky from Japan then reminds me of Yamazaki, probably the 12 year based on price. Solely from memory,
Yamazaki 12 Year
is not quite as densely fruity, but has more refinement and roundness that provides an all-around better experience.
Not that this matters, I found
Hakushu's Distillery Exclusive
to be better. Given how much richer and rounder it was, I bet that it's years older too (and much cheaper).
Nikka Tsuru has a gorgeous bottle, I just with the whiskey within was just as beautiful. In the meantime, Aberlour A'bunadh and Glendronach are other sherry-matured whiskeys that will likely be even better.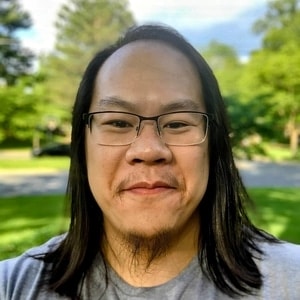 I have far too much fun writing about whiskey and singlehandedly running The Whiskey Shelf to bring you independent, honest, and useful reviews, comparisons, and more. I'm proudly Asian American and can speak Cantonese, Mandarin, and some Japanese.
There are no sponsors, no media companies, and no nonsense. Support The Whiskey Shelf by 
Buying Me A Shot
.