Rebel Yell 100 Proof Bourbon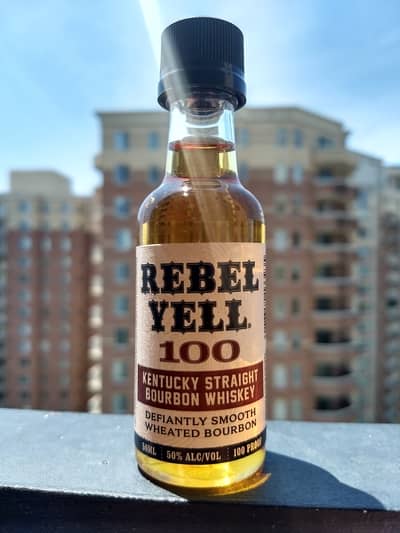 Distillery: Rebel Yell (likely sourced from Heaven Hill)
Type & Region: Bourbon, Kentucky, USA
Alcohol: 50%
Composition: Rumored to be 68% corn, 20% wheat, 12% barley
Aged: NAS (at least 4 years per straight bourbon rules)
Color: 1.1/2.0 on the color scale (burnished)
Price: $20-25 MSRP
From the Rebel Yell website:
"Back in 1849 when everyone else was using a rye mashbill, we pioneered wheat-based bourbon. And it's this award-winning wheated recipe that continues to defy trends today. Rebel Yell is unapologetically original and brazenly bold. But don't let its rough edges fool you. Rebel Yell whiskey goes down smooth, whether you prefer it neat, on the rocks, or mixed."
Rebel Yell 100 Proof Wheated Bourbon is the newest wheated bourbon in Luxco's Rebel Yell line of whiskeys, including Rebel Yell 80 proof and Rebel Yell 10 Year Single Barrel. For now, the wheated bourbon itself is likely sourced from Heaven Hill, meaning that Rebel Yell and Larceny Wheated Bourbon share the same DNA. Even with the exact same mash, my guess is that Luxco is going for something a little different, so Rebel Yell isn't just rebranded Larceny with slightly higher proof, although I definitely appreciate the higher proof. If you're curious, I compared Rebel Yell 100 to Larceny to discover just how different they actually are. I haven't had Rebel Yell 80 proof in years, and this is my first time drinking the 100 proof, so in this Rebel Yell 100 review, I'm curious to see if it can hold its own against other well known wheated bourbons.
Rebel Yell 100 Proof starts with a mixture of darker honey and brown sugar followed by charred wood, grassy hay, cinnamon, musty corn, dried orange, cocoa powder, and oddly…something kind of minty. The minty sensation is odd since there's no rye in the mash, but it may come from the alcohol. There's also a nice floral and sweet corn scent. Rebel Yell 100 generally has pleasant darker cola-like scents, similar to Evan Williams BIB or Stagg Jr. The alcohol on the nose is fairly calm as well. 
Swirling pushes the charred oak and cocoa powder to the front, followed by caramel and brown sugar, then grassy hay. Digging deeper, I smell some sweet corn and vanilla as well as something herbal, sort of like mint. Overall, Rebel Yell 100 smells quite nice, caramel and oak forward with a lot of supporting traits and not a lot of alcohol even for 50%.
rebel yell 100 taste and aftertaste
Rebel Yell 100 leads with caramel, sweet corn, and orange, quickly followed by a wave of roasted oak. The stronger oak presence for me is a nice addition, but more than I expected, adding a solid cinnamon and nutmeg spice kick. Getting past the wood, I taste a little orange and fuji apple. There's a well moderated alcohol kick, in-line with what I would expect from 50% alcohol. 
"Chewing" releases more sweet caramel corn followed by more oak, cinnamon, and cocoa. It's cola-like, similar to the scents. The oak, orange and apple peel, and black tea add a pleasant bitter and drying sensation as I drink.
The oak really carries over into the finish, leaving lightly bitter oak tannins with trailing honey sweetness, a small chunk of orange peel, and cocoa. "Chewing" leaves more bitter oak, grass, and cola-y caramel and brown sugar. It's also kind of minty (not normal for wheated bourbon), which is kind of weird, but not bad at all. Overall, the flavors are quite full and enjoyable, albeit not that complex and just a little heavy on the oak. It's a strong showing from a "budget" wheated bourbon.
Place on the Whiskey Shelf

I didn't know what to expect going into this Rebel Yell 100 review, but turns out I actually like it quite a bit. The 100 proof adds a little extra intensity and fullness that's quite interesting and delicious, but I wouldn't call it complex by any means. It's also oakier than I expected, but it still doesn't take away from the overall experience. I think that some may find it a little too oaky and bitter though.
Rebel Yell is definitely darker and oakier than Larceny, but both are good in their own ways. Even after having reviewed Maker's Mark, Maker's Mark Cask Strength, Larceny, and Weller Antique 107, I'm still not entirely sure what wheat adds. Nonetheless, Rebel Yell 100 is an enjoyable "budget" bourbon that has enough depth and richness to sip neat, and is affordable enough to mix guilt-free. It definitely holds up well against the likes of Maker's Mark, Larceny, and Weller 107. If you're in the market for a wheated bourbon, I recommend that you give Rebel Yell 100 a try. 
Comments are closed.