Old Carter 13 Year Single Barrel Bourbon review
Old Carter 13 Year Single Barrel Bourbon Barrel 81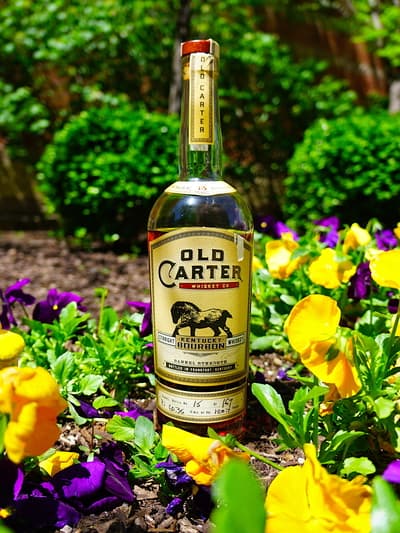 From the company website:
"Single Barrel #81  167 bottles  120.7 proof"
Old Carter 13 Year Single Barrel Bourbon overview
The Old Carter brand, created by Mark and Sherri Carter (formerly with Kentucky Owl), has made a name for itself for what I hear are amazing blends and single barrels of cask strength bourbon, rye, and American whiskey. In 2020, I purchased a bottle of Old Carter 13 Year Single Barrel Kentucky Bourbon Barrel 81, released to the mid-Atlantic, based on that reputation since I had never had one before. Some of their releases have come from or included whiskey from Indiana (meaning MGP) and/or Tennessee (meaning Dickel), but with this Kentucky bourbon, there is no identification of the distillery where the bourbon was made. Still, 13 year single barrel cask strength bourbon is always cool and eye-catching.
Anything this expensive ($200-230) is always a major gamble, so let's find out if I'm a winner in this Old Carter 13 Year Single Barrel Kentucky Bourbon Barrel 81 review.
Old Carter 13 Year Single Barrel Bourbon smell
Old Carter 13 Year Single Barrel bourbon has some rich caramel, milk chocolate, funky vanilla buttercream, peach, apricot, cherry, cinnamon, a lot of dense oak, clove, chocolate coated acai berries, and hints of pineapple and rosemary. That noticeable vanilla buttercream funk seems to stick out. Even after 35 minutes of air, this bourbon still has a solid kick, almost too much so. It's not overpowering, but it is constantly in the way. Unlike with Stagg Jr and Redemption 10 Year Bourbon, where the alcohol simmers on the surface and is generally manageable, in Old Carter it too often leaps out of the glass to singe my nose.
After swirling I smell gushers fruit and honey sweetness wrapped in fennel, some baked apple and orange peel, vanilla buttercream, apricot, a lot of roasted oak, and cinnamon. Over time I pick up a little more fudge and maple syrup, as well as this herbal and tropical quality that remind me of Russell's Reserve Single Barrel Bourbon. The scents are decent, but Old Carter 13 Year Single Barrel oddly lacks low-end roundness and general richness, which I associate with a well-developed whiskey, and it's especially noticeable when I know that this is 13 year old. The heat is also still quite potent, stronger than the 60% ABV would suggest, and teeters on being overpowering. I can handle a lot, but this is pushing it. This isn't a bad smelling bourbon, but it's not great either.
Old Carter 13 Year Single Barrel Bourbon taste and aftertaste
Initially, Old Carter 13 Year Single Barrel Bourbon Barrel 81 has a blend of caramel, honey, rosemary, licorice, fennel, baked apple, pineapple, roasted oak, cinnamon, cocoa powder, and coffee grounds. That stronger alcohol kick from the scents continues into the flavors, and it frequently gets in the way of my enjoyment.
With chewing, the flavors are herbal and sweet up front with honey, fennel, licorice, vanilla, pineapple, apricot, roasted oak, cinnamon, and some milk chocolate and cherry. Sure the flavors have a mix of all these different flavors, but it's all oddly thin, astringent, and simple. Even at "just" 60.35% ABV, which I can usually handle without issue, the heat is hefty and I just can't seem to overcome it. The oiliness and astringency remind me of light whiskey, not bourbon, and that's not a good thing. As much as I hate to say this given the very high price of this bourbon, I'm not impressed with the taste and have a tough time actually enjoying it. It's certainly not bad, but drinks like a far cheaper bourbon. Even ignoring price, Wild Turkey Rare Breed Bourbon, Elijah Craig 12 Year Barrel Proof, and many others are so much better.
The finish is a bit more earthy and oaky with rosemary, oak tannins, honey, fennel, and dried apple. "Chewing" leaves roasted oak, cinnamon, rosemary, thyme, fennel, honey, vanilla, and hints of mint. It's fine.
Place on the Whiskey Shelf

Please imagine me face-palming myself…Old Carter 13 Year Old Single Barrel Bourbon barrel 81 doesn't do it for me. This is not even close to "Top Shelf" bourbon, which I think is somewhat reasonable given the age, proof, and people who picked it. I kept trying this month after month, hoping that it would open up and improve as it aired-out in the bottle and then in my glass, but there's a persistent alcohol ceiling that detracts from the entire experience and limits its potential. Forgetting about the heat for a moment, there are some somewhat rich sugars, fruit, herbal-ness, earthiness, and oak that hint at underlying potential, but it's also oddly thin, underdeveloped, and not that interesting. Let me be clear, this isn't awful, it just smells and tastes like a $30-40 bourbon.
I'm horribly, terribly, and extremely disappointed, especially since this is my first experience with Old Carter. I'm sure Mark and Sherri Carter had their reasons for picking this barrel, but I'm completely at a loss given my experience. I would assume that they know what they're doing because they blended Kentucky Owl Rye Batch 1, one of the best rye whiskeys I've ever had. I can tell you right now this will probably win (lose?) the award for biggest disappointment at the end of the year. I'm sure some of the other Old Carter 13 Year Single Barrel bourbons and their batched products are much better, but this one experience has created a lot of doubt and will probably keep me from buying their whiskeys in the future, especially when they're $250 a bottle. This was flat out robbery. What the hell happened with this bourbon?
There's a lot of great content to come, so consider supporting The Whiskey Shelf on Patreon. Support here.