weller antique 107 review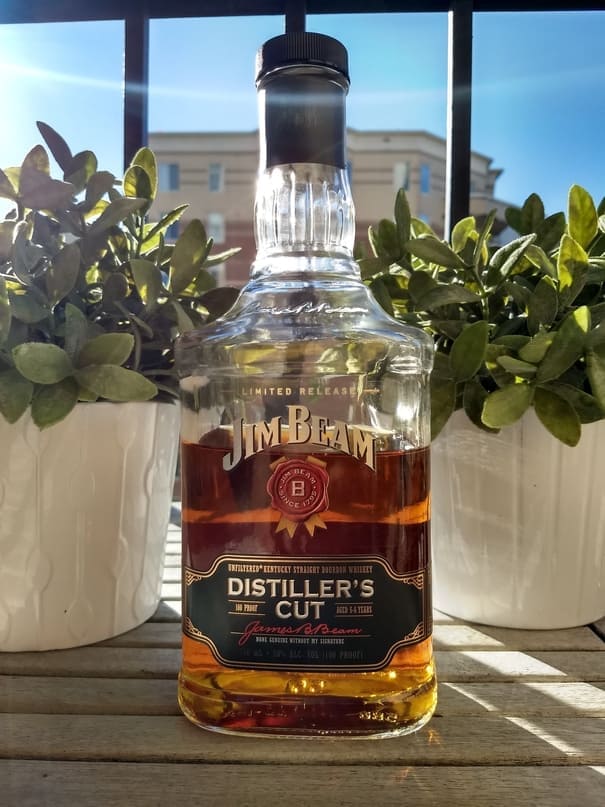 Distillery: Jim Beam
Type & Region: Bourbon, Kentucky, USA
Alcohol: 50%
Composition: 75% corn, 13% rye, 12% malted barley
Aged: 5-6 years in virgin American white oak (this particular bottle was opened in 2015)
Color: 1.2/2.0 on the color scale (chestnut, oloroso sherry)
Price: $21 MSRP (750mL)
From the Distiller Website (there's nothing on the website):
"This limited edition offering was personally selected by Fred Noe, Jim Beam's seventh generation master distiller. The bourbon is aged for 5-6 years in new, charred American oak, but the whiskey is non chill-filtered. This step is typically done prior to bottling and skipping it will result in a fuller taste profile. The bourbon is bottled at 100 proof. Available beginning November 2017 nationwide."
Jim Beam Distiller's cut review
You know Jim Beam, one of the biggest whiskey Brands in the US and the world. Its products are everywhere, ranging from Jim Beam to Knob Creek and Booker's. Even though Jim Beam Distiller's Cut has the Jim Beam name, it's very different. It's a 2017-released limited edition (but not limited availability until inventory is gone), age stated (5-6 years), higher proof (50%), and non-chill filtered bourbon. That combination is rare these days, especially for anything under $30. The funny thing is that it is so limited and/or under the radar it's not even on the Jim Beam website as of October 2018. Did Jim Beam care about how it smells and tastes? Let's find out.
Jim Beam Distiller's cut review
Going face first, I immediately smell a nice breeze of vanilla and caramel sweetness with some orange rind and cherry. It's like a creamsicle with a bonus cherry scent. There's also a lot of what people call the Jim Beam "funk" of peanuts that I happen to find very pleasant. Distiller's Cut has the brighter smell of a younger whiskey, but that's not a bad thing. Continuing to sniff, I find peppermint gum from the rye, mashed corn, and a moderately strong wood note that's a little rough around the edges. 
Intense swirling releases a pinch of ground black pepper that pokes in and out with the wood. The 50% alcohol smells just about right, not too strong or completely hidden. Musty corn and wood with a dash of mint rises out of the empty glass. 
Jim Beam Distiller's Cut smells very good. It may not be incredibly deep, complex, or mind blowing, but it has all the right smells. For $21, I can't complain.
Jim Beam Distiller's cut review
Caramel, vanilla, and citrus pop on the tongue, followed by a light to moderate serving of charred wood, floral pine, and peanut butter-like nuttiness. I love peanut butter, so I'm pleased. "Chewing" the whiskey unveils more caramel, brown sugar, and honey sweetness, but now brings-in a little bit of bittersweet orange rind and peppermint. Roasted wood, a blend of baked apple spices, corn, and nuts follow, with the flavors occasionally going back and forth between slightly burnt popcorn and fresh sweet corn. The alcohol starts fairly strong and shows its youthful brashness but somehow mellows as I continue to drink it. 
The alcohol burn lingers as it goes down, along with orange, vanilla, roasted wood, nuts, and peppermint, leaving a slightly gummy residue. Corn and faint cocoa appear towards the end, with the nutty and minty taste lingering the most.
The tastes are savory and enjoyable, reminding me a lot of Booker's, which makes sense because it is also a Jim Beam product. The traditional bourbon flavors are nicely represented and the noticeable orange notes also remind me a lot of Blanton's Single Barrel. Jim Beam Distiller's Cut is a wonderful (and affordable) treat.
Place on the Whiskey Shelf

I'm impressed. Jim Beam Distiller's Cut is one of the best "budget" bourbons you can actually find (while it's still on the shelves). It smashes the $21 price point and drinks more like a $30-40 bourbon. This is more Booker's than Jim Beam White and at a third the price. It has many of the same sweet and savory vanilla, caramel, wood, and nut traits with just enough heat to make it feel complete. It's not quite as full or rich as Booker's (with Booker's Kitchen Table receiving a "Top Shelf" rating), but it doesn't need to be. Buy it while you can, it's worth every penny and then some.