Evan Williams 12 Year vs Old Ezra 12 Year
EH Taylor Single Barrel vs Michter's 10 Year Single Barrel
If you ever wondered which super allocated bourbon was better
When someone on the internet posted and asked about whether to get
EH Taylor Single Barrel
or
Michter's 10 Year Single Barrel bourbon
, I wondered what I might do in that same situation. Since I've been exceedingly fortunate to find both of these bottles in Japan more or less for retail (~$80 for EH Taylor, ~$140 for Michter's), it seemed like a great time to find out for myself.
In all honesty, I don't think this comparison is necessarily going to change anyone's mind. You're probably going to get the one you can find regardless of the outcome of this comparison. But, there might be a situation where you can choose one, but not both, and have to decide. Regardless, I'm personally just curious how different they are.
Before I get started, let me mention that because these are single barrel bourbons, you're going to find variation (sometimes a lot) from barrel to barrel, which makes this comparison not particularly definitive. The winner of this comparison for you highly depends on what combination of barrels you have or end up getting.
I personally have encountered variation in EH Taylor Single Barrel. This particular bottle is excellent, but the
first one I ever reviewed
was more thin and harsh, not as good as EH Taylor Small Batch. I can only base my Michter's experience on this particular bottle, so this is the best that I can do with what I have.
Let's find out just how different these bourbons are and which one I crown the winner in this EH Taylor Single Barrel vs Michter's 10 Year Bourbon comparison.
The table below outlines the two bourbons.
As an FYI, I bought and use these Glencairn glasses for my reviews and comparisons (because they're the best): Glencairn Crystal Whiskey Glass, Set of 6, Clear, 6 Pack. Full transparency, this is an affiliate link, so I may earn a commission if you buy this or something else from Amazon.

If you're shopping on Amazon, support The Whiskey Shelf by shopping through my affiliate link – Shop Amazon. I may earn a commission from your Amazon purchases.
To answer the question, which one is "better" or at least which one would I pick, I'm going with EH Taylor Single Barrel bourbon based on this two barrel sample. EH Taylor may not win in a landslide victory like
Blanton's Red 1993 did over Blanton's Red 2018
, but there are some major factors that pushed me towards EH Taylor.
First off, EH Taylor, even though just 2.8% ABV higher, is far richer and complex. There's all this sweet sugar, varied fruits, earthy caraway seed and cardamom, oak spices, and herbalness floating around that continually pushes me to explore and enjoy.
From beginning to end there's so much going on that I have to take my time to try to detect everything. The controlled heat also makes it easy to do so.
On top of that, EH Taylor Single Barrel has more body and viscosity in the scents and flavors that make it such an excellent bourbon. People love to hate on Buffalo Trace, but they still often make some amazing whiskey, and I'm genuinely impressed with this barrel. If only these were consistently excellent, because they're not.
Here's the thing, I actually enjoy drinking Michter's 10 Year Bourbon. All things considered it's still very good (if you can take a moment to suspend your disbelief on the laughable MSRP and secondary value). The issue is that it's far less rich, complex, expressive, and vibrant in comparison.
It's readily apparent that this particular barrel is oak-forward (in a pleasant way), with how the scents and flavors lead with roasted oak, char, dark chocolate, tobacco, and smoke.
All that mature and sweet oak is great and refined, but the caramel, vanilla, dark fruit, and rose that are there don't bring enough to create an overall excellent experience. It's really lacking enough depth, complexity, and viscosity.
Because it's oddly thin and surface level most of the time, at best it's a good example of how to make a nice oak-forward bourbon, but not an amazing bourbon. Actually, I think that EH Taylor Single Barrel would be even better if it had more of Michter's sweet and mature oakiness.
If you want something like Michter's but better, go for
Widow Jane 12 Year
or
13 Year Single Barrel bourbon
. They have just as much sweet oak and chocolate, but with far more of everything else. I don't know what voodoo magic Widow Jane has done to have these old MGP-sourced barrels, but if you're going to spend $100+ on bourbon, get those instead.
And one more thing. Neither of these are $200+ good.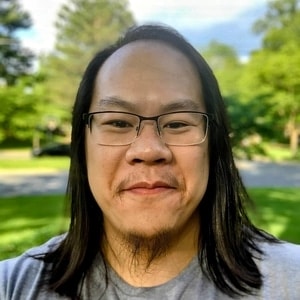 I have far too much fun writing about whiskey and singlehandedly running The Whiskey Shelf to bring you independent, honest, and useful reviews, comparisons, and more. I'm proudly Asian American and can speak Cantonese, Mandarin, and some Japanese.
There are no sponsors, no media companies, and no nonsense. Support The Whiskey Shelf by 
Buying Me A Shot
.
Maker's Mark Cask Strength Comparison