Barrell Bourbon Batch 33 Review [In Depth]
Barrell Bourbon Batch 33 Details
From the company website:
"Barrell Bourbon Batch 033 is a marriage of high-rye barrels and high-corn barrels ranging in age from 5 to 9 years old. The high-rye barrels were chosen for their distinct stone fruit, black pepper, and nutmeg notes. The high-corn barrels were chosen for their rich butterscotch, coffee, and citrus notes. Two sets of barrels mingled together for two months, then the balance was adjusted for the most optimal combination."
barrell bourbon batch 33 overview
Barrell is back with a new blend and batch of bourbon, Barrell Batch 33. With Batch 33, you get a blend of 5-9 year old bourbon from Kentucky (who knows where, but my guess is Barton), Indiana (definitely MGP), and Tennessee (definitely George Dickel).
Since around Batch 16, with a few exceptions, these batches have been a blend of bourbons from those same 3 states. One of those exceptions is Batch 30, which also included bourbon from Wyoming Whiskey (the distillery name and the location).
While the sources tend to be the same, barrel selection and blending make each release different. Using older / younger bourbon, different ratios of bourbon, and of course using different barrels entirely (because barrels can be very different), Barrell can craft a different experience for each batch.
From a business point of view, that's also genius because they can constantly create and sell new batches, and they do. Selling the same batched product (or at least one without clear batch indicators) year after year is more limiting.
To be honest, I don't have a lot of experience with the various batches, so I don't know how much variation there is. The last batched Barrell Bourbon I reviewed was Batch 21 (a while ago), which is the one that won best bourbon or something at some awards thingy. That one was delightful ("Top Shelf"), but I personally wouldn't say that it was the "best bourbon" that year.
I'm not going to let a mixed track record scare me off from a brand. Well…there is one exception, but I won't go there. I always give every whiskey a fair, objective, and honest review, and Barrell was gracious to send me a sample of Batch 33 to give it that treatment, good or bad. The only thing I can do is trust my evaluation, and share the results with you.
Let's find out what this unique blend has to offer and whether Barrell nailed it in this Barrell Batch 33 Bourbon review.
Thank you to Barrell for sending me this sample to review. All opinions, good / bad / amazing / terrible, are my own.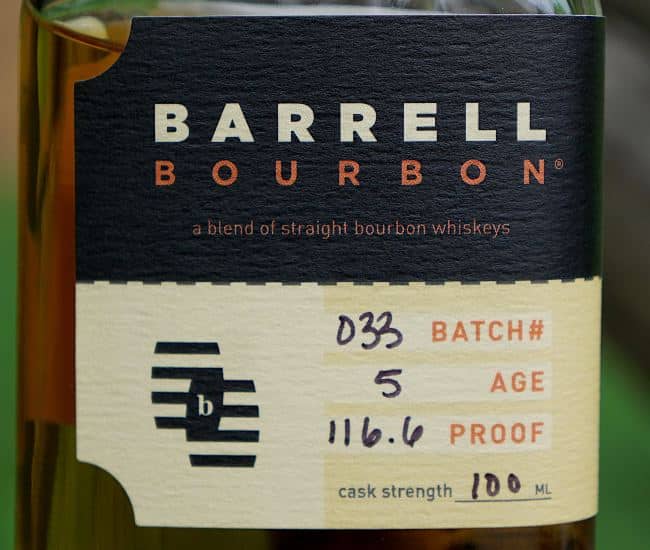 barrell bourbon batch 33 smell
Huh…I'm not entirely sure what I'm smelling because it's a shock to my nose. It's not the heat, which is controlled by the way, it's dark and slightly chalky and grainy milk chocolate, caramel, vanilla, orange, cherry, toasted grains, roasted oak, something kind of mineral-y, red apple peel, grape soda, cinnamon, and licorice.
I'm struggling a bit trying to pinpoint what I'm smelling. Untraditional is a good descriptor, although I kind of like it. Wait a minute…is this George Dickel cutting through the blend? That would explain it, because I haven't had anything like this in a while, and drank exactly zero of it when I was in Japan.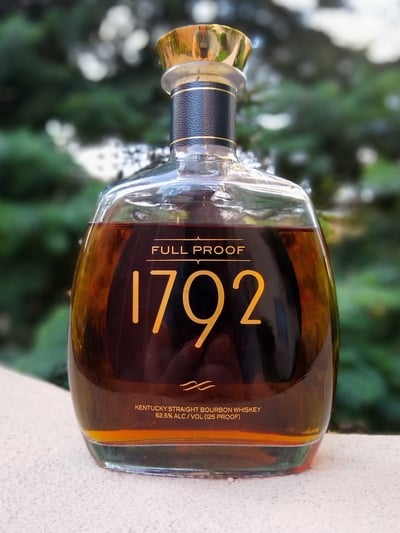 Nonetheless, the scents are pretty dark and have some body and roundness, which is definitely good. It's dark and chalky malt ball sweetness, light and dark fruit, oak, spice, and more. The chalky chocolate is a signature Dickel trait that I personally enjoy, but I've seen my fair share of people who don't.
The scents take 15 minute to settle down after swirling. After some extra rest, I smell darker caramel, vanilla, nougat, malt chocolate, peach, roasted oak, cinnamon, dried grass, toasted biscuit, red grape, and licorice.
There's darker and heavier sweetness and fruitiness up front (it is surprisingly fruit-forward), with backing oak, grass, malty chocolate, and grain. Referencing my Barrell Batch 21 and Private Release A19A reviews, I also mention the same noticeable berry scents. In my A19A review, I even wrote that "Berry Cobbler" might have been a better nickname than "Sugar" (the one it was given), so that berry and overall fruitiness is very Dickel-esque.
Because I haven't had Dickel in over a year, it's puzzling to get smacked in the face with it, but in a good way. I really like the scents, once I get acclimated to it, which have solid viscosity and density, and controlled heat.
Just be forewarned that if you haven't had much Dickel, it's going to surprise you, but likely in a good way.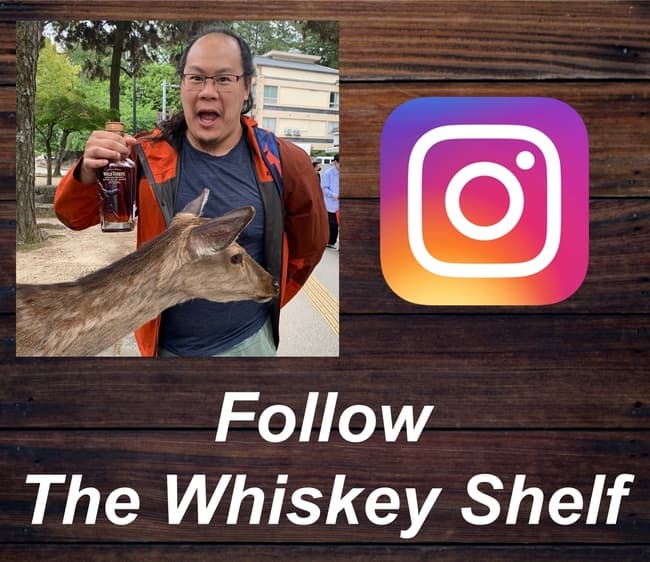 barrell bourbon batch 33 taste and aftertaste
My first sip has darker honey, vanilla, peach, cherry, roasted oak, cinnamon, nutmeg, clove, licorice, fresh red grape, toasted biscuit and grass, and a little milk chocolate. There's darker sweetness and fruitiness on top with a dense oak and spice base behind it. It's a big change from scents, which were far less oaky and spicy. It's a bit of a letdown given what the scents had.
In the year I was in Japan, I had a lot of non-Tennessee bourbon (mostly Kentucky), Jack Daniel's, rye whiskey, and all these other things, but Barrell Bourbon Batch 33 has a different type of sweetness, likely heavily driven by Dickel. It definitely catches me off guard and I have to recalibrate.
As I do that, I notice the oily consistency with some alcohol bite, although it feels about right for nearly 60%. I haven't had a Barrell Batched Bourbon in a while, so this is really different for me. I'm not entirely sure that I think it's amazing, but I definitely don't dislike it.
After "chewing" there's sticky caramel and maple syrup (very much Dickel), vanilla, roasted oak, cinnamon, dried grass, toasted biscuit, malt chocolate, licorice, peach, red apple, and tortilla chip. Barrell Batch 33 is sweet, oaky, spicy, and a little fruity at first, then comes a big rush of toasted oak, spice, and heat, and then a little more fruit and herbalness at the end.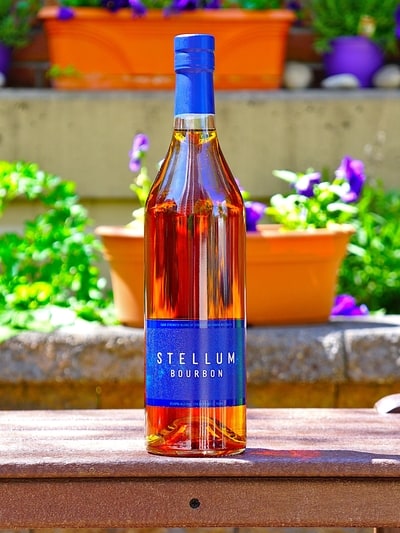 Barrel Batch 33 loses a meaningful amount of the denser and nuanced sweetness and fruitiness, replaced with more oak, spice, and alcohol bite that get in the way of my enjoyment. It's not quite overpowering, more distracting, but adds to my sense that it doesn't taste nearly as good as it smells (great by the way).
The biggest losers are the dense caramel and maple sweetness, chocolate malt, and berries, which are more forward in the scents, and pushed aside in the flavors. Unfortunately, it doesn't get much better with each sip. It just gets hotter and spicier.
Sticky honey, toasted grains and oak and grass, cinnamon, and licorice turn into the finish with lingering toastiness and oiliness. After "chewing", the aftertaste changes a lot, into roasted caramel and oak, dried grass, cinnamon, red apple peel, and malt chocolate ball. Roasted oak, dried grass, and malt chocolate linger the longest.
There are moments where the sweetness and fruitiness are good, but the spice and heat dampen the whole thing. I guess that comes from all the younger, and likely more brash, bourbon in the blend. Barrel Batch 33 overall tastes good, but not amazing.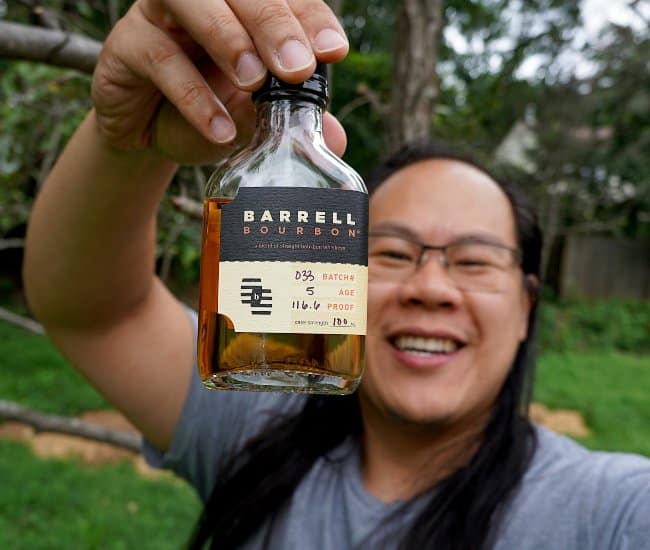 Barrell Batch 33 Bourbon Rating

Barrell Bourbon Batch 33 is undoubtedly priced as a premium bourbon. In many ways, it drinks like one, or it at least smells like one. Unfortunately the flavors hold it back from being as successful as I and Barrell would like, so I can't confidently say that it's worth $80+. I often see it closer to $100 after tax, and it's hard to justify it at that hearty price.
I don't know if this statement even matters, but this would have been far better as 
Stellum
. As-is, Stellum feels a bit too young and immature to my liking for $50, while Batch 33 would be way more compelling at that price.
The scents have me scratching my head, but in a good way, because they're so unique: a bit wacky (because of the Dickel) and fairly rich. The dark sweetness, chocolate malt ball, and fruit-forward scents are really distinct, and my mind does not fully compute. Batch 33 smells about on par with Batch 21 and A19A, both "Top Shelf" bourbons.
The drawback is that it loses momentum in the flavors, and ultimately falls short of "Top Shelf". There's some great sweetness and fruitiness at times, but the richness and nuance in the scents doesn't carry through to the flavors, replaced with more youthful and brash spice and heat that don't scream premium. The drop-off is striking, and it's unfortunate because it could have been amazing.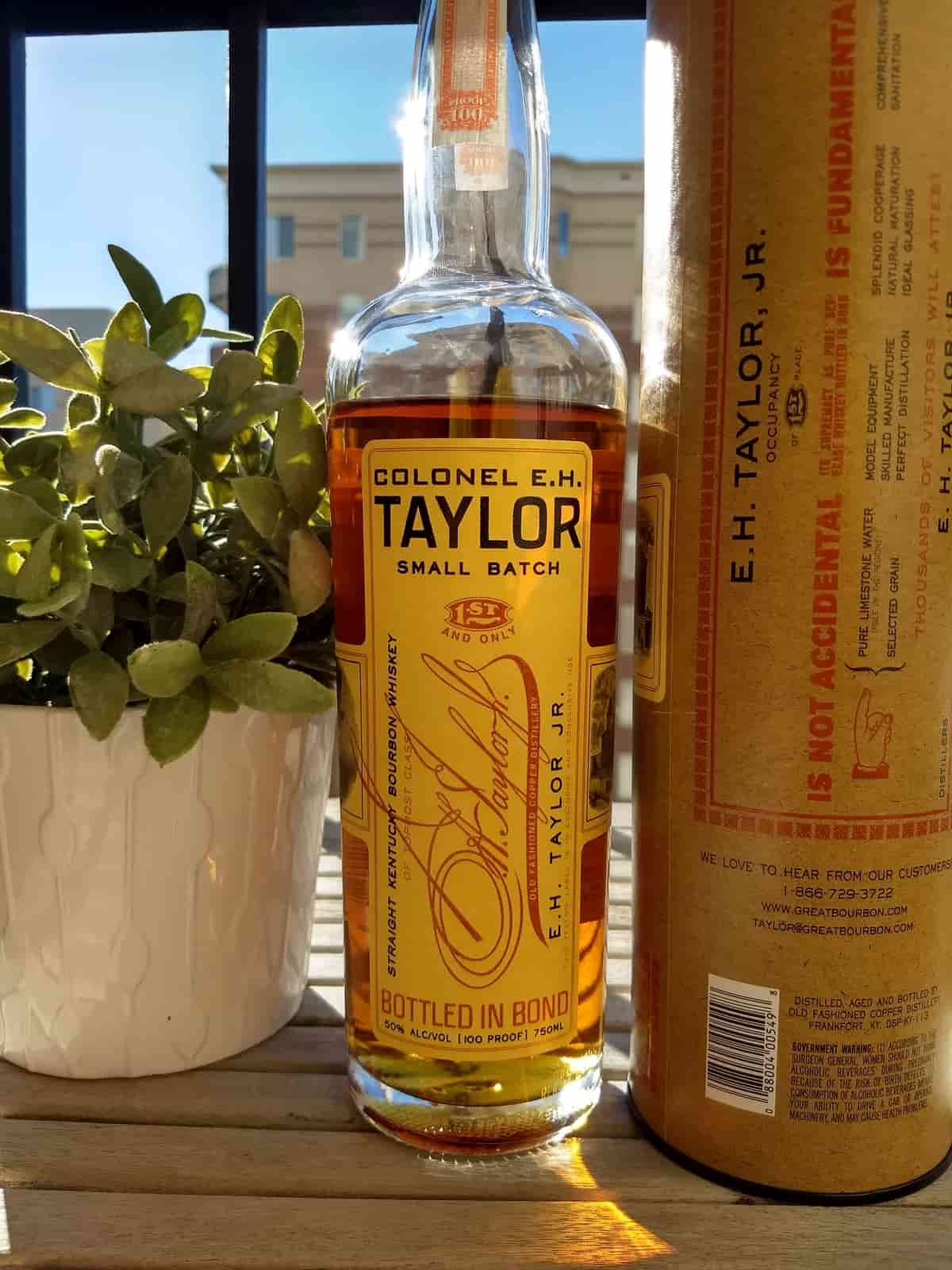 It's surprising because that extra spice and heat isn't in the scents, yet comes full force after "chewing" and distracts me from fully enjoying it. I keep harping on that point because it's such a bummer. The scents made me hopeful, only for the flavors to go in another direction.
I really wanted Barrell to nail this blend and have me gush about how it's amazing and worth it. But for me, it doesn't reach that high level, and it's not personal. If you're someone who buys all / nearly all of Barrell's releases, this review won't have much sway because you'll buy it anyways. For everyone else, my advice is that you can do without Barrell Batch 33 bourbon.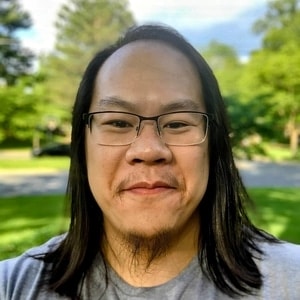 I have far too much fun writing about whiskey and singlehandedly running The Whiskey Shelf to bring you independent, honest, and useful reviews, comparisons, and more. I'm proudly Asian American and can speak Cantonese, Mandarin, and some Japanese.
There are no sponsors, no media companies, and no nonsense. Support The Whiskey Shelf by 
Buying Me A Shot
.