Barrell Whiskey Armagnac Finish review
Barrell Whiskey Private Release Armagnac Finish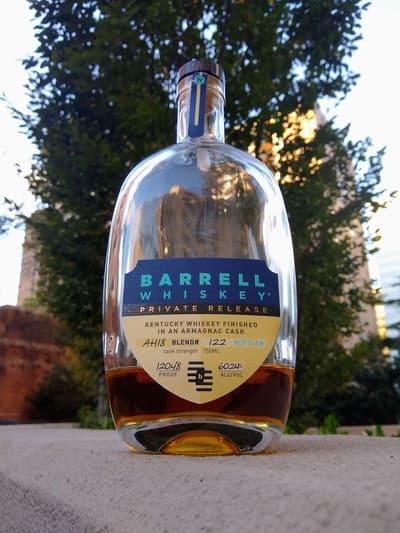 From the Barrell website:
"AH18 is a blend of Kentucky Whiskeys, the largest component being 18-year-old KY whiskey, finished in an Armagnac cask."
Barrell Whiskey Armagnac Finish overview
Over a short period of time, Barrell has released over 122 different single barrels of American Whiskey (not bourbon) finished in a range of barrels that previously held wine, rum, brandy, and other spirits. This is a huge experiment in finishing American whiskey that probably has not been done before at this scale. While the extensive list of finishes is intriguing, the Barrell Armagnac Cask Finish Whiskey was the one that immediately grabbed my attention, and I was able to get a bottle from barrel AH18. Armagnac finishes are particularly exciting for me because some of the best bourbons I've ever had (e.g., Bardstown Bourbon Company Chateau de Laubade Finish Bourbon and Joseph Magnus Cigar Blend Bourbon) were finished in Armagnac casks.
This American Whiskey is also interesting on its own. Since it's not called bourbon, it probably means that it was A) aged in used oak and/or B) distilled to over 160 proof and is considered light whiskey. As a result, the underlying American whiskey is going to be very different from bourbon, although I suspect that it still uses a bourbon mash (> 51% corn). Regardless of the details, smell and taste are the most important, so let's find that out in this Barrell Whiskey Private Release Armagnac Cask Finish review.
Barrell Whiskey Armagnac Finish smell
Barrell Whiskey Armagnac Cask Finish has a moderate honey sweetness with a lot of wood dryness that oddly isn't dark or roasted, lightly grilled peaches, something floral, orange, candied ginger, apple, and lightly roasted vanilla. In some ways, the brighter sweetness without much oak low-end or spice reminds me of bourbon-aged scotch. Overall though, it's a little thin, which I attribute to the American whiskey. As long as the list of traits is, the dryness is in every nook and cranny, blunting some of the underlying sweetness. It's a little strange for me because as dry as it is, it's not dark or roasted, it's more like a desert dryness. For something this light and dry, it needs a lot of air-time to open up, but still can be a little hot.
After swirling, I smell honeyed peach, dried citrus peel, a lot of dry oak, something that reminds me of passionfruit, and aged fino sherry because of the brighter fruitiness. There are notes of baked apples and aged citrus that offer some gentle dark fruitiness, and lends to the general fruit and dry wood forwardness. Overall, Barrell Whiskey Armagnac Cask Finish smells nice, but is held back by a not particularly expressive nose that lacks much roundness because it's so dry and has no darker bottom end. 
Barrell Whiskey Armagnac Finish taste & aftertaste
At first, I taste sweet honeyed citrus with a little vanilla, dry (but not dark or burnt) oak, and pear. Like the nose, Barrell Whiskey Armagnac Finish is quite dry; and even after a lot of air, and still has a solid bite.
After chewing, I taste sweet honey, vanilla, citrus, candied peach, apple, cinnamon, and something lightly floral and sweet. There continues to be a lot of dry wood and what feels like smoke as all 60% of the alcohol coats my mouth. The Armagnac likely adds some fruitiness while the American whiskey adds very dry wood, all contributing to the flavors being fruit and dry wood forward, but I would never guess that this was Armagnac finished. Because this is American whiskey and not bourbon (so it was probably aged in used oak), there is not much low end oakiness, spice, or sweetness. This has all the heat of a cask strength whiskey, but without all the anticipated flavor and richness.
The finish leads with honey dryness and fading alcohol. It's not bad, but not so interesting either. After "chewing", the alcohol tingle lingers on with honey, burnt caramel, and grapefruit that taper into a dry citrus fruitiness, a little like an old fashioned. The flavors and finish are good, but often under-developed and uninteresting, so at no point do I think that this is worth the $100 price. I really expected this to have more to offer, but it never seems to improve or evolve even after multiple occasions of drinking it. It's far from bad, but it's also not great.
Place on the Whiskey Shelf

I was extremely optimistic about Barrell Armagnac Cask Finish Whiskey. Barrell is highly regarded for their whiskey creations and I really like Armagnac finishes, so it's theoretically the perfect marriage. Drinking it for real, turns out it's good but doesn't come close to being as wonderful as some of my favorite Armagnac-finished bourbons or even Barrell's batched bourbons (yes, I know this is not bourbon). Even without other comparisons, it leaves me underwhelmed and is far from a $100 whiskey, so I'm disappointed (reminder – price does not factor in my rating).
It's not all bad though. The Armagnac finish adds an enjoyable touch of dark sugars, dark fruits, and slight aged funk, but the underlying American whiskey seems to be so dry and light that the finish can't dress it up more. Over multiple drinks, I kept expecting more character and never found it – the barrel finish needed to be a lot longer for this whiskey. Don't get me wrong, this Barrell Whiskey Private Release Armagnac Finish is still nice to drink with the occasional glimmer of bright sweetness and fruitiness, but it lacks any real depth of scents or flavors. If you've been thinking about buying Barrell Whiskey Private Release Armagnac Finish, I recommend that you pass on it, although I can't comment on any of the other finishes. I really expected more from Barrell.