Stellum Bourbon Review [In Depth]
Distillery: Barrell / Stellum (sourced from various distilleries)
Type & Region: Bourbon, USA
Alcohol: 57.49%
Composition: 
Blend of Indiana, Kentucky, and Tennessee bourbons
Aged:
 NAS
Color: 1.3/2.0 on the color scale (russet, muscat)
Price: $50-60
From the company website:
"Stellum Bourbon finds its flavor in the tension of three Indiana Bourbon mash bills, two of which are high-rye, with the third being almost exclusively corn. Older barrels from both Kentucky and Tennessee are folded in slowly, through a multi-step blending process. This brings added layers of depth and complexity, ultimately allowing us to round out a uniquely Stellum flavor profile."
The Stellum brand is Barrell Craft Spirit' entry into the more affordable (but not cheap / budget) whiskey segment. Instead of predominately $80+, Stellum Bourbon and Stellum Rye are around $50-60 depending on the location and retailer, using younger whiskey (and therefore less expensive) to make that worthwhile for Barrell to sell.
Stellum Bourbon, the focus of this review, is a blend of Indiana, Tennessee, and Kentucky bourbons. Based on the description from the website (also included above for your convenience), Indiana bourbon makes up most of the blend with added older Kentucky and Tennessee bourbon to tie it all together with more maturity.
To my eyes and ears at least, Stellum Bourbon is the less-expensive, non-age-stated, and intentionally more consistent version of Barrell's batched and numbered bourbons, which tend to vary. In this Stellum Bourbon review, let's find out if you should buy a bottle for yourself and if Barrell really nailed their more affordable offering.
Stellum Bourbon comes out with honey, licorice, dried orange peel, baked apple, fennel, hints of raisins, rosemary, thyme, oak, cinnamon, and candied pineapple. I can really smell that younger MGP sweet, earthy, and herbal backbone with hints of Dickel (the Tennessee bourbon component) minerality and rock sugar. The scents are well balanced across the board and pretty good with not much heat.
Swirling gives off a youthful blend of honey, orange, apple, darker licorice and fennel, roasted pineapple, roasted oak, cinnamon, and very faint hints of dried berries. There's a noticeable honey baked bread / pineapple bun scent coming from the high-rye MGP bourbon, but I don't get much Dickel this time and whatever else is in the blend. 
Stellum Bourbon smells good, like a younger MGP bourbon, but without as much darker sweetness and overall richness that I've found from Smooth Ambler Old Scout 5 Year Single Barrel bourbon. It smells good, but nothing particularly noteworthy, mature, or developed.
My first sip of Stellum Bourbon packs sweet honey, orange peel, apple, licorice, fennel, oak, cinnamon, rosemary, and hints of roasted grain. The flavors are well-balanced, but there's nothing particularly unique or out there, very much in the middle with everything. If anything, it tastes kind of young.
"Chewing" brings honey, licorice, rosemary, baked apple, orange, vanilla, candied pineapple, oak, cinnamon, and clove. I don't know if the Indiana, Kentucky, and/or Tennessee bourbon is doing it, but Stellum Bourbon has a a solid cinnamon, clove, and black pepper kick. There's a bit of everything here, which is good. 
The finish is a tad more oaky with some honey, licorice, dried oak, and dried orange peel. "Chewing" leaves a blend of honey, roasted oak, coffee grounds, licorice, dried orange peel, and mint.
I can't clearly describe what the Kentucky and Tennessee bourbons add to the blend, but for me Stellum Bourbon tastes like a high-rye-MGP-forward bourbon with well-controlled heat, making it a solid drinker. The drawback is that I can't find anything that stands-out to make it more than just solid and make me want to go buy another bottle.
Whiskey is also for sharing, so I use Vivaplex, 12, Amber, 2 oz Glass Bottles, with Lids for smaller samples and Vivaplex, 12, Amber, 4 oz Glass Bottles, with Lids for larger ones. Full transparency – This is an Amazon affiliate link so I may earn a commission if you buy this or something else. Regardless, I actually use these myself.
Stellum Bourbon smells and tastes fine, but mostly drinks like a 4-5 year old MGP bourbon with accents of other bourbons, led by the MGP roasted sugar and rye-driven licorice, rosemary, and candied pineapple. I was hoping for more of Barrell's magic touch to create something more interesting and possibly unique, but all I get is a solid but unspectacular experience that straddles the line between "Mid Shelf" and "Mid Shelf+".
If anything, it actually tastes a bit young. It's as if the main MGP base itself isn't nearly as rich as the MGP-sourced bourbon that Smooth Ambler is selling. Believe me, I really want to love Stellum Bourbon, but it falls a bit short. Maybe I'm missing the point of what Stellum is trying to achieve, but all I can say is that I only care about the quality of the whiskey.
As a result, Stellum Bourbon is an ok buy at $50-60, but I can't recommend it. Barrell fans will probably buy this regardless (and that's fine), but for most others that aren't necessarily hellbent on buying everything that Barrell makes, I think it's a pass because there are so many better options.
My long-winded point is that you can pass on Stellum Bourbon, but it's still a fine enough drink for those who do get it.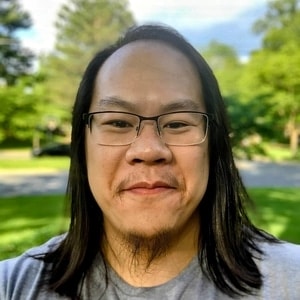 I have far too much fun writing about whiskey and singlehandedly running The Whiskey Shelf to bring you independent, honest, and useful reviews, comparisons, and more. I'm proudly Asian American and can speak Cantonese, Mandarin, and some Japanese.

There are no sponsors, no media companies, and no nonsense. Support The Whiskey Shelf by Buying Me A Shot.