barrell private select a19a review
Barrell Private Release Bourbon A19A "Sugar"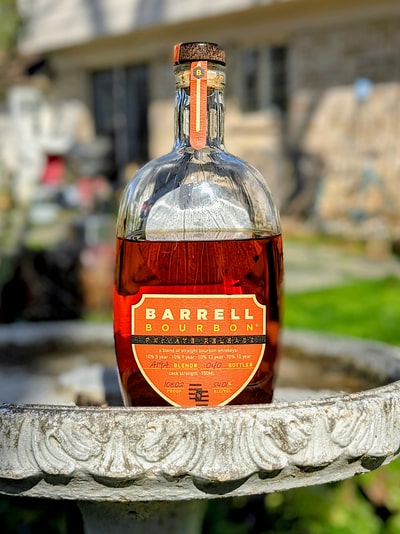 From the company website:
"The Barrell Private Release Bourbon series is an exercise in micro-blending and variations on a theme. We select bourbons of four different ages and blend them into multiple recipes. Each blend number has its own ratios, printed on the label and is constructed in its own ex-bourbon barrel. With each release, a new set of base bourbons will be selected, so every recipe is only made once. A19A has a component age statement of 10% 5 year 10% 9 year 10% 13 year and 70% 15 year bourbons. It shows an older, dusty and oxidative note not found as profoundly in other blends."
barrell private select a19a overview
In late 2020, Barrell started releasing Barrell Private Release Bourbons, offering retailers and distributors the chance to become their own Master Blender and create their own bourbon from 5, 9, 13, and 15 year old Indiana / Kentucky / Tennessee bourbons. Unlike single barrel selections, the proportions of each bourbons could be adjusted to create the desired expression, which I think is an interesting take on the whole private selection thing akin to what Maker's Mark does with their Private Selects.
In this review, I dive into Barrell Private Release Bourbon A19A "Sugar", which was released to Maryland and DC. Prestige Ledroit, the distributor, blended 10% 5 year, 10% 9 year, 10% 13 year, and 70% 15 year bourbons and coined the "Sugar" term based on its traits. A19A has the highest percentage of 15 year old bourbon of the "A" relseases, although only Barrell knows how much of it is Dickel / MGP / Kentucky. A19A "Sugar" was also released as a duo of sorts, with A48R "Spice" being its counterpoint and also released to Maryland and DC. In total, there were 48 Private Releases in the "A" run, denoted using the first letter of the batch name. There's a massive number of possible combinations, so in this Barrell Private Release Bourbon A19A review let's find out if it hits the spot.
barrell private select a19a smell
Barrell Bourbon A19A has a pretty rich and full nose – honey, caramel, and maple syrup blend, baked apples with cinnamon, slightly doughy pie crust, vanilla, licorice, roasted oak, clove, and rosemary. I wonder if the Dickel component in this blend is providing that slightly doughy sweetness that's part pie crust and part cookie dough. After a few more minutes, blueberry and cherry start to appear, and it starts to remind me of Barrell Bourbon Batch 21 and berry cobbler. The heat is generally easy to manage, although it can nip just a little. It's grown on me as it continues to open-up and reveal more fruitiness.
After swirling, A19A leads off with dark caramel, maple syrup, and vanilla sweetness, followed by this pie crust-like scent (probably Dickel), blueberry, ripe apples, dried citrus, cinnamon, licorice, clove, roasted oak, and peach. There's a noticeable Dickel minerality and rock sugar sweetness, but I don't find it overpowering or off-putting at all. A19A has a sweet, fruity, and baked goods personality that I find compelling and pleasant scents. I can definitely smell why Prestige Ledroit picked the "Sugar" nickname, but I would have picked "Berry Cobbler" instead.  
barrell private select a19a taste and aftertaste
Barrel Private Select Bourbon A19A has an rush of caramel, honey, and maple syrup sweetness, followed by vanilla, blueberry, cherry, rosemary, apple, then a slightly stronger wave of oak, cinnamon, and clove. Through all of that, the ABV feels about right. There's still that slightly pie crust and baked goods-like flavor that's part sweet and part dough.
With "chewing" I get a lot of caramel and maple syrup, immediately followed by vanilla cream, roasted oak, cinnamon, clove, pie crust, berries, fennel, rosemary, and hints of grassy nuttiness and dried citrus towards the back. Again, Barrell A19A is sugary at first, followed by oak, spice, and fruit, creating berry pie-like flavors. The Dickel influence is more pronounced now with that sweetness, but still has this earthiness and herbalness that likely come from the Indiana and Kentucky bourbons. This is just really flavorful and enjoyable bourbon, although there isn't that "wow" level of flavor that blows my mind.
A blend of caramel, honey, oak tannins, coffee grounds, and rosemary linger on the finish. It's more earthy, oaky, and dry in the finish than anywhere else in the experience. After "chewing" I'm left with a similarly sweet and oaky finish that becomes more dry and earthy over time. For whatever reason, the finish doesn't carry-on the "Sugar" moniker, but that's not a problem.
Place on the Whiskey Shelf

Barrell Private Select Bourbon A19A certainly lives up the "Sugar" nickname, but I wonder if "Berry Cobbler" might have been even more appropriate. Barrell A19A is caramel, maple syrup, and vanilla-forward (hence "Sugar"), supported by berry (primarily blueberry), oak, spices, and this slightly doughy and pie crust-y trait (probably from the Dickel), and accented with herbalness and earthiness. It's that combination blueberry, pie-y, and wood spice scents that really turns this into a berry cobbler, and I dig it. At least from memory, there's a lot of overlap with Barrell Bourbon Batch 21 with the sweetness and berries.
The scents are especially inviting, but don't fully follow-through to the flavors, as they lack a little bit of the low-end depth, fruitiness, and nuance that are hinted at in the scents. There's still plenty to dig through, enough for the "Top Shelf" rating, so take this as thoughts on how it could have possibly been improved and not as a major flaw. Barrell Private Select Bourbon A19A is great, although I don't think it's quite the home run at $100-110 when the batched versions are $80-85 around where I live. If you can afford it, then A19A is a tasty buy for sure (if there's any left), but not necessarily a must have.   
There's a lot of great content to come, so consider supporting The Whiskey Shelf on Patreon. Support here.
Comments are closed.