barrell 13 year single barrel rye review
Barrel 13 Year Single Barrel Rye (L949)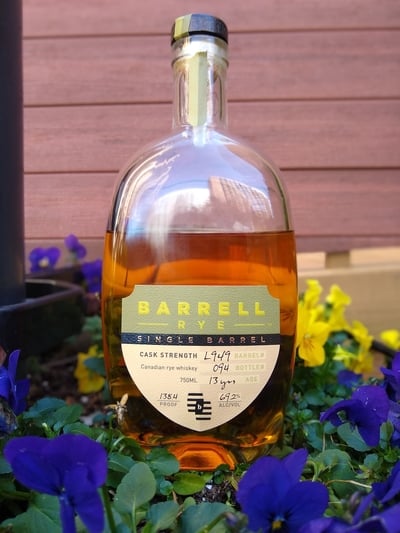 Distillery: Barrell (but sourced from Canada)
Type & Region: Canadian rye whiskey
Alcohol: 69.2%
Composition: 100% rye
Aged: 13 years in oak, but not sure if virgin or used
Color: 0.8/2.0 on the color scale (deep gold)
Price: $90-100
From the Barrell website:
"Barrell Craft Spirits has a selection of single barrels which we're excited to make available to retailers, bars and restaurants. Each single barrel is a true single barrel – bottled at cask strength without combining it with any other barrels, unlike Barrell batches, which are bottled from a selection of several barrels blended together to a specific flavor profile"
barrell 13 year single barrel rye overview
At this point, Barrell is a household name in whiskey because of its blending prowess and single barrel releases that garner a lot of attention and quite a few awards. Since 2018 (give or take so don't quote me on the exact year), Barrell launched a single barrel program that started with 9-10 year old MGP bourbon (now discontinued) and has since expanded to 13-14 year old Tennessee Bourbon, 13-14 year old Canadian rye, 18 year old Kentucky whiskey (not bourbon), and 7 year old MGP rye. For this review, I'm focusing on the initial release of 13 year old single barrel Canadian ryes with barrel number L949.
Canadian rye sourcing is a wild-card because it can come from a number of places, but my experiences so far with WhistlePig 10 Year (sourced from Alberta) and Lot 40 Cask Strength (homemade by Hiram Walker) have been exceedingly positive. There isn't much information about these Barrell single barrel ryes, but rumor is that they are sourced from Crown Royal. For me though, one of the more interesting details about this Barrell 13 Year Single Barrel Canadian Rye is that it has an insane 69.2% ABV, qualifying as sanitizer (nothing like sanitizing your innards eh). High age and exceedingly high proof seem like a recipe for success, so let's get to exploring in this Barrell 13 Year Old Single Barrel rye review. 
barrell 13 year single barrel rye smell
As expected with 100% rye Canadian rye, I get some of that rye-forward anise, dill, and fennel, but holy moly there's an earthquake-tsunami-volcano eruption of heat. I guess I shouldn't be surprised since it's 69.2% alcohol, but you'd think that barrel aging would tame it a little right? There are quite a number of 64%+ ABV spirits that are much less hot, so it can't be me being a whimp. This is also after letting the bottle sit 2/3 full for over a month and then letting the whiskey sit in the glass for 30 minutes, ample time for it to breathe and open-up. Nonetheless as I persevere, I smell hints of Asian pear, apple, guava, and rye bread with caraway seeds. Fruit is definitely trying to overcome the alcohol, but it mostly fails. The oak is generally light as well, likely due to aging in used, not freshly charred, oak barrels that have a lot less to give.
Swirling…actually don't swirl this. Please keep this as still as possible as if it were a sleeping baby and you haven't slept in 3 days. I smell some honey with dill, anise, and fennel (as per usual with rye whiskeys), followed by a drop of vanilla, green grapes, and Asian pear. There are vegetal and herbal pine needle and pine wood notes as well followed by gently toasted oak, but the alcohol is first, second, and third in line. As hot as it is, the nose is also quite closed-off as well – not good. 
barrell 13 year single barrel rye taste & aftertaste
The flavors also can't escape the hurricane-level alcohol in this Barrell 13 Year Rye. Yes, there's some sweet licorice, anise, and honey that could be nice, but there's so much overpowering heat that it's not as enjoyable to drink as it should be. I'm no proof coward, but this is so over the top that the non-alcohol flavors aren't strong enough to compensate.
After "chewing" the flavors are still somewhat herbal and sweet with honey, licorice, fennel, and vanilla followed a little bit of grain and oak, but it's still too frequently taken over by alcohol. For what it's worth, it's an incredibly viscous and oily whiskey that I can feel coating my mouth, but the flavors as a whole are dull, making it not that interesting. This probably would have been great at 58% ABV.
The finish is sweet and oily with honey, vanilla, pear, and some light oak tannins. After "chewing", I can feel the alcohol ripple all over my mouth for a solid 15 seconds, leaving my mouth dry with herbal licorice, oak, and lingering green apple. This is just…not particularly good.
Place on the Whiskey Shelf

I truly believe that this Barrell 13 Year Single Barrel Rye could have been great. On paper, there's so much promise, but the alcohol comes in hot like a wildfire on my nose and mouth to burn whatever pleasant I might happen to find. The thing is, I've drank enough very high proof whiskey (e.g., Stagg Jr batch 7 at 65%, Elijah Craig Barrel Proof at 65%+) to know that super-high proof whiskeys can be very drinkable, even if the heat jostles me at times. The problem with this rye is that 13 years of aging didn't extract enough character from the wood to counterbalance the heat, in part probably because it was aged in used oak. I also guess that this rye was made like a light whiskey: distilled to 160-190 proof instead of under 160 proof, so it immediately packs more heat and less complexity when it is barreled. I'm not sure what Barrell was thinking when they picked this barrel because even I wouldn't put my name on this.
As much as I criticize this, it's not absolutely awful and has some redeeming qualities in the honey, green apple, green grape, Asian pear, dill, and anise from time to time, hence the "Mid Shelf" rating that's borderline "Bottom Shelf+". Even with a "Mid Shelf" rating, I don't recommend this at all and it's an unfortunate miss. Another problem, one I experienced firsthand with Henry McKenna 10 Year Bottled in Bond, is that single barrels can vary wildly, so there probably are amazing barrels out there, you just have to sift through some less good ones to find them. For me though, this is a $90 gamble that I'm not willing to take again unless I can try it first, and you are best advised to do the same.