Suntory The Chita Whisky Review [In Depth]
Distillery: The Chita (Suntory)
Type & Region: Single Grain Japanese Whisky, Japan
Alcohol: 43%
Composition: 100% corn
Aged: Not stated
Color: 0.5/2.0 on the color scale (yellow gold)
Price: 
Around $30 for 750mL
From the company website:
"Chita is the serenity of Japanese whisky, from the inventive grain whisky distillery in the Chita Peninsula dedicated to the pursuit of making diverse grain whiskies. These whiskies have been aged in a variety of casks before coming together to produce the Chita Single Grain Whisky. Sublimely smooth, versatile, and complex with subtle sweetness, Chita is embraced as the innovation single grain Japanese whisky from the award-winning House of Suntory Whisky."
When you think about Suntory-made Japanese Whisky, you likely think Yamazaki, Hakushu, and Hibiki. The hype train is already full steam ahead with those brands, especially the aged-stated releases rarely reaching shelves and commanding hundreds to thousands of dollars. And given how limited the supply is of older Japanese whisky, it's not going to get better any time soon.
But there's a less-known whisky, The Chita, that is their lone single grain Japanese Whisky. So while Yamazaki and Hakushu are single malt, meaning malted barley from a single distillery (very much in the same way like single malt Scotch), single grain means distilled non-barley grain from a single distillery.
Based on what the website says, The Chita Whisky is made from corn, distilled using column stills, and aged in American white oak casks (meaning used bourbon casks). In some ways, it's kind of like international corn whiskey (well-traveled Mellow Corn?).
The distillery itself is located in the Chita peninsula, just south of Nagoya, and aged near the distillery as well as at the Hakushu distillery in Yamanashi prefecture close-ish to Mt. Fuji.
In Scotland, grain whisky is often blended with single malt to create blended Scotch whisky. You might argue that it's sometimes used to "cut" or "dilute" the more expensive malt, which is sometimes the case in cheaper Scotch, but if done right and aged appropriately, can complement and improve the single malt to make something even better.
Johnnie Walker has been producing blended Scotch Whisky for decades (including the super expensive Blue Label), and they seem to be doing just fine. The Chita Whisky is also blended with malt from Yamazaki and Hakushu to make Hibiki, and I doubt many complain about that.
Unlike Suntory's single malts with various age statements and other fancy limited release finishes, to my understanding there's only one version of The Chita, this non age stated version. And at least in Japan, it's sold everywhere with no hype and no acclaim.
It's nearly as prevalent as
Johnnie Walker Red Label
and
Black Label
, sold in convenience stores, liquor stores, grocery stores, everywhere with no markups. I'm sure that there's a reason why.
Let's find out what the deal is with this overlooked Japanese Whisky in this Suntory The Chita Whisky review.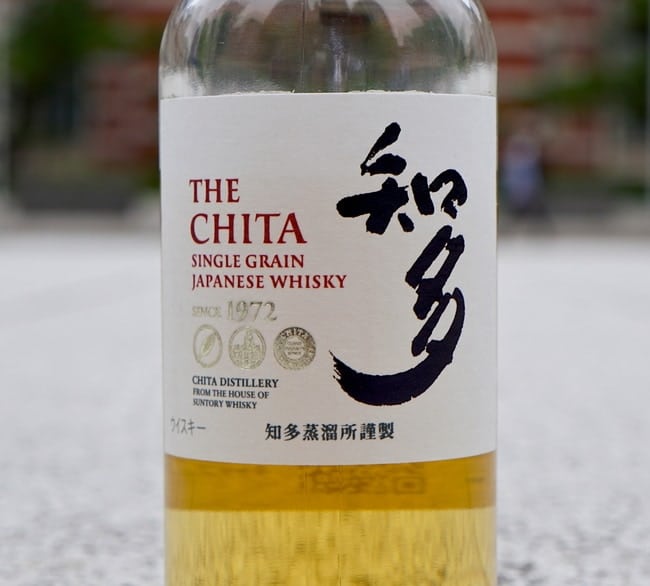 Smelling The Chita Whisky is a strange experience. While I smell a little toasted caramel, pear, dry oak, and hints of floral honeysuckle, overall there isn't much to smell. It feels very closed-off, nothing like the more expressive (and 2-3x the price) Yamazaki or Hakushu, or even Nikka's
Miyagikyo
or
Yoichi
.
I feel like I'm trying to yank the scents out of the glass and it won't cooperate. That said, the alcohol is thankfully calm so it doesn't smell like straight booze, it just doesn't smell like much of anything.
After swirling, The Chita smells a bit bourbon-y with a little toasted caramel, vanilla, and oak, then pear and cinnamon. The scents are so closed-off that it's actually difficult to smell much of anything. At least it's not spewing hot hot heat though, which would be terribly unpleasant.
At the same time, The Chita Whisky isn't flat out unenjoyable because it doesn't smell "bad" or "foul" in the tradition sense, there's just nothing. It makes me feel like my sense of smell is broken (it isn't). What a strange whisky, this isn't good.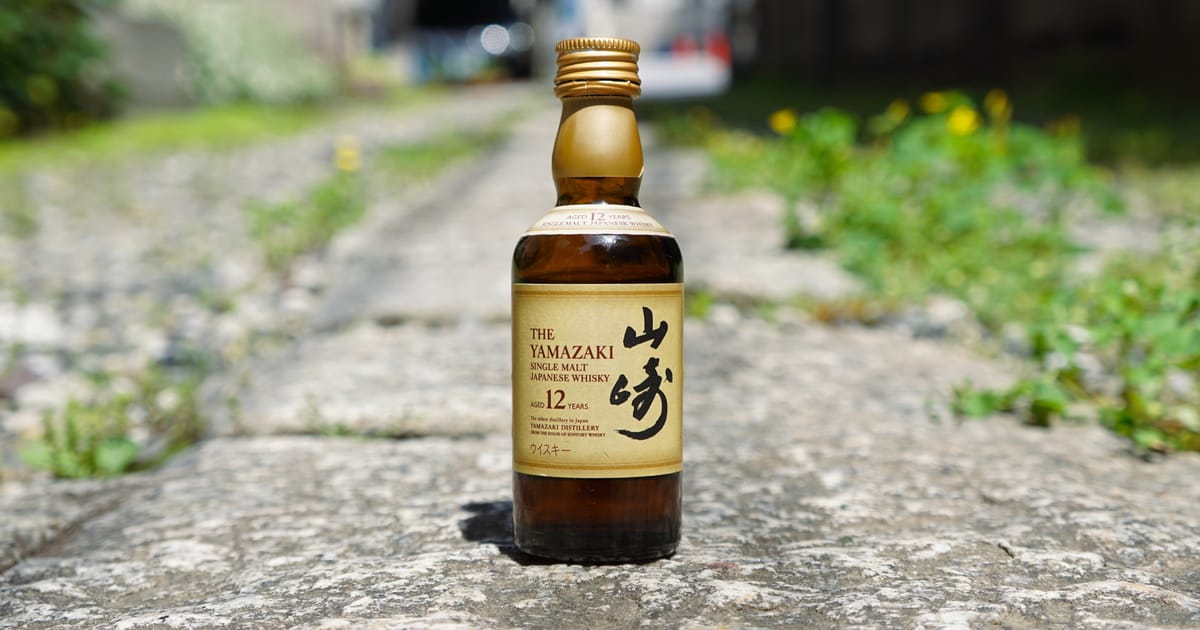 Chita Whisky taste and aftertaste
I hoped that the flavors would redeem The Chita, but they don't. I taste a little honey, toasted vanilla, a faint drop of darker maple syrup, roasted oak, pear, and cinnamon. While I mention a few notes, they're actually difficult to detect. It's so odd to drink a whiskey that barely tastes like anything.
After "chewing" there's honey, a little maple syrup, vanilla, roasted oak, cinnamon, pear, and dried biscuit. If you've ever had single grain whisky before (usually from Scotland), The Chita has a similar toasted caramel-y and maple syrup-y sweetness. It's tangentially bourbon-y, probably because of the corn mashbill.
There's so little flavor that 40% ABV bourbon and
moonshine
even have more flavor. It's not even because it inherently tastes bad, it just doesn't have flavor at all. That's not an insult to moonshine (I like it), it's just that The Chita Whisky is just so lifeless and dead.
Pear, honey, and roasted oak lead into not much of a finish. There's a bit more after "chewing" with maple syrup, roasted oak, and vanilla, with a light lingering roastiness. There's nothing bad about the finish, there's just not much of one at all.
ARE MY TASTEBUDS BROKEN!? I don't know what's happening, but this is really bad.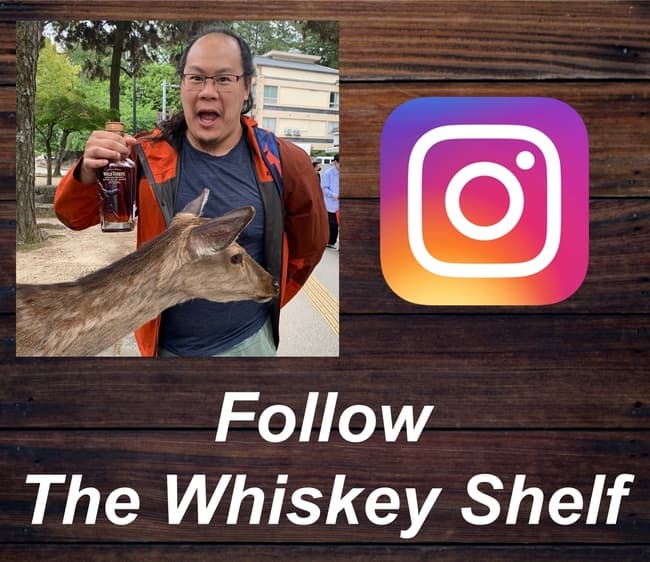 If you're shopping on Amazon, support The Whiskey Shelf by shopping through my affiliate link – Shop Amazon. I may earn a commission from your Amazon purchases.

Oh boy, where do I start? Suntory The Chita Whisky mostly smells and tastes like nothing…is not good. Then again, it's a fairly cheap single grain whisky, so you sort of get what you pay for.
With single grain whisky (not single malt), that usually means that's the distillery uses column stills to produce super high-ABV distillate (often 90+%) so that the unaged spirit itself doesn't have much character.
Add on aging for likely a shorter period of time, and you have a recipe for something utterly forgettable and bland. It's like the reject whisky that didn't make the cut to be blended to make Hibiki.
The thing is, I even let the whisky in the bottle rest for 2 weeks before reviewing it. While I could have waited longer, 2 weeks is usually enough time to let things open up, on top of swirling it and letting it rest in the glass for 30 minutes. I gave it plenty of time to "get ready" for this review.
It's for the best that I didn't do much research before reviewing The Chita Whisky, because "sublimely smooth, versatile, and complex with subtle sweetness", should have been a screaming red flag. That apparently means that this whisky has virtually no personality.
Sometimes a company's tasting notes are too accurate for their own good. I'll never forget "subtle sweetness", so if I see another distillery use that term, I'll just turn around and not do that to myself. And "complex", absolutely not. That's just marketing BS to try to pump up and sell whisky.
So don't waste your money or sobriety on The Chita Whisky. If you are at a bar, make sure they don't use it in your cocktail either. You're better off using pretty much anything else, including Johnnie Walker Red.
At least Diageo had the courtesy of using some single malt in there and offering some fruitiness. Suntory should really re-think this whisky, because it's terrible.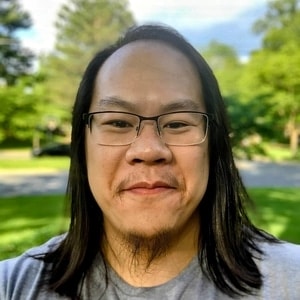 I have far too much fun writing about whiskey and singlehandedly running The Whiskey Shelf to bring you independent, honest, and useful reviews, comparisons, and more. I'm proudly Asian American and can speak Cantonese, Mandarin, and some Japanese.
There are no sponsors, no media companies, and no nonsense. Support The Whiskey Shelf by 
Buying Me A Shot
.