Johnnie Walker Black Label Review [In Depth]
Johnnie Walker Black Label Whisky
Johnnie Walker Black Label Whisky Details
Distillery: Johnnie Walker (Diageo)
Type & Region: Blended Scotch Whisky, Scotland
Alcohol: 40%
Composition: Blend of malt and grain whisky
Aged: 12 years
Color: 1.0 (deep copper)
Price: $30-40 (750mL)
From the company website:
Johnnie Walker Black Label is one of life's true icons. A masterful blend of single malt and grain whiskies from across Scotland, aged for at least 12 years. The result is a timeless classic with depth and balance of flavor. Drink it with ice, neat or in a Highball.
Johnnie Walker Black Label Whiskey overview
Johnnie Walker Black Label Whisky is one of the most popular and widely consumed whiskeys on the planet, just like
Johnnie Walker Red Label
. It's seemingly in every store and restaurant that sells whiskey, so it's always there if you want whiskey. It's ole' reliable.
If you've drank Scotch before, you've probably had Johnnie Walker in some form. It's been sold for so long that your parents have probably had it too. And in my budding years as a whiskey enthusiast living in New York City, I too drank this from time to time.
I remember owning a 1.75L handle of Black Label and bringing it to celebrate a friend finally graduating from college. Funny thing is that I don't quite remember why I had it or how I got it. I'm not entirely sure that I bought it myself, but I also know that I didn't steal it. Regardless, I have a fond memory celebrating a dear friend's achievement with Black Label, as I'm sure many others have over the years.
Before we get into the review, let me translate what 12 Year Old Blended Scotch Whisky means in normal English.
Blended – comes from multiple distilleries. Single means one distillery
Scotch Whisky (with no mention of malt) – mix of Scotch made from 100% malted barley, and Scotch made from other grains (usually corn, called grain whiskey)
12 Year – all the whiskey in the blend is at least 12 years old
The main difference between this and say, Glenfiddich 12 Year Single Malt Scotch, is that Glenfiddich comes from a single distillery and is made from 100% malted barley. Black Label Whiskey comes from all over Scotland, using a greater array of whiskys.
People drink this incredibly popular Scotch for a reason, so let's dive in and give it a try after many years in this Johnnie Walker Black Label review.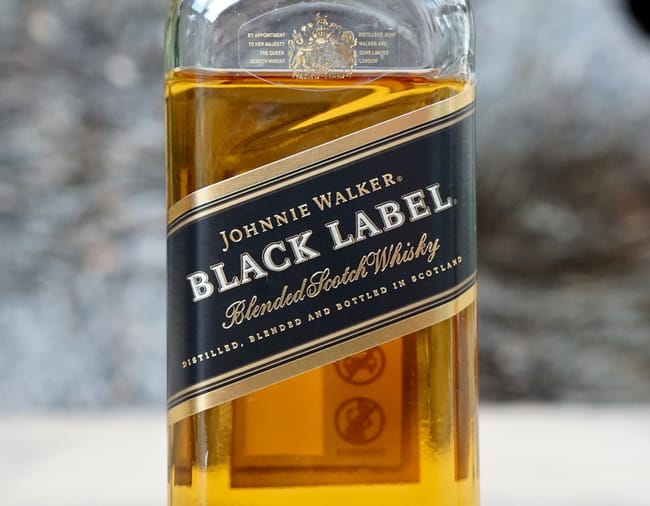 Johnnie Walker Black Label Whiskey smell
Creamy honey and vanilla, dried strawberry, peach, pear, hint of peat, moss, and grass come out in my first few sniffs. Johnnie Walker Black Label Whiskey has a moderate underlying darkness and body beneath the sweetness and fruit, and with not much smoke to speak of.
I am caught off guard by the out of character bite for a 40% ABV whiskey. It's not quite harsh, but battles the fruitiness at times to the detriment of the scents.
The scents change it up after swirling. I smell floral honey and vanilla, pear, starfruit, strawberry, dried grass, and smoke. Black Label Whiskey has moderate heft and some dark roundness, and the fruitiness of a predominantly bourbon cask-aged scotch with a bit of sherry cask in the back.
The main change is that the smoky peat wakes up a little. It's still not a peat bomb like Laphroaig, so I'd consider this one of the gentler peated Scotches. I guess I should mention that I'm a fan of peated Scotch, so it's possible that I've gotten used to the smoke and it's actually stronger than I think it is, and I think Laphroaig is "normal" and this is "gentle". So take all of that with a grain of salt.
Alcohol bites noticeably more than expected. Usually the alcohol in 40% whiskey for me is light or barely there, but this has a noticeable presence that I can't shake. But as a whole, Johnnie Walker Black Label Whiskey smells nice and moderately developed, while still having so much missing.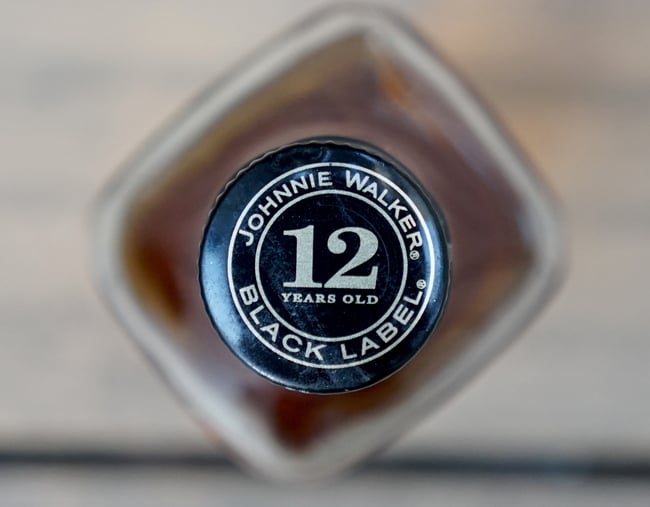 Johnnie Walker Black Label Whiskey taste and aftertaste
On my first sip I taste creamy honey, vanilla, apricot, roasted biscuit, a little roasted oak, slight bitterness like fruit peel, and a hint of smoke and char. The peat is gentle (at least for me because I'm used to Laphroaig). I've gotten more from
Hakushu 12 Year
and
Bruichladdich 10 Year
, and the heat isn't a big deal, which it normal.
After "chewing" there's lightly smoky honey and vanilla, toasted grains, apricot and starfruit, a little roasted oak, dry grass, smoke, and vegetal greens. "Chewing" opens up some of the smokiness, although it's still not so intense. The bourbon cask-aged component primarily comes through with the apricot and starfruit.
The good thing about Black Label Whiskey is that the flavors have some body and character so it's not an entirely boring and flat experience. The not so good thing is that there's not much depth of flavor and it's just not that interesting.
The flavors carry on the same way into the afternaste with honey, vanilla, apricot, roasted oak, oak char, and a hint of smoke. A gentle roastiness and smokiness linger, so the peat has more of an impact on the finish than anywhere else.
If you're shopping on Amazon, support The Whiskey Shelf by shopping through my affiliate link – Shop Amazon. I may earn a commission from your Amazon purchases.
Johnnie Walker Black Label Whisky Rating

I think I get what Diageo was trying to accomplish with Johnnie Walker Black Label Whiskey: offer an easy drinking Scotch with some maturity and character. There are things that I can appreciate, and a lot more that feel lacking so it seems that they're holding back for their higher end stuff.
So first off, I mean that I enjoyed it. It has a creamy, fruity, and vibrant personality, backed by some darker sweetness, oak, and smoke for an all-around nice Scotch with some decent low end too. The bourbon (apricot, starfruit, pear) and sherry-aged (strawberry, dried berries) traits come through the mix for variety.
The peat and smoke are an acquired taste (that I enjoy), but it doesn't have an outsized presence to be domineering. It's very much a secondary trait, carried along by the fruit and honey. I think the Double Black version is supposed to be the peatier version.
The problem is that Black Label Whisky feels shallow. The combination of everything doesn't have enough oomph to be compelling or interesting, so it feels underdeveloped. A lot of it comes from how watery it feels, which is partly due to the ABV and partly due to the blend.
Especially in this price range, you're smack in the middle of some well-made bourbon –
Elijah Craig
and
Jim Beam Single Barrel
to name some examples. You can even consider single malt scotch such as Glenfiddich 12 Year.
Ok ok, not everyone drinks bourbon or can find it (depending on where you live in the world), but I can't help it when I know what really good and affordable bourbon is like. Johnnie Walker Black Label doesn't compare well, although I admit it's not entirely fair to compare Scotch to bourbon. Regardless, I know how to review both. Other spirits, not so much.
Black Label then serves as an easy-drinking Scotch with broader appeal that won't impress, challenge, or offend. That will work well for many, but if you're reading this review then I'm guessing that you're looking for something more than what Black Label can offer.
The takeaway here: there's absolutely nothing wrong with enjoying it, and nothing wrong with deciding that you can do better.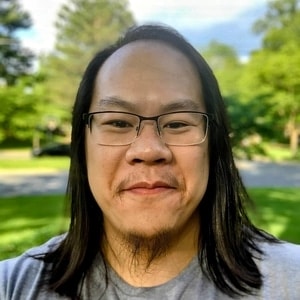 I have far too much fun writing about whiskey and singlehandedly running The Whiskey Shelf to bring you independent, honest, and useful reviews, comparisons, and more. I'm proudly Asian American and can speak Cantonese, Mandarin, and some Japanese.
There are no sponsors, no media companies, and no nonsense. Support The Whiskey Shelf by 
Buying Me A Shot
.