Maker's Mark New vs Old​ Comparison
Maker's Mark has been making wheated bourbon for a long time
If you didn't know already, Maker's Mark has been up and running since the 1950's. There's a lot of history behind the brand, the red wax, AND the gold wax. Maker's Mark's taterdom was way ahead of its time, because they've been waxing their bottles by hand for decades. You might even consider them the OG taters before taters were a thing, because bourbon was not popular for years and years.
I made a point that you may not be that familiar with. Over the years, Maker's Mark has sold both red wax and gold wax versions of Maker's Mark. You've seen the red wax everywhere, and that covers pretty much every single release from regular Maker's Mark all the way up to limited releases and private selects.
There is a
Gold version
, at both 45% and 50.5%, that isn't widely sold today. That seems to be reserved for bottles from before 2000. I've wondered what was unique to the gold besides the wax, but to be honest, there isn't much information about how "regular" and Gold differ, but since the wax and label are clearly different, I'd guess that the bourbon somehow is too. It could be barrel selection, age, etc.
Anyways, I have the incredible fortune to possess, enjoy, and share a bottle of
Maker's Mark Gold from 1986
, which I found for a shockingly reasonable $80ish. That's cheaper than…a lot of wheated bourbons sold today (cough cough…Weller Antique). I can guarantee that it's much much better too, but I'm getting way ahead of myself.
On the other hand, I also have
today's Maker's Mark
. It's super easy to find pretty much everywhere, and there's a good reason for that. I walked around the corner to my local convenience store (in Tokyo) and got a smaller bottle with no fuss and no ID. Funny how Japan is so different from the US.
Since I'm one of the few to have both of these bottles and the desire to write about whiskey, I had the clawing urge to understand how Maker's Mark of old compared to what is sold today? While that thought probably hasn't crossed your mind, I think you'll be intrigued with the results.
So yeah, I'm curious how these two compare, and how bourbon has changed over the decades. But before I get to it, there is one major unknown that's tough to control: the old version I have is Maker's Mark Gold and not the "normal" one. I've already mentioned that "regular" and Gold may be different (probably very different), so that's one factor that throws a wrench into this whole comparison.
As an FYI, I bought and use these Glencairn glasses for my reviews and comparisons (because they're the best): 
Glencairn Crystal Whiskey Glass, Set of 6, Clear, 6 Pack.
Full transparency, this is an affiliate link, so I may earn a commission if you buy this or something else from Amazon.
If you're shopping on Amazon, support The Whiskey Shelf by shopping through my affiliate link – Shop Amazon. I may earn a commission from your Amazon purchases.
Wooooooooow, Maker's Mark Gold of old and today's regular Maker's Mark are nothing alike. It's like comparing dates vs oranges, bourbons with entirely different foundations and upbringings. It's a complete overhaul.
Today's Maker's Mark is not bad, let me make that clear. I don't mind drinking it, but it's not anything awe-inspiring. It's a grassy, bready, spicy, and earthy-forward bourbon that drinks like the thinner and younger version of other wheated bourbons out there today.
There's some cherry and orange, but it's generally pushed aside by the other traits. But as a whole, it captures today's wheated bourbon "spirit" that even spans all the way up to
Old Rip Van Winkle 10 Year.
That distinct breadiness, doughiness, and graininess is also still there, even though I've reviewed  two different bottles of modern Maker's from years apart. I also mention it in my 
Maker's Mark vs Weller Special Reserve comparison
, so at this point, I think that distinctiveness is part of today's Maker's Mark's core.
At the same ABV, Maker's Gold is more rich, creamy, and viscous. And even though it's darker and denser, the flavors especially have this vibrant sparkle, pop, and freshness that doesn't exist in today's Maker's.
Not only that, the oak and spice feel totally different. Today's Maker's Mark is more roasty, toasty, and in your face. It bites a little bit and has some roughness. Maker's Gold has a dark and brooding oakiness and spiciness in the background that's sort of roasty, but mostly just straight up dark and creamy. It's tough to adequtely explain.
Going back to today's Maker's Mark just feels…disappointing. It tastes like honey, ginger, and grains. It's over…gone…covered up…non-existent. Today's version feels so much younger and less developed. In terms of barrel age, I can't say.
It feels like an oversimplification to say that 1986 Maker's Mark Gold feels old. I'm sure that it is (no idea how long it was oak aged), but it also feels like it was aged in a way that can't be replicated today. Even if they could age Maker's Mark as long as they wanted, I don't think they'd be able to bring back the dense dark and dried berry, and the heavily dark yet not that roasty oak.
It brings me back to my hypothesis – the oak used in the barrels used decades ago is so much better, or at least very different, than the oak used today. I think that it was likely older, denser, and led to bourbon with way more dark fruit, old oak, and refined spice. This isn't the only place that people talk about that good wood.
Guitarists talk about 1959 and 1960's Les Pauls having that "magic" due to the old growth mahogany and rosewood (and PAF pickups). Violinists talk about Stradivarius-made instruments and the old oak that grew through the "mini ice-age". In the whiskey world, I think the that the old-growth white oak harvested before ~1990 brings that something something that we have a tough time recreating today.
Longer oak aging is likely a factor as well, but longer-aged bourbon from the modern era is still quite different: more roasty, spicy, oaky, and chcolatey. The oak is more heavy-handed while the dense dried berry and fruit aren't there.
Man, they don't make Maker's Mark like they used to.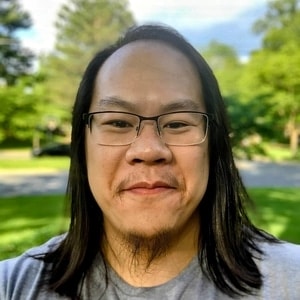 I have far too much fun writing about whiskey and singlehandedly running The Whiskey Shelf to bring you independent, honest, and useful reviews, comparisons, and more. I'm proudly Asian American and can speak Cantonese, Mandarin, and some Japanese.
There are no sponsors, no media companies, and no nonsense. Support The Whiskey Shelf by 
Buying Me A Shot
.
Maker's Mark Cask Strength Comparison