Jim Beam Black Review [In Depth]
From the company website:
Our premium, 86-proof bourbon whiskey spends years longer being aged in our American White Oak barrels than our original Jim Beam. It's those extra years of aging that give Jim Beam Black its full-bodied flavor with notes of smooth caramel and warm oak.
Jim Beam Black was one of my OG bourbons. Back in the day when I was early-on in my whiskey journey, the older version (since changed) was one of the first 5-10 bottles I ever bought for myself. And just like when I got
Elijah Craig 12 Year Small Batch
(the first one I ever bought myself), I was in the process of adjusting to the alcohol heat and learning about how bourbon smelled and tasted.
And just like my adjustment to the alcohol (although now I often complain that 43% ABV is too weak…oh how things have changed), Jim Beam Black has also changed. I think some time up to around 2015 (I'm probably off by a year or two), Jim Beam Black used to have a 6 or 8 year old age-statement. I've seen both versions, and recently found (and bought) a handle of the 8 year for old time's sake.
These days, Jim Beam changed the label style and replaced the specific age statement with "Extra Aged". Well uh…what does "Extra Aged" mean? The honest answer is that it doesn't mean anything because it's not a term with a specific definition like an age statement or single barrel.
But given that
Jim Beam White
is a straight bourbon without an age statement anywhere on the bottle, that's 4 years old. Because Jim Beam Black is the upgraded version, my guess is that it's also 4 years old but blended with older (and better) bourbon that would not go into Jim Beam White. You pay extra for the older bourbon.
Either way, the one I'm reviewing is the "Extra Aged" one you'll find on shelves today, so find out if this budget-ish offering is worth grabbing in this Jim Beam Black review.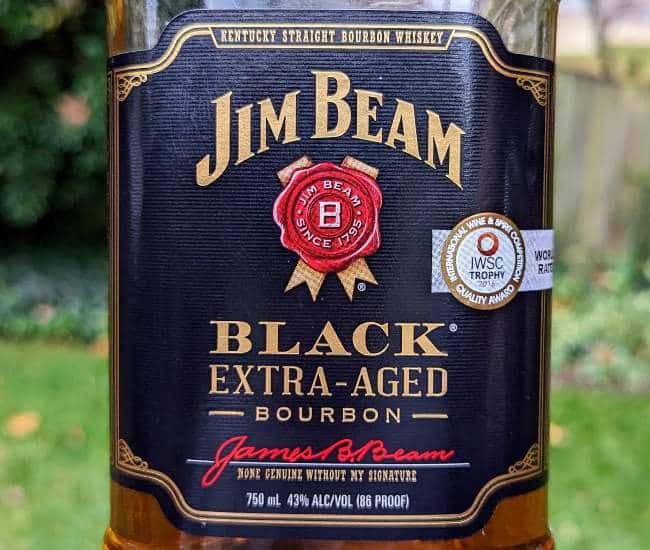 Jim Beam Black starts off a little strange: not because it's bad but because it's so closed-off. I get a little honey, vanilla, roasted oak, licorice, apricot, peanut shell, toasted grain, red apple peel, and a little bit of fresh cherry. It sounds (smells) like a decent list of traits because it is, but jeez I have to sniff long and hard to drag it out of the glass.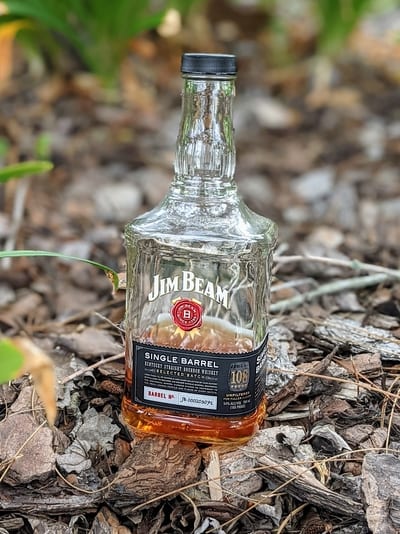 It doesn't come easy, but at least there's no heat or "off" character to push me away. There's no funky vanilla or noticeable graininess, so it actually smells good. It already reminds me of a better Evan Williams Black Label.
Swirling wakes it up a bit, which is a welcome change. I get caramel nougat, vanilla, toasted oak, dried apple and orange peel coated in cinnamon, a little bit of grassy nuttiness (really just a little), licorice, caraway seed, and a little toasted grain and cherry. It gets a bit darker and heavier, which starts to show off the "extra age", whatever that means.
From memory, the Jim Beam Black has more dark sweetness, licorice, and apple fruitiness than Jim Beam White, which is thinner and more grainy. The "extra age" definitely manifests itself with more maturity, but the ABV is a big drawback. I guess that's why they have Jim Beam Bonded (and shouldn't have discontinued Distiller's Cut).
It actually smells really good and balanced, with nothing off or out of balance. At the same time, Jim Beam Black doesn't offer anything particularly interesting or noteworthy. It's just so closed off that it's hard to fully appreciate it for whatever it is, and I think it could have a lot to offer. I just want more. I want it all, and I want it now.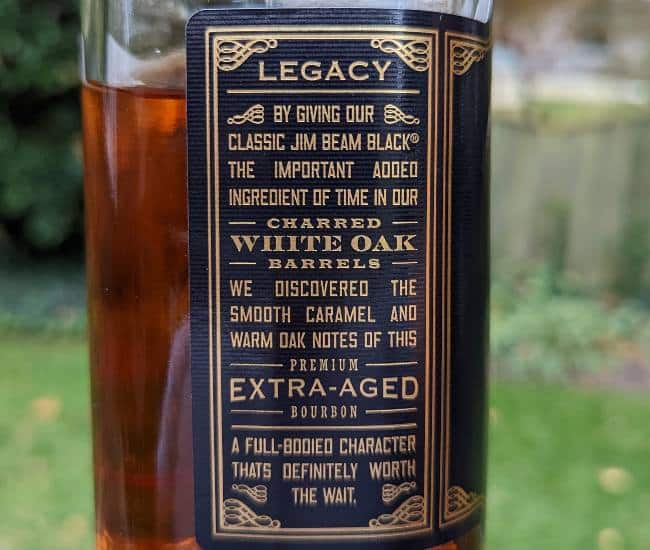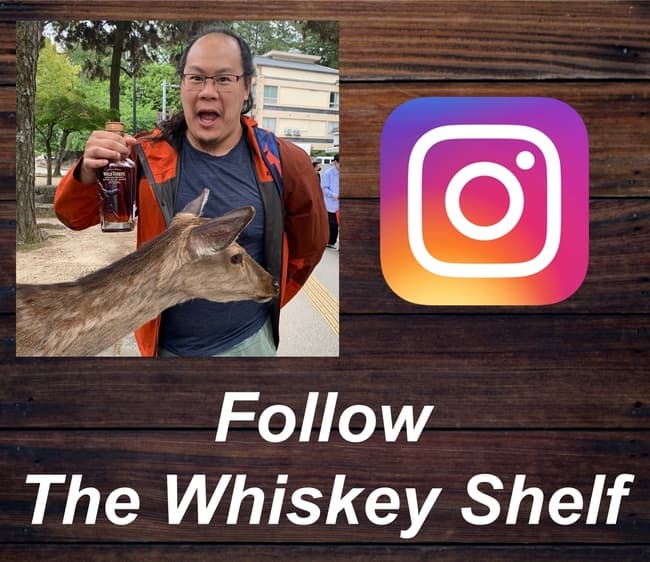 Jim Beam Black taste and aftertaste
At first, Jim Beam Black has slightly nutty caramel, vanilla, roasted oak, dried apricot, orange, cinnamon, toasted grain, caraway seed, dried grass, licorice, red apple, and a hint of mint. Even with the "extra age", there's still a little youthful graininess that hasn't been aged-away yet, but nothing is so earthy or bitter. But for the most part, I buy the vague "extra aged" label that doesn't really mean anything.
Out of everything, I'm surprised at how citrusy it is, reminding me a bit of bourbon-aged Single Malt Scotch in that very specific way. And maybe it's the black label, but it feels like an upgraded version of
Evan Williams Black Label
, which is not a bad thing. I know, they're different distilleries (but same yeast), but I can't help but draw that comparison.
After "chewing", I taste caramel, vanilla, roasted oak, licorice, apple peel and a little cherry, cinnamon, caraway seed, nutmeg, and peach at the end. There is a small rush of oak and spice at the back, but it's not overdone. And I don't get much nuttiness either, which is surprising.
Jim Beam Black actually tastes good and is well-balanced, touching on sweet, herbal, fruity, oaky, spicy, and earth flavors. I hate hammering away at this point (and often in other reviews) that nothing stands out or feels that rich, but nothing ever feels out of place either.
At first, the finish has honey, toasted oak, caraway seed, vanilla, and apple peel with light lingering roasted oak and earthy caraway seed. After "chewing", Jim Beam Black leaves honey, licorice, roasted oak, cinnamon, caraway seed, red apple peel. It's fine, neither bad nor great.
One major difference with Jim Beam White, which is $5-10 cheaper, is that intense "chewing" doesn't unleash any youthful bitter graininess and oak. The extra age seems to add more sweetness, fruitiness, and body, making it an upgrade to Jim Beam White. The ABV sucks though. Actually, the combination of the oak barrels used today and many other factors lead to way thinner 43% ABV bourbons than the ones from 30 years ago.
But all things considered, Jim Beam Black is a good all-around bourbon, but nothing quite noteworthy or special.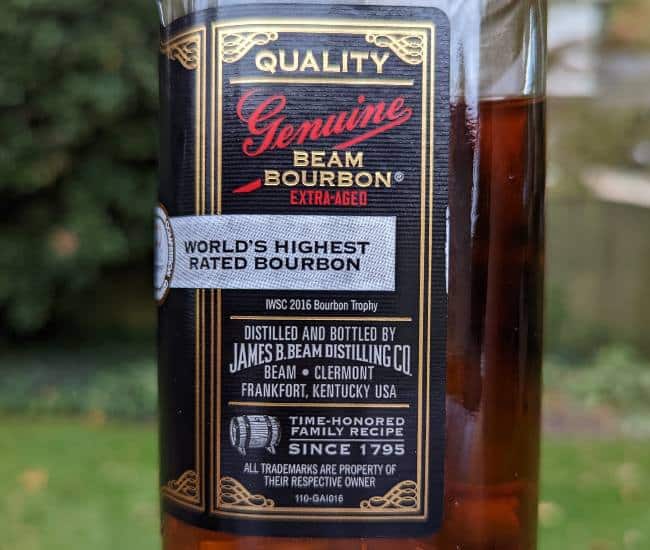 If you're shopping on Amazon, support The Whiskey Shelf by shopping through my affiliate link – Shop Amazon. I may earn a commission from your Amazon purchases.

I like a majority of what Jim Beam Black has to offer, but it also has so much missed potential that keeps it away from "Mid Shelf+". A lot of it can be forgiven because it's usually under $25, making it a good deal and still worthwhile for under $30, but I can still lament the fact that it could have been more.
I can somewhat forgive the lighter scents, which occasionally teeter on being non-existent for some reason, because the flavors do a good job of providing the usual range of "bourbon-y" flavors with a little extra sweetness and fruitiness. It's not quite rich enough for "Mid Shelf+" though, and the ABV is probably the main culprit because it's all going in the right direction.
Nonetheless, I enjoy drinking it and I would never turn it away if it was offered. I can't necessarily say the same about Jim Beam White or Jack Daniel's, but Black Label has enough to be a neat drinker.
I still think that it has its place as an enjoyable bourbon for under $30, but the value isn't quite as compelling as it could be given what else there is in that range.
Evan Williams Bottled in Bond
is still one of the kings of budget bourbon (at around $20).
Elijah Craig Small Batch Bourbon
is another affordable and great option for a few dollars more (I'd say $25-32).
If you noticed that I mentioned two Heaven Hill bourbons, it's because 1) Heaven Hill makes great whiskey, and 2) the personalities aren't all that different, and Heaven Hill has been using Jim Beam yeast since after the fire in 1996.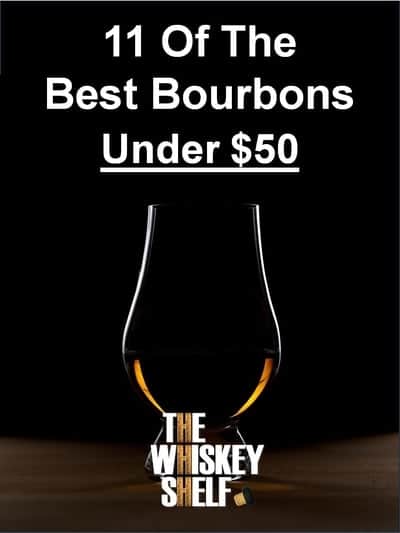 Given Suntory Beam's penchance for jacking up prices (they are easily the worst offender in this realm), I wonder if some of it comes down to Jim Beam heavily limiting Jim Beam Black's ceiling, due to its price, to push people to the more expensive Jim Beam Single Barrel ($40-50 at this point & really good by the way), or even Knob Creek Small Batch ($27-37ish). And I'll say it again, the 43% ABV stonewalls its potential. I don't know, I'm just spitballing here.
And I have this somewhat disappointed tone throughout the conclusion not because it's bad and isn't worth the money, but because there are very specific things that keep it from being so much better. It almost feels like there's an artificial limiter to how good it could ge (e.g., Tesla apparently has a software block that limits range). Is it good? Yes. Is it worth $20-25 on the low end? Yes. There's enough there to recommend it, but it's not a must have.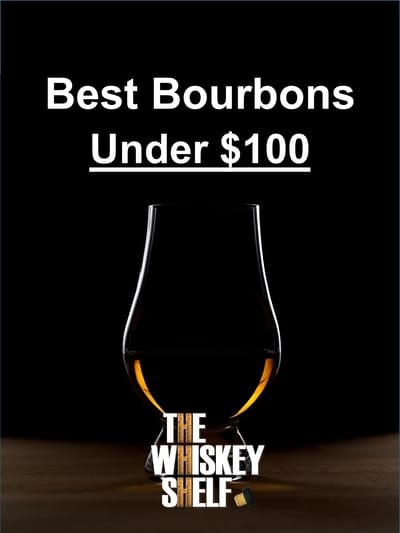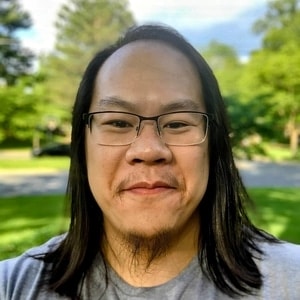 I have far too much fun writing about whiskey and singlehandedly running The Whiskey Shelf to bring you independent, honest, and useful reviews, comparisons, and more. I'm proudly Asian American and can speak Cantonese, Mandarin, and some Japanese.
There are no sponsors, no media companies, and no nonsense. Support The Whiskey Shelf by 
Buying Me A Shot
.