joseph magnus cigar blend review
Joseph Magnus Cigar Blend Batch 13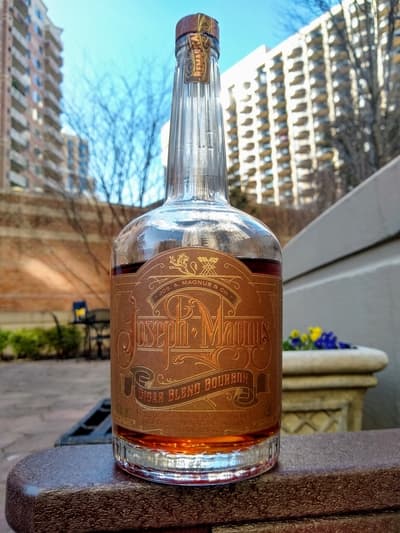 Distillery: Joseph Magnus
Type & Region: Bourbon, Washington DC / Indiana, USA
Alcohol: 51.8%
Composition: Not disclosed
Aged: Blend of 13 and 20 year bourbon finished in Sherry, Armangac, and Cognac barrels
Color: 1.6/2.0 on the color scale (mahogany, henna)
Price: $150-200
From Joseph Magnus:
"Much like Batch #12, Cigar Blend Batch #13 has deep, rich notes from older bourbon components, but it takes on more brown-baking spice notes such as allspice, clove, mace, and cinnamon, with copious amounts of roasted coffee bean, semi-sweet dark chocolate, candied orange peel, vanilla bean, and oxidized charred oak. There are also notes from the Armagnac casks, with top notes of fruity lime blossoms, plus deeper aromas of wild prunes in syrup, smokey sweet pipe tobacco, and hints of oily blanched hazelnut and walnut known as "rancio."
joseph magnus cigar blend overview
Joseph Magnus Cigar Blend is the DC-based distillery's annual-ish release of older bourbon finished in various wine and brandy casks. Every batch is a blend of various aged bourbons (I believe sourced from MGP) and finishes, leading to variation across batches. Batch 13, my first experience with Cigar Blend and the focus of this review, is a blend of 13 and 20-year bourbon finished in Sherry, Armangac, and Cognac casks, a very unique set of finishes in bourbon today. Regardless of the batch though, Cigar Blend was developed by Nancy Fraley, Joseph Magnus' master blender, as a bourbon that pairs well with cigars, hence the name "Cigar Blend". I personally cannot comment on how it pairs with cigars since I don't smoke.
The information I've provided is…minimal at best, but that's pretty much all the information there is about batch 13. I'm surprised that the website itself has such little detail on Cigar Blend, or any history of the many batches. You might think that the website would offer a great opportunity to market the product, but I guess not. Hint to Joseph Magnus – get some help with marketing, because from what I can see it could be a lot better (unsolicited advice from a University of Michigan MBA). Still, the Cigar Blend is Joseph Magnus' signature bourbon, so let's find out how the bourbon itself drinks in this Joseph Magnus Cigar Blend Batch 13 review.
joseph magnus cigar blend smell
I'll cut to the chase, Joseph Magnus Cigar Blend Batch 13 has one of the best noses in American Whiskey, and compares very well to some of the best Scotches I've ever had. At first sniff, it's incredibly dark and rich with caramel, honey, dried dates, orange extract, dried orange peel, vanilla, candied ginger, cacao powder, toasted coconut, toasted oak, and cinnamon. It's a laundry list of scents from the bourbon, Sherry (probably Oloroso), Armangac, and Cognac that actually don't come off as an overwhelming surge that's tough to process. It's quite approachable and invites me to wade through the absurdly complex, deep, and interesting scents without trying to drown me in the process. As I continue to dig, I find a little roasted chestnut half peeled open with a little dried grass. The oak is really well moderated for a blend of 13 and 20 year old bourbon, but still adds a constant and pleasant fragrant toastiness and spice. After 25 minutes of sitting, the nose is virtually absent of any heat. There's a light tingle for sure, but it's so gentle and warming. Old and low proof cask strength MGP bourbon is truly something to behold.
The alcohol wakes up a little after swirling, but calms down again after a few minutes. Afterwards, I get more caramel, dried citrus, cinnamon, spiced fruit, buttercream, toasted coconut meat, cinnamon bun, and light berries. Then I smell a lot of toasty oak, cinnamon, and cocoa that are in no way overbearing. It also gets a little herbal and medicinal at times, like dried ginseng and licorice, as well as a little funky with wafts of aged cheese (aged Gouda maybe?). I'm not joking, I really can pick out all of that and it's so ridiculously complex and an absolute masterpiece. If you couldn't tell by now, the nose is fantastic and keeps evolving, making me want to keep searching for more luscious treasures. 
joseph magnus cigar blend taste & aftertaste
Cigar Blend Batch 13 is just incredible. It has such an insanely rich and delicious caramel, dark spiced fruits, dried citrus, and vanilla. The age really shines through with abundant, but not overdone, oak and spice presence with cinnamon, nutmeg, clove, coffee, and a lot of dark chocolate. There is some heat though, so it's still bourbon, but the first sip just doesn't do this bourbon justice.
"Chewing" just makes it so much better. Rich caramel, chocolate, vanilla, berries, prunes, spiced oranges, and candied ginger stampede all over my mouth followed by cinnamon and nutmeg-sprinkled oranges from the Armangac with just a little sherry funk (maybe that "rancio" note) and licorice. That was a long Thanksgiving-sized list of flavors, and I'll keep going. There are occasional bursts of fresh citrus, cherry, and mint that add to the depth and provide interesting contrast to dark oak from the old bourbon. The occasional cherry, plum, and berry fruitiness is very noticeable but not overpowering, so it's not quite like sherry aged Scotch. The oak continues to be very present and I can feel it coat every part of my mouth and make me pucker, but it also adds a lot of pleasant toasted oak, chocolate, cinnamon, and a constant darkness that builds with every sip. The alcohol bite is certainly a little stronger now, but in-line with 51% alcohol.
The end continues to be excellent, leaving me with a honey and oak-forward finish with coffee, cocoa, and cherry that over time adds mint and fruit skins to the mix. It's a very dark and long-lasting finish. The finish continues to be dark after "chewing", as it's definitely oaky and chocolatey with dried orange peel, candied ginger, cocoa powder, and just a little smoke. I don't smoke cigars (and don't plan to start), but it seems that the dark oak and chocolate would hold up well to a cigar, as was intended by Nancy Fraley. That gentle char, smoke, and chocolate finish just keeps going and going. Interestingly, the finish turns into pear after three or so minutes, coming out of nowhere and surprising me. Maybe it's because I've been drinking pear brandy lately?
Joseph Magnus Cigar Blend Batch 13 is just ridiculously excellent bourbon. It's not flawless as the flavors would be richer, all things considered, but it's so damn close.
Place on the Whiskey Shelf

Joseph Magnus Cigar Blend Batch 13 is one of the best bourbons that I've ever had, and the length of the review reflects that. Unfortunately, it's also one of the most expensive bourbons I've ever purchased. $150-200 is no joke and I'm abundantly aware that $200 can buy a lot of whiskey (e.g., a bottle of Wild Turkey Rare Breed, Maker's Mark Cask Strength, High West Double Rye, and 3 bottles of Evan Williams Bottled in Bond with money left over). Then again, this stuff is likely so expensive because so much time and money went into sourcing, finishing, and blending the right barrels into this masterpiece.
Price aside, this Cigar Blend is one of the most layered and rich bourbons and a shining example of how finishing done right can launch a bourbon to new and ridiculous heights. I can smell and taste the different components in this bourbon – the caramel, vanilla, and dark oak, cocoa, and spice presence from the older bourbon, the dark fruits from the sherry, and the spiced fruits and ginger from the Cognac and Armangac. The thing is, it's not a disastrous mess of traits that didn't have time to meld together. No, everything is well integrated and constantly evolving so that you might inadvertently find yourself smelling it for a while and constantly wishing you had more.
For better or worse, this particular batch is completely gone at this point. If subsequent batches are anything like #13, and at this point they're being released more frequently, I highly recommend that you add Joseph Magnus Cigar Blend of any batch to your whiskey shelf. It's so good that I went out and bought 3 bottles from different batches. I'm optimistic that it will be just as outstanding. I've drank a lot of bourbon over the years, and this is one of the best. The marketing and website are lacking and the bourbon itself is pricey as hell, but it's so well worth it if you're willing to splurge. Just…yes…please send more.