Chichibu Ichiro's Malt and Grain Whisky​ Review [In Depth]
Chichibu Ichiro's Malt and Grain Whisky
Chichibu Ichiro's Malt and Grain Details
From the front of the bottle:
This whisky is blended by Ichiro Akuto, founder of the Chichibu Distillery. He travels to find casks to perfect his blend in addition to his Chichibu single malt. This is World Blended Whisky.
Chichibu Ichiro's Malt and Grain overview
But across the world, their Japanese whiskeys, as well as some world-blended whiskeys, already command top dollar, like 4 figures top dollar. Unlike those releases though, this Chichibu Ichiro's Malt and Grain is one you can easily find on shelves in Japan, and occasionally in the US. It's their least expensive offering.
Chichibu Distillery, located in Chichibu, Saitama an hour and a half to two hours away from central Tokyo, was founded in the mid-2000s. But unlike other craft distilleries that start from scratch and often source whiskey from other distilleries to bridge the gap, Chichibu has a unique lineage.
Long story short Chichibu is unique in that it also has some older stock to play with from the shuttered distillery (possibly disilleries) the family used to own. I'm not going to attempt to retell the founder's backstory (it's interesting), so check out
Nomunication
and
Whisky Analysis' posts
on the matter.
Now to focus on the whiskey at hand. Chichibu Ichiro's Malt and Grain is a "world blended whisky" that has been sold since the late 2000's / early 2010s, more or less when the distillery started operations, likely as a way to sell something while whiskey aged.
The bottle I was given (thanks friends) is from 2021, so the blend has inevitably changed over the years due to the huge shift in overall whiskey demand since this bottle was first released. That means reviews from say 2012 or 2018 may be quite different from what I get from this 2021 blend. There's also multiple versions of this world blend, all with different color labels. White is the least expensive one.
Onto what is in the bottle. In this case "world blended malt and grain" means malt and grain whiskey from the US, Canada, Scotland, Ireland, and Japan, with Japan meaning from the Chichibu distillery itself. It says so on the back label, although this one is mostly in Japanese.
So much is unknown though (on purpose). Grain whiskey is vague because all that means is whiskey that's not 100% malted barley. That could technically mean that there's bourbon (probably not though), corn whiskey, rye whiskey, and whatever grain whisky they're making in Ireland and Scotland. And who's to say what distillery made the non-Japanese whiskey parts. It's all a mystery.
Chichibu Ichiro's Malt and Grain smell
Chichibu Ichiro's Malt and Grain starts off with light honey, vanilla, and a little pear, caramel nougat, and oak – vaguely bourbon-y. It smells fine, not bad and not great, but it's weird that there's not much to smell, as if my nose is off. Checking something else I already reviewed cleared that all up though, so this whiskey is truly very closed-off. At least the heat is chill.
Even after swirling Ichiro's Malt and Grain, I'm still terribly confused that it doesn't smell like much. First off, the heat has picked up a bit, and it sometimes gets in the way of everything else for a while.
There's honey, vanilla, dried oak, banana, pear, and a hint of caramel nougat, but it's as if it's all superglued into the glass so the scents struggle to escape.
It could be very good, if the scents would actually leave the glass. I speculate that this lack of fragrance comes from the younger grain whisky that is often pretty lifeless because of how it's distilled (to super high ABV) and aged in used casks for not nearly long enough. Very meh.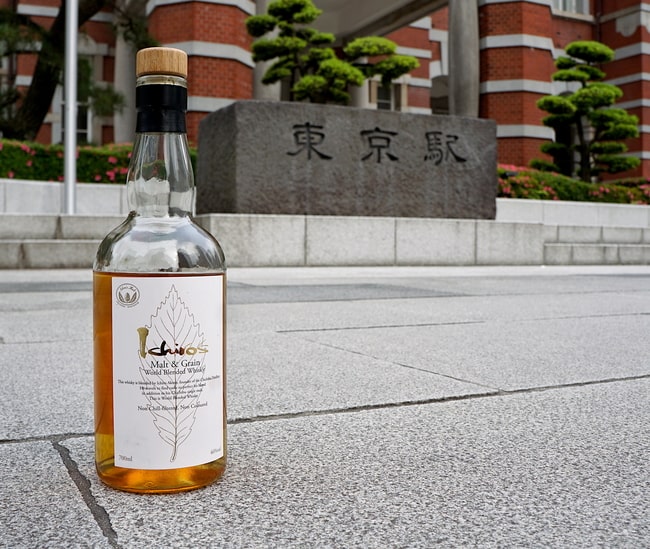 Some Chichibu in front of Tokyo Station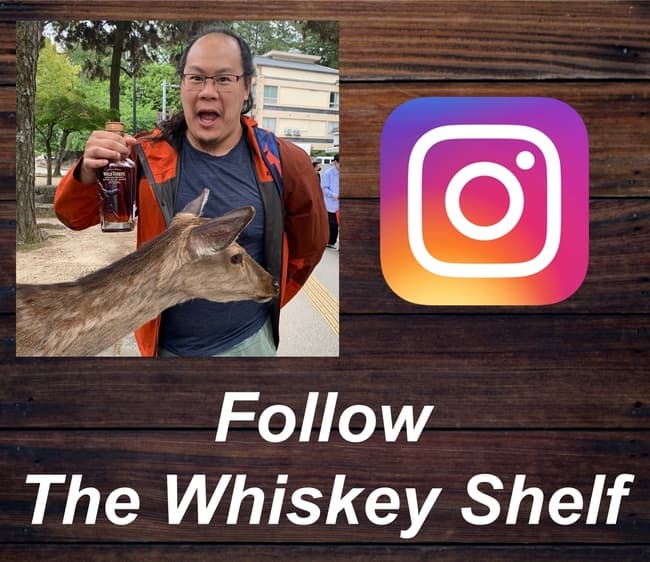 Chichibu Ichiro's Malt and Grain taste and aftertaste
Thankfully the flavors are better than the scents. I taste slightly darker honey, red grape, plum, apricot, apple, vanilla, roasted oak, cinnamon, clove, a little maple syrup, and darker toasted grains.
There's a bit of a darker and heavier foundation, which I would attribute to the grain whisky component that is often made from corn. I didn't expect to get those dark and ripe fruits, which are a nice addition, but it sucks that all the flavors are closed-off. It's there, I just have a difficult time enjoying them. I get what Chichibu is trying to do, but they didn't get all the way there.
With "chewing", trying to force open the safe that holds the flavors, I taste darker honey, vanilla, caramel nougat, roasted oak, cinnamon, plum, apple, and a little green grape.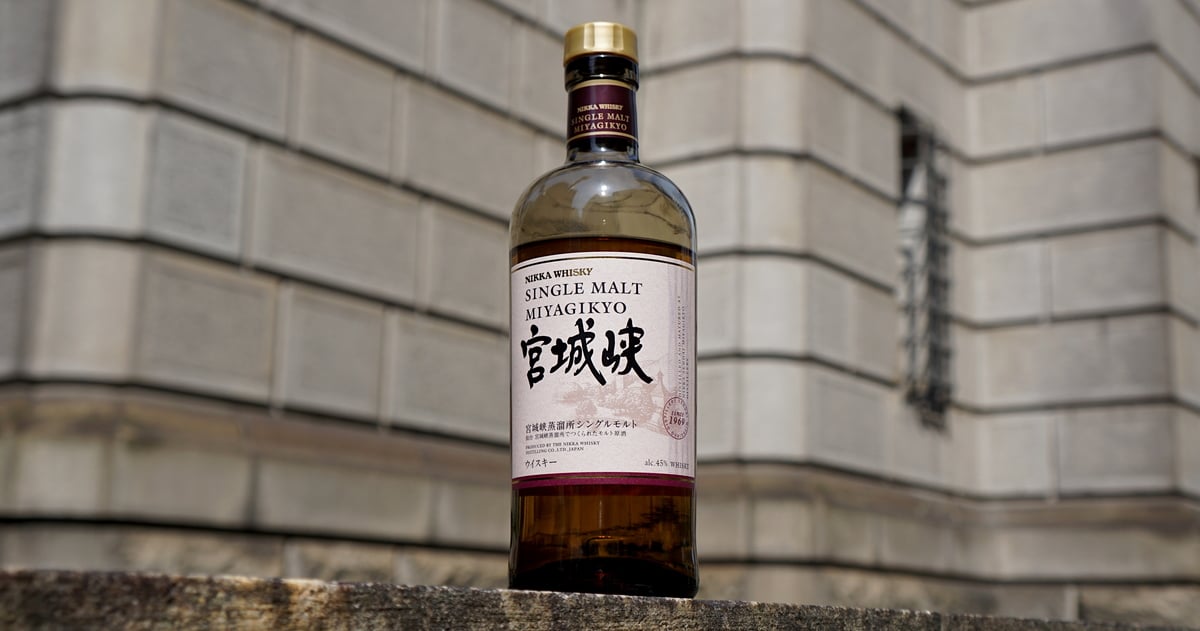 Chichibu Ichiro's Malt and Grain is mostly a darker sugar-forward whiskey with a roasty backbone and some dark fruitiness underneath it. It doesn't quite have the same level of roastiness and oakiness of bourbon, but it's not so far off. Actually, this feels a lot rum, so I might even call it a rummy whiskey. It could actually be good if it wasn't so damn flat.
The non chill filtration provides some body and viscosity. It's not expressive or rich, so the lack of filtration doesn't help the flavors, but it's certainly not thin.
Darker honey, slightly bitter roasted oak, red grapes, plum, and a little mint settle into the aftertaste. The second time around, there's honey, vanilla, roasted oak, cinnamon, plum, pineapple, and banana, which all becomes drier over time.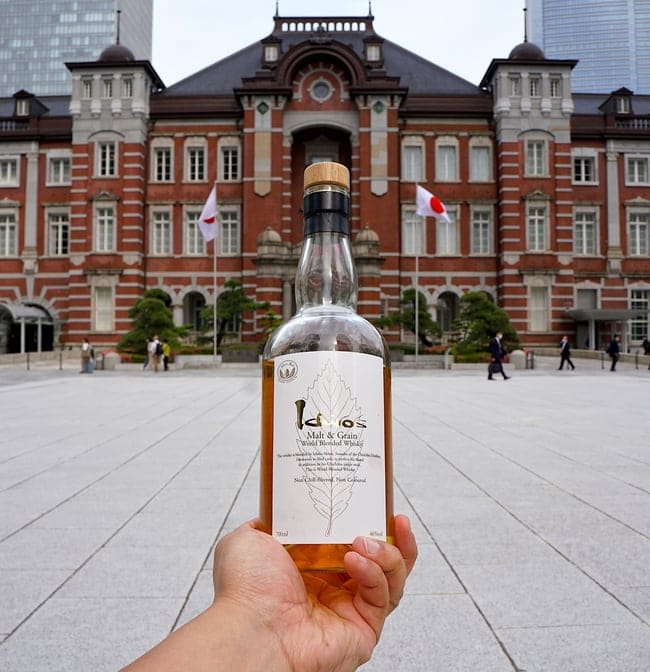 More Chichibu in front of Tokyo Station
If you're shopping on Amazon, support The Whiskey Shelf by shopping through my affiliate link – Shop Amazon. I may earn a commission from your Amazon purchases.
Ichiro's Malt and Grain Rating

Chichibu Ichiro's Malt and Grain straddles that awkward area where it's generally enjoyable because it has some decently matured traits, has nothing inherently wrong / unpleasant with it, and yet is often dull and uninteresting. Some parts are good, but as a whole it leaves me confused as to why everything smells and tastes so closed-off and mostly lifeless.
Like with The Chita Single Grain Whisky, I had a moment where I thought that I was broken because I could barely smell anything. I had to smell a glass of Ancient Ancient Age 10 Year to confirm that my nose was in fact fine, meaning that's just how Ichiro's Malt and Grain smells. But unlike The Chita, the flavors have more dark caramel, vanilla, plum, and spice that show promise. This is "Mid Shelf" and not "Bottom Shelf+" because there's just enough there.
I sort of understand what Chichibu was trying to accomplish with this blend: creating a darkly sweet and fruity blend with a gently spicy side. This could have been good if it would open up more (been open for months), but maybe there's nothing left in the safe to free.
I should mention again that there are a few other Malt and Grain versions (with different label colors), so those might use the better whiskeys to create superior blends. This is the least expensive version after all, and it shows.
With this particular version, I'm going to take a wild guess that the "Malt and Grain" in Chichibu Ichiro's Malt and Grain means mostly grain, with a very light sprinkle of malt. The blend here comes from all over the world, but it's not for the better.
In Japan, Chichibu Ichiro's Malt and Grain is a relatively affordable and very available whiskey at around $40-60 (often closer to $40), which is decent. But in the US, the $80-100 price suggests that it should be a premium one, comparable to high-end bourbon, rye, and Scotch.
This is the same territory as
Knob Creek 12 Year
,
Elijah Craig Barrel Proof
, and
Joseph Magnus Bourbon
to name a few (the list is much much longer and I didn't even get to Scotch or rye). Not everyone wants to drink bourbon, but my brain often defaults to thinking about what bourbon would I rather have because that's what I mostly drink.
I highly recommend that you look elsewhere to spend your money. If you want an excellent global blend of malt and grain from a Japanese company, get
Nikka From The Barrel
, or drink bourbon, Scotch, or something else. There's nothing wrong with drinking whiskey from the world, just drink something better.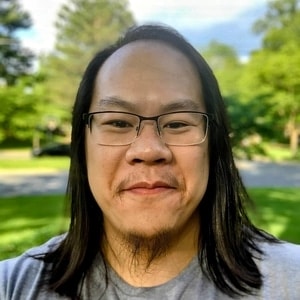 I have far too much fun writing about whiskey and singlehandedly running The Whiskey Shelf to bring you independent, honest, and useful reviews, comparisons, and more. I'm proudly Asian American and can speak Cantonese, Mandarin, and some Japanese.
There are no sponsors, no media companies, and no nonsense. Support The Whiskey Shelf by 
Buying Me A Shot
.