Hakushu Single Malt Whiskey Review [In Depth]
Suntory Hakushu Single Malt Distiller's Reserve
Suntory Hakushu Single Malt Whiskey Details
From the company website:
Straight from the untouched forests, soft and crisp waters and mountains of the Southern Japanese Alps, it is no wonder that Hakushu is a "green and fresh" whisky. Created by the dream for a new type of whisky of Keizo Saji, the second master blender, the unique taste made in distinct Four seasons in high altitude is praised by the most curious whisky connoisseurs and lovers of gastronomy. Its crisp and vibrant feel, unique in a single malt whisky, enlivens and liberates your senses.
suntory hakushu whiskey overview
Hakushu is one of two Suntory-owned distilleries that produce single malt Japanese whiskey. If you know the brand, you probably know it for the 12 and 18 year versions. Given the huge shortage in older whiskey though, you're most likely going to find this non age-stated Hakushu Single Malt Whiskey, also called Hakushu Distiller's Reserve in the US (but not Japan).
The distillery is about 3 hours north west of Tokyo in Yamanashi prefecture, bordering Nagano prefecture. It's out of the way for most tourists who I would expect to go to Tokyo and Kyoto, but the really adventurous few just might make the trip there.
Based on my experience with
Hakushu 12 Year
, Hakushu Single Malt Whiskey should be a lightly peated and predominantly bourbon cask-aged single malt, in the same ballpark as
Nikka Yoichi Single Malt
.
Before I get to the review (soon), I also wanted to mention a weird phenomenon that I've also seen with Yamazaki Distiller's Reserve: it barely appears on the US website (but does on the global website). It's not even mentioned as a product under the "product range" section.
Suntory loves to talk about the 12 and 18 year, and pretend that the Distiller's Reserve doesn't exist, although it's the only one most people in the world can buy. Then again, maybe it's not mean to be sold in the US, which would explain why it doesn't appear on the site.
I guess I'll give it some attention and get to know it better in this Hakushu Distiller's Reserve Single Malt Whiskey review.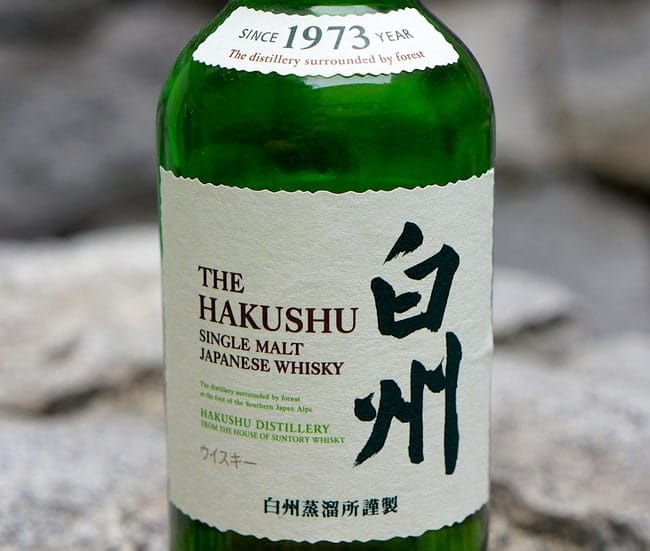 suntory hakushu whiskey smell
Hakushu Single Malt Whiskey starts with honey, ripe pear and peach, toasted grains, grapefruit, clove, green grape, roasted oak, dried grass, and black pepper. My first impression is that it's a somewhat fruity and somewhat bright single malt that also feels closed-off, so it's a little challenging to pull out the scents.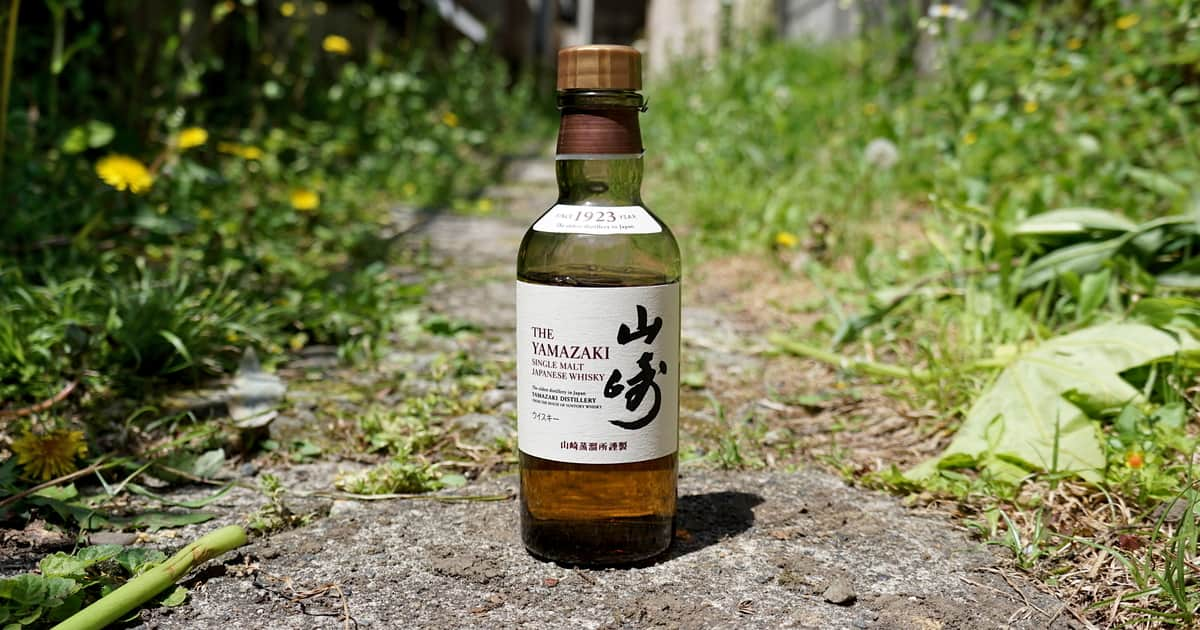 I've gotten used to the fruitiness jumping out more, like it does with Yamazaki, Miyagikyo, and Yoichi. In Hakushu, it's a bit more reserved. Other than that, the scents have an extra helping of roasty and spicy kick with oak, clove, and black pepper that I didn't expect.
After swirling and some rest, Hakushu Single Malt gives off creamy honey, pear, vanilla, toasted grains and grass, black pepper, clove, and pineapple. My best guess is that this is nearly 100% aged in bourbon casks because the fruit is more tropical and there's no dark fruit or berries so speak of…and oddly no peat.
While the fruitiness still leads the way, the spice and toastiness aren't far behind, which feels a little bit out of place. And the "subtle smoke" mentioned on the website, it's so subtle that it's not even there. So overall, Hakushu Distiller's Reserve smells a bit rushed and young, although for the most part holds it all together into a decent smelling package.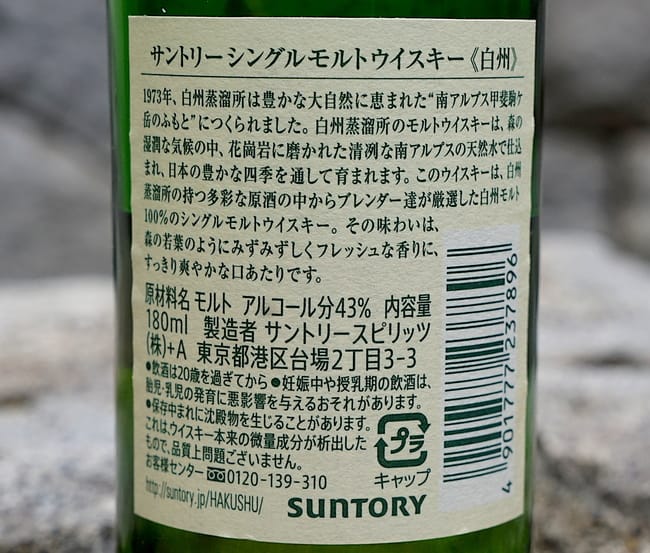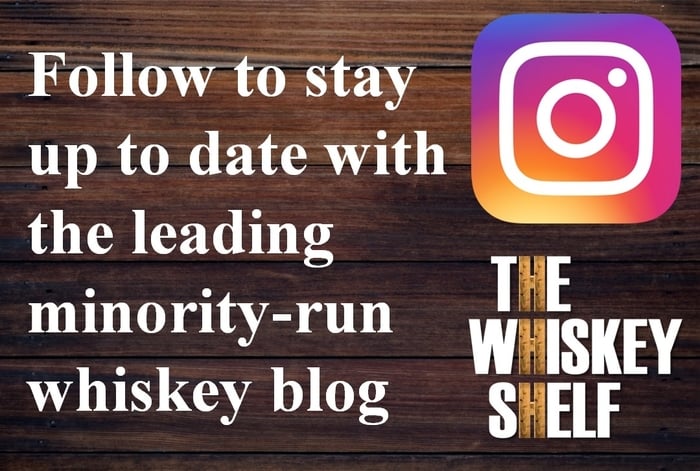 suntory hakushu whiskey taste and aftertaste
With my first sip, I get honey, pear, toasted grains, roasted oak, black pepper, starfruit, vanilla, and guava. Pear is the main fruit with starfruit lingering in the back. While the bourbon cask-influenced fruitiness feels right, I'm a bit surprised that Hakushu Single Malt isn't more vibrant and open with the fresh pop that other Japanese whiskeys have. The faint alcohol harshness doesn't help either.
Honey, pear, pineapple, clove, guava, toasted grains, roasted oak, a hint of bitter chocolate, and black pepper hit my taste buds after "chewing". And while the tropical fruitiness is there, it lacks freshness and vibrance (I've repeated this a few times).
"Chewing" seems to first bring out the somewhat vibrant yet flat fruitiness (it's a strange oxymoron), but then comes a wave of roasted oak, toasted grains, bitterness, and pepper that throw the flavors out of whack. It's not necessarily bad, but it feels unbalanced, young, and a little off. I wonder if it's the smoke trying to assert itself, but not doing it well.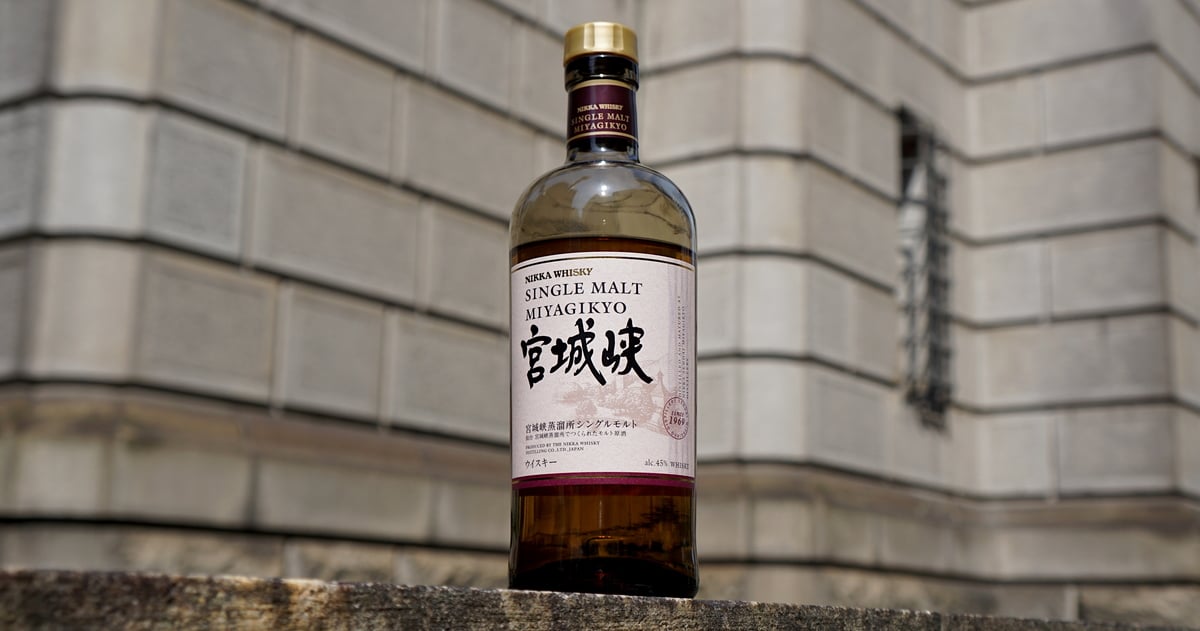 It's like overripe citrus that has lost most of its juiciness and you're left with more of the vegetalness. As a result, nothing springs out at me and grabs my attention. Hakushu Distiller's Reserve is too reserved / closed-off for its own good, especially in comparison to all the other Japanese whisky I've reviewed.
Honey, pear, black pepper, clove, and guava wrap up my first entry into the finish. It's a mix of sweet, spicy, and fruity, but surprisingly spicy and peppery. "Chewing" leaves honey, pear, roasty oak, bitter chocolate, toasted grains, and black pepper that fades quickly into light bitterness. It's not bad, but I don't quite like it much either. It's alright.
If you're shopping on Amazon, support The Whiskey Shelf by shopping through my affiliate link – Shop Amazon. I may earn a commission from your Amazon purchases.
Hakushu Distiller's Reserve Rating

Suntory Hakushu Single Malt Whiskey didn't turn out like I hoped. I wanted to enjoy this a lot more, in part because I always expect to enjoy everything that I review and in part because I thought it to be on par with Miyagikyo, Yoichi, and Yamazaki.
I don't dislike it (apologies for the double negative), but it feels so aloof and unengaging. The bourbon cask aging adds the expected tropical pineapple, pear, and starfruit, but it feels wrong. I think it's supposed to be lightly peated as well, but I got absolutely none of the smoke or anything else that comes with it.
None of it feels bright, fresh, and vibrant. It lays there, shallow, closed-off, and a little flat (I'm a broken record at this point), seemingly uninterested in letting me enjoy it. The amount of black pepper feels out of place too, probably because the fruit and honey aren't strong enough to appropriately balance it.
Hakushu 12 Year
didn't have that same issue, although the low ABV also was very obvious in the flavors.
I'm sure a lot of it has to do with the blend and the ABV, but part of me also wonders if the whisky in this particular compact bottle is a little "off" and not what Suntory intended. There's nothing funky, foul, or "off" about it though, so I'm not sure. While it's not a dusty decades-old bottle, newer bottles can still go bad. Or…maybe it's exactly how it is supposed to be.
When I think of great bourbon-matured single malt whiskey,
Bruichladdich 10 Year
always comes to mind. It has everything that Hakushu Distiller's Reserve (and the 12 year) has, but with more range, richness, fruity life, and a hint of peat.
For the $80+ asking price, it pains me to say that I recommend passing on this. If you're hell-bent on buying Japanese whisky, maybe because the Japanese characters printed on the label are cool, Miyagikyo is one better option with a similar tropical fruit-focus.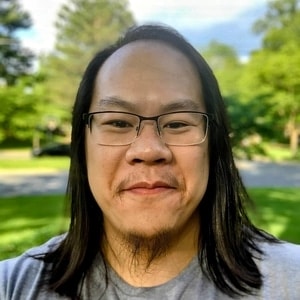 I have far too much fun writing about whiskey and singlehandedly running The Whiskey Shelf to bring you independent, honest, and useful reviews, comparisons, and more. I'm proudly Asian American and can speak Cantonese, Mandarin, and some Japanese.
There are no sponsors, no media companies, and no nonsense. Support The Whiskey Shelf by 
Buying Me A Shot
.