Uncle Nearest Uncut Rye​ Review [In Depth]
Uncle Nearest Uncut Rye​ Details
From the company website:
The funny thing about Tennessee, is for all our stunning farms and incredible farmers, we can't grow rye worth a damn. A grain so easily grown in other states, gets chocked up in our soil. So, we went out to find the best straight rye and brought it back home to rest in used Uncle Nearest barrels. WHERE DID WE FINALLY FIND IT? NEW YORK, BABY! Born in the north, then raised for at least four years in the big city, before moving to God's Country for some well-deserved rest. You get the best of both worlds… the classic rye spice and character, paired with the incredible Uncle Nearest smoothness that has made our whiskey the most-awarded of 2019, 2020 and 2021.
Uncle Nearest Uncut Rye​ overview
Uncle Nearest Whiskey has been selling Tennessee Whiskey for a few years, but they've started to dip their toes and bottles into rye whiskey. From the fancy large card they sent me, they'll be selling batched Uncut Rye, single barrel, and 100 proof versions. There are some options, but you and I are here to cover Uncle Nearest Uncut Rye Blend 1, which is a distillery-only release.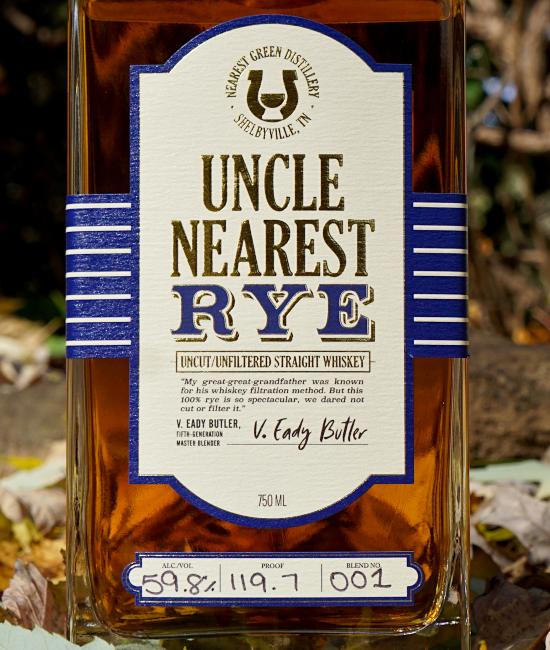 While Uncle Nearest Tennessee Whiskey is made in Tennessee (duh), this rye is actually made in Canada, using 100% rye (following the rules to make straight rye whiskey in the US), and then aged in New York for at least 4 years before being trucked down to Tennessee and finished (they call it "rested") in barrels that used to hold Uncle Nearest whiskey.
No water is added, and minimal filtration is done to preserve as much as possible. There's a lot going on there, hopefully for the best.
I'll briefly mention this and then get back to this later – this bottle costs $150 and can only be found at the distillery…or if it's sent to you in my case. The distillery-only part already makes this not applicable for most people, but maybe you're still curious what Uncle Nearest is doing with rye whiskey.
Regardless of price, let's find out what the whiskey itself has to offer and if it's anything exceptional in this Uncle Nearest Uncut Rye review.
Thank you to Uncle Nearest for providing this bottle at no cost and no expectations. All opinions good, amazing, bad, and/or terrible still are my own.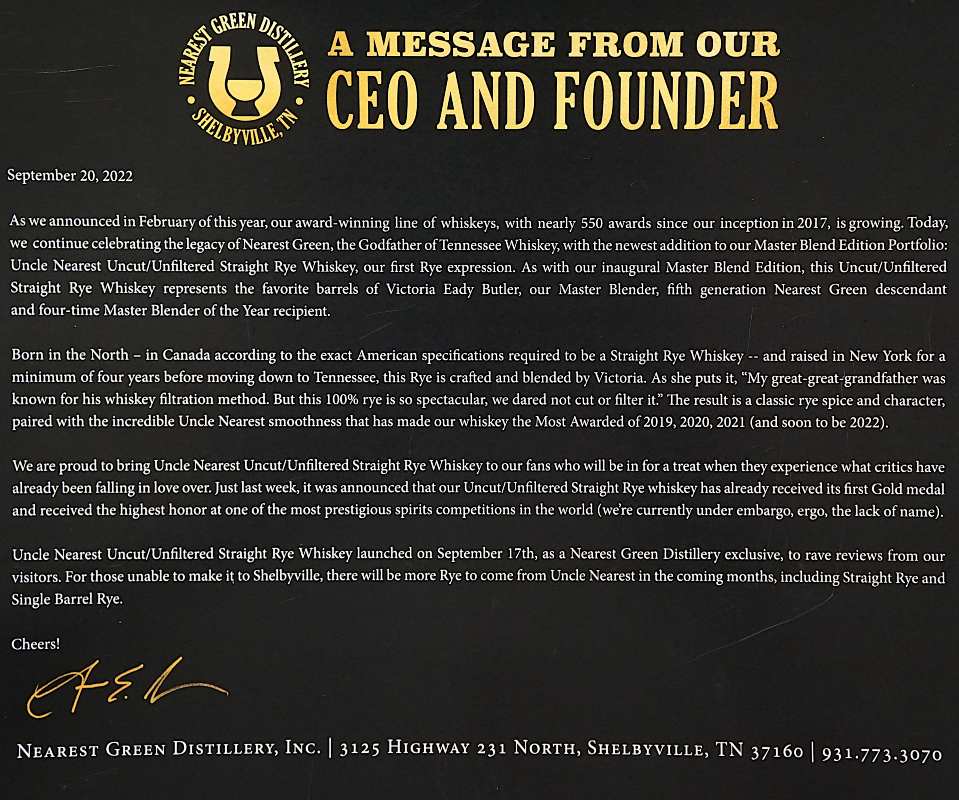 Uncle Nearest Uncut Rye​ smell
Round and buttery honey and vanilla comes first, followed by a rush if herbal licorice, earthy caraway seed and pumpernickel, musty toasted grains and grain mash, eucalyptus, sliced green apple, clove, cinnamon, mint, and dried lemon peel. It's nice, strange, and confusing all at the same tie.
There's such a viscous buttery sensation it's seriously like a light layer of honey-infused butter covering everything I mentioned. It has that distinct Brown Forman-esque pillowy viscosity, but as we know comes from Canada and not Kentucky (Old Forester) / Tennessee (Jack Daniel's), both of which are owned by Brown Forman.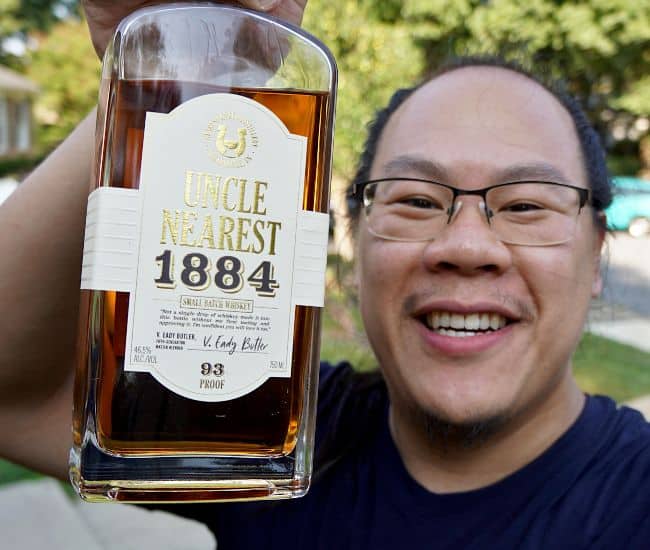 All the toasted grains remind me that this is still pretty young, but it's not as aggressively young as other things I've had. The herbal and fruity notes help offset it, plus the heat is controlled, but I still don't love that component of Uncle Nearest Uncut Rye. Graininess just doesn't do it for me.
The heat wakes up after swirling and even 8 minutes of rest, so it definitely needs time to mellow. After that I get buttery honey, dense dried licorice, a lot of lemon, cantaloupe, pear, oak, clove, cinnamon, pumpernickel, green grape, ginger, vanilla, and this darker herbal sweetness I can't quite grasp. It could be denser honey and/or lemon cream frosting. Oddly enough, there's no dill.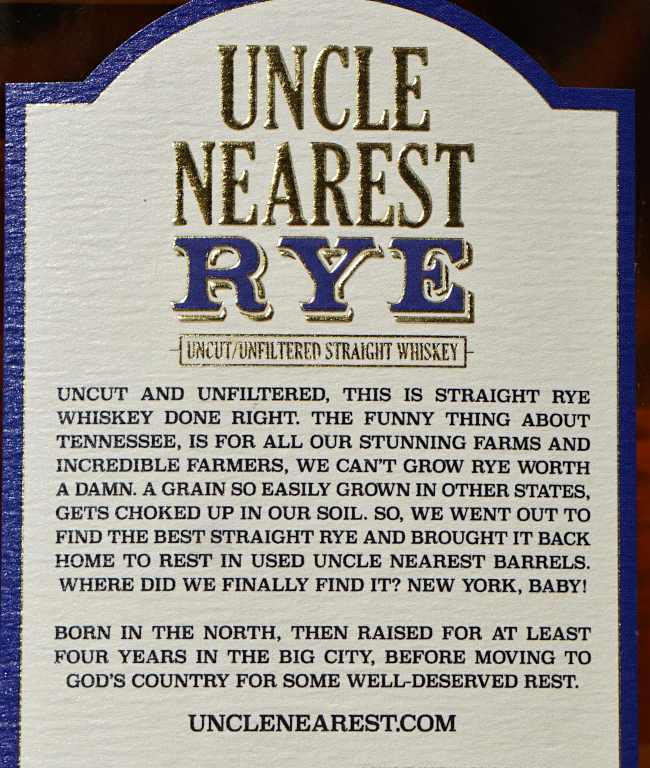 The extra lemon, cantaloupe, and pear further reinforces that Uncle Nearest Uncut Rye is a very herbal, fruity, and earthy rye. Actually, the lemony earthiness also reminds me of Willett 4 Year rye.
The range is fantastic, I just wish there was at least one dense and/or standout trait that popped to make it feel more mature and developed. In my experience, rye tends to develop a broader variety of traits more quickly although the richness doesn't necessarily move at the same speed.
I can't hide from the fact that Uncle Nearest Uncut Rye is wildly rye-forward and unique, then again it's made from 100% rye so it's to be expected: rye to the max. It feels so familiar, yet totally foreign and confusing. Regardless, I'm caught off guard by the set of scents I'm attempting to understand. It's fragrant and interesting, and I really like rye, but this is even out there for me.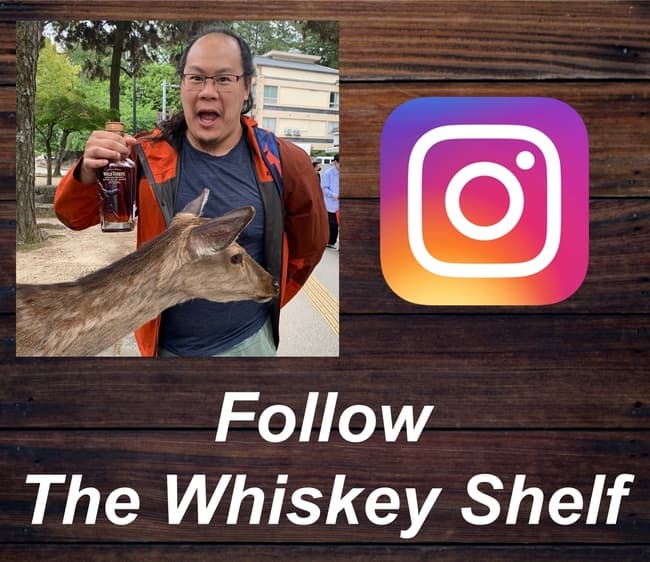 Uncle Nearest Uncut Rye​ taste and aftertaste
The flavors kick off with licorice-y honey, more licorice, fennel, pumpernickel, eucalyptus, mint, roasted oak, dried lemon, clove, pear, a little green apple peel that's slightly waxy, and a lot of roasted grains and mash. It's kind of rye-bready tasting, which is to be expected. As young as it might be, there's less bite than 59.8% would suggest. And like the scents, there's that Brown Forman-esque above-average viscosity, and some added stickiness so I can feel the non chill filtration.
To state the obvious yet again, Uncle Nearest Uncut Rye is ridiculously rye-forward. It's just everywhere – the herbal this, earthy that, more herbal this, fruit that, back and forth. It's all so unique and distinct based on my experiences. That said, I do admit that I don't drink much Canadian rye (this is sourced from Canada), so I base my frame of reference off of the WhistlePig 10 and WhistlePig barrel pick I've reviewed in the past. Still, this is totally different.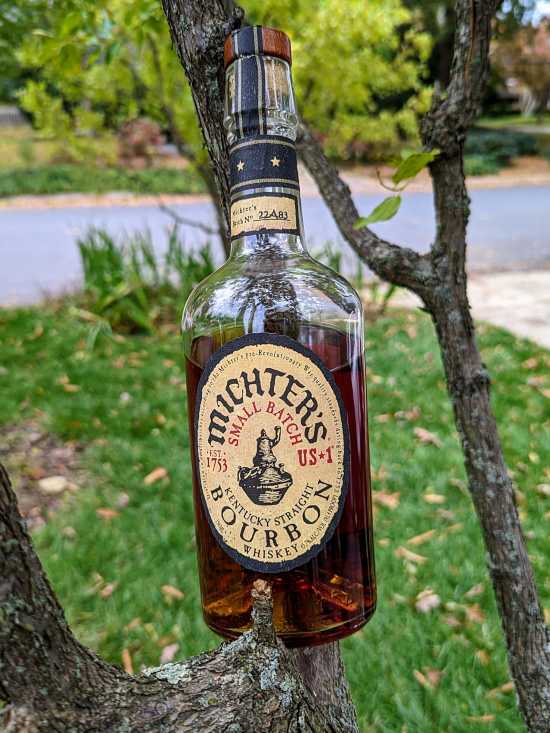 "Chewing" brings out honey, licorice, toasted grains, pumpernickel, pear, lemon, green grape, roasted oak, ginger, and clove. The rye is very sweet, herbal, and fruity (think bright fruit, stonefruit) up front, with a less dense (but still pronounced) earthiness. The heat finally kicks into gear, although it doesn't take over.
It feels chardonnay-y at times with the green grape, oak, and licorice. Toasted grains also wake up, although they don't overpower, but it continues to remind that this is still pretty young. It just needs more time to age-out that part of it.
As long as the list of herbal and earthy traits is, not to mention the fairly viscous mouthfeel (it's quite oily and sticky so I can tell that it's unfiltered), the flavors themselves don't actually feel particularly deep. It's not at all flat or bland, the flavors just feel surface level and are just starting to break the surface towards more depth. I've had older Whistlepig picks sourced from Canada, so I sort of know what older and richer Canadian rye tastes like. It is what it is, and it takes more time for it to get there.
All that rye trucks on into the finish with licorice, honey, pumpernickel, eucalyptus, roasted oak, clove, and roasted grains. It's rye-forward all day and night. After "chewing" it leaves honey, licorice, ginger, roasted oak, clove, pumpernickel, green grape, pear, and oily stickiness and tannins. It's chardonnay-like.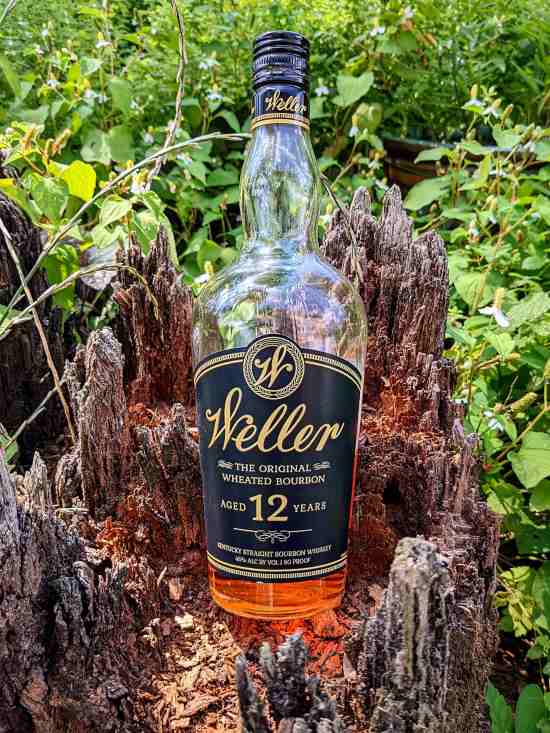 If you can't tell already, I'm all over the place with the flavors. My head is jumping around everywhere, and I can't quite nail down how I feel. It's interesting yet strange; very good but not quite great; varied but not quite standout in any single way. It's like a 9-8 football team – good in a lot of ways but not consistently good enough across the board to win more games.
If you're shopping on Amazon, support The Whiskey Shelf by shopping through my affiliate link – Shop Amazon. I may earn a commission from your Amazon purchases.
Uncle Nearest Uncut Rye​ Rating

Rating a rye like this is particularly tough. I've had a wide range of ryes, from the 100% rye Canadian Rye, "barely legal" 51% rye Kentucky Rye, and others in between, but I've never had anything quite like Uncle Nearest Uncut Rye. Drinking this makes me constantly confused and ponder how much I actually like it, yet continue to explore because it is interesting (in a good way). I do know one thing for sure – it's not for everyone, even for self-proclaimed rye lovers.
There's a lot going on, but the buttery and sweet licorice and fennel are the most prominent scents and flavors, followed by a range of fruitiness and earthiness behind it, including eucalyptus that really sticks out, so there is a lot to think about. The range is commendable and definitely there, but the depth and density isn't yet for a "Top Shelf" whiskey. It'll come with a few more years of aging if Uncle Nearest chooses to hold some barrels back for the future.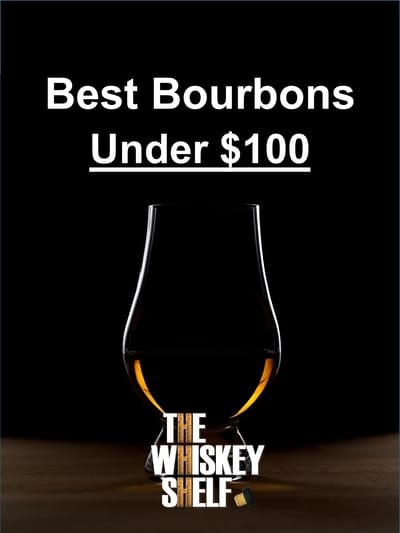 Seriously, read this very carefully. Ask yourself how much you like rye whiskey. Just because you like Uncle Nearest's other whiskeys does not mean that you'll like this. This is rye on rye on rye on more rye. If you've had rye whiskey and don't already immensely enjoy it, you're probably going to hate this. If you do enjoy rye, then there's a shot you're going to like this.
I read a
Forbes article about this rye
and Fawn Weaver said "…no other straight rye whiskey on the market will ever taste like their current batch of rye", and I couldn't agree more. I've reviewed a lot of rye and it's really different. I just wish there was more mature density and heft to seal the deal, because I can handle "strange" and "out there".
I honestly didn't look up the price until after I did the review…and WHAT…$150 for this distillery-only release!? Whoa, I was not expecting that, maybe $80-100 at most. There's 2ish ways to think about this price. One – you'll support Uncle Nearest and pay that amount no matter what my opinion is. Two – the price will make you come to a crashing halt because while the whiskey is good yet out there, the price is really REALLY out there.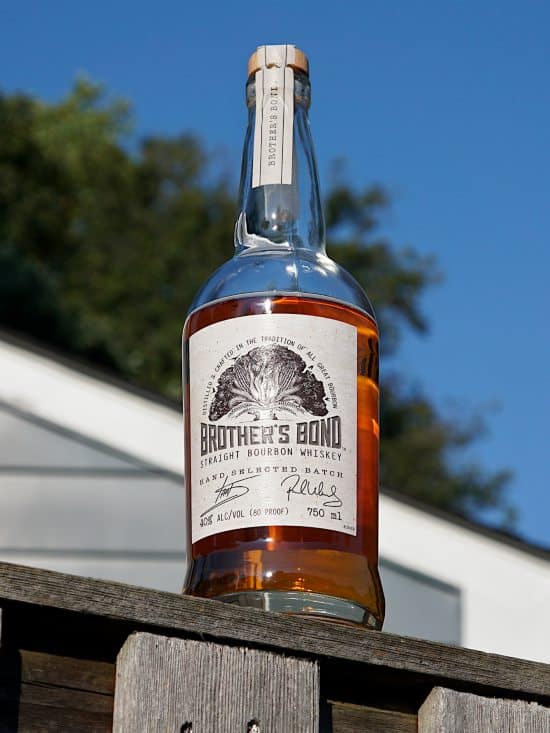 Purely based on value, which is always subjective, you could go buy a Canada-sourced WhistlePig pick that's 10+ years old and still have money to go buy Pikesville Rye or Uncle Nearest 1856. $150 goes a long way if you know what to do.
But as always, it all depends on what it's worth to you and your budget. As a reviewer, I don't feel compelled enough to recommend it based on how it drinks and the price you pay for it, but the business person in me appreciates Uncle Nearest going all in on their brand, the whiskey, and boundaries of what people are willing to pay for it. It's just a really hard sell to pay that much for ~4-5 year old rye whiskey.
Read this again – you need to love rye whiskey to have any shot of enjoying this, regardless of whether you want to support Uncle Nearest.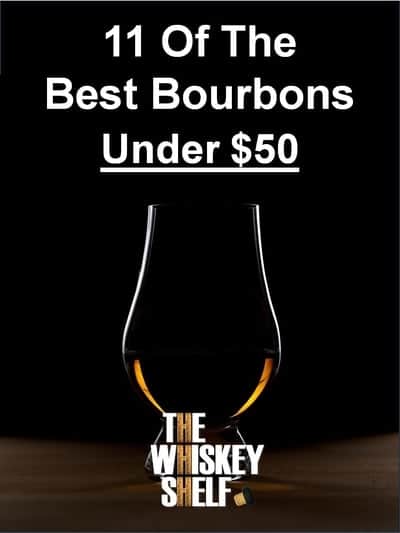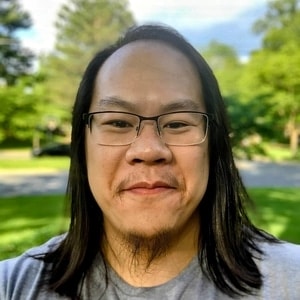 I have far too much fun writing about whiskey and singlehandedly running The Whiskey Shelf to bring you independent, honest, and useful reviews, comparisons, and more. I'm proudly Asian American and can speak Cantonese, Mandarin, and some Japanese.
There are no sponsors, no media companies, and no nonsense. Support The Whiskey Shelf by 
Buying Me A Shot
.